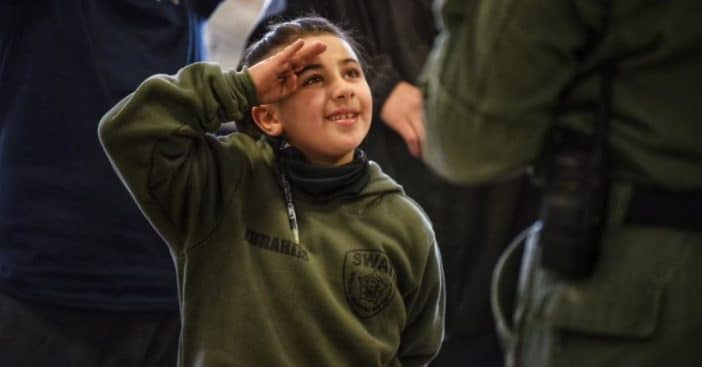 Seven-year-old Illinois native Ibrahim had the chance of a lifetime and ended up changing a life thanks to a partnership between the Chicago Police Department and the state's Make a Wish Foundation. Ibrahim lives with a precarious heart condition, but that hasn't stopped him from setting high aspirations for himself. Last Sunday, he got to realize some of those dreams as a SWAT officer.
In particular, he wanted to become "a police officer for a day to catch a luxury car thief," the CPD's Twitter page informed. So, the department took in Ibrahim for the day as an honorary SWAT member so he could do just that.
Seven-year-old Illinois resident with a heart condition realizes his dream and becomes a SWAT officer
We partnered with @WishIllinois today to fulfill the wish of 7-year-old Ibrahim, who has a life-threatening cardiac condition. Ibrahim wanted to be a police officer for a day to catch a luxury car thief, so we made him an honorary CPD SWAT officer to make his dream come true. pic.twitter.com/aWuy0U7T4s

— Chicago Police (@Chicago_Police) April 18, 2021
Last Sunday, Chicago's police department partnered with the Illinois Make a Wish Foundation to fulfill seven-year-old Ibrahim's wish to be a police officer who catches a car thief. The department shared Ibrahim's story via Twitter, along with pictures of the young officer at work.
RELATED: Dwayne Johnson Sings 'Moana' Song For Child With Cancer
"Honorary SWAT Officer Ibrahim immediately got to work to train with his fellow officers and take a course in LEMART training," the CPD wrote. "His day ended with him bravely saving the life of a car theft victim and taking two car thieves into custody."
The partnership helped change many lives that day
According to Ibrahim's family, he is very outgoing, playful, and full of energy that can compete with the fast-moving cars he loves so much. The Make a Wish Foundation further supported these statements. The department then announced of Ibrahim, "His day ended with him bravely saving the life of a car theft victim."
Currently, Ibrahim is receiving treatment at Advocate Children's Hospital, located in Oak Lawn. Make a Wish Foundation is comprised of a network of volunteers and donors whose numbers reach the thousands, all to allow children diagnosed with critical illnesses the chance to realize their dreams. The CPD thanked the foundation's Illinois chapter, Chicago's Crown Rally luxury driving experience company, Chicago Police Memorial Foundation and the Chicago Fire Department.