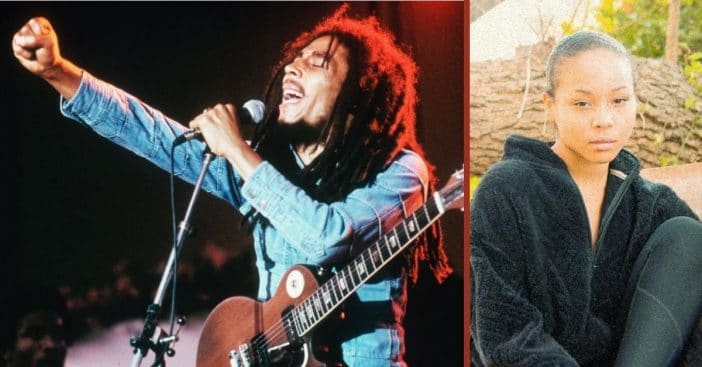 Mystic Marley, granddaughter of Bob Marley, felt a strong connection to her famous predecessor for some time. Part of that ends up channeled through her own career in the music industry. But even  without songs, she feels his presence and influence in remarkable ways.
Singer-songwriter and musician Marley died in 1981. Mystic never got to meet him face-to-face or witness the immediate aftermath of his passing. But his legacy resonates strongly with her and within her, even in small ways. In one such instance, she adamantly believes she saw his very face looking down at her in the clouds.
Mystic Marley comes from a musical dynasty
View this post on Instagram
Often, the life and work of Bob Marley is something his granddaughter Mystic carries close in her heart and channels through her music. But such artistry is also something of a family affair. Her uncle Ziggy Marley, father Stephen, and brother Jo Mersa are all musicians, and that's not counting Mystic herself.
Less than a week out until my special drive-in-concerts happen at the Ventura County Fairgrounds in southern California 🚗 🎸 These unique, safe, live music experience should be a night to remember 🎶 Hope to see you there!

🎟️: https://t.co/tGHnqc9uGP
🗓️ 4/17 ⏰ 5 & 8:30pm pic.twitter.com/rnFl0hA5k2

— Ziggy Marley (@ziggymarley) April 11, 2021
RELATED: Disney Working On Musical Based On Lionel Richie Songs
"It just reminds me that I'm not alone," Mystic noted. That's a pleasant reminder as she works on her own musical career. Her debut single "Beatdown" came in 2018 as a tune driven by acoustics. Then, her debut album included Sad Girls (Cause Damage)," described as a powerful and empowering number.
View this post on Instagram
That's probably because Mystic feels a sense of responsibility to not just honor her grandfather's musical legacy but his role as a leader. "I think if he was still here, a lot of things would be different," she admitted, discussing her grandfather's power and the present-day Black Lives Matter movement. "Because he was such a leader, and people were so drawn to him. I definitely know for sure he would be involved. Now that's our responsibility, to keep it going."
Still watching over things
View this post on Instagram
At one point, Mystic, 23, also asserted, "There was a moment where I literally saw his face in the cloud." "And nobody could tell me it wasn't him." Based on further accounts, this wasn't a one-time occurrence, though she usually feels Marley's presence in subtler ways.
"I feel like nature has this really beautiful way of showing itself," she mused. "Sometimes, even in the trees, I just close my eyes and I see him, or when I'm making music, I feel him." These meaningful moments came to her from a grandfather who passed away 17 years before her own birth, but continue to inspire her each day.