A Marine father choked up while giving a salute to his son after becoming a second lieutenant and it's giving everyone chills. The father, Master Sgt. Michael Fisher, posted the video on the video-sharing app TikTok, where it reached over 3 million views in a few days.
"I've watched you grow and mature and become the man that you are today," Fisher says to his son in the video. "You have always been respectful by saying, 'Yes, sir, no sir; yes ma'am, no ma'am.' A salute is a sign of respect. It is a privilege to render you your first salute."
This Marine father gets choked up saluting his son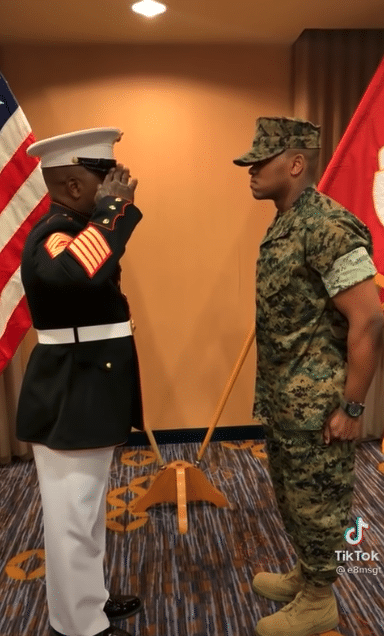 The two are standing just about a foot away from each other, when Fisher raises his hand to his right brow to give his military salute to his son. He chokes up as he says, "It's even a greater honor to say congratulations, sir, for your commission." It's a powerful moment as viewers watch his son raise his own hand to his right brow to salute his father right back.
RELATED: Police Officers Perform Emotional Salute To Terminally Ill Sergeant
People in the comments of the video, which has now reached YouTube, cannot say more good things about the video. One person shares, "The moment that Lt's father said "Congratulations, SIR!" while rendering a salute gave me goosebumps. Imagine saluting your own son & sending him off to be successful while continuing on their family's Marine legacy.. what more could a father ask for?"
Another viewer shares, "I was ok till Dad choked up a bit.. and it looks like son was just barely holding on. What a beautiful moment…what an honor. Thank you gentleman for serving our great country. May God keep you safe from harm. Thanks for sharing."