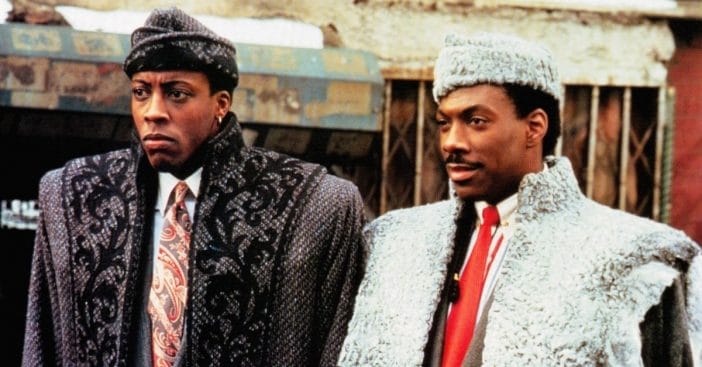 Eddie Murphy and Arsenio Hall recently appeared on Jimmy Kimmel Live to talk about the sequel to the film Coming to America called Coming 2 America. The pair revealed that Paramount allegedly forced them to cast a white actor in the original 1988 film – Louie Anderson, who played Maurice.
"I love Louie, but I think we were forced to put Louie in it," says Hall. "We were forced to put in a white person." Paramount executives also allegedly insisted to not have an all-black cast. "They were like, 'There has to be a white person in the movie.' I was like, 'What?' So who was the funniest white guy around? We knew Louie was cool, so that's how Louie got in the movie."
Arsenio Hall and Eddie Murphy tell all about being forced to cast a white actor in original 1988 film
Hall adds that the executives apparently gave the two a list of white actors to choose from. "It was official. I had a list. They gave me a list with three white guys. They said, 'Who would you rather work with?' I said, 'Louie.'"
RELATED: Eddie Murphy's Daughter Playing Big Role In New Movie
The sequel is to release in March 2021 and will also feature one of Murphy's daughters, Bella. The 19-year-old is following in her famous father's footsteps and entering showbiz. The one rule they had as a family, though, was that none of the kids could enter the industry until they were adults. Bella was 17 at the time when she asked to be an extra in Coming 2 America, so she didn't think it would even be a possibility. Not only was it a possibility, but she became a full-fledged cast member.
What to expect from the sequel: Murphy's daughter's debut
"Me and my dad do lots of acting scenes together, just for fun," Bella says of her dad. "He's a great teacher and it's just something we enjoy doing. We also watch a bunch of movies, and I was going to acting classes."
"I think he just saw that, and saw how passionate I was about it, and was like, 'I think I'm just going to let you audition for the princess if you want. He gave that option to me. Which of course I took, because I wanted to do it. So I did the audition, and I practiced with him, and it was awesome."