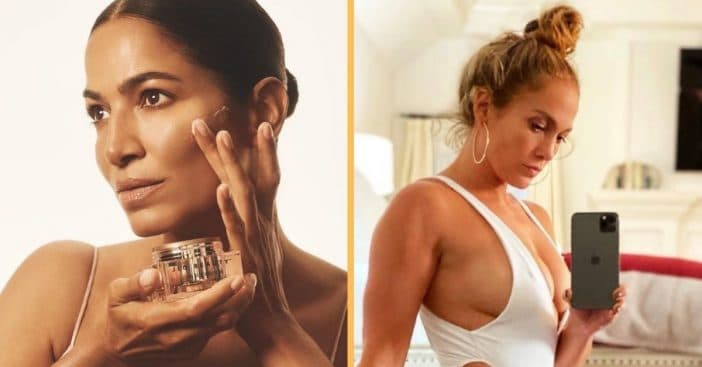 At 51 years old, Jennifer Lopez has her followers wondering if she'll ever age, especially after she shared a picture while wearing a deep-cut white bathing suit. She celebrated what she calls #SelfcareSunday with a picture in the suit that shows off a figure that is defying time – and has followers wondering how they can do the same.
Not everyone feels certain all of her work is natural and instead attributes it to botox or other injections and fillers. Lopez consistently refutes these claims and asks that they hold back accusations of lying. She assures everyone what she does works and can be done by others, too.
Jennifer Lopez stunts followers with her deep-cut, white bathing suit
View this post on Instagram
The picture in question went live on Twitter and Instagram on Sunday, accompanied by the caption #SelfcareSunday. On Instagram, she also tagged her self-care page, @jlobeauty. On both social media platforms, followers raved about her figure and skin, noting how she seems to defy the aging process.
View this post on Instagram
RELATED: Jennifer Lopez Finally Shows Fans Her Entire Skincare Routine
"You have discovered the fountain of youth. When will you share it with the rest of us?" implored one writer. Another asked, "Are you really 51 years old??" Yet another called her body and appearance goals for themselves to achieve.
Just how does she do it?
View this post on Instagram
While Lopez levels no shame at those who do pursue cosmetic work to change their appearance, she assures fans she doesn't do any of that herself. "I don't judge anybody," she emphasized. "If you want to do Botox and injectables, that's fine! But I don't want people lying on me and saying, 'Oh, she's trying to make believe that this stuff works.'" The "this stuff" in question is her beauty line, JLo Beauty. It includes, among other products, skincare cream for various ages, skin tones, and skin types so that "beauty has no expiration date."
View this post on Instagram
"No, I'm telling you what I do that works! Please don't call me a liar. I don't have to lie about things. I've been pretty honest about my whole life," she added. She levels this rebuttal anytime followers believe she uses botox or other injectables. Lopez herself has had self-esteem issues in the past, particularly related to her body. While she offers her skincare products, she also stresses that "Feeling beautiful is an attitude, and we should all look for the beautiful things we love about ourselves, regardless of how our bodies compare to someone else." Based on Lopez's bathing suit selfie and feedback from followers, her attitude is definitely working.
View this post on Instagram
RELATED: Jennifer Lopez Wants To Mimic Kurt Russell and Goldie Hawn's Relationship Style