Bonanza was such a popular show that it spawned a series of restaurants. It all began when Eric "Hoss" Cartwright himself, actor Dan Blocker, decided to open up a Steakhouse in the show's honor. It was called Bonanza Sirloin Pit and opened in Connecticut in 1963. The restaurant ended up expanding and Dan would often visit different locations.
Inspired by the restaurants, someone else created the restaurant Ponderosa Steakhouse. The name was inspired by Bonanza. Do you remember that the Cartwrights lived on Ponderosa Ranch? At one time, these were very popular restaurants but now there are less than 100 left around the country.
Did you know that Ponderosa Steakhouse was inspired by 'Bonaza'?
Both restaurant brands merged in 1997. The remaining restaurants are mostly called Ponderosa Steakhouse. Sadly, Dan died back in 1972 and didn't live to see the end of Bonanza or the restaurants that he created. Dan was only 43 when he passed away from a pulmonary embolism following gallbladder surgery. He was taken way too soon!
RELATED: 'Bonanza' Cast Then And Now 2021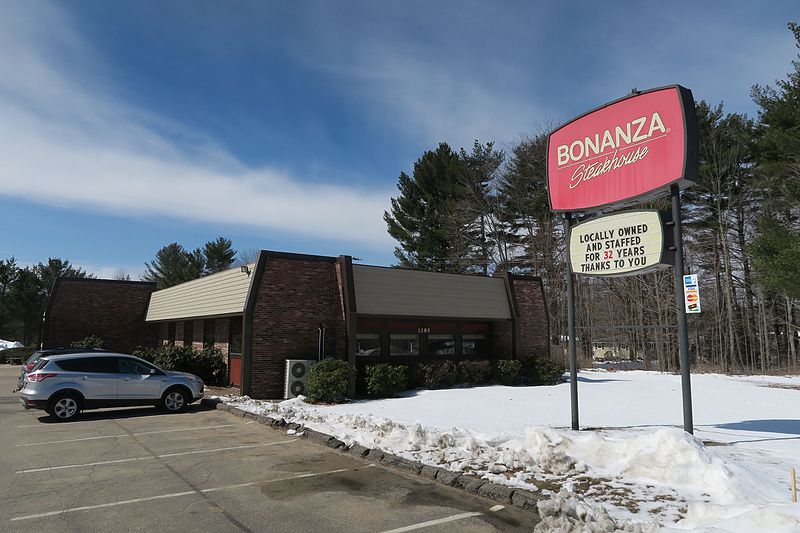 Many of the remaining Ponderosa Steakhouse restaurants are in the Midwest and on the East coast.  Do you still go there? Do you remember going to Bonanza Sirloin Pit when it was still open? Last year, the parent company announced that they were also purchasing the nostalgic restaurant Johnny Rockets. It seems like they love to expand retro restaurants and we are all for it! In conclusion, check out the commercial from 1978: