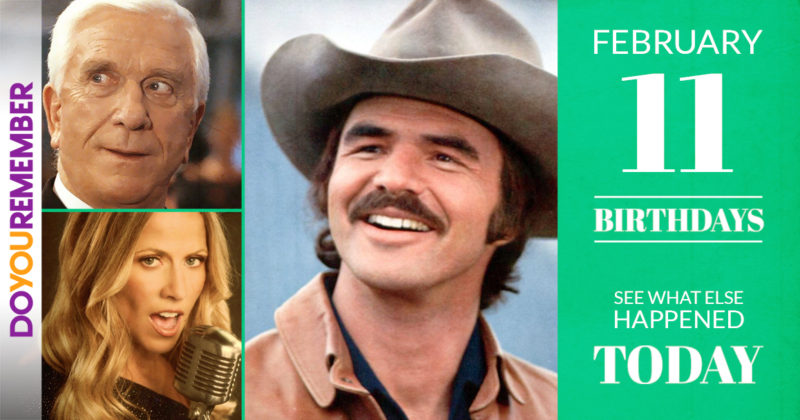 "February 11"
Contributed by Pearleen Ang
"BORN TODAY"
Matt Good (33)
Aubrey O'Day (33)
Natalie Dormer (35)
Kelly Rowland (36)
Matthew Lawrence (37)
Brandy (38)
Mike Shinoda (40)
D'Angelo (43)
Isaiah Mustaf (43)
Alex Jones (Radio Host) (43)
Kelly Slater (45)
Damian Lewis (46)
Jennifer Aniston (48)
Mo Willems (49)
Sara Palin (53)
Sheryl Crow (55)
Carey Lowell (56)
Catherine Hickland (61)
Jeb Bush (64)
Leon Haywood (75)
Burt Reynolds (80)
Tina Louise (83)
Little Johnny Taylor (RIP) 1
Otis Clay (RIP)
Leslie Nielsen (RIP)
"MOVIES TODAY"
1932 – The Mickey Mouse short The Grocery Boy, featuring the voices of Walt Disney (as Mickey) and Marcellite Garner (as Minnie), is released. Mickey goes shopping for Minnie, but is late bringing her groceries back.
1938 – Disney's Donald Duck cartoon Self Control is released. Directed by Jack King, Donald (voiced by Clarence Nash) tries to learn to control his temper by following the advice of a radio program.
1938 – The Big Broadcast of 1938 was released. It is a Paramount Pictures film featuring W.C. Fields and Bob Hope. Directed by Mitchell Leisen, the film is the last in a series of Big Broadcast movies that were variety show anthologies. This film featured the debut of Hope's signature song, "Thanks for the Memory" by Ralph Rainger.
1949 – The Disney Donald Duck short Donald's Happy Birthday, directed by Jack Hannah, is released.
1970  –  King of the Grizzlies  –  is an American adventure film directed by Ron Kelly and written by Jack Speirs, Rod Peterson and Norman Wright. The film stars John Yesno, Chris Wiggins, Hugh Webster and Jack Van Evera. The film was released on February 11, 1970, by Buena Vista Distribution.
1964 – The live-action Disney feature The Misadventures of Merlin Jones – starring Tommy Kirk, Annette Funicello, Leon Ames and Dal McKennon – premieres in St. Louis, Missouri. Kirk plays college student Merlin who experiments with mind-reading and hypnotism … which leads to run-ins with Judge Holmsby (played by Ames).
1977 –  Thieves  –  is an American comedy film directed by John Berry and written by Herb Gardner. The film stars Marlo Thomas, Charles Grodin and Irwin Corey.  The film was released on February 11, 1977, by Paramount Pictures. Comedy of a native New York married couple who splits up in an attempt to rediscover their sanity.
1979 – The Wonderful World of Disney airs part 1 of "Ride a Wild Pony," a Walt Disney Productions film first released in 1975.
1981 –  Sphinx  –  is a 1981 American adventure film directed by Franklin J. Schaffner. The screenplay by John Byrum is based on the 1979 novel of the same title by Robin Cook.   1983 – Let's Spend the Night Together, the concert movie about the Rolling Stones, opened in New York City. (Pictured)
1994 –  Blank Check (originally released as Blank Cheque in the United Kingdom)  –  is a comedy film directed by Rupert Wainwright, starring Brian Bonsall, Karen Duffy, Miguel Ferrer, James Rebhorn, Tone Lōc, Jayne Atkinson and Michael Lerner and was released by Walt Disney Pictures.
1994 – The Getaway  –  is a crime thriller directed by Roger Donaldson. It is based on the Jim Thompson novel of the same name and is a remake of the 1972 film of the same name. The film stars Alec Baldwin and Kim Basinger, with Michael Madsen, James Woods, Philip Seymour Hoffman, and Jennifer Tilly in supporting roles.
1994 – My Girl 2 –  is a comedy-drama film starring Anna Chlumsky, Dan Aykroyd, Christine Ebersole, Jamie Lee Curtis, Richard Masur, Austin O'Brien, and Roland Thomson. It's a sequel to 1991's My Girl.
1999 – Disney's live-action feature film My Favorite Martian premieres at the Famous Players Colossus Center in Toronto, Canada. This science fiction comedy stars Christopher Lloyd, Jeff Daniels, Daryl Hannah, Elizabeth Hurley, Wallace Shawn and Ray Walston, and is based on the 1960s television series of the  same name. My Favorite Martian will be generally released the following day.
2000 – Disney's The Tigger Movie, narrated by John Hurt and featuring five new songs by the Sherman Brothers, is released. Tigger (voiced by Jim Cummings) goes looking through the hundred-acre-wood to find his family.
2000 – The Beach  –  is an adventure drama film directed by Danny Boyle and based on the 1996 novel of the same name by Alex Garland, which was adapted for the film by John Hodge. The film stars Leonardo DiCaprio, Virginie Ledoyen, Guillaume Canet, Robert Carlyle, Tilda Swinton, and Paterson Joseph.
"MUSIC TODAY"
1963 – The Beatles record the Lennon-McCartney penned song "Do You Want To Know A Secret" for their upcoming Please Please Me record album. Mostly written by John Lennon, it is sung by George Harrison. Lennon based the song on "Wishing Well," from Walt Disney's 1937 animated feature film Snow White And The Seven Dwarfs.
1956 – The Platters notched a sixth week at #1 on the R&B chart with "The Great Pretender".
1963 – The Beatles recorded ten songs for their new album Please Please Me in less than ten hours, including "Twist And Shout" and "I Saw Her Standing There".  The other four songs on the album had been recorded in 1962.
1967 – Loretta Lynn makes her first appearance at #1 in Billboard with "Don't Come Home A'Drinkin' (With Lovin' On Your Mind)"
1967 – The Monkees' second album, More of the Monkees, made one of the biggest leaps to #1 in the Rock Era, swinging from 122 to #1 on this date.
1967 – Johnny Rivers' new single "Baby, I Need Your Loving" was being well received–it moved from 81 to 49 on this date.
1967 –  "I'm A Believer" by the Monkees landed a seventh week at #1.
1978 – Three superstars combined for the #1 Adult song with their remake of the Hermans Hermits hit.  Paul Simon, Art Garfunkel and James Taylor hit the top with "(What A) Wonderful World".
1978 –  The Bee Gees were up big with their third release from Saturday Night Fever–"Night Fever" moved from 76 to 32.
1978 – The Bee Gees remained at #1 for a second week with "Stayin' Alive".  Randy Newman's "Short People" was second with Andy Gibb moving up to challenge with "(Love Is) Thicker Than Water".  Queen was fourth with "We Are The Champions" and Billy Joel's first big hit "Just The Way You Are" was #5.
1980 –  Blondie released the great single "Call Me"
1980 – A new artist was about to be discovered and on this date, this singer from Texas released his first single.  His name was Christopher Cross and he had a lot of believers in the music business.  Michael McDonald sang backing vocals for Chris on his first hit was "Ride Like The Wind".
1982 – Columbia releases Willie Nelson's "Always On My Mind"
1983 – Bonnie Tyler released the single "Total Eclipse of the Heart" in the U.K.
1984 – Thriller by Michael Jackson was #1 on the Album chart for the 28th week, just three shy of the Rock Era record by Fleetwood Mac's Rumours.
1986 – "Superbowl Shuffle", the 45 recorded by members of the Chicago Bears football team, was certified gold by the RIAA.
1989 – Alabama's "Song Of The South" hits #1 on the Billboard country chart   1989 – Guns N' Roses posted their fifth week at #1 on the Album chart in their second return to the top with Appetite for Destruction.
1989 –  Paula Abdul scored another #1 when "Straight Up" topped the chart on this date.
1994 – Prince premiered his new song "The Most Beautiful Girl In The World" on the 1994 Miss USA Pageant.
1995 – The new album by Van Halen–Balance debuted at #1, as albums often do these days due to the lack of competition.
1995 – "Baby" by Brandy was the new #1 song on the R&B chart.
1995 – TLC posted a third week at #1 with "Creep".
2001 – Dido began five weeks at the top of the U.K. Album chart with No Angel.
2001 – Shaggy owned the #1 album in the U.S. with Hotspot
"TV/RADIO TODAY"
1940 – NBC radio presented "The Chamber Music Society of Lower Basin Street" for the first time.
1956 –  Elvis Presley performed "Heartbreak Hotel" and "Blue Suede Shoes" on the television program The Dorsey Brothers Stage Show. (Pictured)
1960 – Jack Paar walked off while live on the air on the "Tonight Show" with four minutes left. He did this in response to censors cutting out a joke from the show the night before.
 1970 –  John Lennon performed "Instant Karma" on Top of the Pops on BBC television.
1977 – Debbie Douglas, an 11-year-old acrobat from San Diego, and Christopher  Gregory, a 13-year old singer form Las Vegas, are featured as Showtime Day  guest talent on episode 20 of The New Mickey Mouse Club.
1979 – Kurt Russell starred in the television movie Elvis about Elvis Presley on ABC-TV. Kurt Russell played the King, while Ronnie McDowell provided the vocals.
1982 – ABC-TV's presentation of "The Winds of War" concluded. The 18-hour miniseries cost $40 million to produce and was the most-watched television program in history at the time.
1986 – Boy George guest-stared on an episode of "The A-Team."
2002 – The six stars on NBC's "Friends" signed a deal for $24 million each for the ninth and final season of the series.
"OTHER IMPORTANT EVENTS…"
1918 – Imagineer, sculptor & Disney Legend Blaine Gibson is born in Rocky Ford, Colorado. He created hundreds of sculptures from which Audio-Animatronics figures and bronzes were produced for exhibits in the 1964-65 New York World's Fair and Disney theme parks around the world.
1952 – Disney's Alice in Wonderland is nominated for an Academy Award for Best Scoring of a Musical Picture. Also nominated – Lambert the Sheepish Lion for Short Subjects, Cartoons and Nature's Half Acre for Short Subjects, Two Reels.
1968 – The new 20,000 seat Madison Square Garden officially opened in New York. This was the fourth Garden.
1987 – Touchstone Pictures' The Color of Money is nominated for 4 Academy Awards:
Paul Newman as "Fast Eddie" Felson – Actor in a Leading Role (WON)
Mary Elizabeth Mastrantonio  – Actress in a Supporting Role
Richard Price – Screenplay Based on Another Medium
Boris Leven & Karen A. O'Hara – Art Direction
1989 – Morten Harket of A-Ha married Camilla Malmquist.   1989 – Sade married music video producer Carlos Scola.
2000 – Diana Ross was granted a divorce from her husband of 14 years.
2000 – The space shuttle Endeavor took off. The mission was to gather information for the most detailed map of the earth ever made.