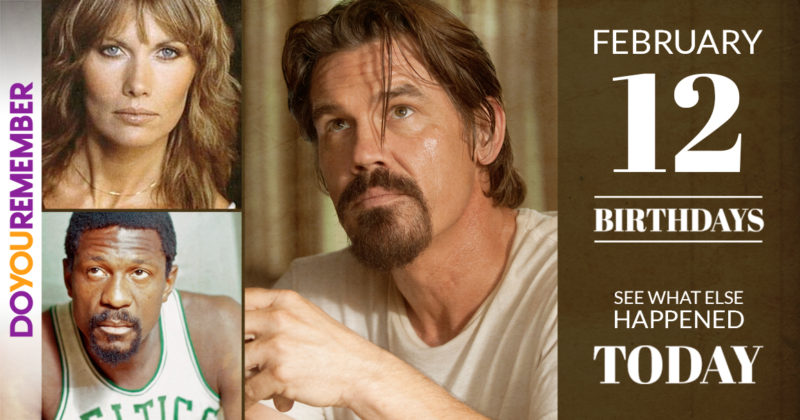 "February 12"
Contributed by Pearleen Ang
"BORN TODAY"
Christina Ricci (37)
Sarah Lancaster (37)
Gucci Mane (37)
Jesse Spencer (38)
Aaron Sanchez (41)
Tara Strong (44)
Rob Thomas (45)
Darren Aronofsky (48)
Chynna Phillips (49)
Josh Brolin (49)
Lochlyn Munro (51)
Raphael Sbarge (53)
Arsenio Hall (61)
Joanna Kerns (64)
Michael McDonald (65)
Maud Adams (72)
Judy Blume (79)
Bill Russell (83)
Franco Zeffirelli (94)
Paul Shenar (RIP)
Anna Pavlova (RIP)
Abraham Lincoln (RIP)
"DIED TODAY"
James Cash (J.C.) Penney (Born: September 16, 1875 / Died: February 12, 1971)
Sal Mineo (Born: January 10, 1939/ Died: February 12, 1976)
Peter Ellenshaw (Born: May 24, 1913/ Died: February 12, 2007)
Gary Owens (Born: May 10, 1934 / Died: February  12, 2015)
"MOVIES TODAY"
1964 – The live-action Disney comedy feature The Misadventures of Merlin Jones – starring Tommy Kirk (as the precocious Merlin), Annette Funicello, and Leon Ames – premieres in Florida. Opening in various cities over the next month, the film will be in full-release by March 26.
1964 – Seven Days in May is an American political thriller motion picture about a military-political cabal's planned takeover of the United States government in reaction to the president's negotiation of a disarmament treaty with the Soviet Union. Directed by John Frankenheimer, it stars Burt Lancaster, Kirk Douglas, Fredric March, and Ava Gardner.[
1982 – The Border is an American drama film directed by Tony Richardson and starring Jack Nicholson, Harvey Keitel, Valerie Perrine and Warren Oates. A corrupted border agent decides to clean up his act when an impoverished woman's baby is put up for sale on the black market.
1982 – Cannery Row is a film directed by David S. Ward. It stars Nick Nolte and Debra Winger. The movie is adapted from John Steinbeck's novels Cannery Row and Sweet Thursday.
1982 – Love and Money, also known as Love & Money, is an American drama film directed by James Toback and starring Ray Sharkey. A global tycoon (Klaus Kinski) sends a banker (Ray Sharkey), his wife's (Ornella Muti) over, to deal with a dictator in Latin America.
1982 – Quest for Fire is a 1981 film adaptation of the 1911 Belgian novel by J.-H. Rosny. Directed by Jean-Jacques Annaud and adapted by Gérard Brach, the film stars Everett McGill, Ron Perlman, Nameer El-Kadi, and Rae Dawn Chong.
1988 – Action Jackson is an American action film directed by Craig R. Baxley in his feature film directorial debut, and starring Carl Weathers, Vanity, Craig T. Nelson and Sharon Stone. Vengence drives a tough Detroit cop to stay on the trail of a power hungry auto magnate who's systematically eliminating his competition.
1988 – Shoot to Kill (known outside North America as Deadly Pursuit) is an adventure crime thriller movie starring Sidney Poitier, Tom Berenger, Clancy Brown, Andrew Robinson and Kirstie Alley. The film was directed by Roger Spottiswoode. Sidney Poitier returned to the big screen in this action-thriller, after a decade-long absence.
1993 – Groundhog Day is an American fantasy comedy film directed by Harold Ramis, starring Bill Murray, Andie MacDowell, and Chris Elliott. It was written by Ramis and Danny Rubin, based on a story by Rubin. (Pictured)
1993 – The Temp is a thriller film starring Timothy Hutton, Lara Flynn Boyle and Faye Dunaway.
1993 – Untamed Heart is an American motion picture starring Christian Slater and Marisa Tomei. It mixes drama with romance and comedy and tells the story of a young woman, always unlucky in love, finally finding true love in a very shy young man.
1999 – Blast from the Past is a 1999 American romantic comedy film based on a story and directed by Hugh Wilson, and starring Brendan Fraser, Alicia Silverstone, Christopher Walken, Sissy Spacek and Dave Foley
1999 – Message in a Bottle is an American romantic drama film directed by Luis Mandoki and based on Nicholas Sparks' 1998 novel of the same name. It stars Kevin Costner, Robin Wright and Paul Newman, and was filmed in Maine, Chicago and Wilmington, North Carolina. A woman discovers a tragic love letter in a bottle on a beach, and is determined to track down its author.
"MUSIC TODAY"
1955 – "Pledging My Love," Johnny Ace is the #1 R&B Song
1956 –  Dean Martin had the #1 song in the U.K. with "Memories Are Made Of This".
1958 –  The Crickets released the single "Maybe Baby".
1960 – Pat Boone is awarded a Gold record for the album "Pat's Great Hits", which included 18 of his highest charting singles. Interestingly, his versions of Little Richard's "Long Tall Sally" and "Tutti Frutti" were left out of the collection.
1961 –  "Shop Around" by the Miracles became the first million-selling single for Motown Records.
1966 –  The Rolling Stones released the single "19th Nervous Breakdown" in the United States.
1966 –  "Crying Time" by Ray Charles was the #1 Easy Listening song.
1966 – Stevie Wonder remained calm at #1 for a fourth week on the R&B chart with "Uptight (Everything's Alright)".
1966 – Rubber Soul by the Beatles earned a sixth straight week at #1 on the Album chart.   1972 – Yes released the single "Roundabout".
1972 –  The Carpenters led the way on the Adult chart with "Hurting Each Other" for a second week.
1972 – Al Green landed the #1 song with "Let's Stay Together".
1973 – Stealers Wheel released the single "Stuck In The Middle With You".
1975 – Olivia Newton-John released the follow-up to her breakthrough album If You Love Me (Let Me Know).  This one was titled Have You Never Been Mellow.
1977 – The Police recorded their first single–"Fall Out" at Pathway Studios in London.
1977 – If you were one of the lucky people who went to Whisky a Go Go in Los, Angeles on this date, give a shout out.  You saw Blondie, Tom Petty & the Heartbreakers and the Ramones on the same night.  They were wrapping up a four-night show at the Whisky
 1977 – Barbra Streisand landed a fifth week at #1 on the Adult chart with "Love Theme From 'A Star Is Born' (Evergreen)". It took over from Hotel California by the Eagles as the #1 album.
1977 – Stevie Wonder's "I Wish", one of The Top 100 R&B Songs of the 1970's*, was #1 on the R&B chart for a fifth week.
1977 – Bread entered the Top 10 with their 12th hit and 6th Top 10–"Lost Without Your Love".   1978 – ELO released the single "Sweet Talkin' Woman".
1981 – Rush released the album Moving Pictures.
1983 – Bob Seger moved to #1 on the Adult Contemporary chart with the great song "Shame On The Moon".
1983 –  "Billie Jean" by Michael Jackson took over at #1 on the R&B chart.
1983 – Men At Work returned to #1 for a fourth week with "Down Under".  Patti Austin and James Ingram were one step away with "Baby, Come To Me".
1991 – Whitney Houston released the single "The Star Spangled Banner" due to tremendous demand following her historic performance at the Super Bowl.  Whitney donated all proceeds of the song to charity.
1994 – Alice In Chains debuted at #1 on the Album chart with Jar of Flies.
1994 – Celine Dion had her first #1 song with "The Power Of Love".
2000 – Mariah Carey was on top of the chart for the 15th time in her career with "Thank God I Found You".  She trailed the Beatles (20) and Elvis Presley (18) for the most all-time #1 songs.
"TV/RADIO TODAY"
1924 – "The Eveready Hour" became radio's first sponsored network program. The National Carbon Company was the first sponsor of a network show.
1940 – Mutual Radio presented the first broadcast of the radio play "The Adventures of Superman.
1960 – The ABC-TV series Walt Disney Presents airs "Texas John Slaughter: Desperado from Tombstone," the 10th of a 17-part miniseries starring Tom Tryon. Running since 1958, the character is based upon an actual historical figure, Texas Ranger John Slaughter; a lawman, Civil War soldier, and gambler
1985 – Johnny Carson surprised his audience by shaving the beard he had been wearing on "The Tonight Show." (Pictured)
1988 – Siegfried and Roy appear on the TV special Disney's Magic in the Magic Kingdom. The illusionists make Sleeping Beauty Castle disappear!
1998 – Disney's 1998 animated feature Mulan premieres on The Disney Channel.
"OTHER IMPORTANT EVENTS…"
1809 – Abraham Lincoln, the 16th U.S. President, is born in a one-room log cabin in Hardin County, Kentucky.
1879 – The first artificial ice rink opened in North America. It was at Madison Square Garden in New York City, NY.
1915 – The cornerstone of the Lincoln Memorial was laid in Washington, DC.
1918 – All theatres in New York City were shut down in an effort to conserve coal.
1924 – U.S. President Calvin Coolidge made the first presidential political speech on radio.
1934 – Walt Disney Productions files an application for a trademark of "Mickey Mouse" for use in books and newspaper comic strips.
1939 – Academy Award nominations are announced with Disney dominating the Short Subjects, Cartoons category with 4 films: The Brave Little Tailor, Mother Goose Goes Hollywood, Ferdinand the Bull and Good Scouts. The 11th Academy Awards will be held February 23
1951 – Disney's Cinderella is nominated for 3 Academy Awards – Best Music, Original Song (for "Bibbidy-Bobbidi-Boo"); Best Music, Scoring of a Musical Picture; and Best Sound, Recording. The Disney short In Beaver Valley is nominated for Best Short Subject: Two Reel
1955 – Academy Award nominations are announced with Disney's 20,000 Leagues Under the Sea receiving three for Art Direction – Set Decoration, Film Editing, and Special Effects. Also nominated is Pigs is Pigs for Short Subjects, Cartoons, Siam for Short Subjects, Two Reels, and The Vanishing Prairie for Documentary, Features.
1958 – At Todd Shipyards in Long Beach, California, the steel hull of Disneyland's newest  ship Columbia is completed. It is the only three-masted windjammer constructed in the U.S. for over  100 years! The vessel will be transported to Disneyland and installed in the Rivers of America where the rest of  the construction will be completed.
1964 – The Beatles certainly had a great plan.  On the heels of their record-breaking performance on The Ed Sullivan Show and wild American Debut at the Coliseum in Washington, D.C., the group boarded a train and played two concerts at Carnegie Hall in New York City.
1967 – Police raided the home of Keith Richards, lead guitarist of the Rolling Stones, in West Wittering, England.  The police found several substances of "a suspicious nature".  Richards and Mick Jagger, the lead singer of the Stones, were arrested May 10 on drug charges.
1968 –  Jimi Hendrix returned to his home in Seattle, Washington, where he received a key to the city and an honorary high school diploma.
1968 – "Soul on Ice" was published for the first time. It is a. memoir and collection of essays by Eldridge Cleaver. Originally written in Folsom State Prison in 1965, and published three years later in 1968,.
1971 – James Cash (J.C.) Penney died at the age of 95. The company closed for business for one-half day as a memorial to the company's founder.
1973 – The Academy of Motion Picture Arts and Sciences nominates Buddy Baker for the Disney film Napoleon and Samantha for an Oscar Award in the category Music, Original Dramatic Score. (Charlie Chaplin, Raymond Rasch and Larry Russell will win the Oscar for their work on the film Limelight.) Filmed in and around John Day, Oregon, it stars Michael Douglas, Johnny Whitaker and Jodie Foster.
1973 – American prisoners of war were released for the first time during the Vietnam conflict.
1976 –  Sal Mineo ("Start Movin") was stabbed to death in an alley behind his apartment in Hollywood, California at age 37 during an apparent robbery.
1997 – David Bowie received a star that they give out often for the Hollywood Walk of Fame.
1998 – Disney officially announces the debut of a new stage musical called Elaborate Lives. The show, which is based on Verde's Aida but features new music by Elton John and Tim Rice, will receive its premiere at Atlanta's Alliance Theatre Company October 7, 1998
 2000 – Disney fans dress up in tuxedos and formal gowns to attend the Royal Ball held at the Disneyland Hotel in California for Cinderella's 50th anniversary. The night includes stories from the Disney legends that created Cinderella including the voice talents who brought Anastasia, Drizella and Cinderella to life.
2001 – Ilene Woods – the original voice of Cinderella – appears at a Cinderella Ball in Disneyland to celebrate the anniversary of the motion picture
2002 – Disney's 1953 Peter Pan; Special Edition is released on DVD. It includes commentary by Walt Disney and veteran animators Frank Thomas, Ollie Johnston, and Marc Davis.
2002 – Disney-Pixar's Monsters, Inc. receives 4 Academy Award nominations. Winners will be announced March 24.
2004 – Mattel announced that "Barbie" and "Ken" were breaking up. The dolls had met on the set of their first television commercial together in 1961.