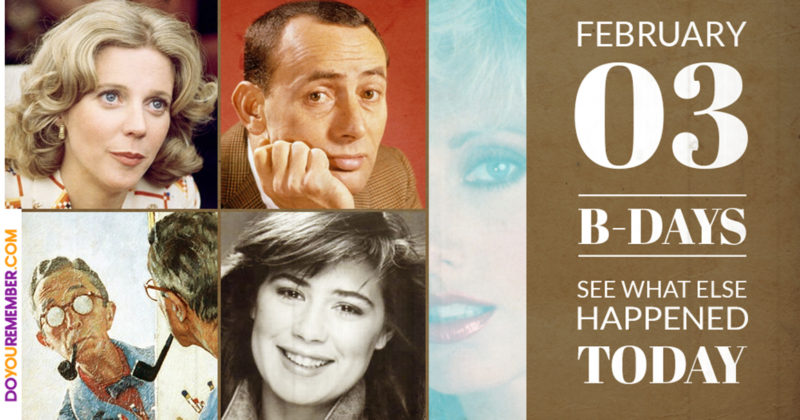 "February 3"
Contributed by Pearleen Ang
"BORN TODAY"
Bridget Regan (35)
Amal Clooney (39)
Daddy Yankee (40)
Maitland Ward (40)
Isla Fisher (41)
Elisa Donovan (46)
Warwick Davis (47)
Maura Tierney (52)
Linda Eder (56)
Thomas Calabro (58)
Fredric Lehne (58)
Nathan Lane (61)
Lee Ranaldo (61)
Morgan Fairchild (67)
Brenda Dickson (68)
Blythe Danner (74)
Blythe Danner (74)
Joey Bishop (RIP)
Norman Rockwell (RIP)
"Died Today"
Buddy Holly (Born: September 7, 1936/ Died:February 3, 1959)
Ritchie Valens  (Born:May 13, 1941/ Died:February 3, 1959 )
J.P. Richardson "The Big Bopper" (Born:October 24, 1930/ Died:February 3, 1959)
John Cassavetes (Born: December 9, 1929/ Died: February 3, 1989)
Ben Gazzara (Born: August 28, 1930/ Died: February 3, 2012 )
Charlie Sifford (Born: June 2, 1922 / Died: February 3, 2015)
"MOVIES TODAY"
"MUSIC TODAY"
1959  – Rising American rock stars Buddy Holly, Ritchie Valens and J.P. "The Big Bopper" Richardson are killed when their chartered Beechcraft Bonanza plane crashes in Iowa a few minutes after takeoff from Mason City on a flight headed for Moorehead, Minnesota. Investigators blamed the crash on bad weather and pilot error. Holly and his band, the Crickets, had just scored a No. 1 hit with "That'll Be the Day."
1964 – "Meet the Beatles" album went Gold.
1968 –  One Hit Wonders The Lemon Pipers went to No.1 on the US singles chart with 'Green Tambourine' the song was a No.7 hit in the UK. The song has been credited as being one of the first bubblegum pop chart-toppers.
1971 –  Lynn Anderson's "Rose Garden" is certified gold
1973  –  Elton John  started a three-week run at No.1 on the US singles chart with 'Crocodile Rock'. Elton's first of five US No.1 singles.
1978 –  The "Waylon & Willie" album is certified gold for Waylon Jennings and Willie Nelson
1979 – The Blues Brothers' album Briefcase Full of Blues hits #1
1993 – Gloria Estefan received the 1,974th star on the Hollywood Walk of Fame.
1993 –  The "Pure Country" soundtrack goes double-platinum for George Strait
1996  –  Shania Twain hits the top of the Billboard country chart with "(If You're Not In It For Love) I'm Outta Here!"
1996 –   "One Sweet Day" by Mariah Carey and Boyz II Men reached a 10th week at #1.
"TV/RADIO TODAY"
1963 – The NBC-TV series Walt Disney's Wonderful World of Color airs "Greta, the Misfit Greyhound."
1978 – "Dead Man's Curve" premiered on ABC-TV.
1985 – The Disney Channel Premiere Film Lots of Luck premieres on The Disney Channel. Directed by Peter Baldwin, the film focuses on a blue-collar family who wins the lottery – forever changing their lives. The cast includes Martin Mull, Annette Funicello, Fred Willard, and Tracey Gold.
1985 – Glenn Frey (Eagles) appeared on an episode of "Miami Vice" on NBC-TV.
1993 – CBS-TV airs the Disney special "The Best of Disney Music: A Legacy in Song."
1996 – B.B. King guest starred on CBS-TV's "Touched by an Angel".
"OTHER IMPORTANT EVENTS…"
1951 – Dick Button won the U.S. figure skating title for the sixth time.
1971 – Apollo 14 astronauts Alan B. Shepard Jr. and Edgar D. Mitchell landed on the lunar sufrace during the third successful manned mission to the moon.
1977 – On this day's episode of The New Mickey Mouse Club, Mickey Mouse's life story is traced from Steamboat Willie to his role as leader of the Club!
1984 – Challenger 4 was launched as the tenth space shuttle mission.
1986  –  In India  –  The Pope meets Mother Teresa, and visited her refuge for the sick and dying. Her Missionaries of Charity order, now has 4,500 sisters in 133 countries providing food and shelter and hospices for the dying.
1989 – Disney issues new $1 and $5 Disney Dollars at Disneyland and Walt Disney World.  The $1 bill depicts Mickey Mouse on one side, and Sleeping Beauty Castle on the other. The $5 bill features  Goofy on one side, and EPCOT Center's Spaceship Earth & the Empress Lilly Riverboat on the other.
1994 – The space shuttle Discovery blasted off with a woman, Air Force Lt. Col. Eileen Collins, in the pilot's seat for the first time.
1998 – A new 32-cent postage stamp in honor of John Muir was to be issued at the Martinez, Ca. post office