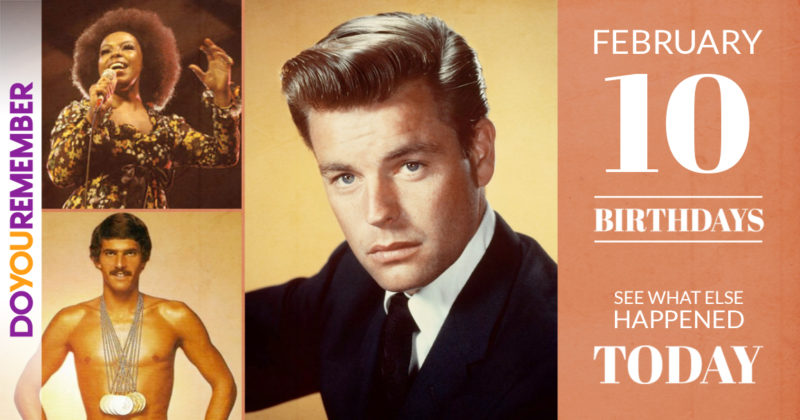 "BORN TODAY"
Stephanie Beatriz (36)
Holly Willoughby (36)
Elizabeth Banks (43)
Sarah Aldrich (47)
Laura Dern (50)
Vince Gilligan (50)
Glenn Beck (53)
Alexander Payne (56)
George Stephanopoulos (56)
Jim Cramer (62)
Mark Spitz (67)
Michael Apted (76)
Roberta Flack (78)
Robert Wagner (87)
Cliff Burton (RIP)
Jimmy Durante (RIP)
"DIED TODAY"
A.A. Milne (Born: January 18, 1882 / Died: January 31, 1956)
Laura Ingalls Wilder (Born: February 7, 1867/ Died: February 10, 1957)
Jim Varney (Born: June 15, 1949/ Died: February 10, 2000)
Roy Scheider (Born: November 10, 1932/ Died: February 10, 2008)
Shirley Temple (Born: April 23, 1928/ Died: February 10, 2014)
"MOVIES TODAY"
"MUSIC TODAY"
1951 – "Somebody's Gotta Go," Coolie Williams & His Orchestra hits #1 on the R&B Charts
1958 – The Chester's debut, "The Fires Burn No More," was released. The group went on to become Little Anthony & the Imperials.
1958 – Frank Sinatra moved to #1 on the Album chart with Come Fly With Me.
1962 – Henry Mancini owned the top album with the Soundtrack to "Breakfast At Tiffany's".
1962 – Elvis Presley achieved a fifth week at #1 on the Easy Listening chart with "Can't Help Falling In Love".
1968 – The "Magical Mystery Tour" Soundtrack by the Beatles dominated the Album chart for a sixth week.
1968 – "Chain Of Fools" by Aretha Franklin led the way on the R&B chart for a fourth week.
1968 – Two great acts of the Rock Era debuted on the chart on the same date in history, "Dance To The Music".
1968 – "Love Is Blue", The #1 Instrumental of the Rock Era*, moved from 7 to 1 on this date Paul Mauriat & His Orchestra
1971 – Stanley, Idaho's Carole King released the epic album Tapestry.
1973 – Elton John owned the top album in the U.K. with Don't Shoot Me I'm Only the Piano Player.

photo: aux.tv

1973 – The Spinners took a turn at #1 on the R&B chart with "Could It Be I'm Falling In Love".
1978 – Van Halen released their debut album on Columbia Records. (Pictured)
1979 – Eddie Rabbitt begins a three-week stay at #1 on Billboard's country chart with the theme from the Clint Eastwood movie "Every Which Way But Loose"
1979 –  "Aqua Boogie" by Parliament, one of The Top 100 R&B Songs of the 1970's*, achieved a fourth week at #1 on the R&B chart.
1979 – We first heard of this group on this date, as Dire Straits debuted on the chart with their first single–"Sultans of Swing".
1979 – Anne Murray had her fifth #1 on the Adult chart with "I Just Fall In Love Again".
1979 – Rod Stewart set up camp at #1 with "Do Ya Think I'm Sexy?".  Nicolette Larson had the only new Top 10 song with "Lotta Love".
1986 – The "Highwayman" album is certified gold for Waylon Jennings, Willie Nelson, Johnny Cash and Kris Kristofferson
1987 – Atlantic Starr released the single "Always".
1990 – Paula Abdul scored her third #1 song and fifth consecutive Top 10 with "Opposites Attract".
1990 – Gloria Estefan posted her fifth #1 song on the Adult Contemporary chart with "Here We Are".
1998 – Walt Disney Records releases Archive Collection, Vol. 1, Vol. 2, Vol. 3, Vol. 4, and Vol. 5
"TV/RADIO TODAY"
1958 – The "Annette" serial (starring Annette Funicello) is introduced on ABC-TV's Mickey Mouse Club.
 1963 – The TV series Walt Disney's Wonderful World of Color airs "Inside Outer Space," featuring Ludwig Von Drake.
1965 – Chad & Jeremy ("A Summer Song") were guests on The Dick Van Dyke Show on CBS-TV.
1993 – Michael Jackson said in an interview with Oprah Winfrey that he had a disorder that destroyed the pigmentation of his skin.
"OTHER IMPORTANT EVENTS…"
1897 – "The New York Times" began printing "All the news that's fit to print" on their front page.
1929  – Legendary film composer Jerry Goldsmith, whose musical scores can be heard in the Disney film attraction Soarin' Over California and the 1998 animated feature Mulan, is born in Pasadena, California.
1933 – The singing telegram was introduced by the Postal Telegraph Company of New York City.
1934 – The first imperforated, ungummed sheets of postage stamps were issued by the U.S. Postal Service in New York City.
1935 – The Pennsylvania Railroad began passenger service with its electric locomotive. The engine was 79-1/2 feet long and weighed 230 tons.
1935 – Donald Duck makes his first appearance in the Mickey Mouse Sunday edition comic strip (by Ted Osbourne and Floyd Gottfredson).
1941 – Academy Award nominations are announced with Disney's Pinocchio receiving two for Music, Best Score and Music, Best Song (for "When You Wish Upon a Star").
1949 – Disney's Mickey and the Seal, Tea for Two Hundred, and Seal Island are all  nominated for Academy Awards.
1960 – Disneyland's Rainbow Mountain Stagecoach attraction is retired.
1966 – Bob Marley married Rita Anderson.
1975 – The U.S. Post Office issued a commemorative stamp that featured NASA's Pioneer 10 spacecraft.
1981 – The Las Vegas Hilton hotel-casino caught fire. Eight people were killed and 198 were injured.
2002 – Elton John performed at the National Basketball Association All-Star Game in Philadelphia, Pennsylvania.