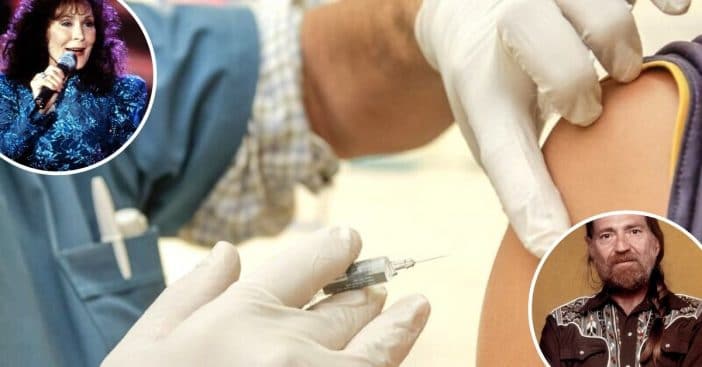 87-year-old Willie Nelson and 88-year-old Loretta Lynn confirmed that they both received the COVID-19 vaccine. They are well-known country music stars. They urged others to get the vaccine when they can. They are reportedly in the "Phase 1B" category which offers the vaccines to people 65 and over.
Willie shared photos of himself in his car receiving the vaccine. Loretta also shared photos of herself in her car and a photo of the sticker she got after receiving the vaccine. Willie wrote, "Get your shot! Take care of yourself and others. #slowthespreadofcovid19."
Willie Nelson and Loretta Lynn got their COVID-19 vaccines
Loretta said, "Well, I bundled up and Peggy Jean and I rolled out of Hurricane Mills so I could get this vaccine. I'm sure glad to get it and am sure ready to put Covid in the rear view mirror! And I enjoyed the mom daughter time, too! #winning #sickofcovid #stayhealthy #besafe #getyours"
RELATED: Steve Martin Shares Good News (And Bad News) About Getting The COVID-19 Vaccine
View this post on Instagram
Fans flocked to the comments to praise the artists for receiving their vaccines and were so happy to see both happy and healthy. Neither artist revealed if it was the first or second shot. Both authorized vaccines require two shots for protection against COVID-19. As of now, it appears that front-line workers and older people are getting the vaccine first.
The two authorized vaccines are by Pfizer-BioNTech and Moderna. The second dose is required about three weeks to one month after the first.
Will you get the vaccine when it is available to you?