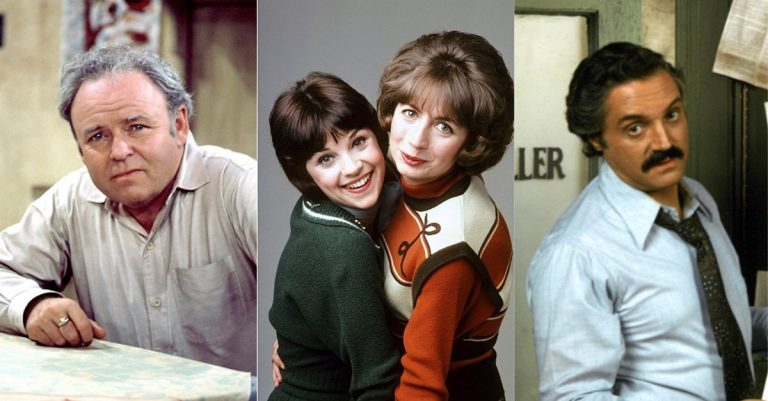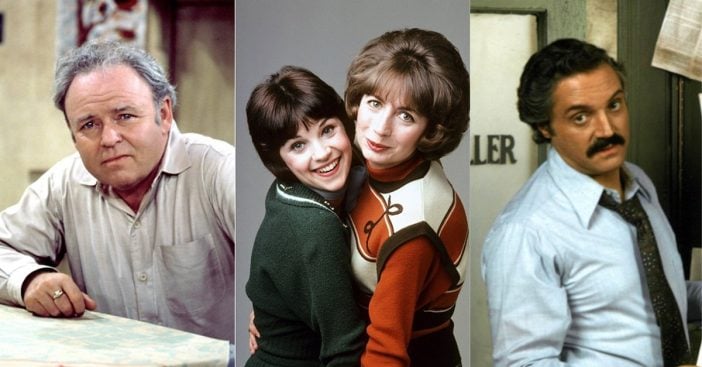 UPDATED 9/6/2023
While the 1970s admittedly didn't represent the kind of changes that the '60s had, it nonetheless had a heck of a lot going on in it. Politically, it gave us Watergate (thanks for nuthin', guys!) while in terms of fads we had disco, pet rocks, and CB radios. On the big screen, we met Rocky Balboa and Star Wars for the first time, and on the small, there was a sea change in terms of television sitcoms.
It's the latter that we're focused on here and in a sense CBS had a lot to do with it. In an attempt to appeal to younger consumers in more urban environments, they engaged in the so-called rural purge that got rid of "hayseed comedies" like The Beverly Hillbillies, Petticoat Junction and Green Acres —all three of which were still doing well in the ratings — and ushered in a new era of maturity with shows like All in the Family (and most of its spinoffs), The Mary Tyler Moore Show, Sanford and Son, Barney Miller, The Bob Newhart Show, The Odd Couple and M*A*S*H.
Don't get us wrong, there were still lots of dopey comedies as well (Ted Bessell's Me and the Chimp and the sitcom/variety hybrid The Brady Bunch Hour come to mind). As the headline says, there were a lot of classic comedies and not-so-classic shows, and what follows is our guide to the vast majority of the comedic series aired between 1970 and 1979.
1. 'Headmaster' (1970 to 1971)
Andy Griffith gives series television a try for the first time since leaving The Andy Griffith Show, playing Andy Thompson, headmaster of a California private school. The show follows his interactions with students, faculty, and his family at home.
2. 'Make Room for Granddaddy' (1970 to 1971)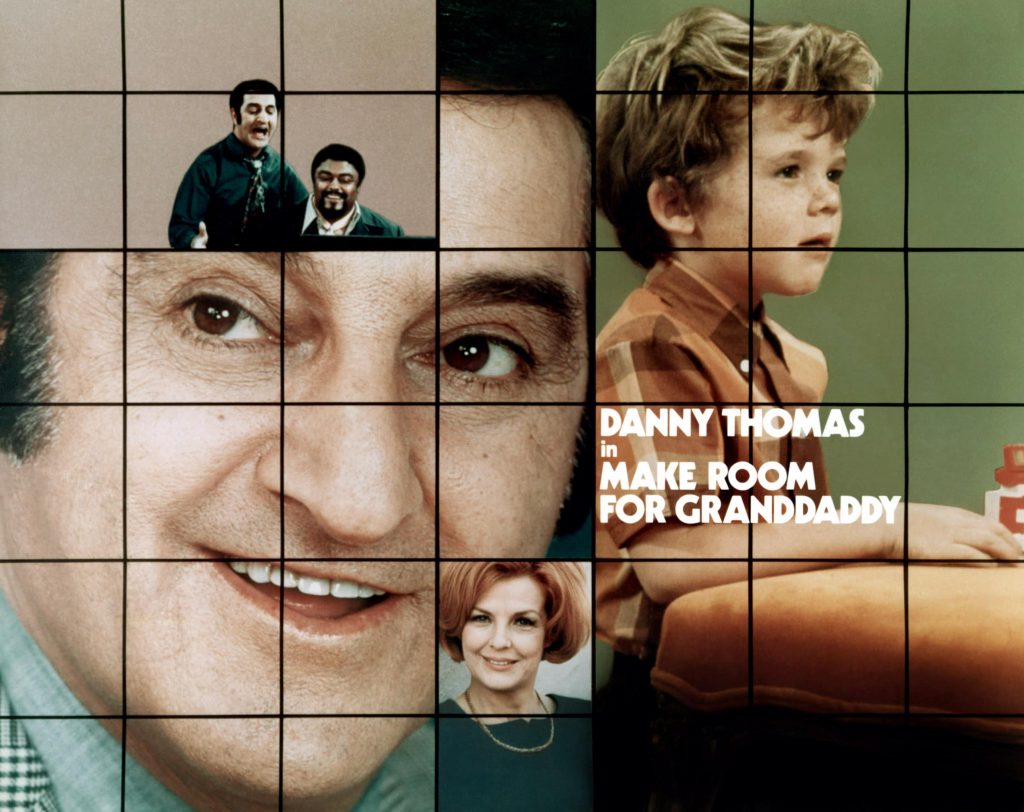 Another return with Make Room for Daddy star Danny Thomas reprising his role of entertainer Danny Williams, joined by the original members of his onscreen family along with some new ones, including his grandson. Pictured, Danny Thomas, Rosey Grier, Danny Thomas, Marjorie Lord, Michael Hughes.
3. 'The Mary Tyler Moore Show' (1970 to 1977)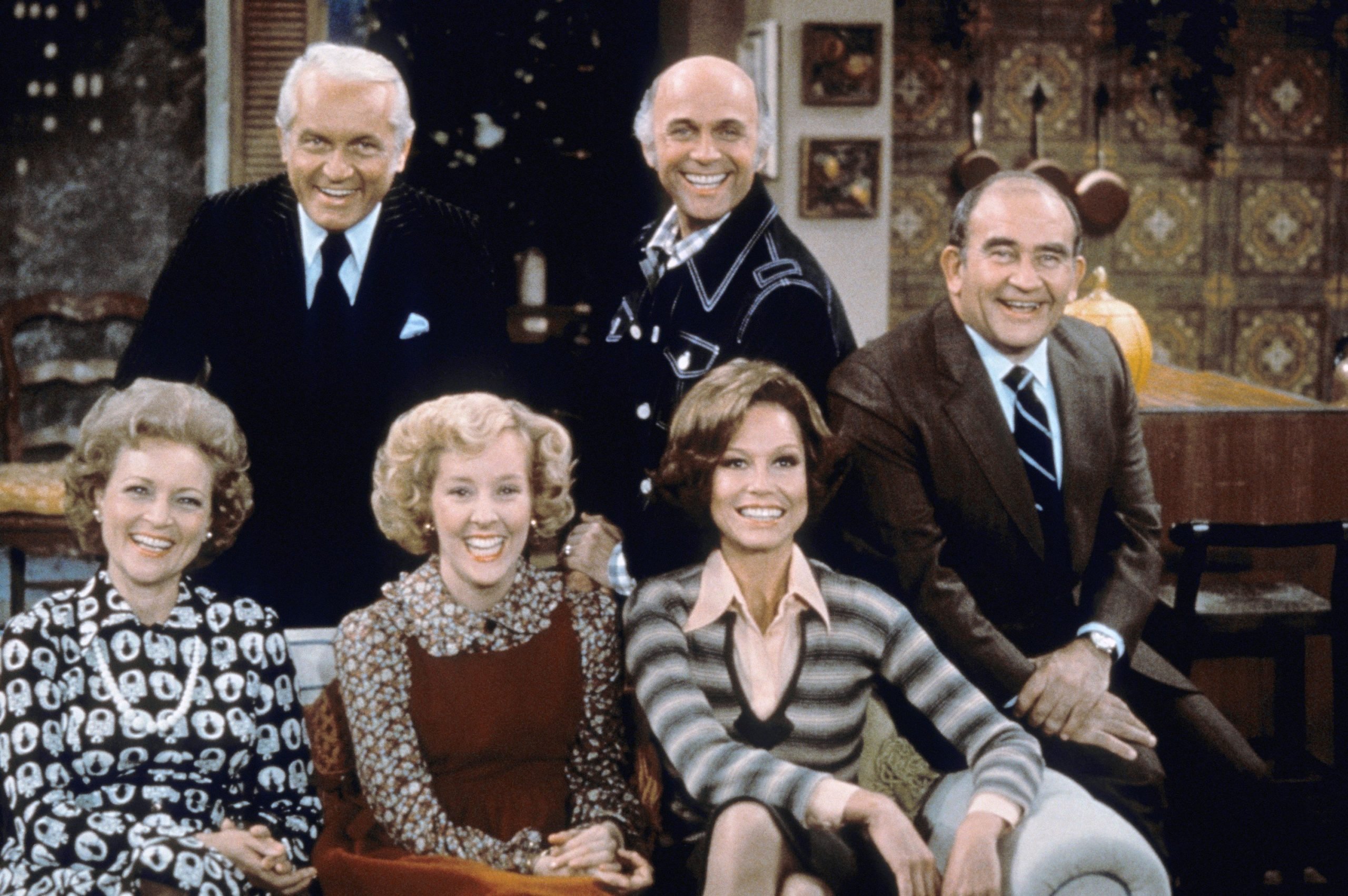 The first of many classic comedies that the 1970s gave us. Mary, who we last saw as Laura Petrie on The Dick Van Dyke Show, is back as Mary Richards, associate producer at WJM News. Besides representing the next step forward in women's roles on television, Mary led one of the great ensembles of all time. Lou Grant may hate it, but we'll say it anyway: she's got spunk and we love it. Pictured top from left: Ted Knight, Gavin MacLeod, Ed Asner; bottom: Betty White, Georgia Engel, Mary Tyler Moore.
4. 'Nanny and the Professor' (1970 to 1971)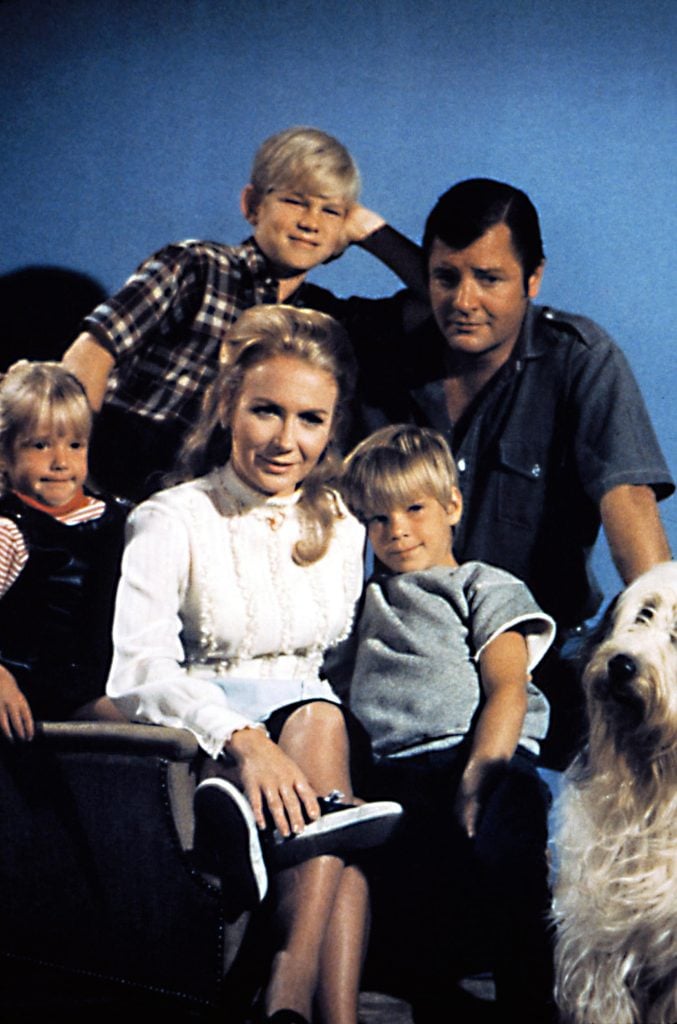 Consider this one Bewitched-lite in that there is definitely the suggestion of something magical about Juliet Mill's Phoebe Figalilly (who prefers to be called "Nanny"), as she reveals to Professor Harold Everett (Richard Long) and his three kids, whom she's agreed to help take care of. Mix a bit of Samantha Stephens with Mary Poppins and you've got Nanny. Above: Kim Richards (who went on to become A Real Housewife), Trent Lehman, Juliet Mills, David Doremus, Richard Long.
5. 'The Odd Couple' (1970 to 1975)
The most enduring creation of playwright Neil Simon focusing on mix-matched roommates Oscar Madison and Felix Unger and the battle between the slob and the neatnik. The 1965 play starred Walter Matthau and Art Carney as Oscar and Felix with Jack Lemmon replacing Carney in the 1968 film. But it's Jack Klugman and Tony Randall in this series — currently celebrating its 50th anniversary — that remains the greatest combination of them all. Some of the finest work by series creators Garry Marshall and Jerry Belson. Above: Jack Klugman, Marsha Mason, Neil Simon, Tony Randall, Garry Marshall, circa 1974.
6. 'The Partridge Family' (1970 to 1974)
People may forget how popular this show about a family of musicians really was and how this so-called "prefab" band scored on the charts in the same way The Monkees had a few years earlier. The show also turned David Cassidy into a teen heartthrob. From top right: Dave Madden; middle: David Cassidy, Shirley Jones, Susan Dey; bottom: Brian Forster, Suzanne Crough, Danny Bonaduce.
7. 'Pat Paulsen's Half a Comedy Hour' (1970)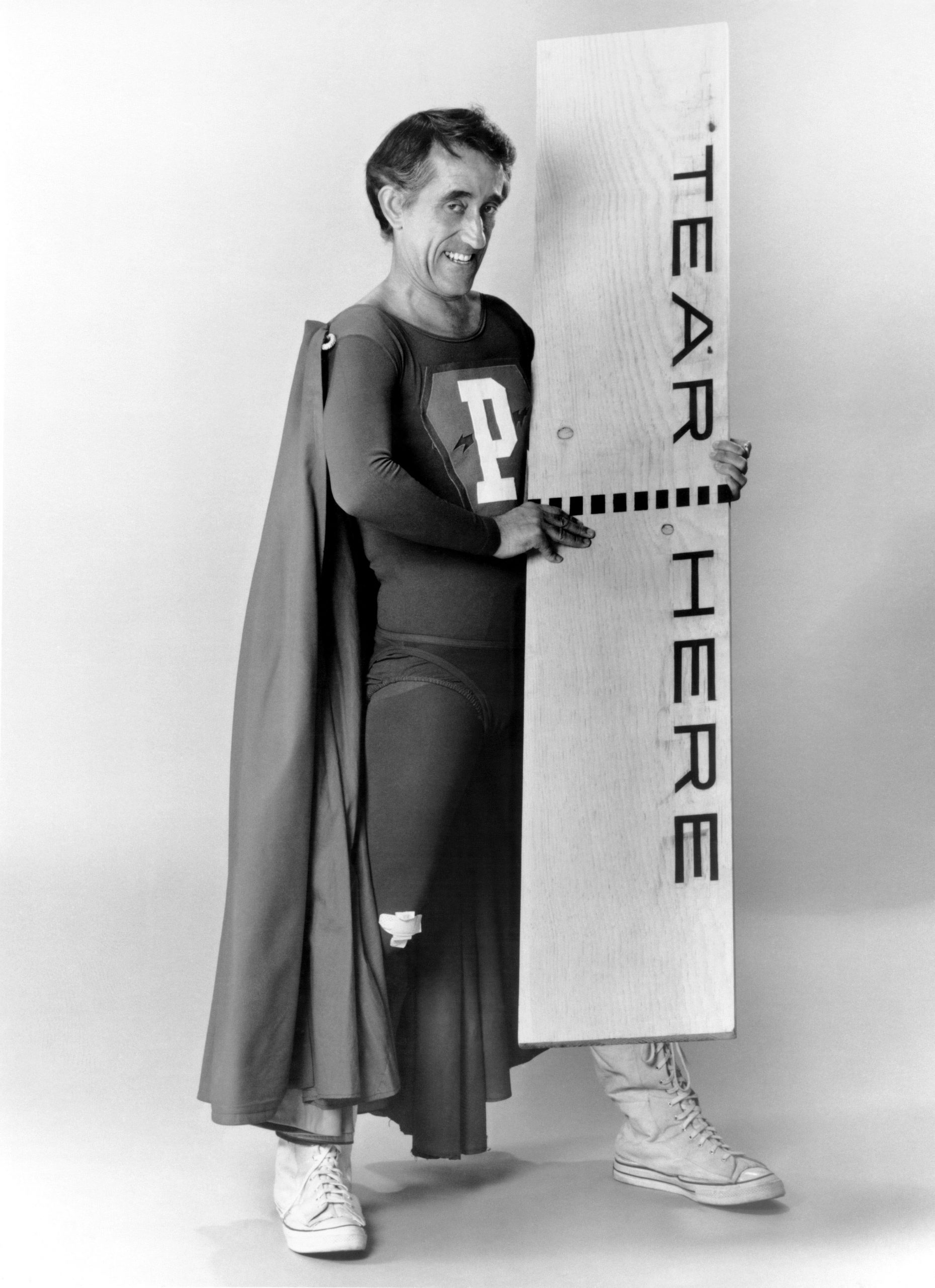 Paul Paulsen had caught people's attention as a part of The Smothers Brothers Comedy Hour and by facetiously running for president in 1968. Apparently, the audience wanted him in smaller doses as his own show only lasted 13 episodes.
8. 'The Tim Conway Show' / 'The Tim Conway Comedy Hour' (1970)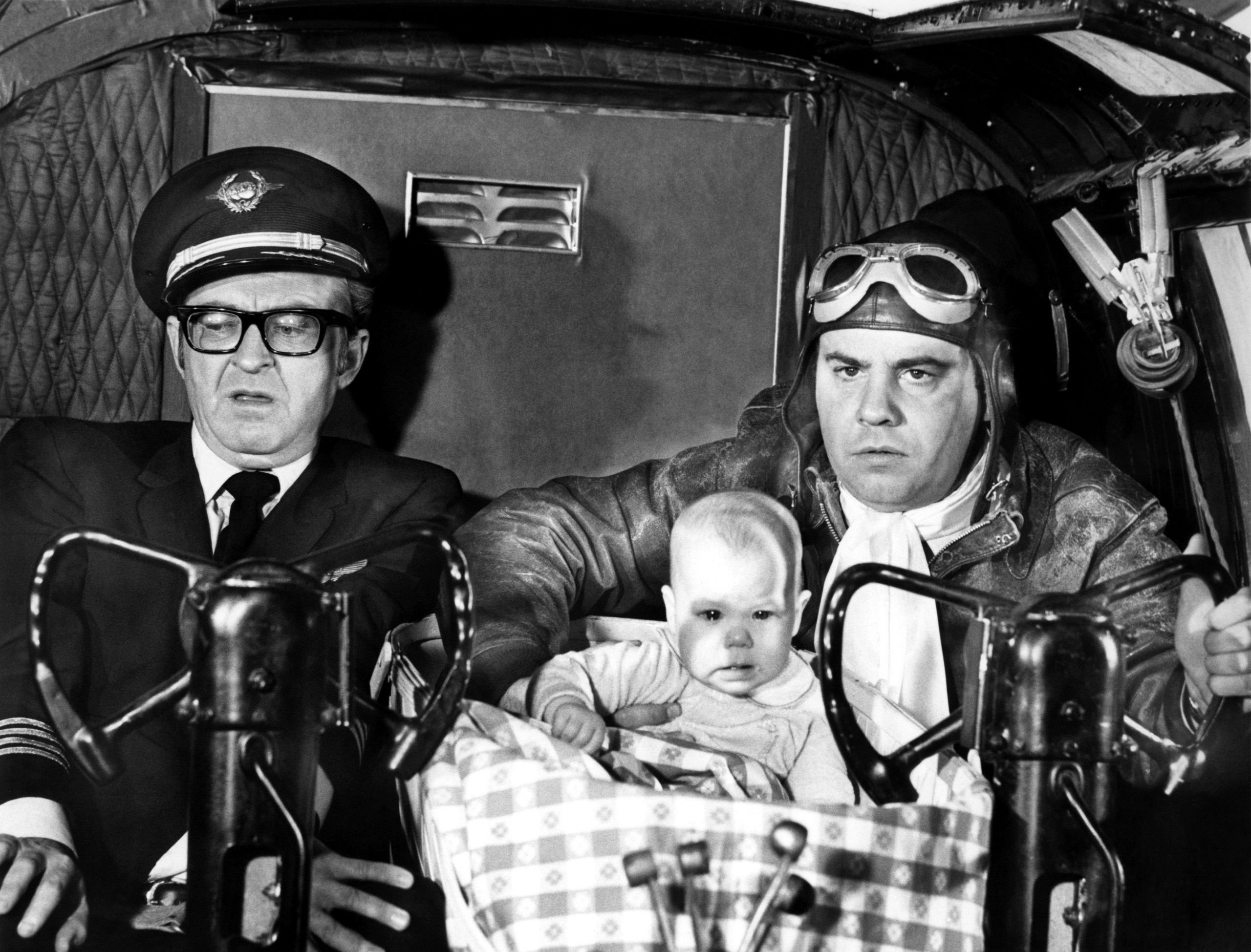 In 1970, Tim Conway had two opportunities to lead his own show. The first was a half-hour sitcom reuniting him with his McHale's Navy co-star Joe Flynn as a pair of guys running a single plane charter airline. The second was a more traditional sketch comedy show.
9. 'All in the Family' (1971 to 1979)
Groundbreaking and revolutionary, this series created by Norman Lear broke pretty much every taboo television had avoided since its inception (even something as seemingly innocuous as featuring the sound of a flushing toilet). It absolutely raised the bar of what the medium could be — and inspired no less than six spinoffs.
10. 'Getting Together' (1971 to 1972)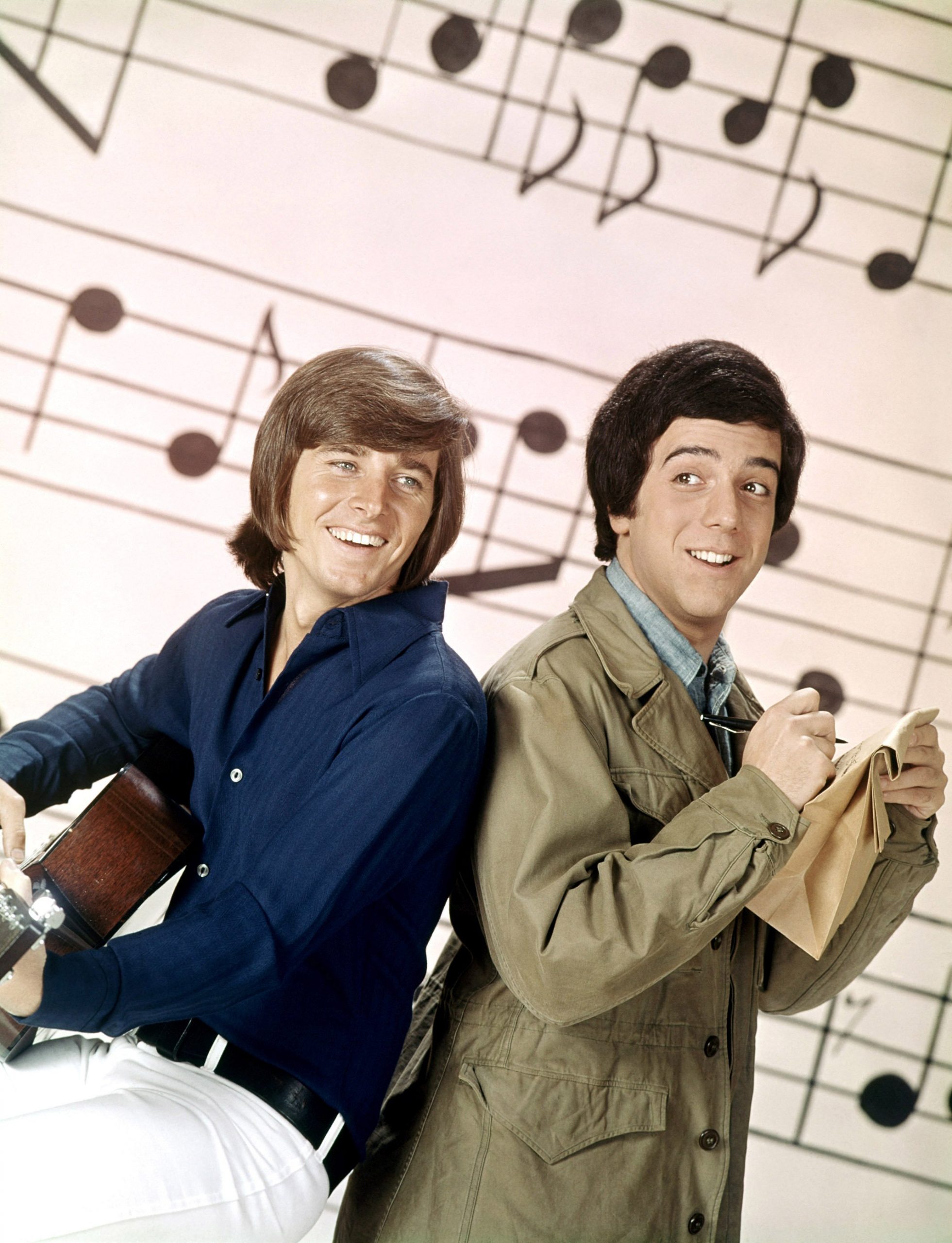 Singer Bobby Sherman is melodist/singer Bobby Conway and Wes Stern is lyricist Lionel Poindexter, and together they try to make a living in Los Angeles.
11. 'The Good Life' (1971 to 1972)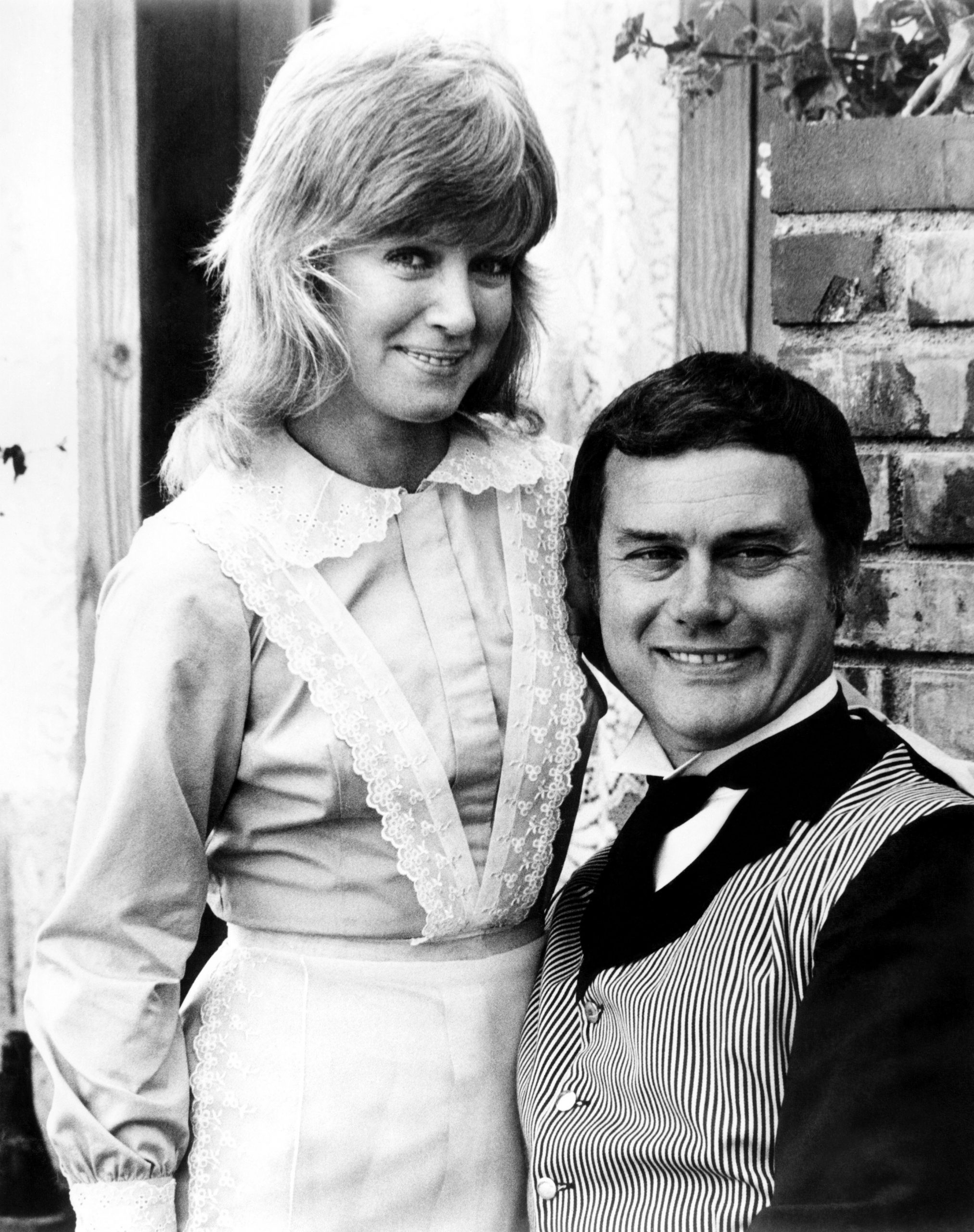 Between I Dream of Jeannie and Dallas, Larry Hagman starred with Donna Mills in this sitcom, playing a married couple who pose as servants for rich industrialist Charles Dutton (David Wayne). They're not very good at their job but somehow manage to remain hired for the short duration of the series.
12. 'The Jimmy Stewart Show' (1971 to 1972)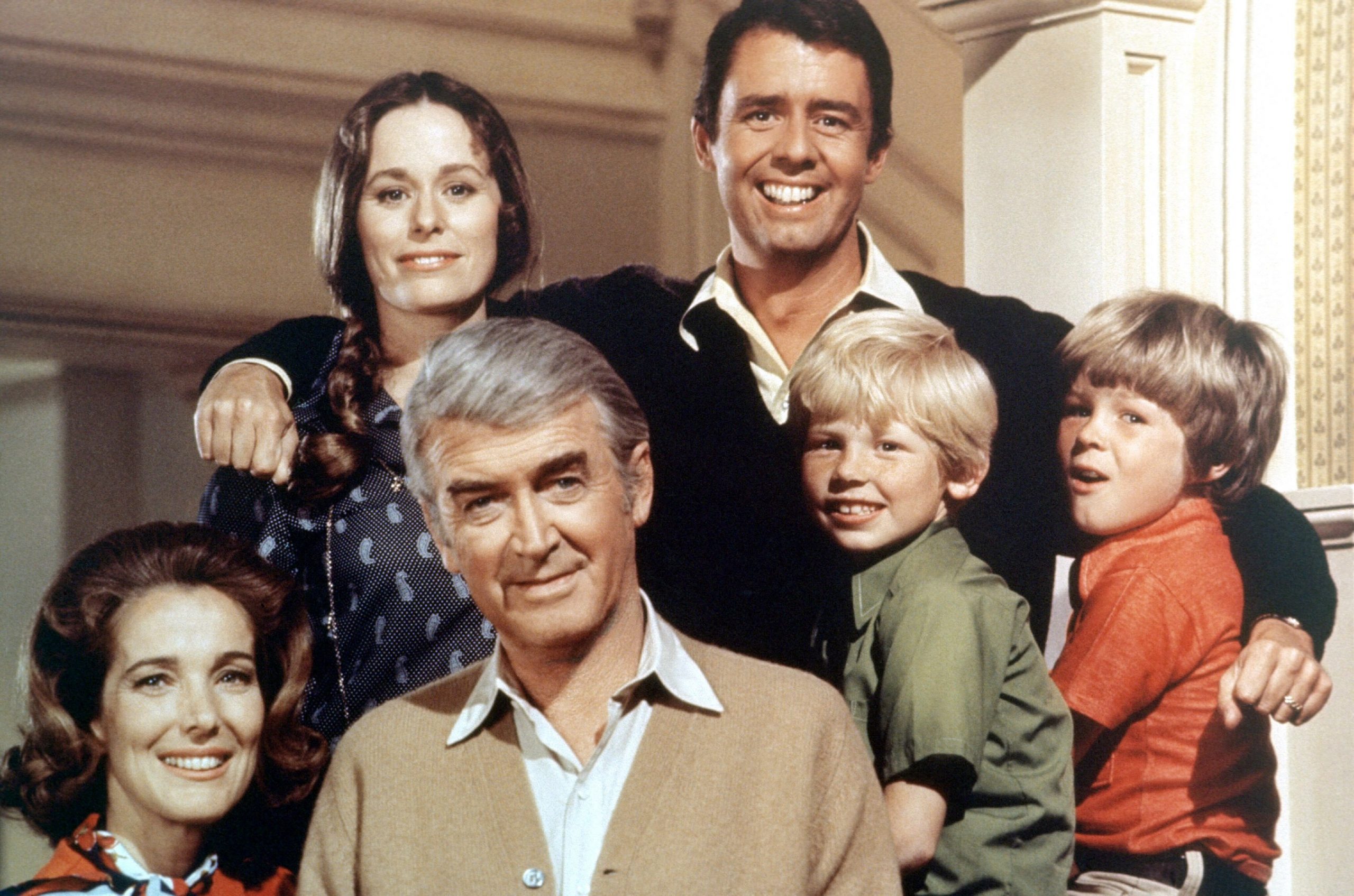 The only weekly television series that Jame Stewart — who for the first time allowed himself to be referred to as "Jimmy" in the credits — ever starred in. He plays Professor James K. Howard, who works at a small-town college and the show looks at his chaotic life professionally and personally.
13. 'The New Andy Griffith Show' (1971)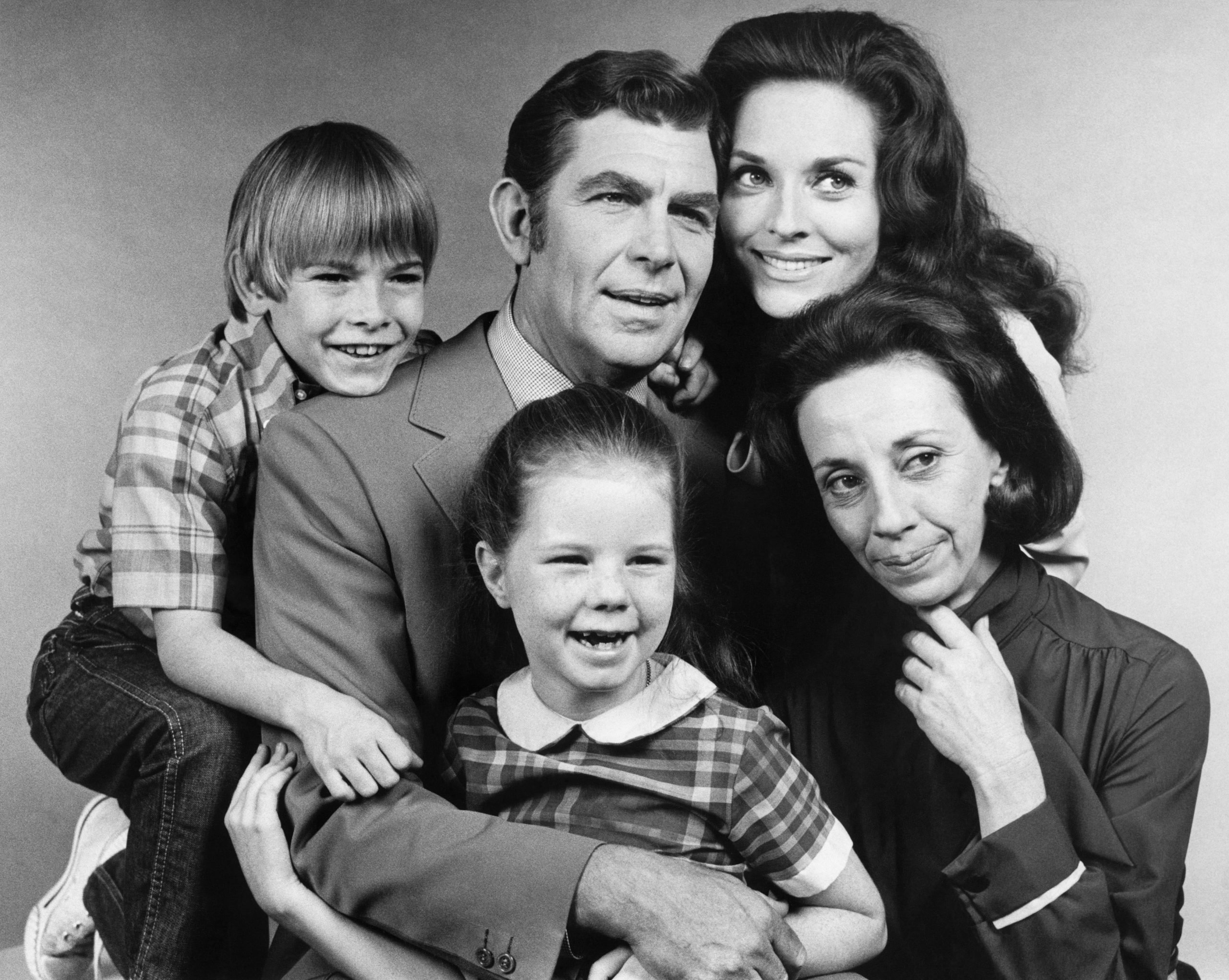 With The Headmaster sent packing, Andy decided to try another series, this time as Andy Sawyer who takes over as mayor of his southern hometown, Greenwood. Pictured top from left: Marty McCall, Andy Griffith, Lee Meriwether, bottom from left: Lori Rutherford, Ann Morgan Guilbert.
14. 'The New Dick Van Dyke Show' (1971 to 1974)
In one way it's kind of amusing that all of these guys who decided to leave hit series in the 1960s decided that they missed television and wanted to return. Not so funny is that none of them really made it, although this show did get three seasons. Dick plays Phoenix, Arizona talk show host Dick Preston. The series was created by The Dick Van Dyke Show's Carl Reiner. Pictured are Dick, Angela Powell, and Hope Lange.
15. 'The Partners' (1971 to 1972)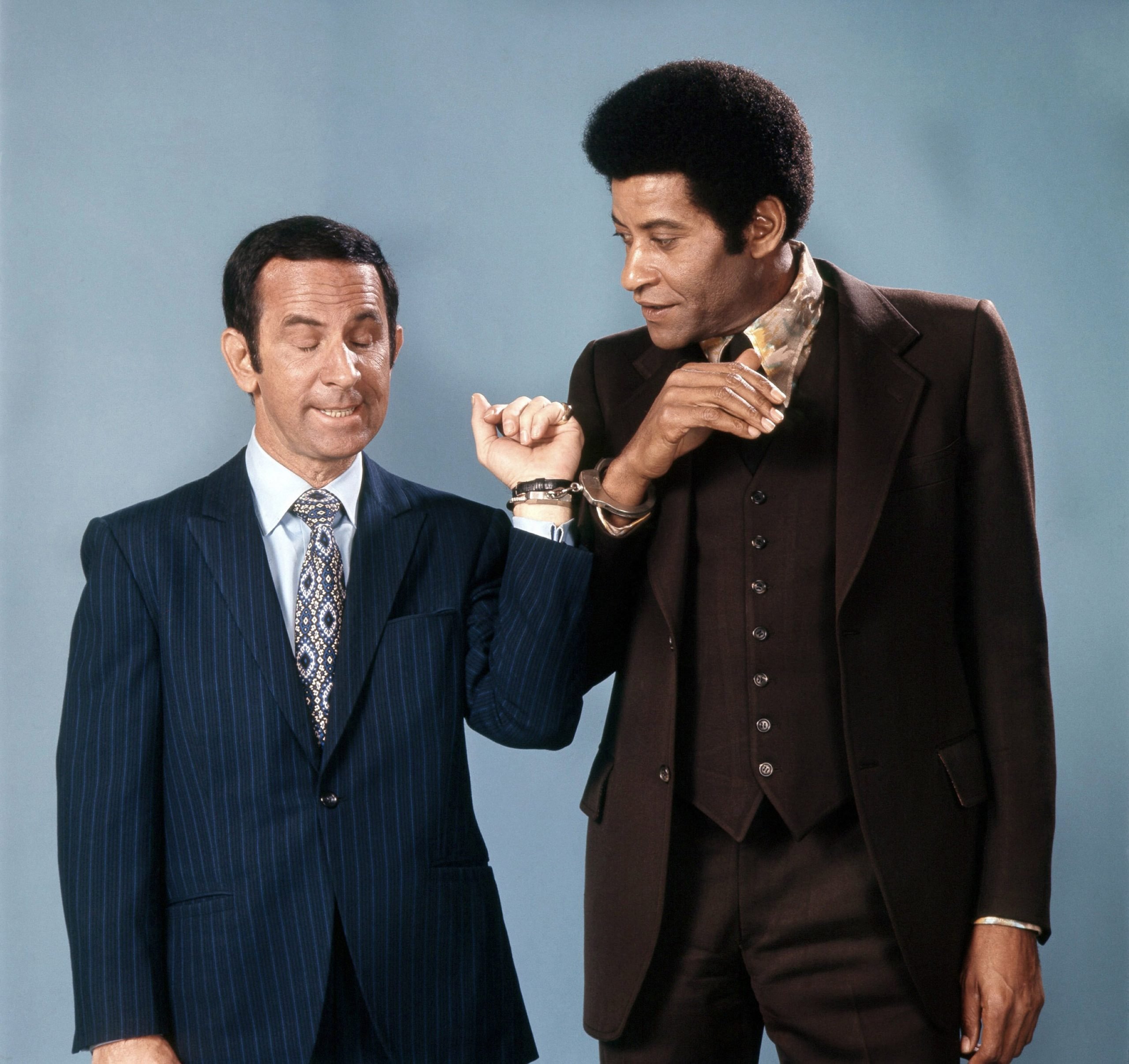 Would you believe that Get Smart star Don Adams returned to series television for this show, which saw him and Rupert Crosse as bumbling — would we expect anything else? — detectives.
16. 'Funny Face' / 'The Sandy Duncan Show' (1971 to 1972)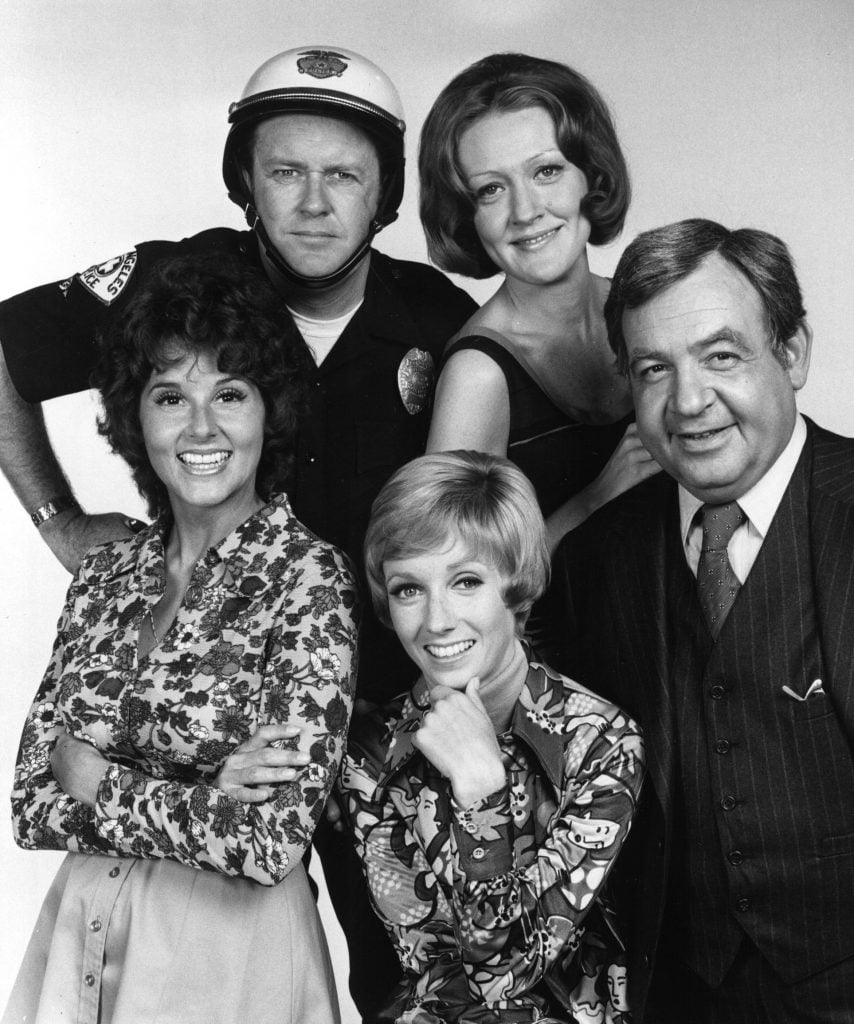 Two attempts to craft series around Sandy Duncan, whose career was rising at the time. In the first, she's an innocent woman from a small Illinois town who attends the University of California and also works as a television commercial actress. In the retooled version, her character now works at an advertising agency, reporting to Bert Quinn, played by Tom Bosley — just a couple of years away from playing Howard Cunningham on the long-running Happy Days.
17. 'The Bob Newhart Show' (1972 to 1978)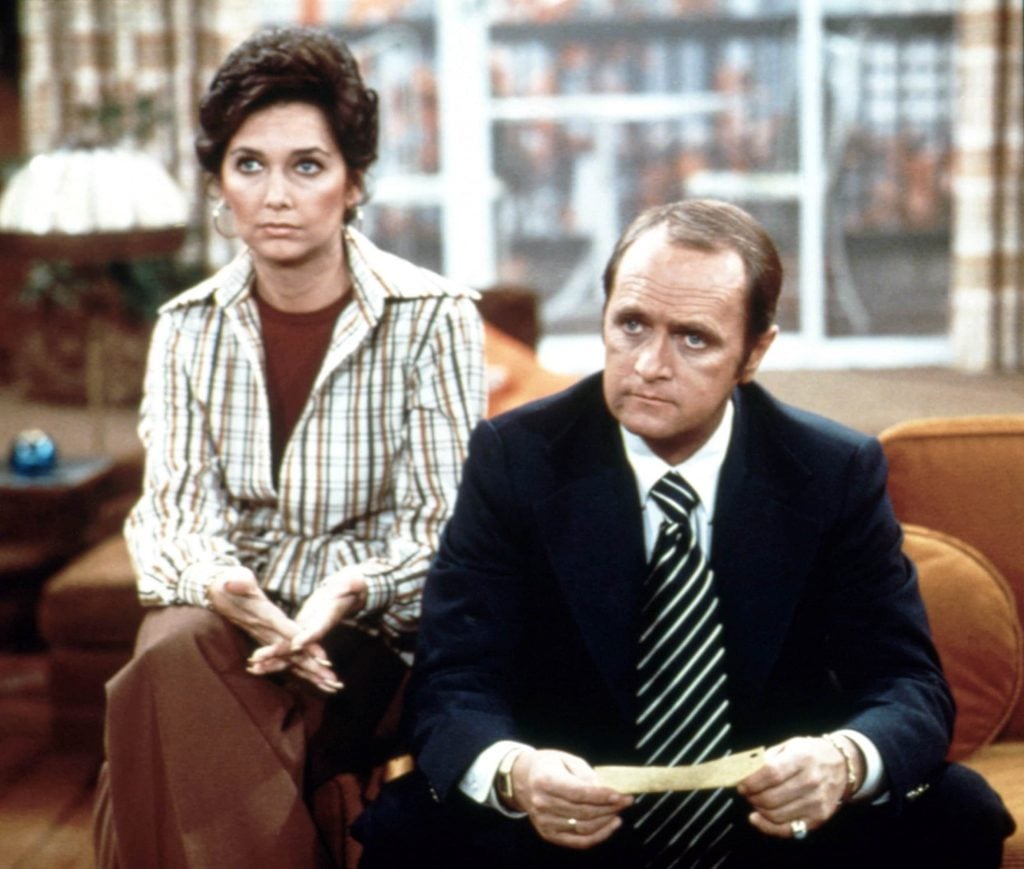 The hallmark understated style of Bob Newhart is given a chance to shine as Bob plays psychiatrist Dr. Robert "Bob" Hartley, who surrounds himself with a variety of "eccentric" patients. Suzanne Pleshette is his wife, Emily. Just another brilliant show of the time!
18. 'The Brian Keith Show' (1972 to 1974)
The former Family Affair star is now a pediatrician working in Hawaii. A true highlight of the show — as was the case with his last series — was to watch his interactions with kids.
19. 'Bridget Loves Bernie' (1972 to 1973)
While this look at the mixed marriage of Catholic Bridget Fitzgerald and Jewish cab driver Bernie Steinberg was very popular with the audience, the subject matter was considered controversial. Hey, one nice thing that came out of it is that Meredith and David Birney married in 1974 and were together until 1989.
20. 'The Don Rickles Show' (1972)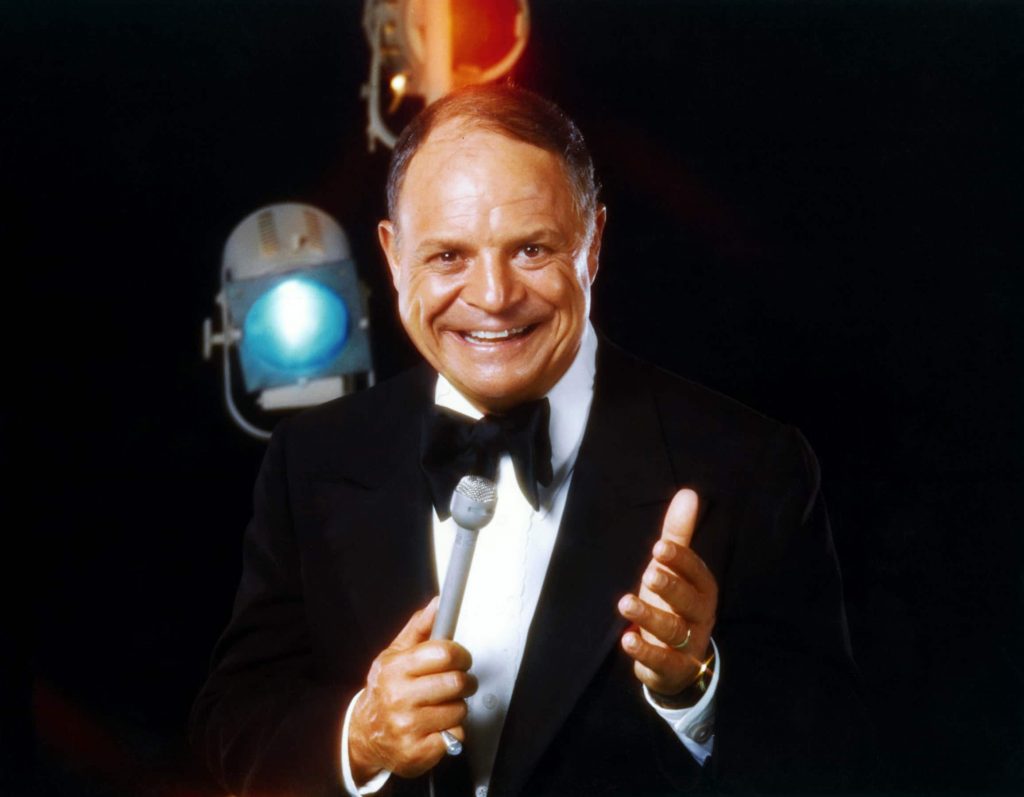 Don Rickles is advertising executive Don Robinson, who feels pretty much put upon at work and at home. Louise Sorel played his wife, Barbara, while Erin Moran — soon to be Joanie Cunningham on Happy Days — was his daughter, Janie.
21. 'Maude' (1972 to 1978)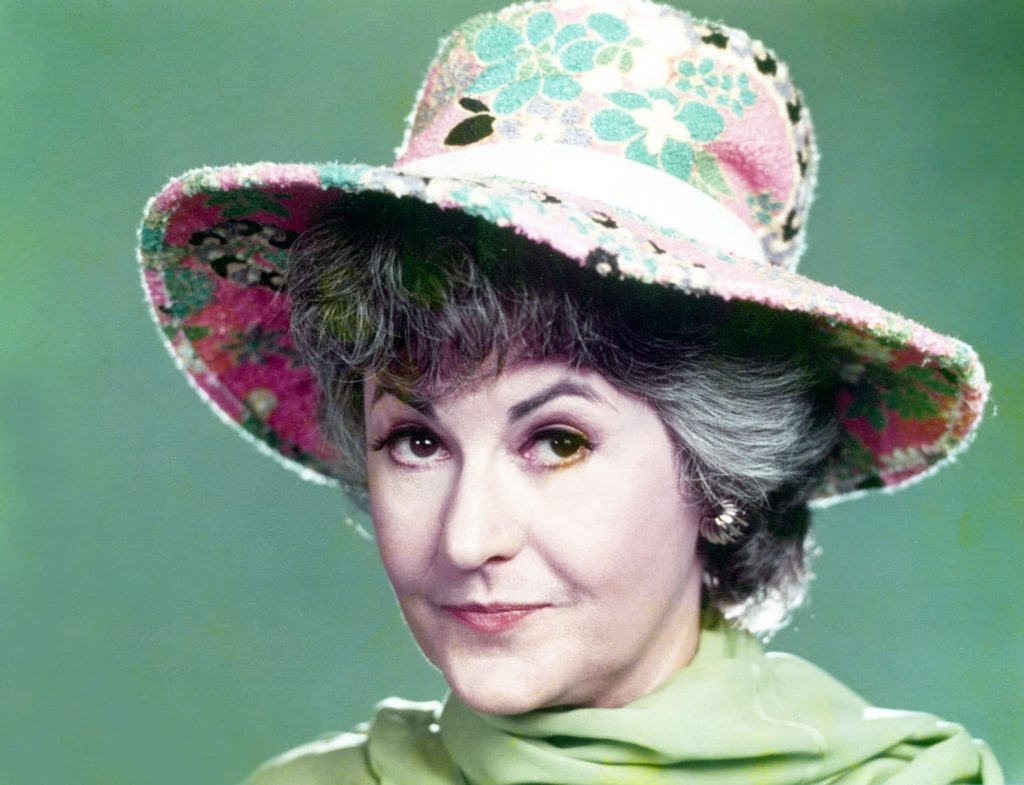 This spin-off from All in the Family sees Bea Arthur reprise the role of Maude Findley, the epitome of the Women's Lib movement. As such it tackled a wide variety of subjects that had never been dealt with before. Also starring Bill Macy as her husband, Walter; and Adrienne Barbeau as daughter Carol Trayner. The character of Maude was a cousin of Jean Stapleton's Edith Bunker.
22. 'M*A*S*H*' (1972 to 1983)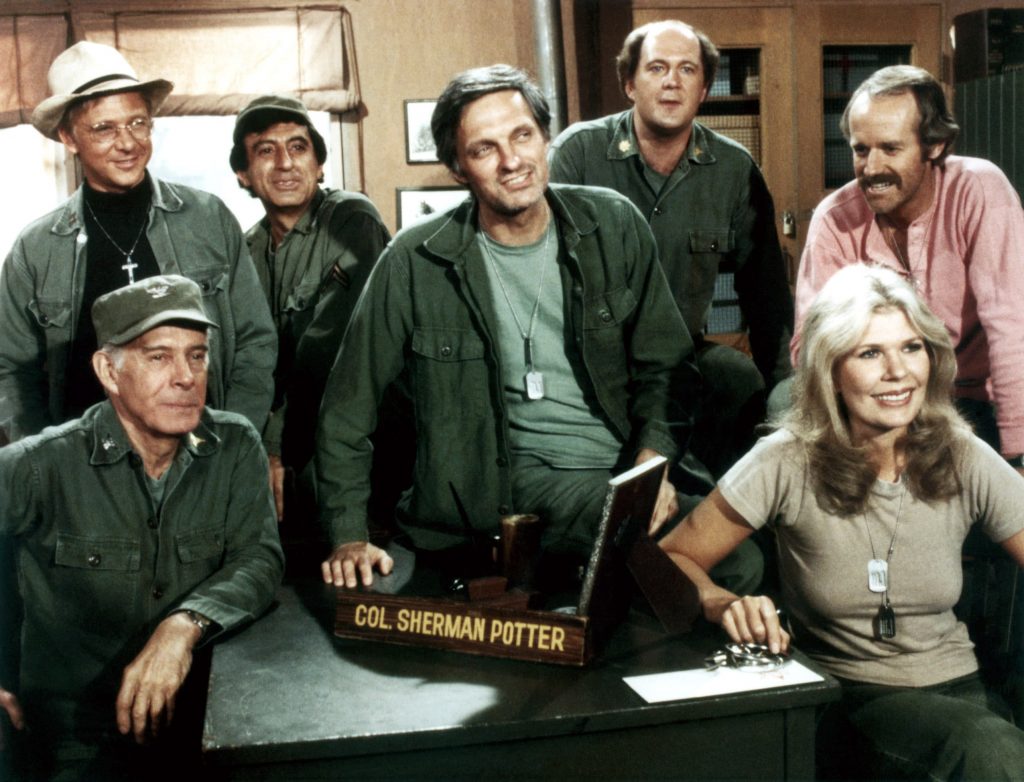 Like The Odd Couple, this was a TV series that surpassed the source material — the 1970 film of the same name that followed the doctors and nurses of a MASH medical unit during the Korean War. Members of the cast would rotate out, but each time the show would only get better as the horrors of war were presented with dark humor.
23. 'Me and the Chimp' (1972)
Ted Bessell, who had starred with Marlo Thomas on That Girl, was back, but she wasn't. This time he plays dentist Mike Reynolds whose family life is turned upside down by Buttons, a chimpanzee who they discover was once part of the space program. Lasting only 13 episodes, it was created by Garry Marshall and Thomas L. Miller.
24. 'The Paul Lynde Show' (1972 to 1973)
Paul Lynde had been connecting with audiences so well through various guest spots — especially as Uncle Arthur on Bewitched — that ABC wanted to give him a show of his own. While the humor of this family sitcom actually still works today, at the time the audience didn't go for it. Maybe they didn't believe in Lynde as a family man or — as the more popular theory goes — he was much stronger in small doses than in a show from start to finish. All we know is that we were and remain fans!
25. 'Sanford and Son' (1972 to 1977)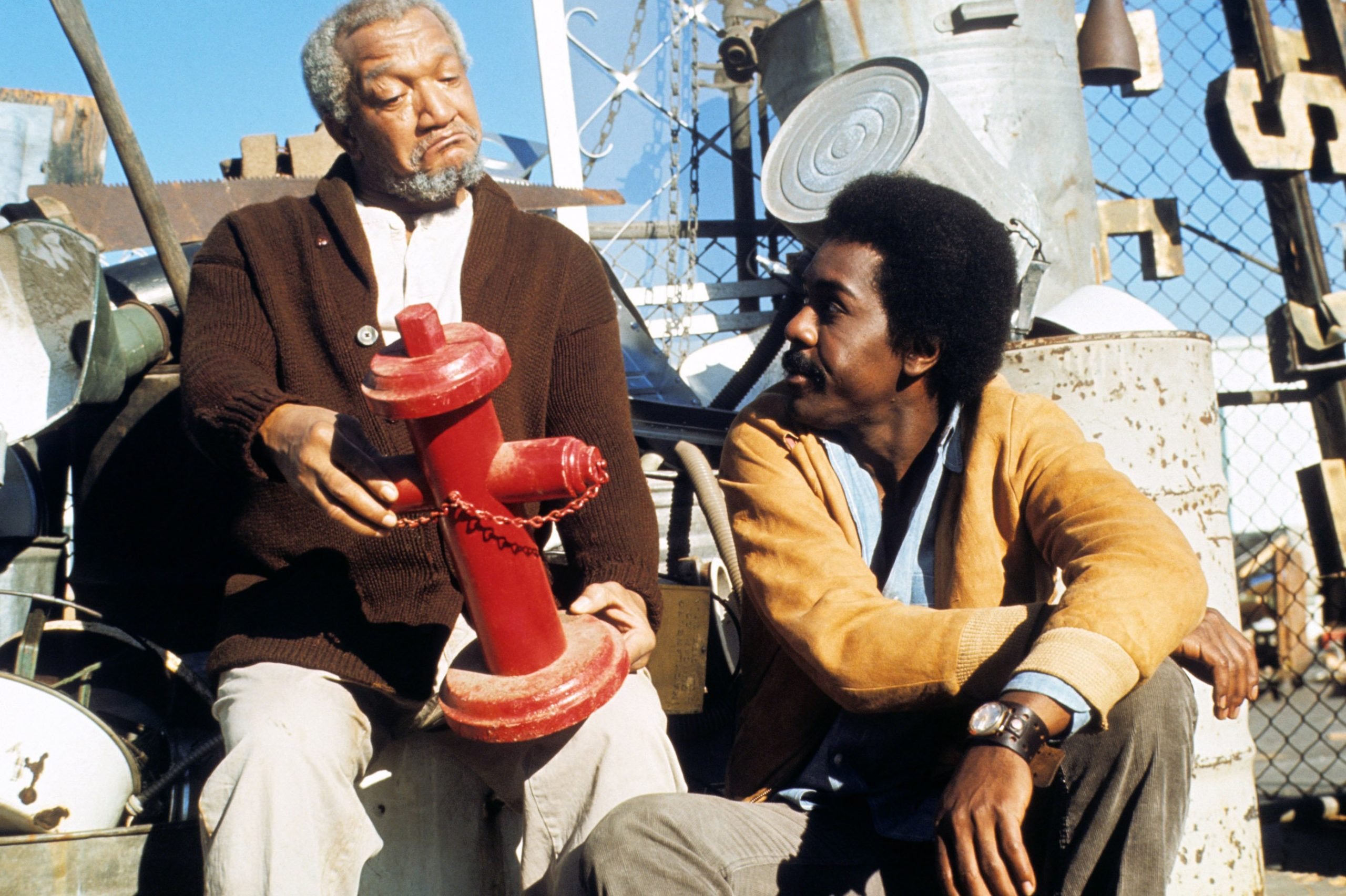 Developed by Norman Lear and Bud Yorkin, this show excelled in edgy racial humor, in many ways serving as a flipside to All in the Family. Fred and Lamont Sanford run a junkyard, but this show was anything but, landing in the Top 10 for five out of its six seasons. Above: Redd Foxx and Demond Wilson.
26. 'The Super' (1972)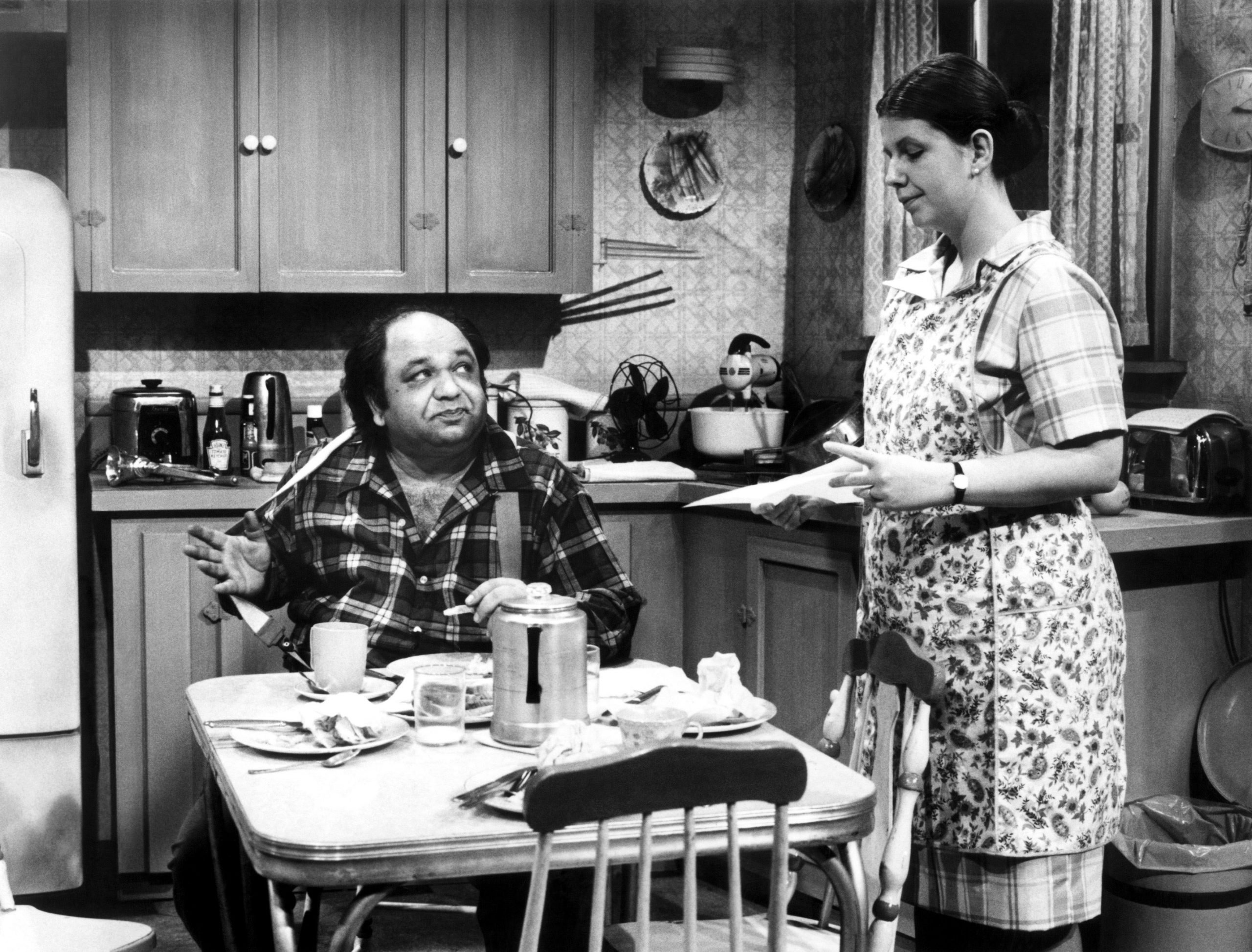 Richard S. Castellano's Joe Girelli finds himself raising his teenage son on his own and serving as the super of a New York apartment building.
27. 'Temperature's Rising' (1972 to 1974)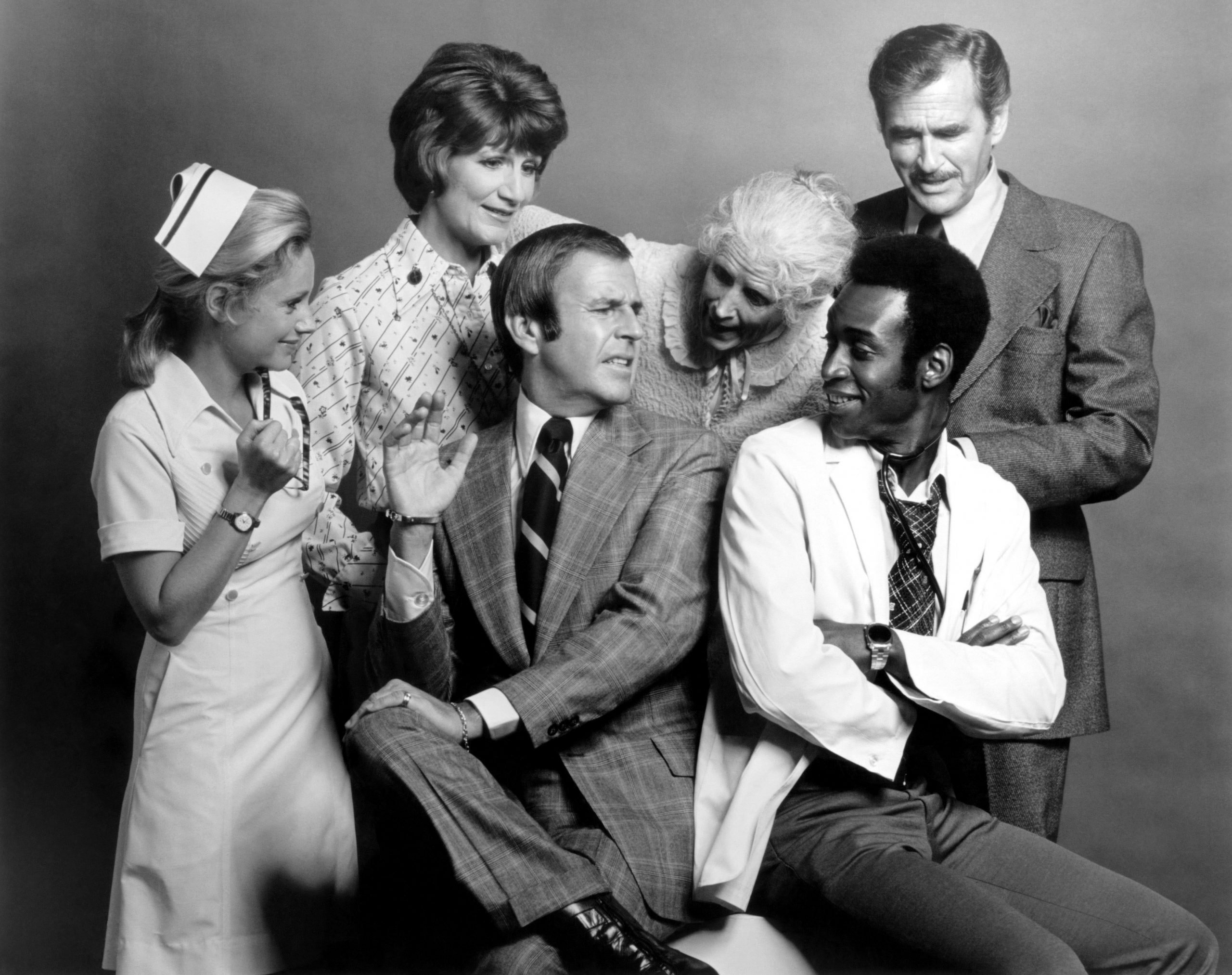 When this hospital sitcom failed in the ratings, the decision was made to add Paul Lynde to the mix and rebrand the show from Temperature's Rising to The New Temperature's Rising. Despite co-stars like Cleavon Little (who would star in 1973's Blazing Saddles), the efforts didn't work.
28. 'Wait Till Your Father Gets Home' (1972 to 1974)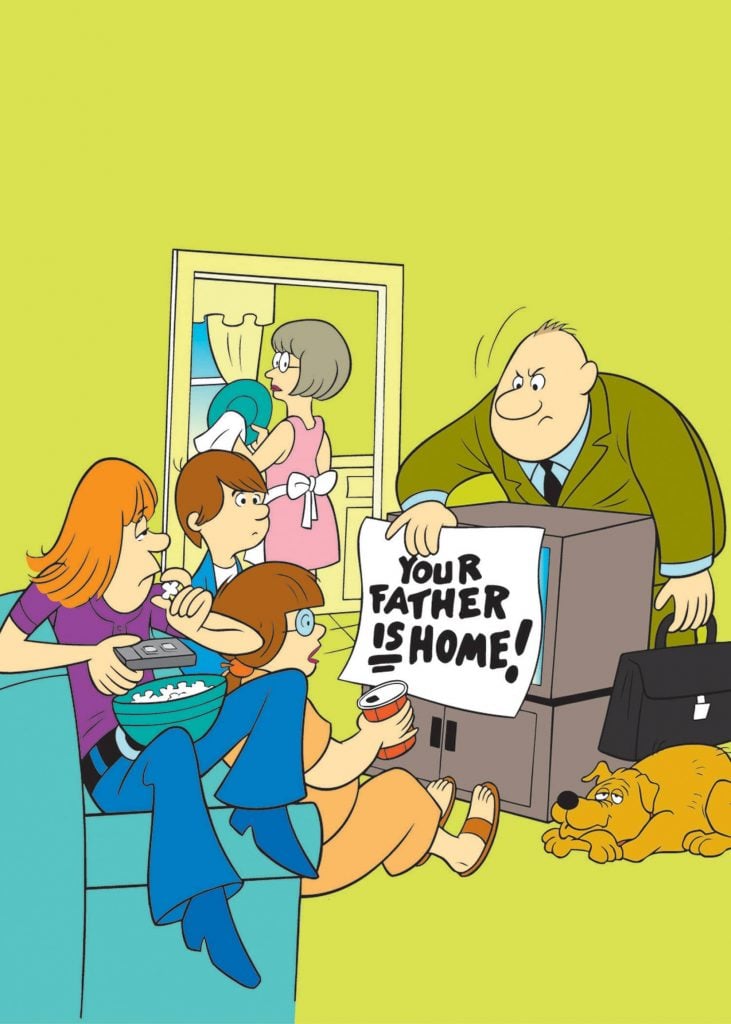 Tom Bosley voices Harry Boyle, a conservative who goes up against the rest of his family over the issues society was dealing with in the early 1970s. One of his kids was voiced by Willie Aames, who would go on to Eight is Enough and Charles in Charge.
29. 'Adam's Rib' (1973)
Ken Howard is assistant DA Adam Bonner, while his wife, Amanda (Blythe Danner) is a junior partner at a law firm. Needless to say, they end up in conflict with each other in court and back at home.
30. 'Bob & Carol & Ted & Alice' (1973)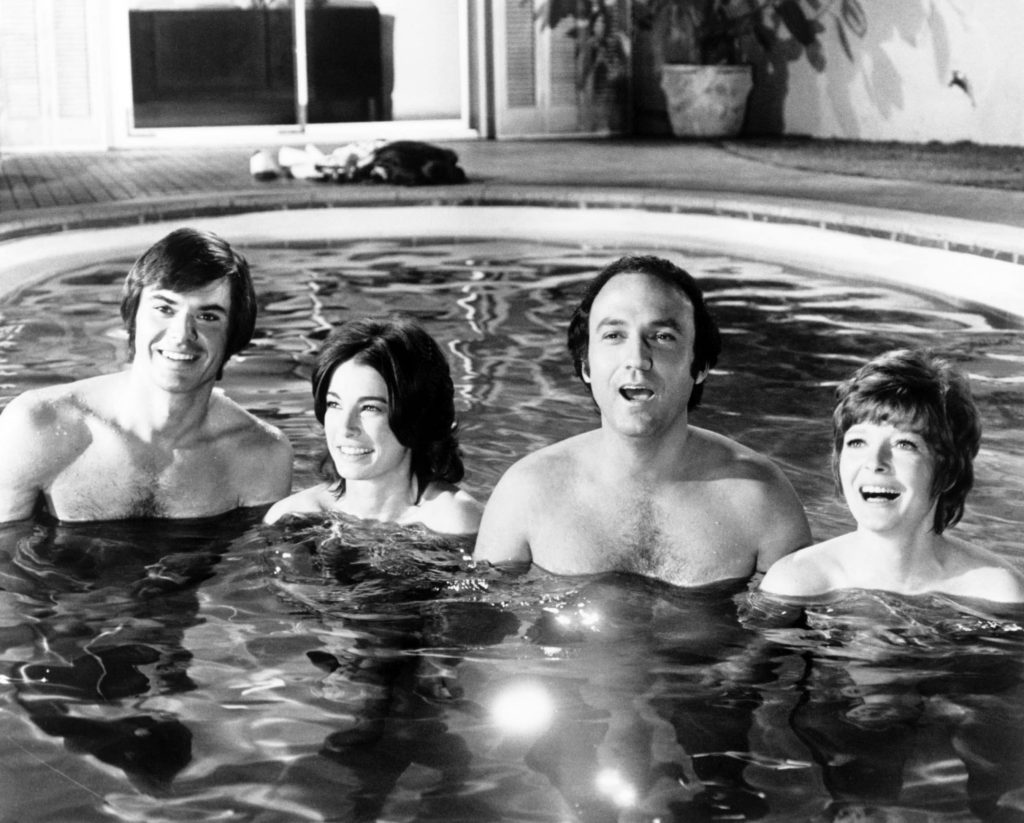 This was a watered-down version of the R-rated 1969 film of the same name which fully embraced the sexual revolution. Being this was an American TV show in 1973, it didn't stand a chance. The cast did include Robert Urich and Anne Archer.
31. 'Calucci's Department' (1973)
James Coco is Joe Calucci, a good guy working as a supervisor in the New York State Unemployment Department, and the show chronicles his interaction with coworkers and the public. Pictured, top from left: Jose Perez, Bill Lazarus, Bernard Wexler, Jack Fletcher, Peggy Pope, bottom from left: Candice Azzara, James Coco.
32. 'Diana' (1973)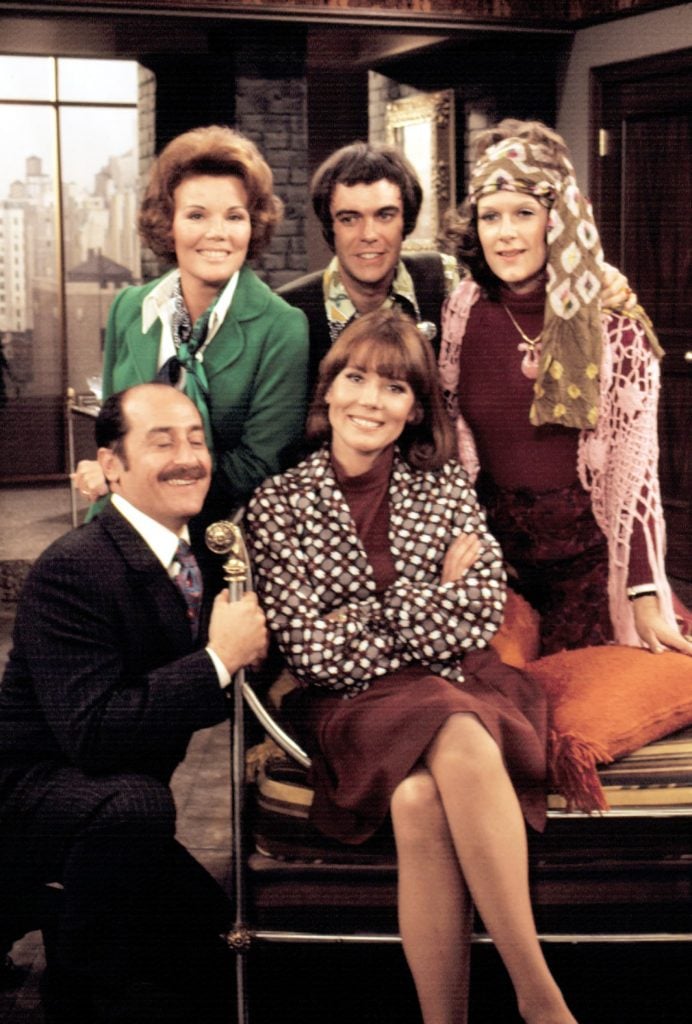 The late Diana Rigg — best known for playing Emma Peel in The Avengers TV show, James Bond's short-lived wife in On Her Majesty's Secret Service and, of course, on Game of Thrones — starred on this American sitcom as Diana Smythe, a woman who, following a divorce, decides to move from London to New York to work as a fashion coordinator at a Fifth Avenue department store.
33. 'The Girl with Something Extra' (1973 to 1974)
Newlyweds Sally and John Burton (Sally Field and John Davidson) are beginning their lives together when Sally develops ESP and suddenly finds herself able to read minds, Wackiness ensues. We know Sally hated starring in The Flying Nun, though we're not sure what her feeling was about this one.
34. 'Lotsa Luck' (1973 to 1974)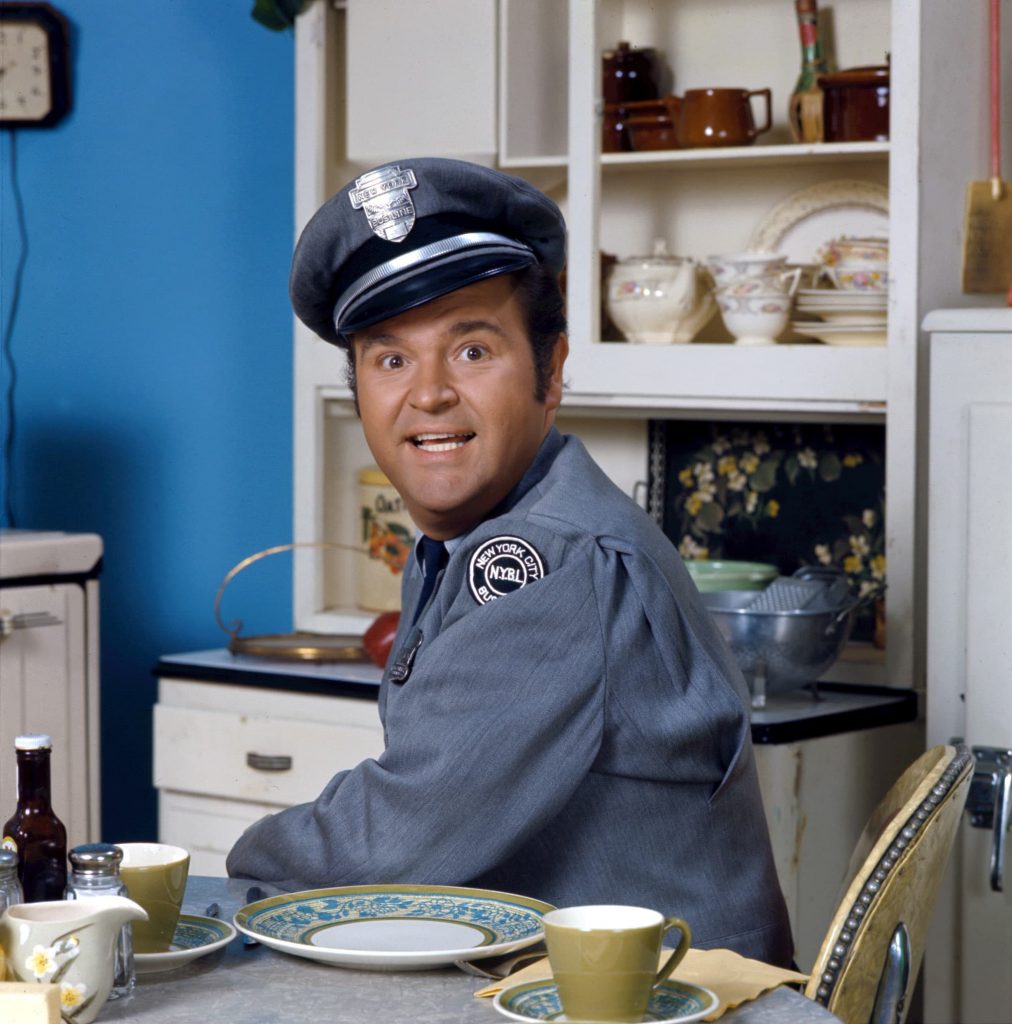 Dom Deluise is a bachelor Stanley Belmont, who struggles with the fact that he's living with his mother, sister, and his unemployed brother-in-law. The show was co-created by Carl Reiner.
35. 'Needles and Pins' (1973)
He ain't Mr. Roper in this one, but Norman Fell certainly looks like him, doesn't he? Same 'tude. Needles and Pins is set in the fashion district of New York City, with Norman playing clothing manufacturer Nathan Davidson.
36. 'Chico and the Man' (1974 to 1978)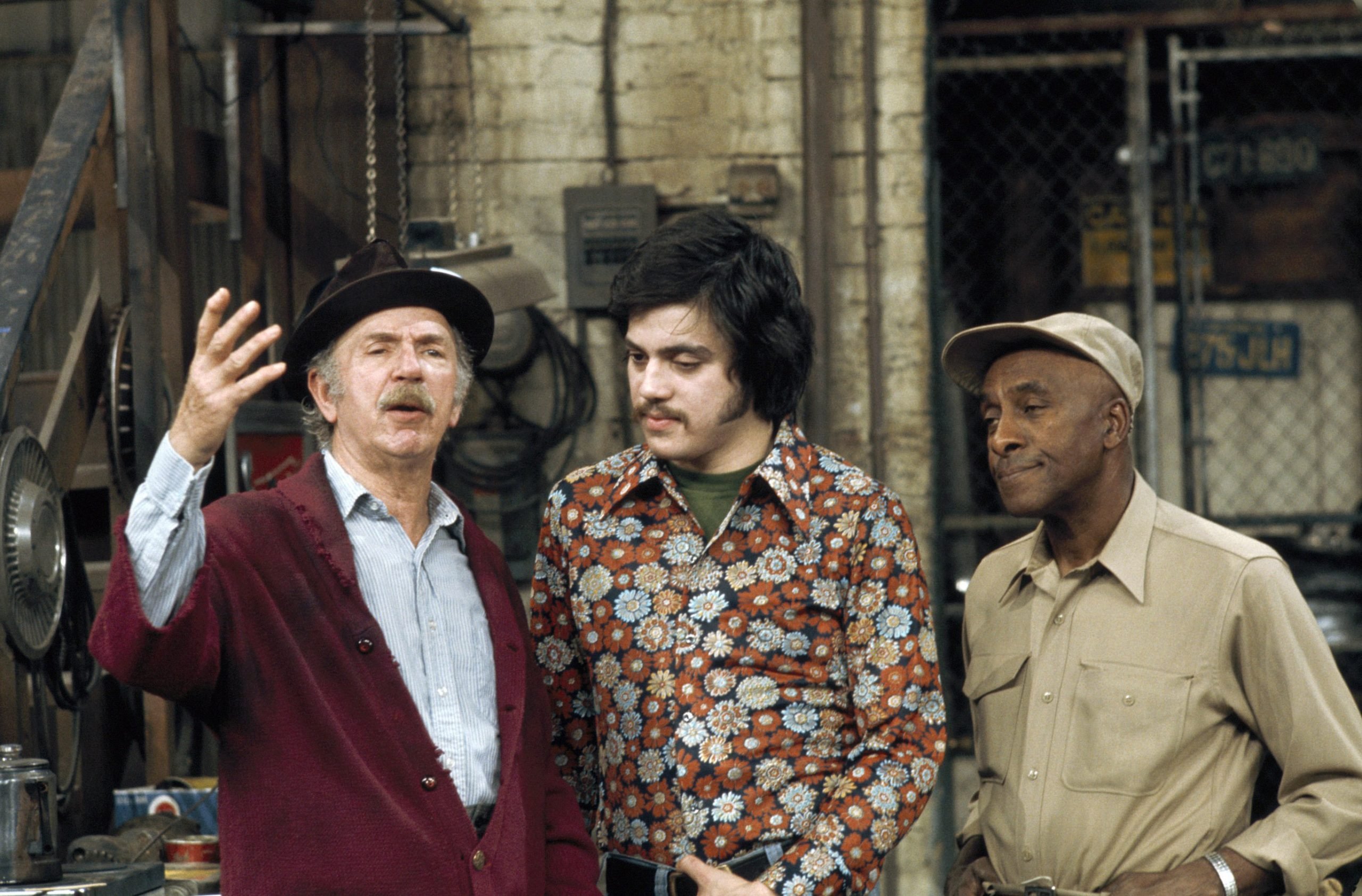 The perfect pairing with Sanford and Son back in the 1970s. Freddie Prinze is Chico Rodriguez, who seeks out a job with cantankerous garage shop owner Jack Albertson (just a couple of years since playing that mooch Grandpa Joe in Willy Wonka and the Chocolate Factory). Sadly, Freddie would commit suicide in the middle of the show's run. They tried to carry on without him, but it didn't work.
37. 'Good Times' (1974 to 1979)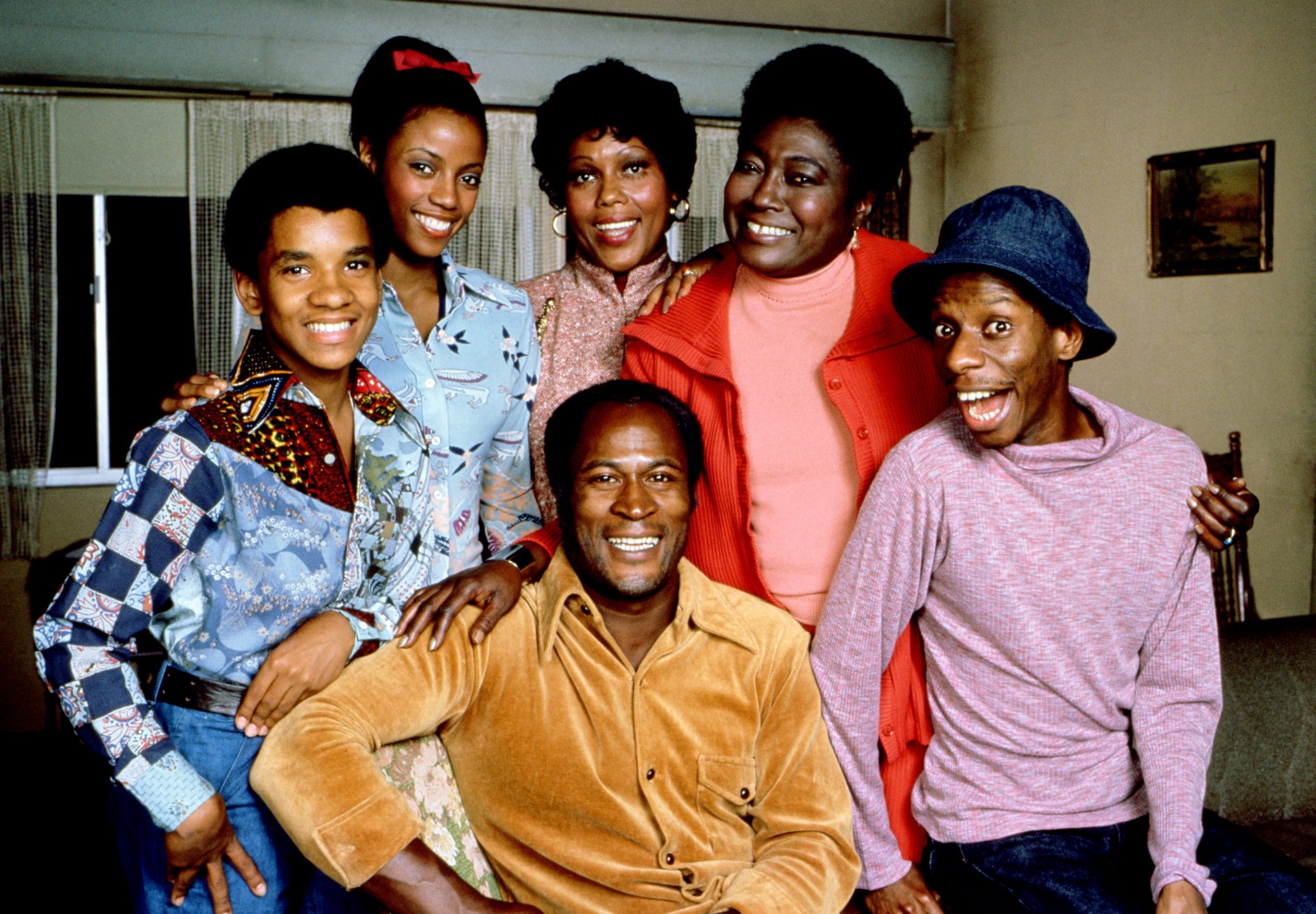 A spinoff from Maude focused on Esther Rolle's Florida Evans (she worked as Maude's maid) and her family in the Chicago housing projects. Also starring Ralph Carter, Bernadette Stanis, Ja'net DuBois, John Amos and Jimmie Walker, whose catchphrase "Dyn-o-mite!" entered the popular vernacular for a time.
38. 'Happy Days' (1974 to 1984)
It's Richie, the Fonz, Potsie, Ralph, and, of course, the Cunningham family. Pictured above, clockwise from the top left, are Tom Bosley, Marion Ross, Henry Winkler, Ron Howard, and Erin Moran. The Fonz became a true phenomenon in this light-hearted show about life in the 1950s.
39. 'Paul Sand in Friends and Lovers' (1974 to 1975)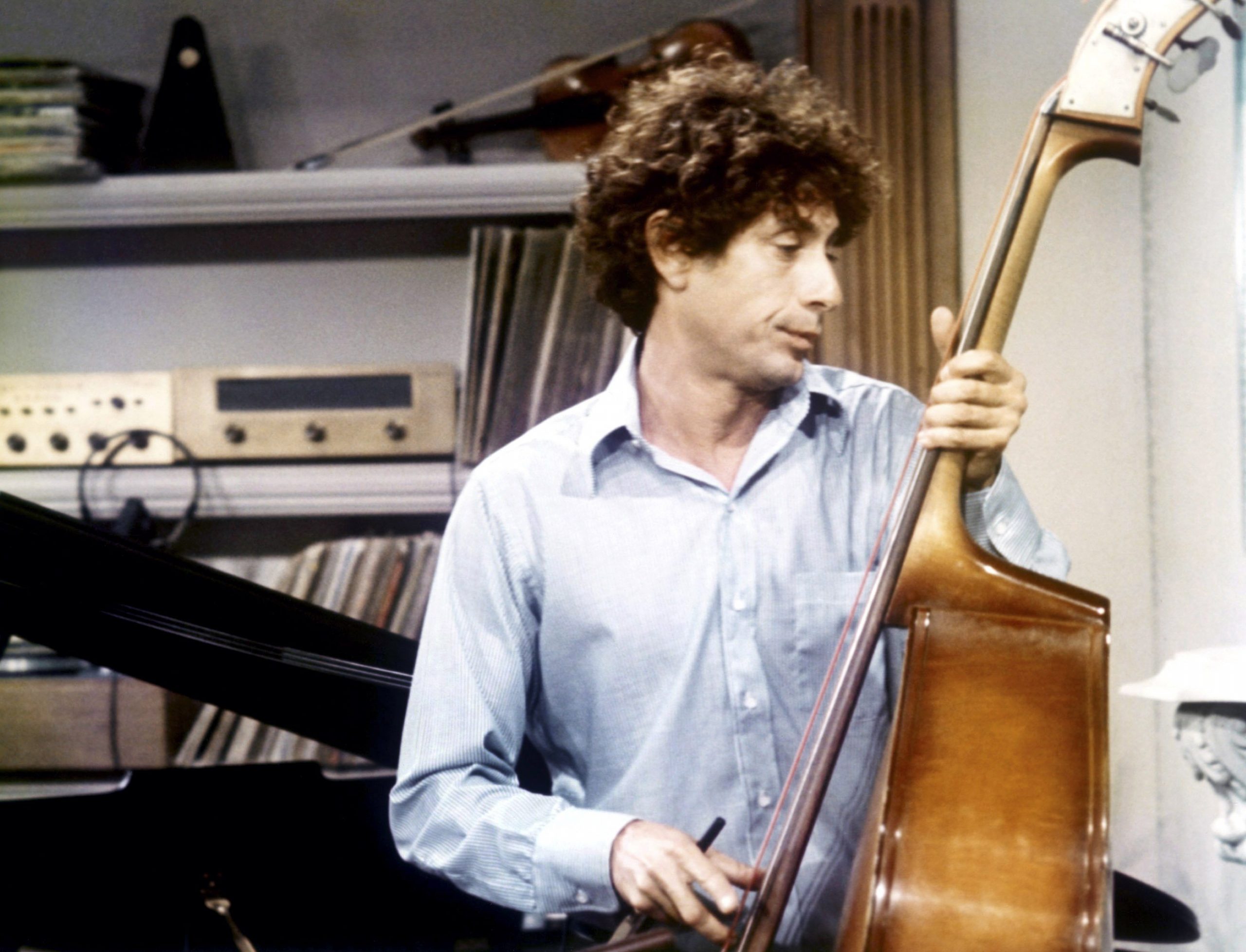 Paul Sand is Boston symphony violinist Robert Dreyfuss, who falls in love all the time without much success and decides that he'd be better off hanging out with his brother and sister-in-law (Michael Pataki and Penny Marshall, who was this close to Laverne & Shirley).
40. 'Rhoda' (1974 to 1978)
Valerie Harper's Rhoda Morgenstern is spun off from The Mary Tyler Moore Show and is brilliant in her own right. Just so long as Rhoda doesn't marry her boyfriend, Joe … Wait, she does? Bye, Rhoda. Pictured: Harold Gould, Nancy Walker, Julie Kavner, Valerie and David Groh.
41. 'That's My Mama' (1974 to 1975)
Describes IMDB: "Clifton likes being a barber in Washington, D.C., where he works in the business started by his father. He also enjoys being single, but his widowed mama Eloise has other ideas and wants him settled like his sister Tracy and her conservative husband Leonard. Pictured above, from left, are Clifton Davis, Theresa Merritt, and a pre-Love Boat Ted Lange, whose character was a mailman. He liked to enter the scene saying, "I got it …. I got it … and I gotta report it!"
42. 'Barney Miller' (1975 to 1982)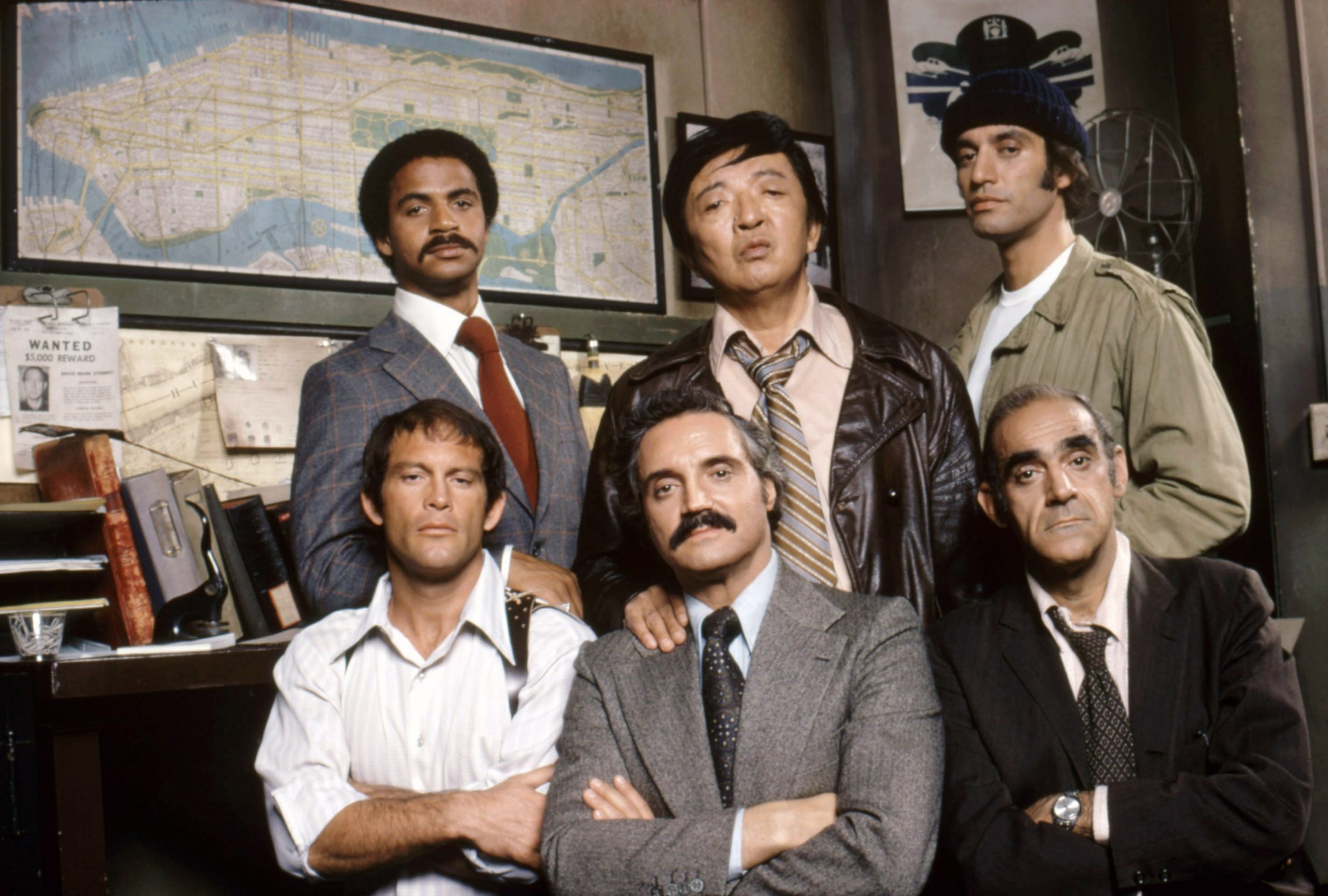 A great ensemble of actors brings the cops of New York's 12th Precinct to life. Pictured are, standing from left, Ron Glass, Jack Soo, Gregory Sierra; sitting from left: Max Gail, Hal Linden, and Abe Vigoda.
43. 'The Bob Crane Show' (1975)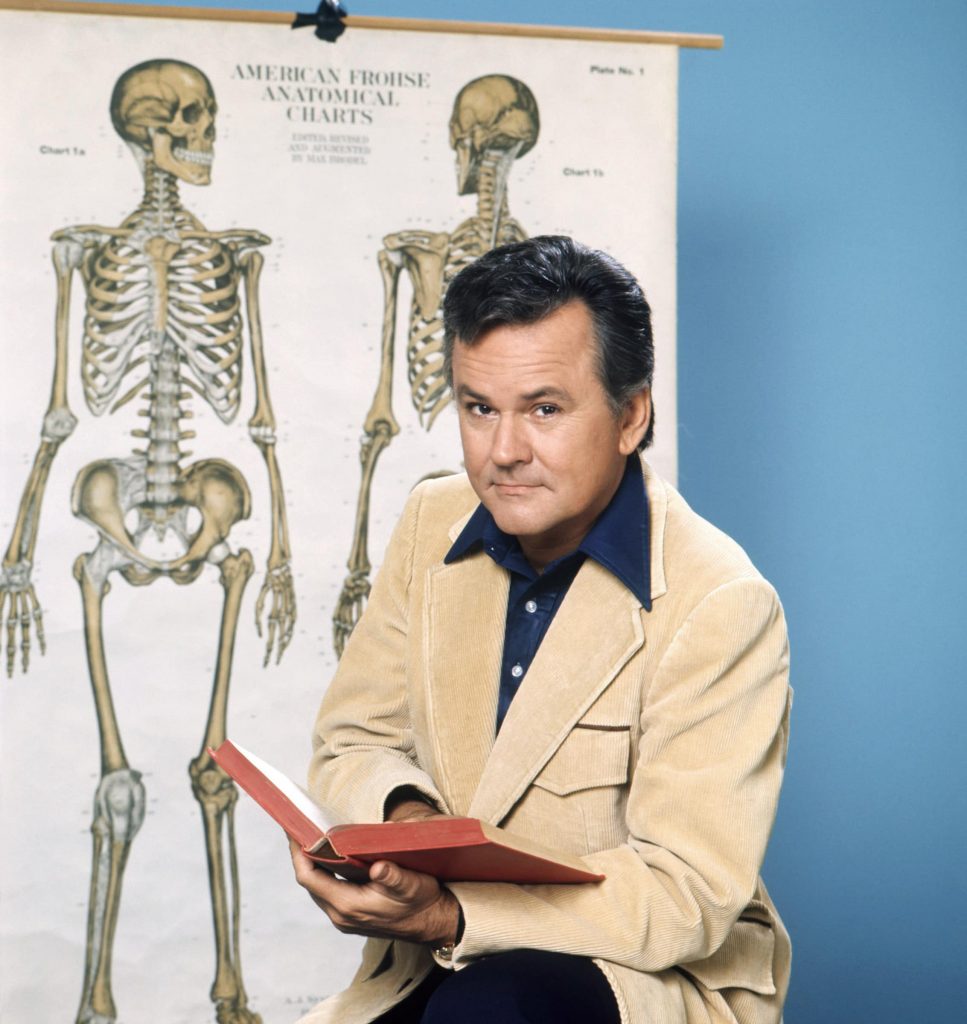 Hogan's Heroes star Bob Crane is former insurance salesman Bob Wilcox who has decided to attend medical school and needs the support of his family with the curriculum (not to mention complications coming from the fact he's one of the older students there).
44. 'Doc' (1975)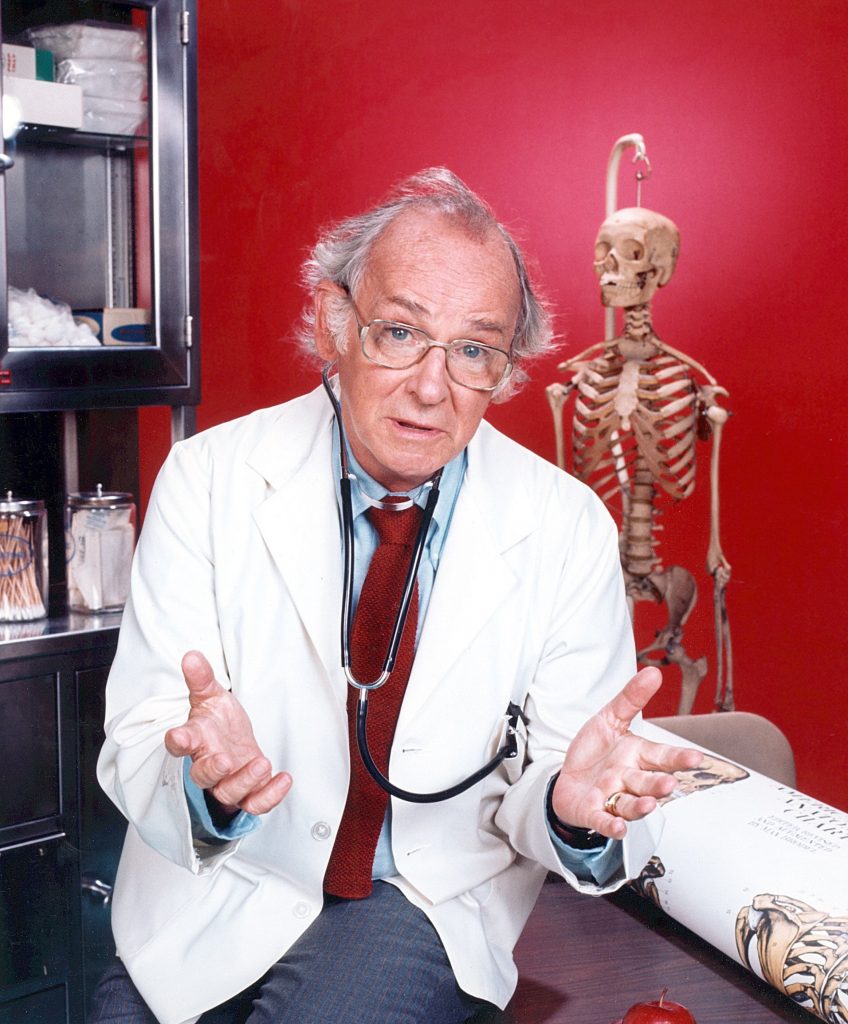 In a nutshell, there's plenty of gentle humor coming from Barnard Hughes as an old-fashioned family doctor named Joe Bogart.
45. 'Fay' (1975 to 1976)
After 25 years of marriage, Lee Grant's Fay Stewart begins navigating a new job and dating again in her 40s. Created by Susan Harris, who would go on to create Loves Me, Loves Me Not; Soap, Benson, I'm a Big Girl Now, It Takes Two, Hail to the Chief, The Golden Girls, Empty Nest, Good & Evil, Nurses, The Golden Palace and The Secret Lives of Men. That's some track record.
46. 'Hot l Baltimore' (1975)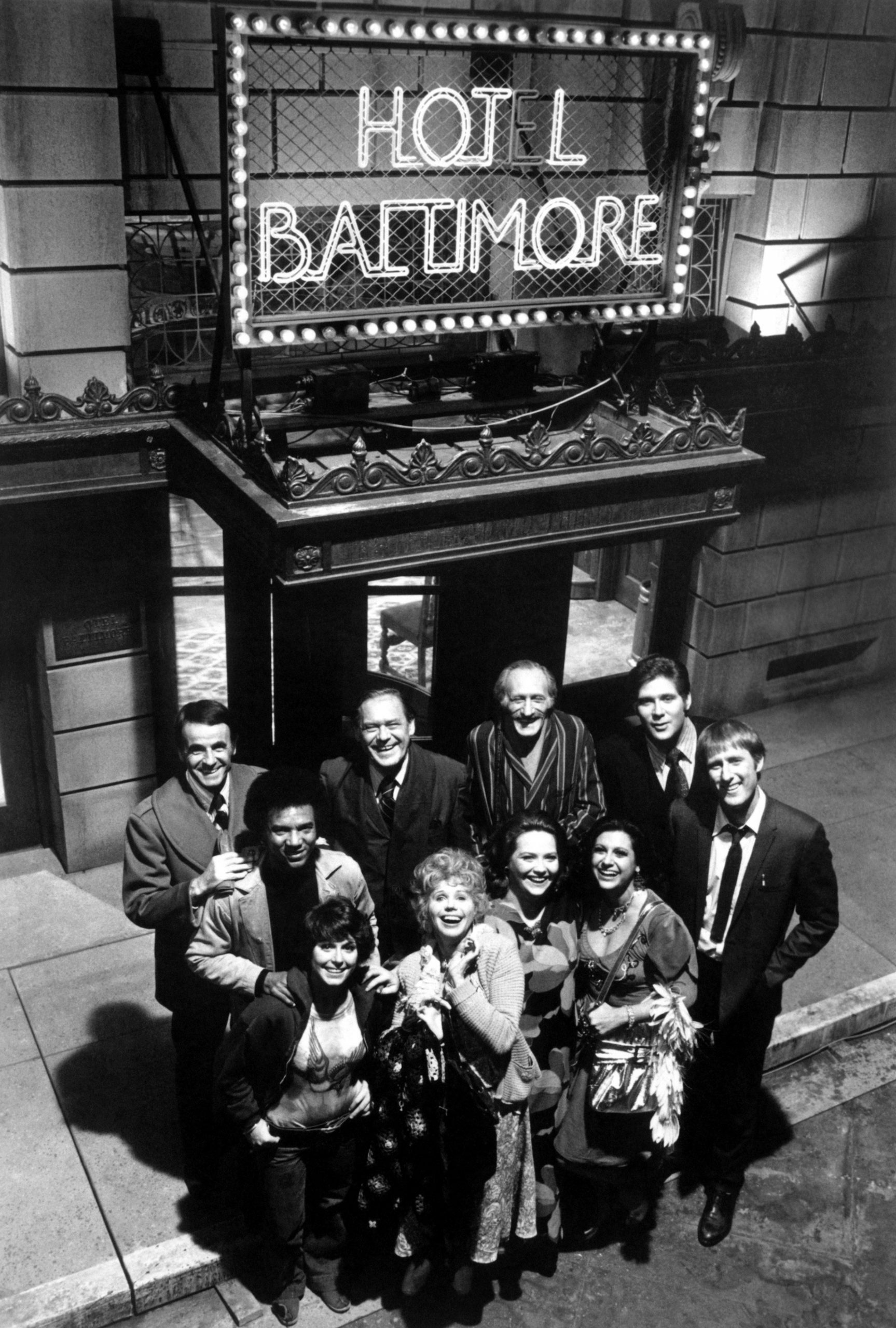 Created by playwright Lanford Wilson, for its time it was considered pretty racy as it followed the carrying on of guests in the old hotel, whose "E" burned out but was never replaced. n the image above, men from left: Lee Bergere, Al Freeman Jr., Henry Calvert, Stan Gottlieb, Richard Masur, James Cromwell, women from left: Robin Wilson, Gloria LeRoy, Conchata Ferrell, Jeannie Linero.
47. 'The Jeffersons' (1975 to 1985)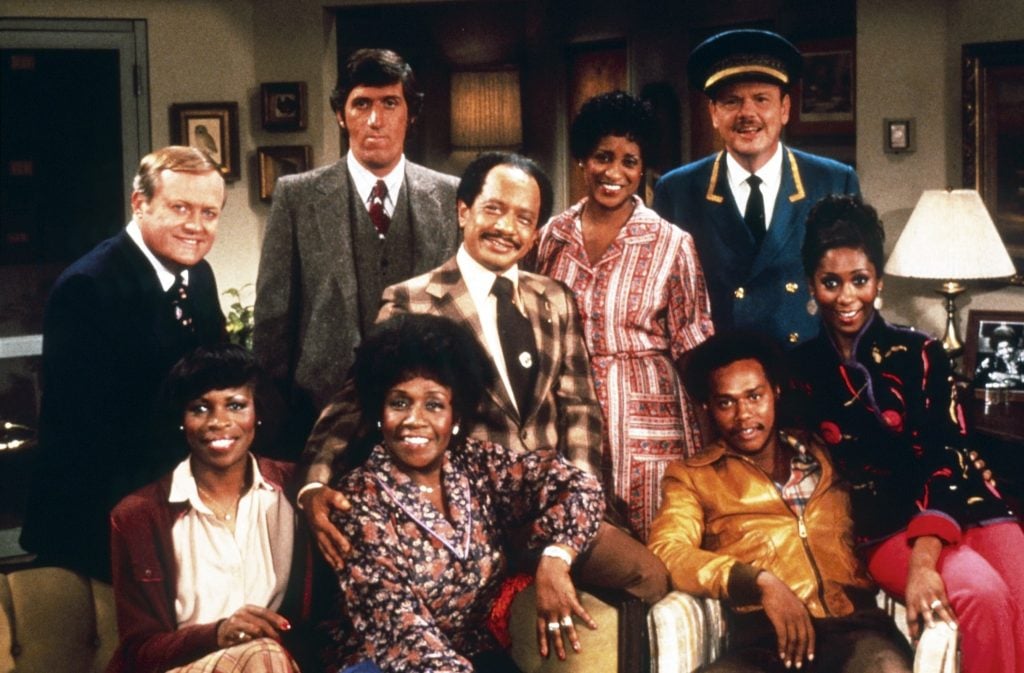 Another spinoff from All in the Family, with the Bunkers' next-door neighbors George and Louise Jefferson movin' on up (to the Eastside). Pictured above from left: Franklin Cover, Roxie Roker, Paul Benedict, Isabel Sanford (front), Sherman Hemsley, Marla Gibbs, Mike Evans (front), Ned Wertimer, and Berlinda Tolbert.
48. 'Joe and Sons' (1975 to 1976)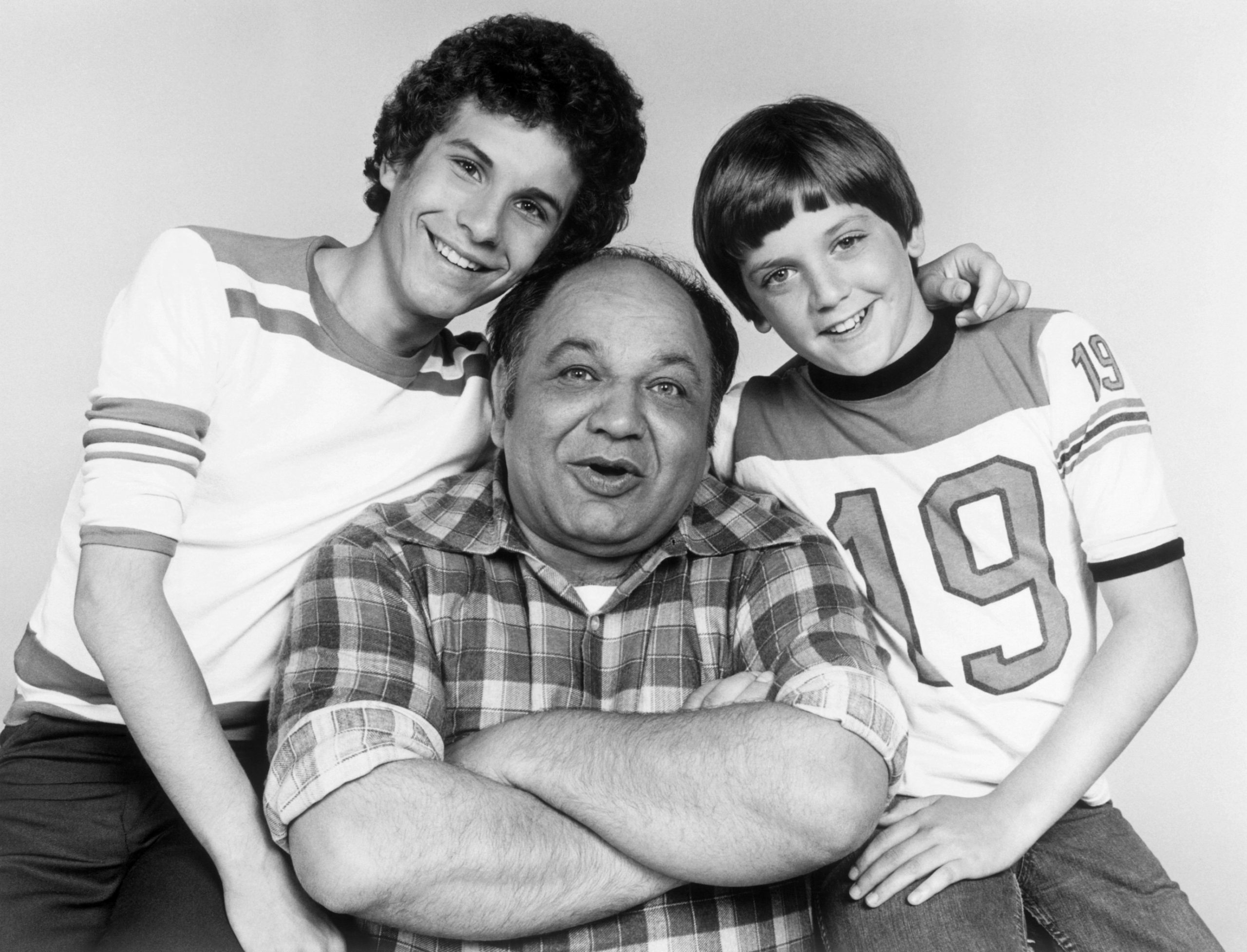 Working-class widower Joe Vitale (Richard S. Castellano) is raising his teenage boys Mark (Barry Miller) and Nick (Jimmy Baio) in Hoboken, New Jersey with help from his aunt Florence. Proudly Italian-American, he hangs out with pal Gus (Jerry Stiller) and neighbor waitress Estelle (Bobbi Jordan).
49. 'Karen' (1975)
Fresh off her Emmy-winning performance on Room 222, Karen Valentine stars in this sitcom as Karen Angelo, who lives in the nation's capital and works for Open America, an advocate group for the average citizen.
50. 'One Day at a Time' (1975 to 1984)
Norman Lear's winning streak continues in this comedy about single mother Ann Romano (Bonnie Franklin) and her teenage daughters Barbara (Valerie Bertinelli) and Julie (Mackenzie Phillps) Cooper. Also providing hijinks was building super Dwayne F. Schneider (Pat Harrington).
51. 'On the Rocks'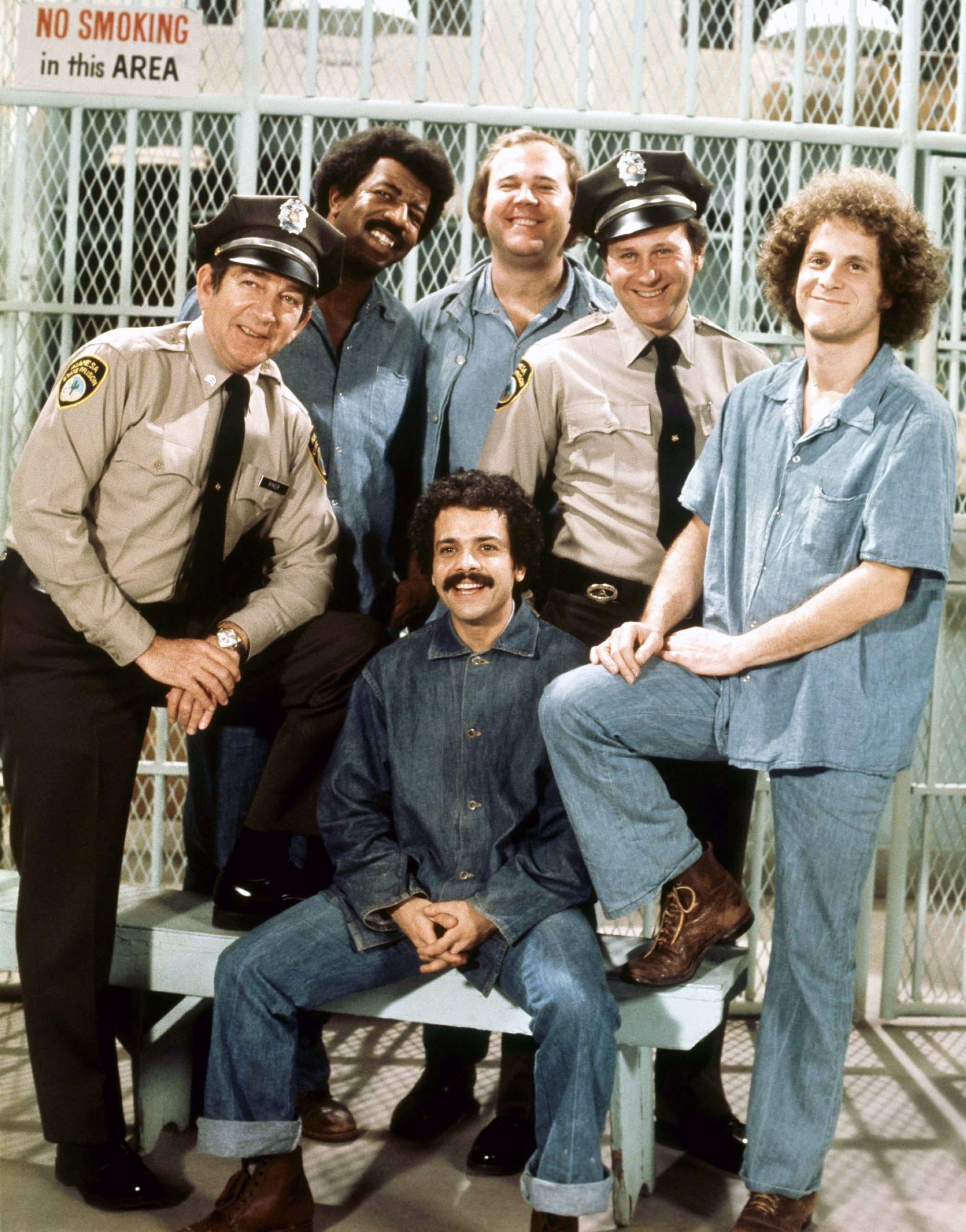 Alamesa minimum-security prison has four inmates in a friendly rivalry with their guards and warden. Above, standing from left: Leonard Stone, Hal Williams, Rick Hurst, Jay Gerber, Bobby Sandler. Seated: Jose Perez.
52. 'Phyllis' (1975 to 1977)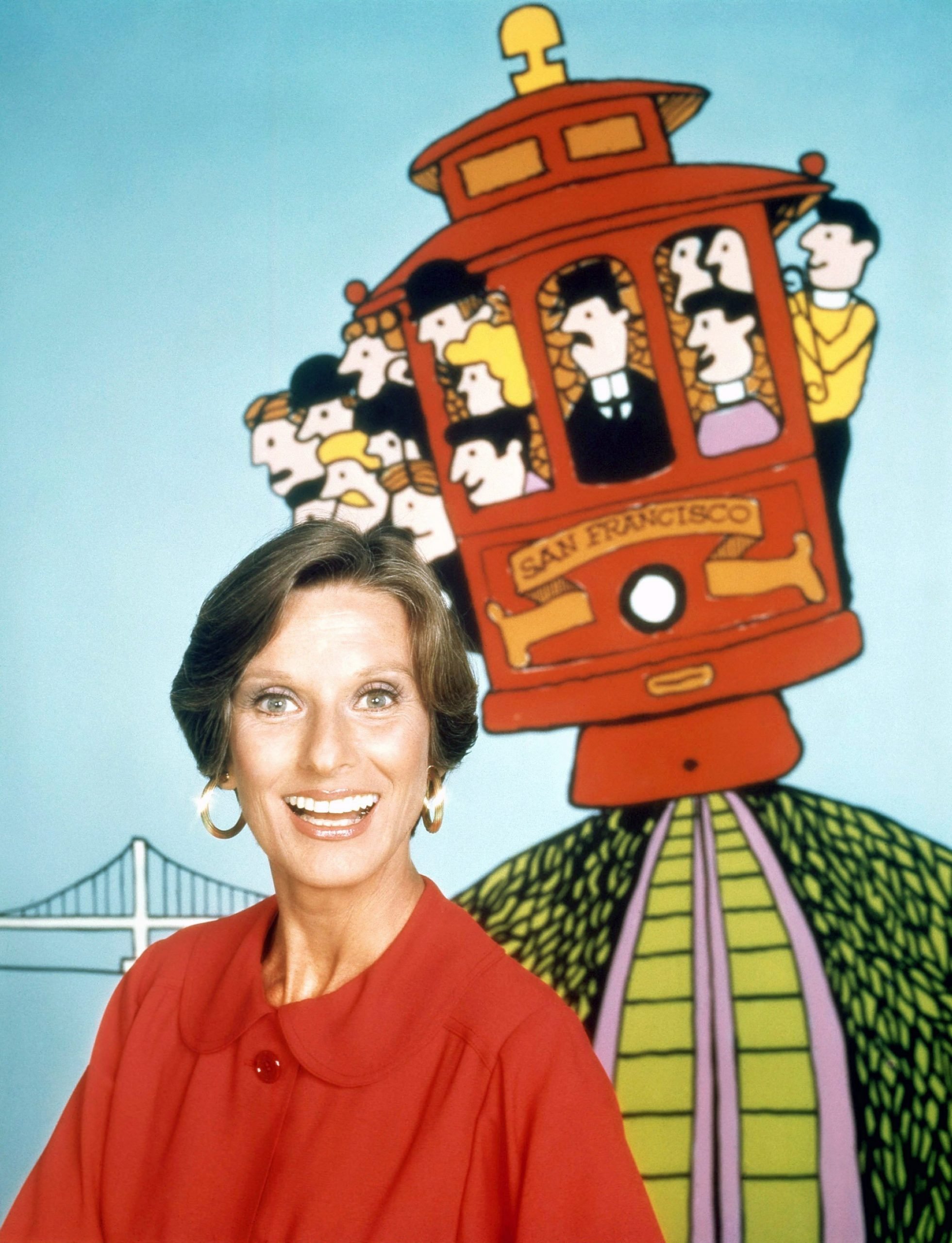 A second spinoff from The Mary Tyler Moore, this one starring Cloris Leachman as Phyllis Lindstrom, Mary's landlady and friend who has moved back to her hometown of San Francisco.
53. 'Welcome Back, Kotter' (1975 to 1979)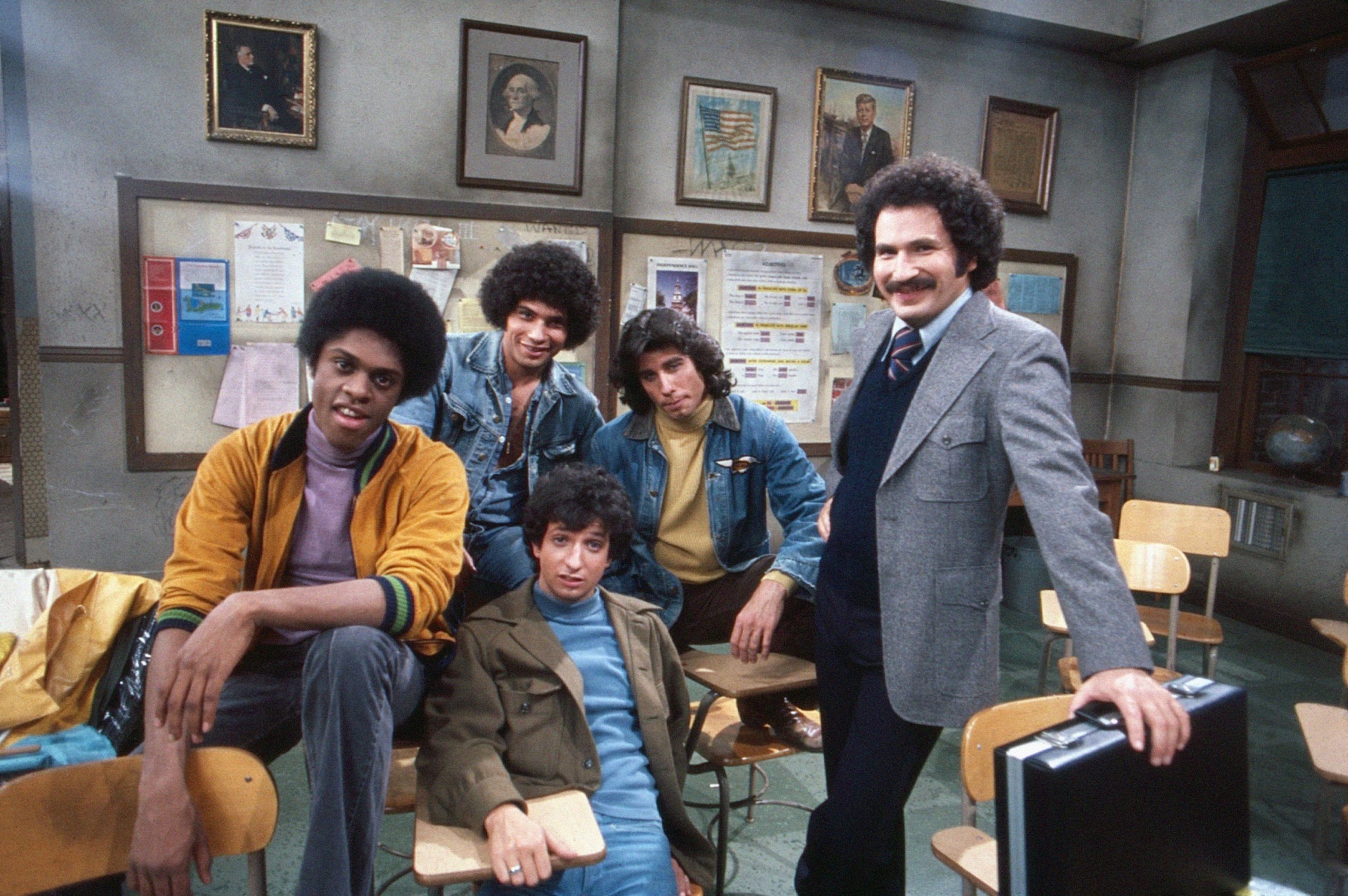 Gabe Kotter returns to his high school to teach the unruly students known as The Sweathogs. Pictured from left: Lawrence Hilton-Jacobs, Robert Hegyes, Ron Palillo, John Travolta (yup, this one pretty much gave him to the world), and Gabe Kaplan.
54. 'We'll Get By' (1975)
George Platt (Paul Sorvino) is a lawyer who lives with his family in a middle-class neighborhood in a New Jersey suburb. The Platt's, George and Liz (Mitzi Hoag), have three teenagers, Muff (Jerry Houser), Kenny (Willie Aames), and Andrea (Devon Scott). That's your set up.
55. 'When Things Were Rotten' (1975)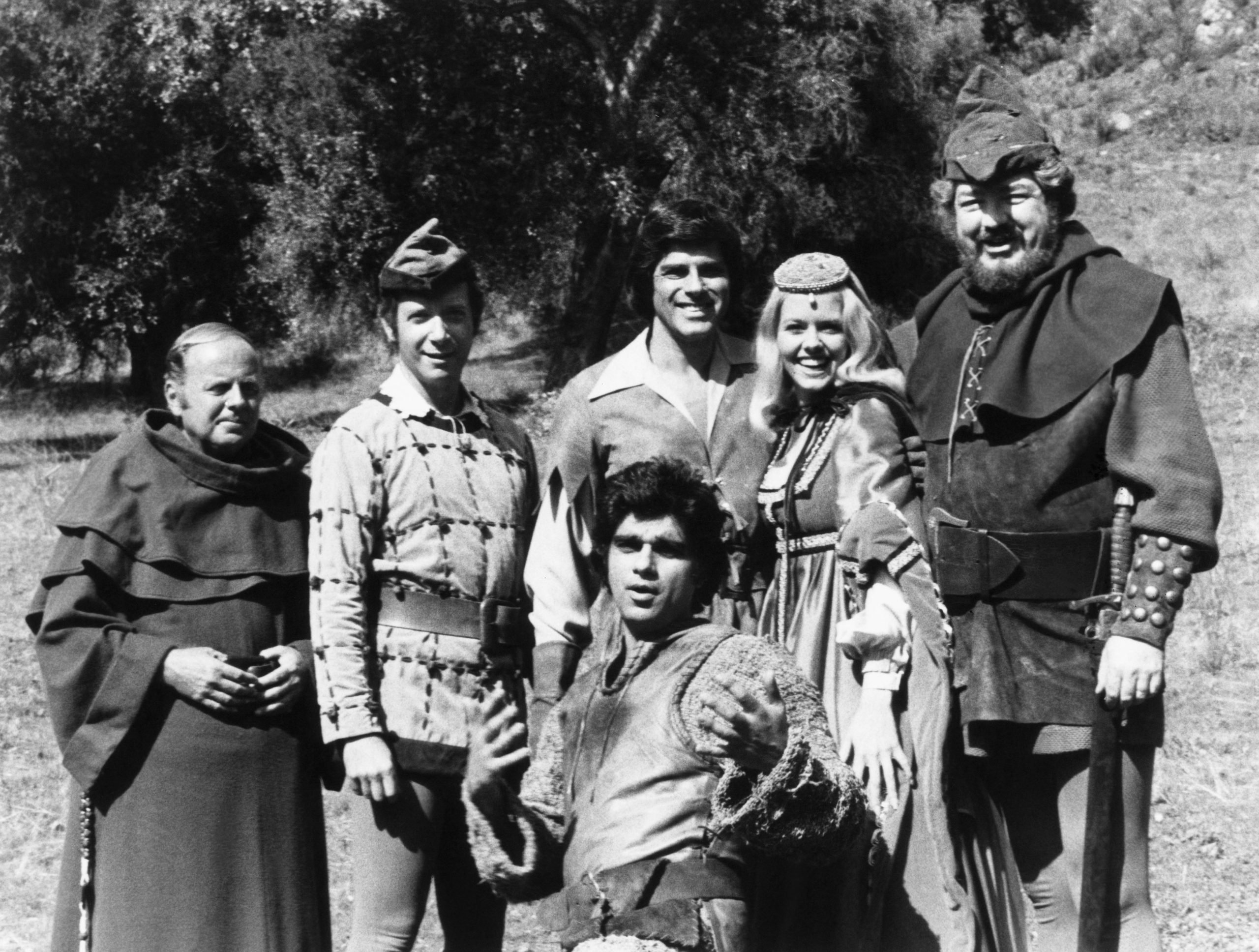 Coming off of the one-two punch of Blazing Saddles and Young Frankenstein, Mel Brooks decided to spoof the Robin Hood legend. Pictured above from left: Dick Van Patten, Bernie Kopell, Richard Dimitri, (front), Dick Gautier, Misty Rowe, and David Sabin.
56. 'Alice' (1976 to 1985)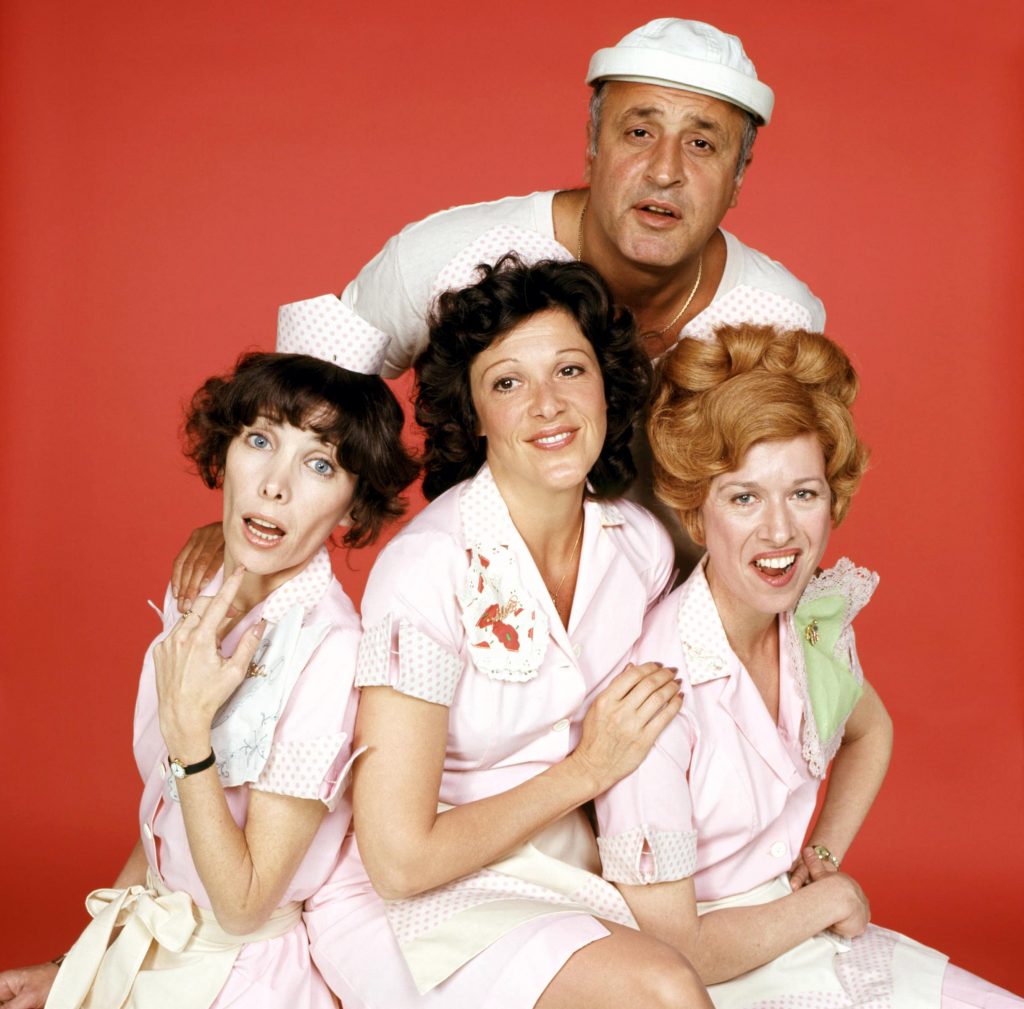 The feature film Alice's Restaurant spawned this sitcom starring the above: Beth Howland, Linda Lavin (in the title role), Vic Tayback, Polly "Kiss My Grits" Holliday.
57. 'Ball Four' (1976)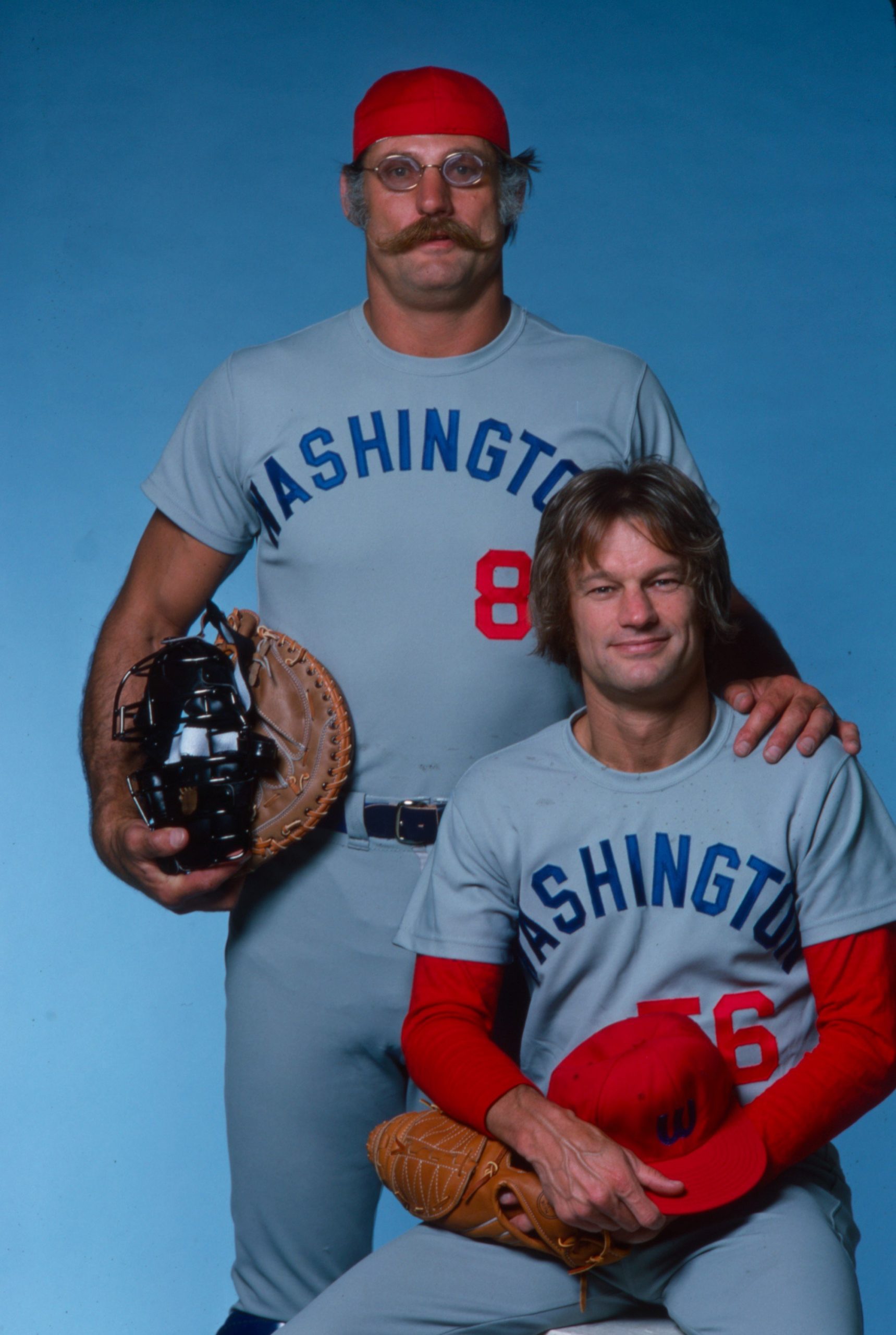 From IMDB: "In the first episode pitcher Jim Bouton informed his teammates and coaches that he was going to write a series of articles on baseball life 'off the field.' Manager Capogrosso and most of the others were not very keen on the idea. Ball Four was based on a book of the same title by former major league pitcher Jim Bouton."
58. 'The Brady Bunch Hour' (1976 to 1977)
The concept of this one is so bizarre. Most of the original cast of The Brady Bunch are back hosting a variety, show, but they're doing so in character. For instance, Mike Brady has sold his architectural company so he can run the variety show. Episodes can be found on YouTube and are worth checking out for the trippiness factor alone. Above, from left: Mike Lookinland, Christopher Knight, Barry Williams, Robert Reed, Florence Henderson, Ann B. Davis, Maureen McCormick, Geri Reischl (aka "Fake Jan") and Susan Olsen.
59. 'C.P.O. Sharkey' (1976 to 1978)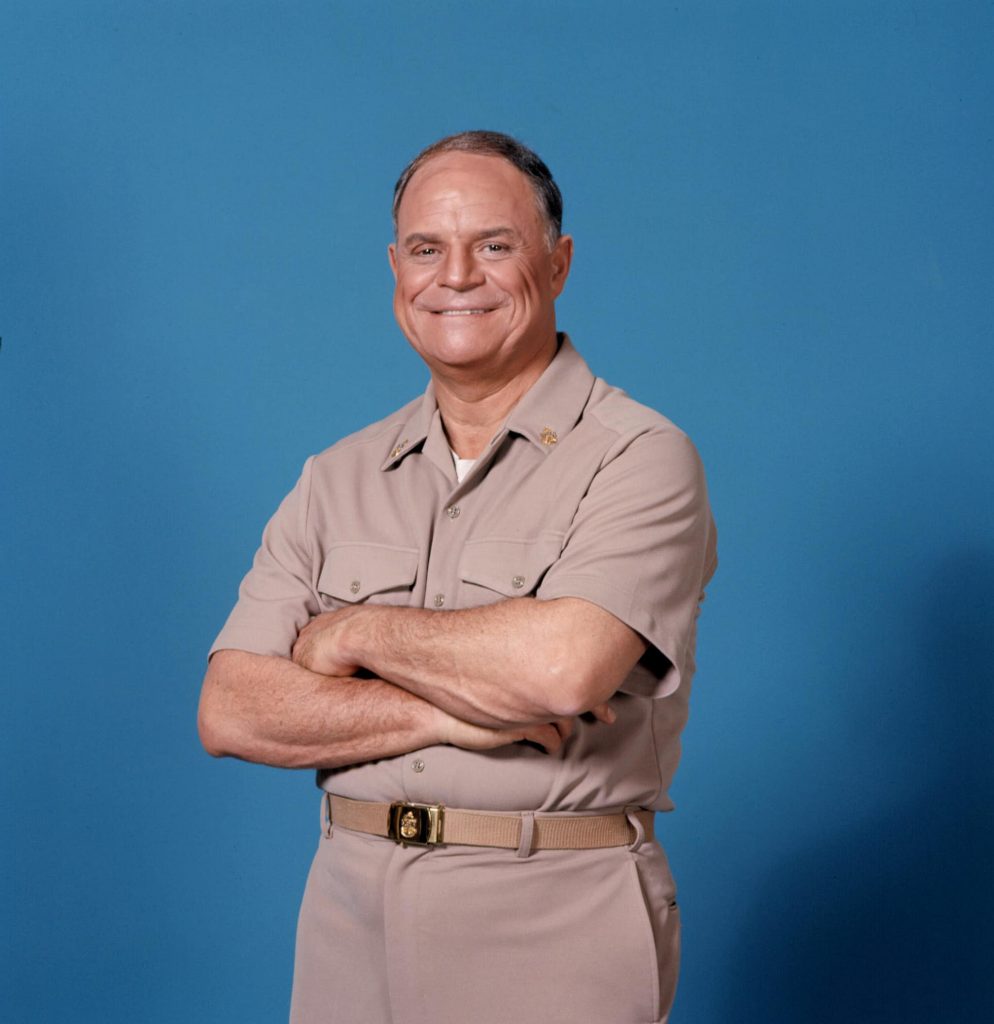 Comic exploits of an acid-tongued chief petty officer in the U.S. Navy, played by the acid-tongued comedian Don Rickles.
60. 'The Dumplings' (1976)
Norman Lear co-created this sitcom starring James Coco and Geraldine Brooks as heavy-set couple Joe and Angela Dumpling, who runs a deli. There's not a lot more to it than that.
61. 'Holmes & Yo-Yo' (1976)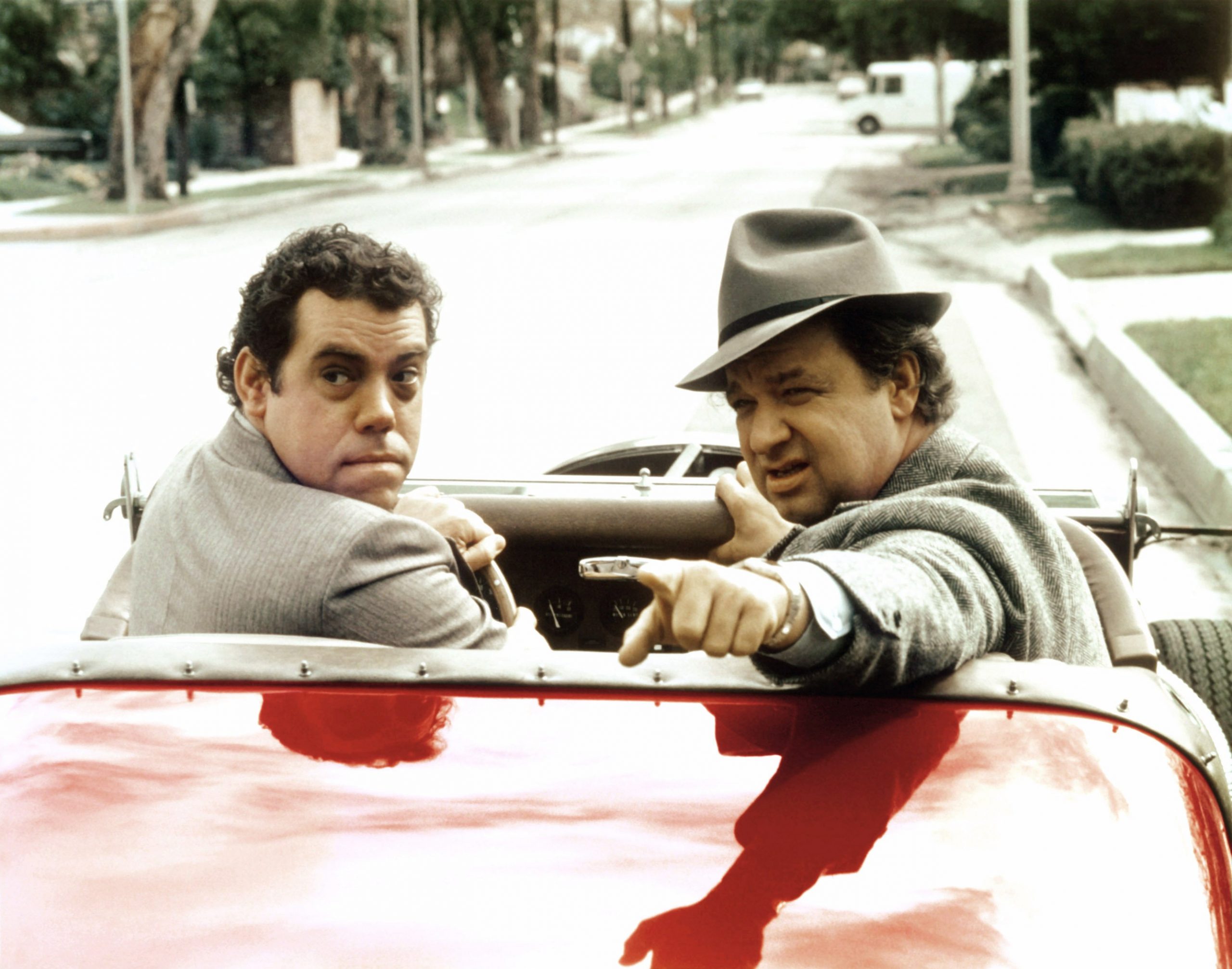 Richard B. Shull is Detective Alexander Holmes who has been partnered with the first robot police officer, John Schuck's Gregory "Yoyo" Voyonovich.
That's only Half!! 🙂 Click NEXT for the final 61, beginning with the gals who started on Happy Days: