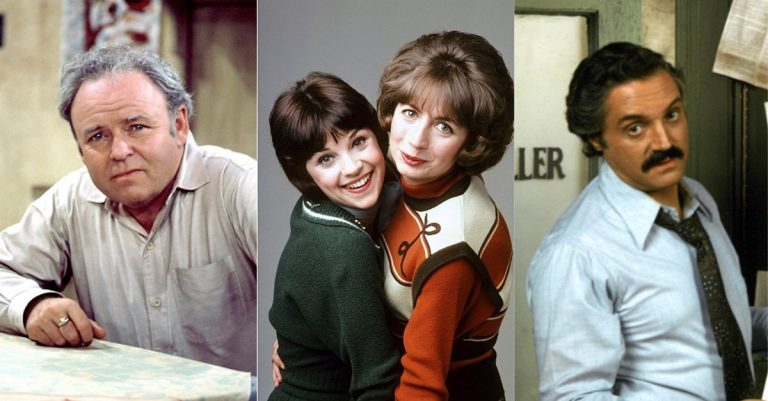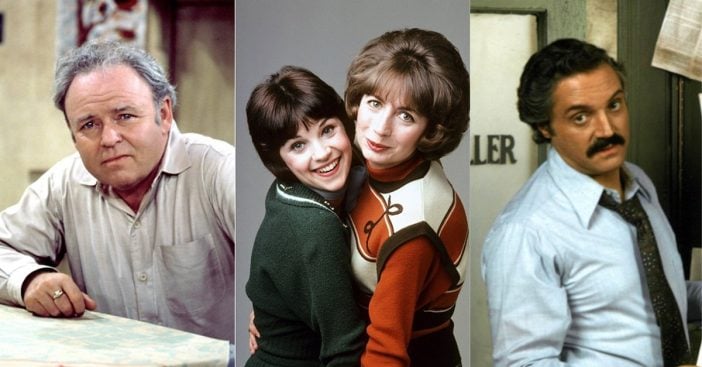 62. 'Laverne and Shirley' (1976 to 1983)
The classic spinoff from Happy Days featuring Penny Marshall as Laverne DeFazio and Cindy Williams as Shirley Feeney, who work their job at the brewery and live life in the late 1950s/early 1960s. Above, behind and next to Penny and Cindy, are, from left: Phil Foster, Michael McKean, David L. Lander, Eddie Mekka, and Betty Garrett.
63. 'The McLean Stevenson Show' (1976 to 1977)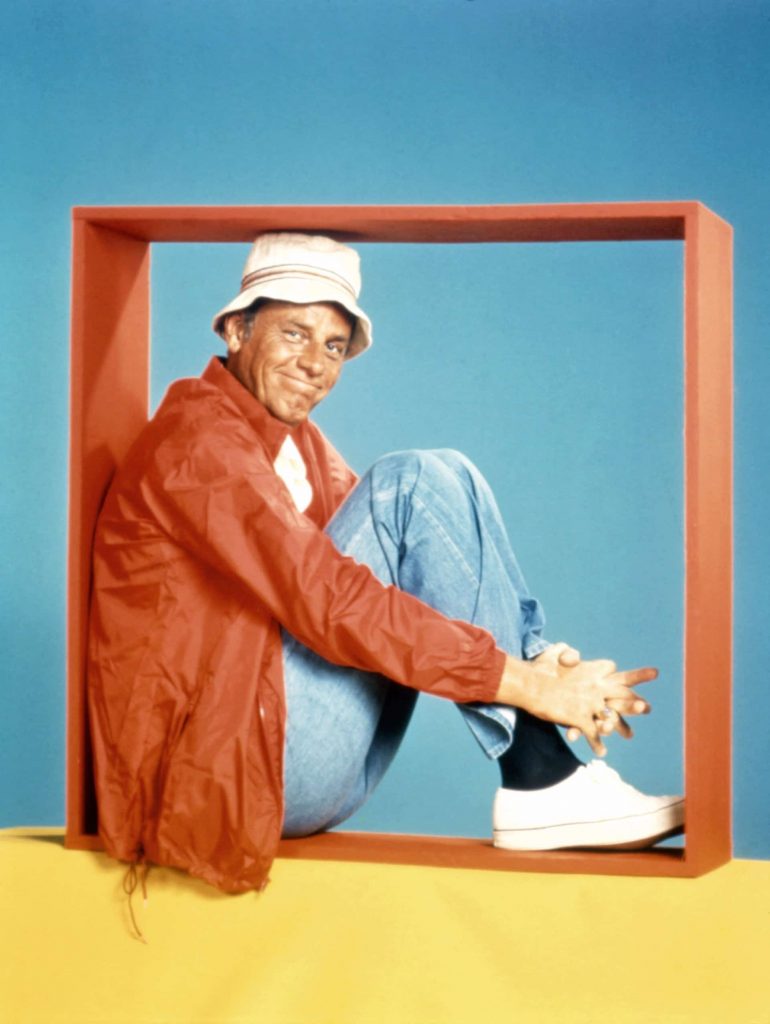 McLean Stevenson left MASH for what he thought would be greater opportunities. Did he achieve that goal? You be the judge, but there are three samples in the 1970s. In this one, Mac and Peggy Ferguson face the opposite of an empty nest when their two grown children plus two grandchildren move in.
64. 'Mr. T and Tina' (1976)
Taro (Pat Morita, coming off of playing Arnold on Happy Days), a single father, relocates because of business from Japan to Chicago. Conservative Taro wants a traditional nanny for his children Aki (Gene Profanato) and Sachi (June Angela). But he gets Nebraska born Tina Susan Blanchard), who challenges his orthodox ways.
65. 'The Nancy Walker Show' (1976)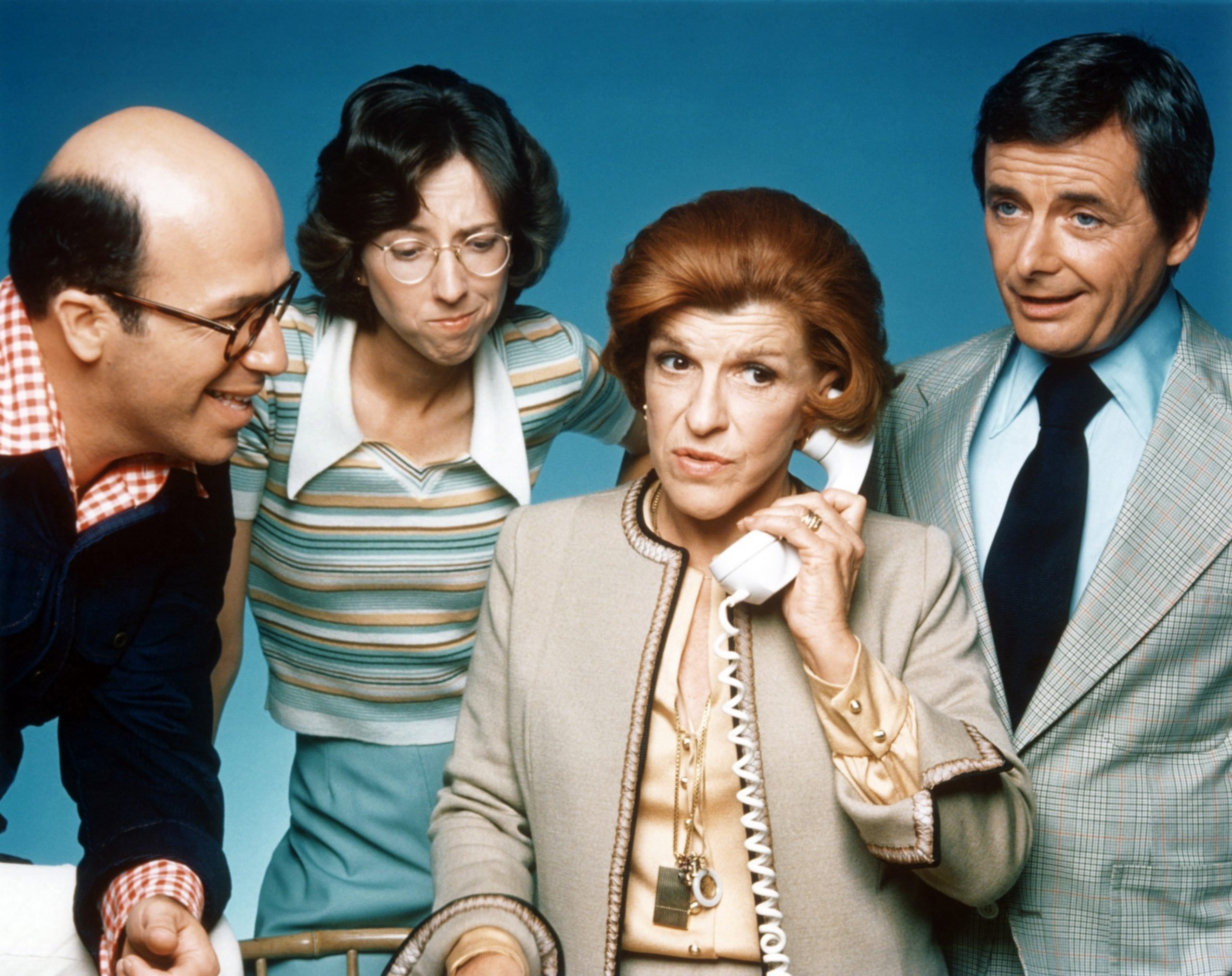 Nancy runs her own talent agency, which kept her busy while husband Ken (William Daniels) was on Naval duty. Since his retirement, things have changed — not as easy to run things when your husband is around all the time. Nearby is daughter Lorraine (Beverly Archer) and husband Glen (James Cromwell), plus gay housemate Terry (Terry Folson). It all sounds complicated.
66. 'The Practice' (1976 to 1977)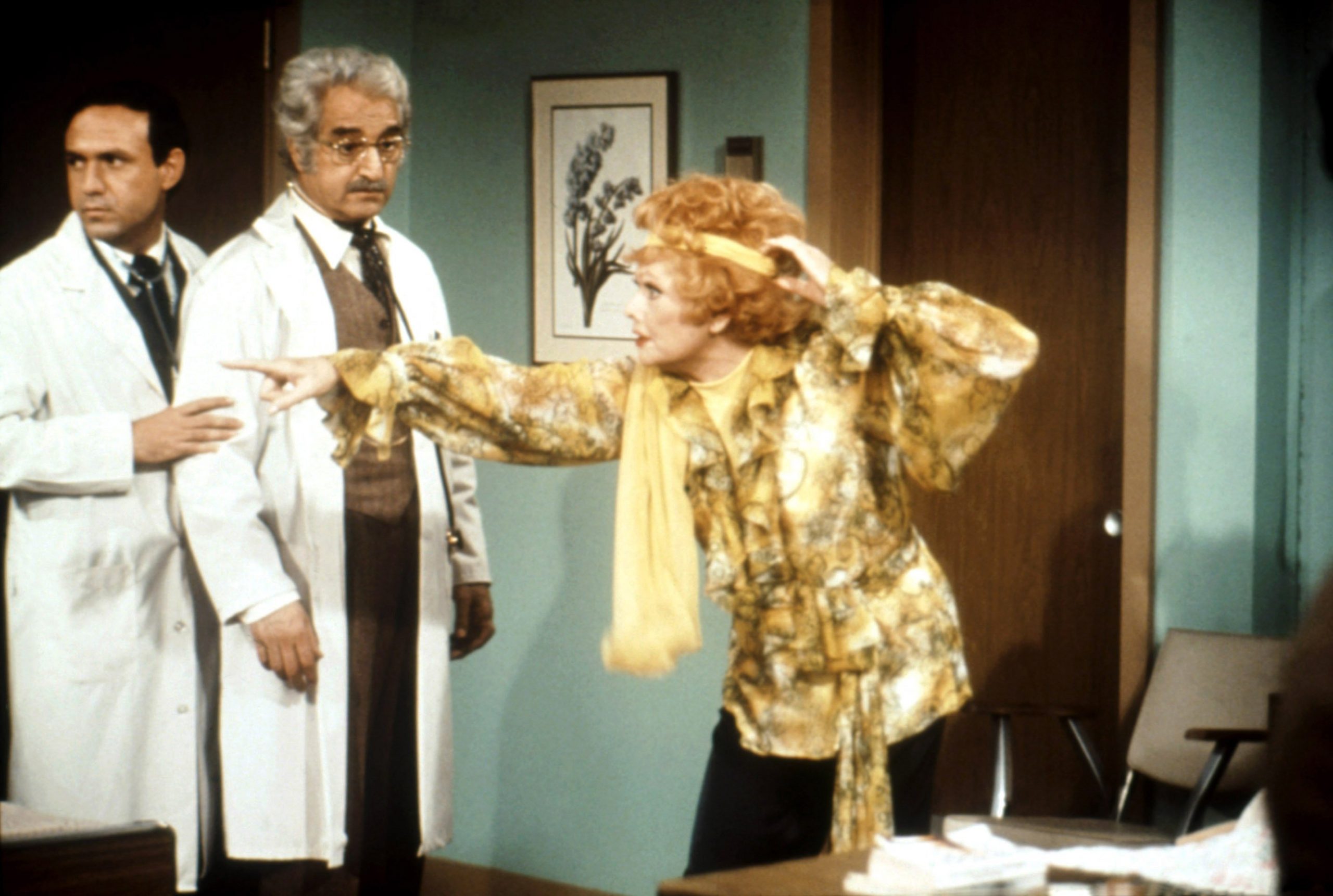 An old-school physician (Danny Thomas) and his doctor son (David Spielberg) have different approaches to the practice of medicine. They do, however, welcome cool guest stars, like Lucille Ball, above.
67. 'Sirota's Court' (1976 to 1977)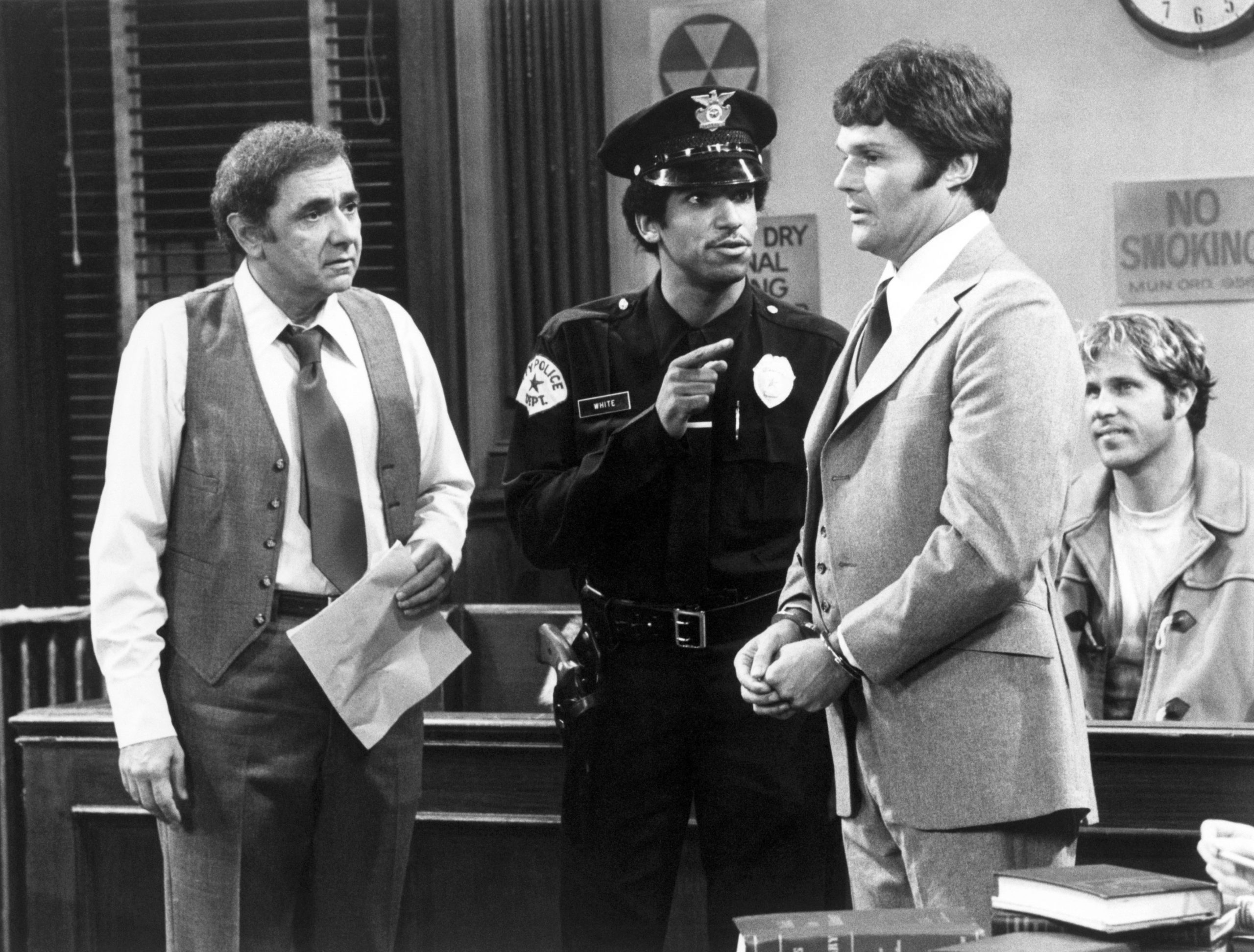 Night shift Judge Matthew Sirota (Michael Constantine) tries to keep his urban courtroom running with a combination of humor and a dose of common sense. There's also a casual romance with his clerk, Maureen (Cynthia Harris), plus he is constantly coming between battles of the idealistic defender Gail Goodman (Kathleen Miller) and zealous prosecutor Bud Nugent (Fred Willard).
68. 'Tabitha' (1976 to 1978)
A spinoff from classic TV witch-com Bewitched, with Lisa Hartman as a grown-up Tabitha Stephens. Also starring Robert Urich, Mel Stewart, and David Ankrum.
69. 'The Tony Randall Show' (1976 to 1978)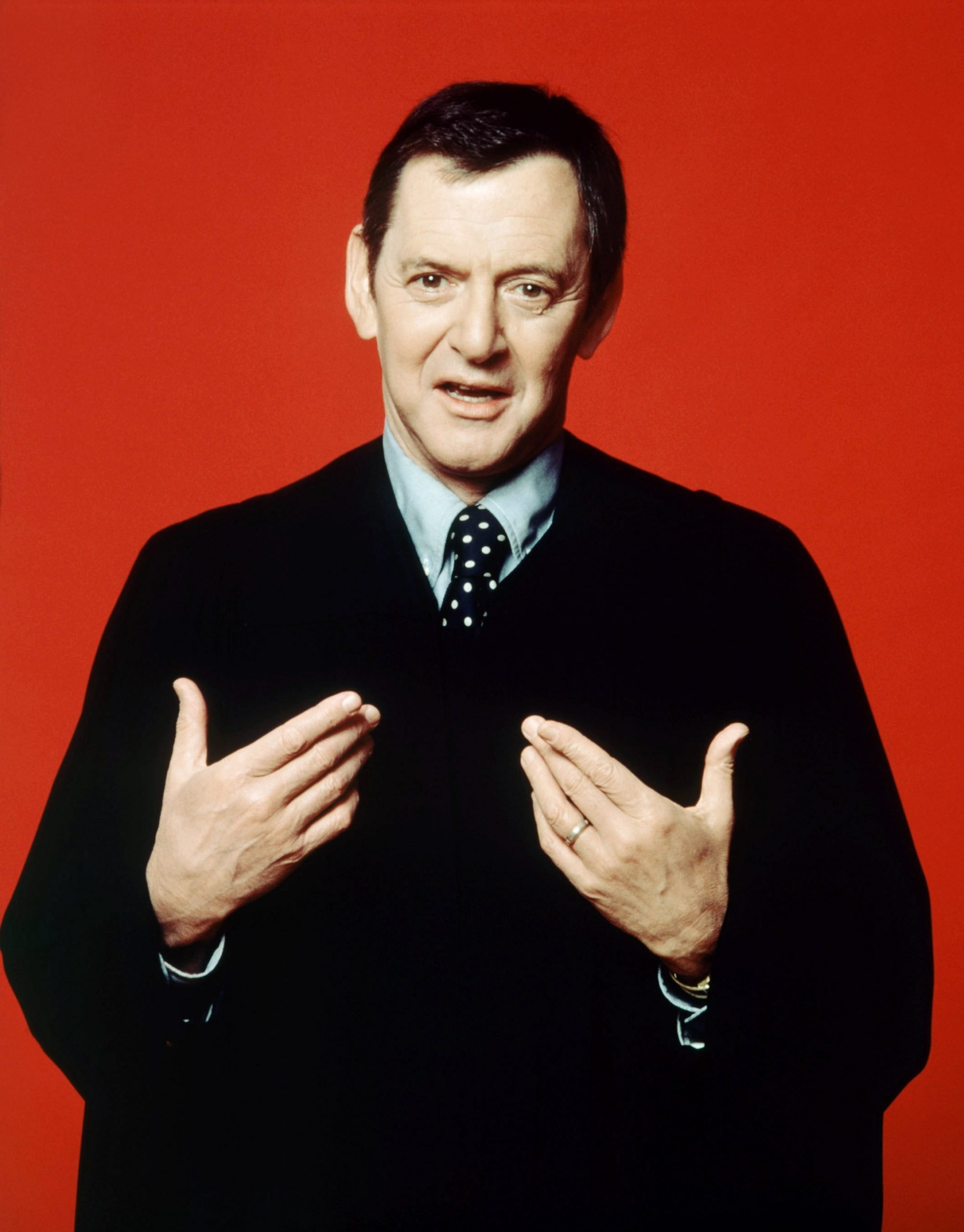 A year after The Odd Couple finished its run, Tony Randall found himself playing fastidious Philadelphia Judge Walter Franklin, who has a housekeeper who's glum a sloppy court clerk (guess Jack Klugman was tied up on Quincy, M.D.), an icy secretary, and an obnoxiously ingratiating Assistant District Attorney. A much funnier show than it was given credit for at the time.
70. 'What's Happening' (1976 to 1979)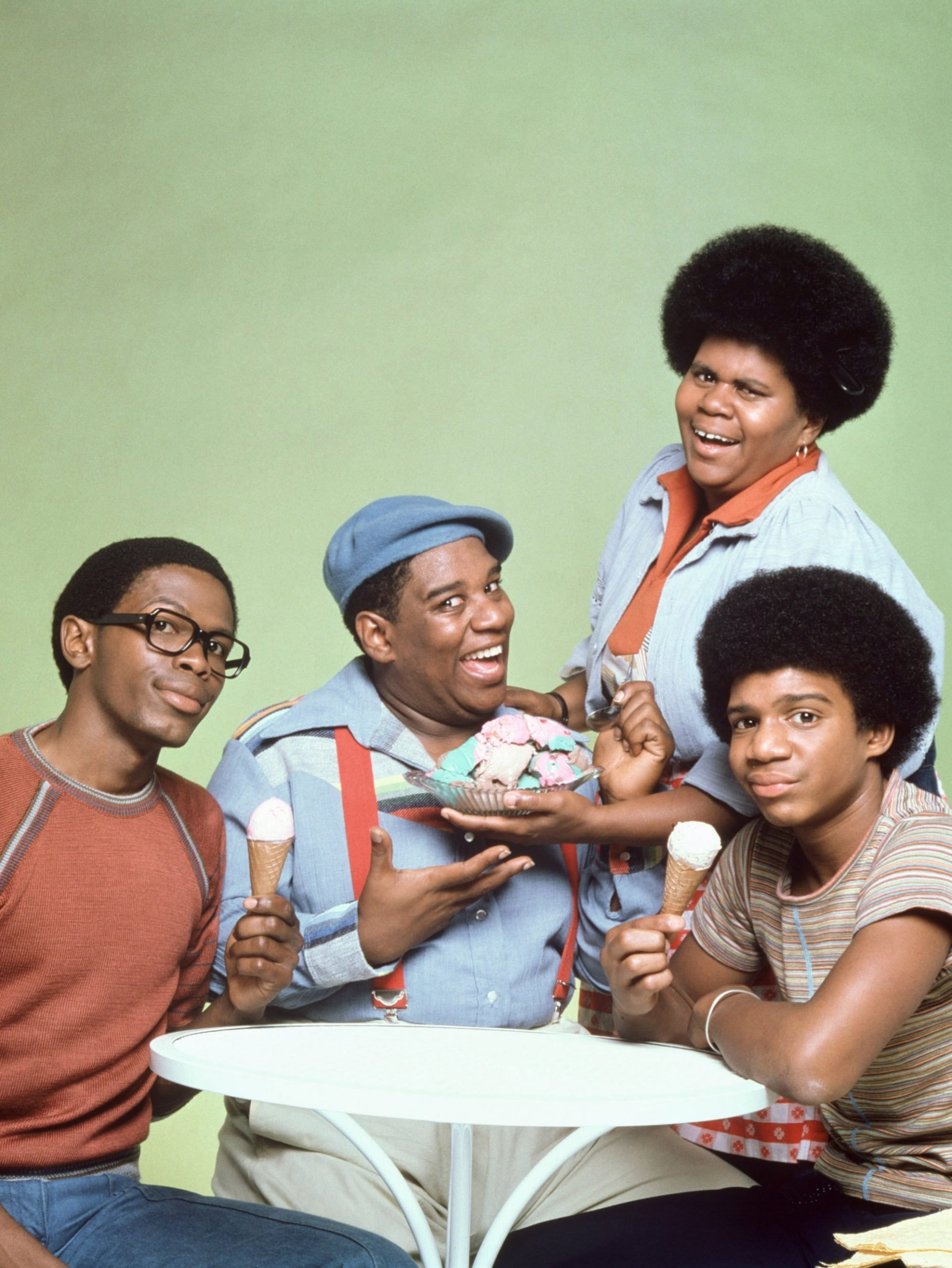 A trio of youths — played by Ernest Thomas, Heyworld Nelson, and Fred Berry — learn about life, love, friendship, credit cards, gambling, and a variety of other things while growing up in an inner-city.
71. 'The Betty White Show' (1977 to 1978)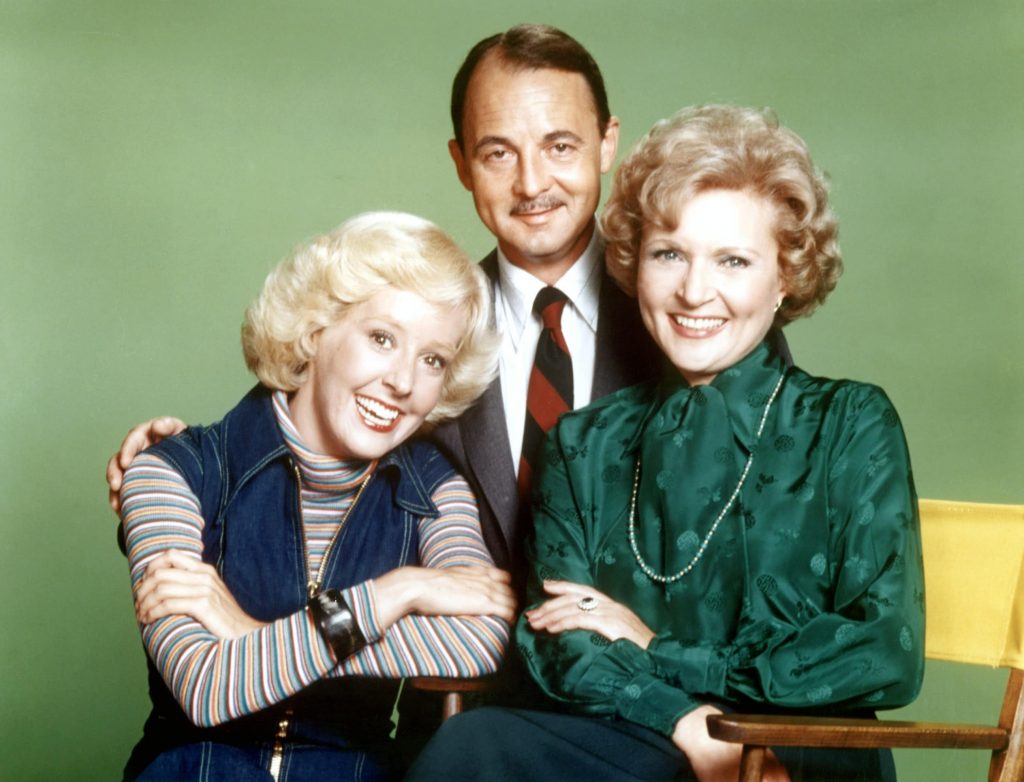 This one was not a spinoff from The Mary Tyler Moore Show, even though both Betty and Georgia Engel were both recurring characters on it. The show focuses on the exploits of hack TV actress Joyce Whitman (Betty), star of the fictitious Undercover Woman series. John Hillerman also stars.
72. 'Busting Loose' (1977)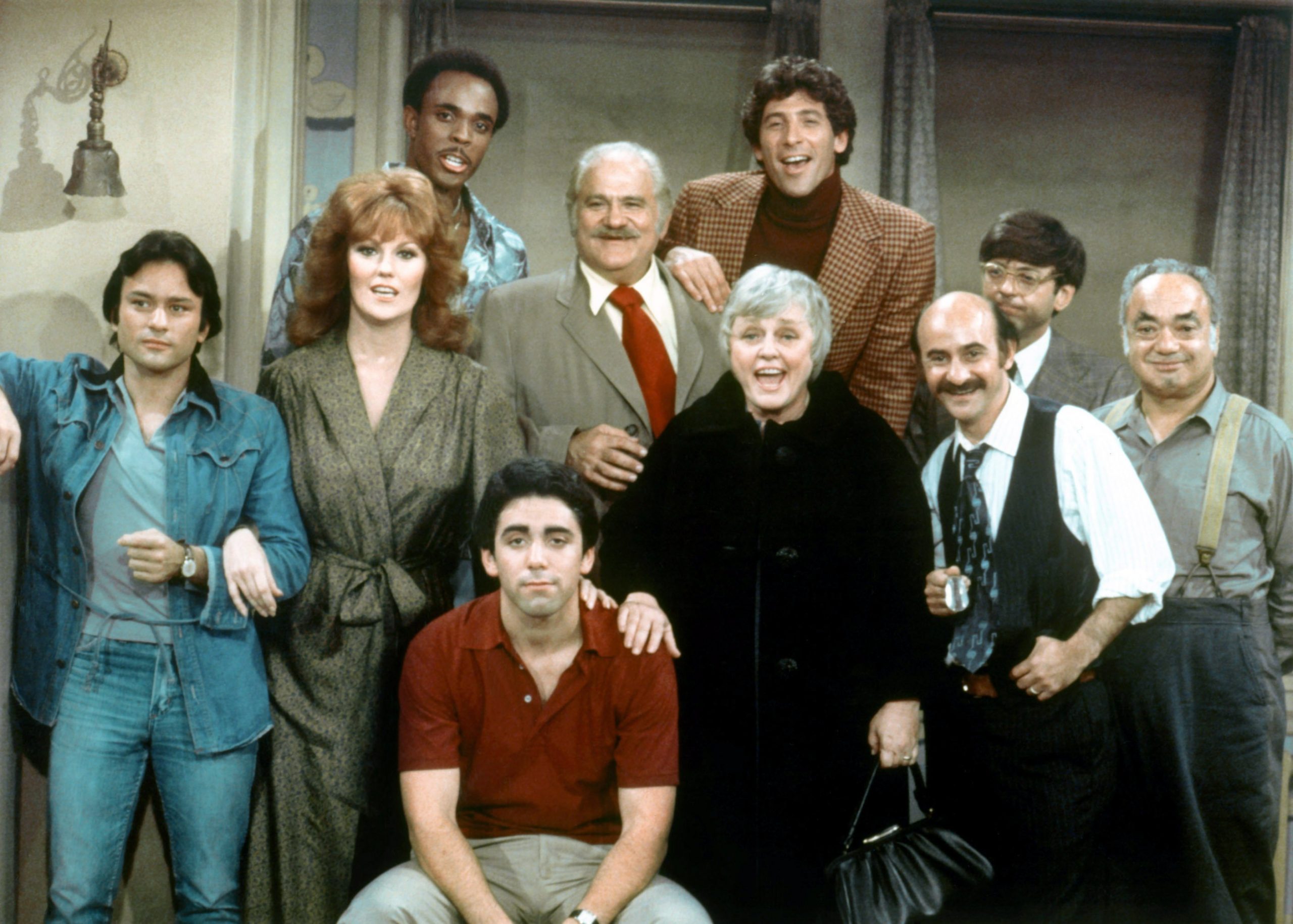 Offers IMDB, "Following his graduation from engineering school, 24-year-old slacker Lenny Markowitz (Adam Arkin) moves into his own rundown apartment (his first time away from home), and next door to a gorgeous older redhead (Melody, played by Barbara Rhoades). Ignoring his engineering background, he goes to work at a shoe store owned by Cabell (Paul B. Price) and staffed by jive-talking Raymond (Ralph Wilcox). He also finds time to play poker and get into trouble with his childhood pals."
73. 'Carter Country' (1977 to 1979)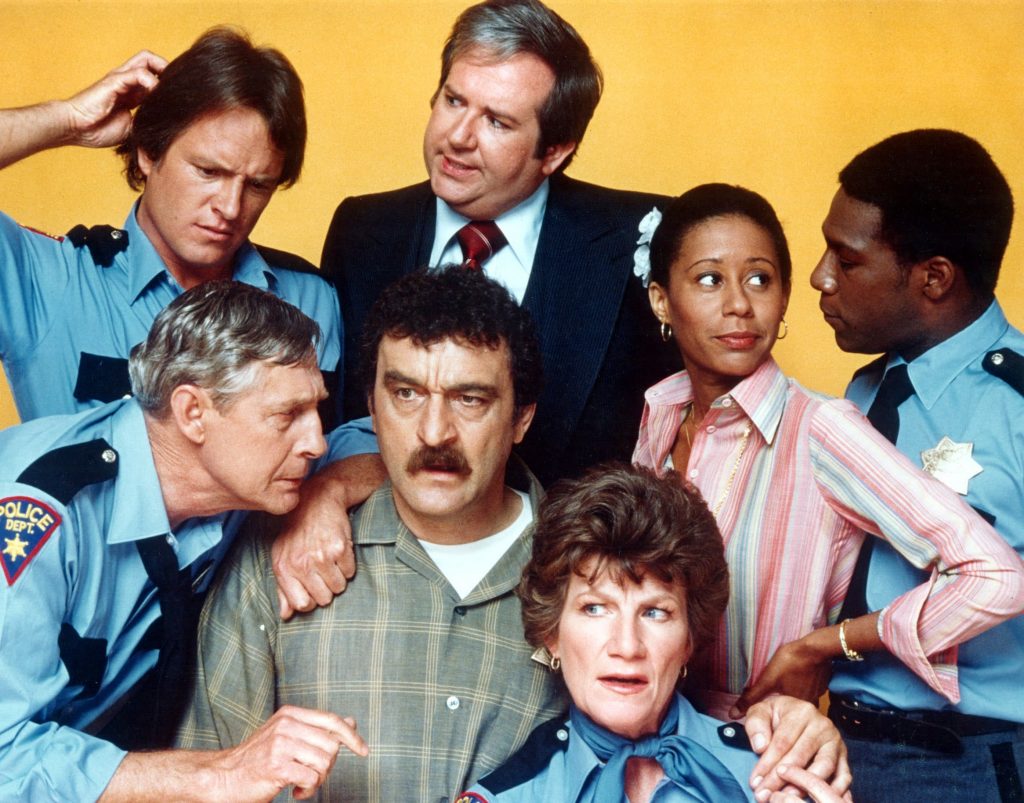 Culturally different police officers overcome their differences for the common good. Pictured above: Harvey Vernon, Guich Koock, Victor French, Richard Paul, Barbara Cason, Vernee Watson-Johnson, and Kene Holliday.
74. 'Fish' (1977 to 1978)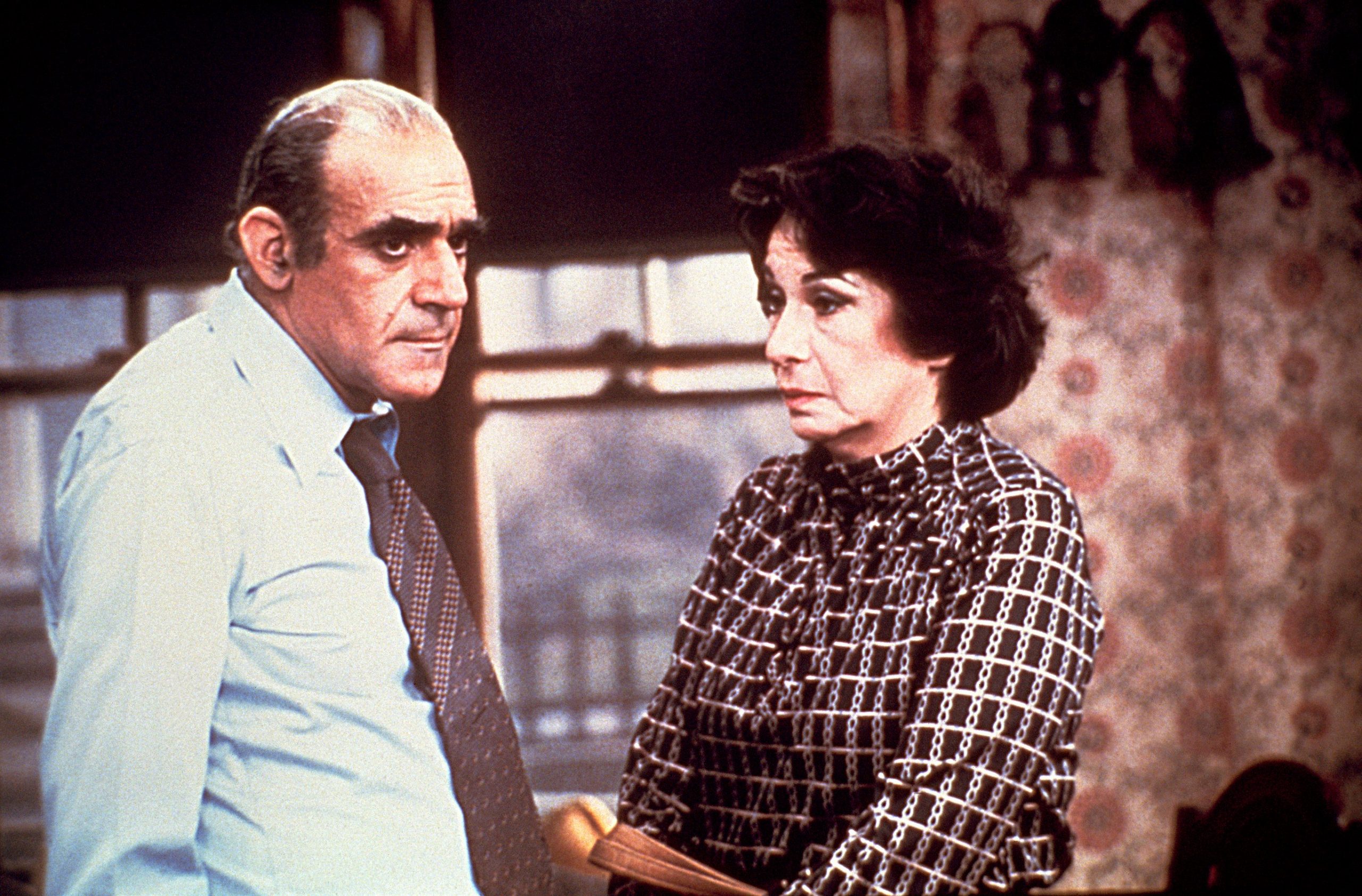 An unexpected spinoff from Barney Miller with Abe Vigoda as Detective Phil Fish and Florence Stanley reprising her role as his wife, Bernice. The two of them take in five foster kids, which is funny from the start when you think about Fish's personality. Him and five kids? We thinks not!
75. 'Loves Me, Loves Me Not' (1977)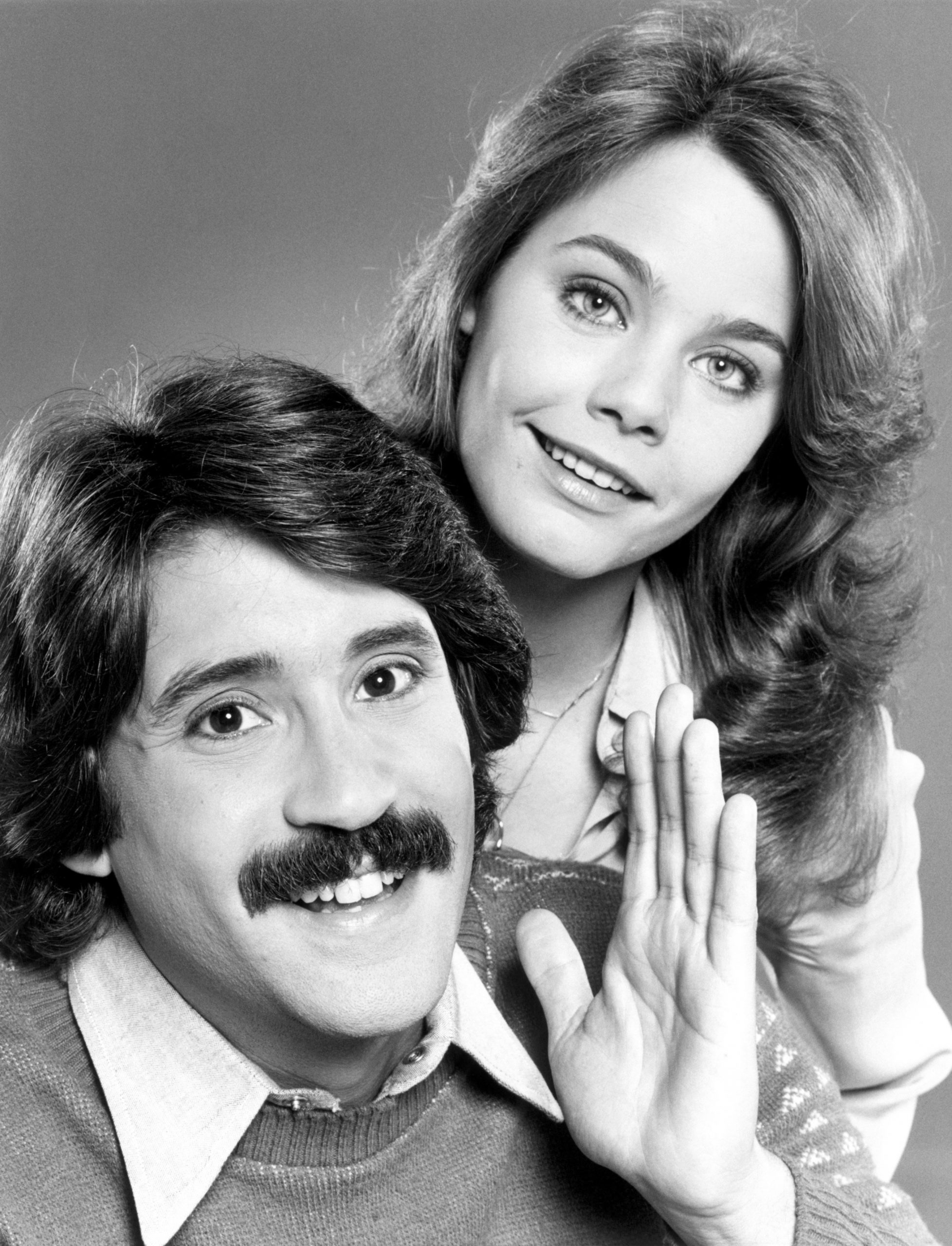 Recently having finished her time as part of The Partridge Family, Susan Dey is now teacher Jane Benson, who starts dating reporter Dick Phillips (Kip Gilman) with neither one sure how they feel about each other. Things start off somewhat chaotically, but they decide to keep giving it a try to see if anything develops.
76. 'Quark' (1977 to 1978)
Life on a space garbage collector with its captain (Richard Benjamin) and his crew. Bottom left: Tim Thomerson, center: Richard Benjamin, top right: Conrad Janis, Cyb/Patricia Barnstable (in gold lame), bottom right: Richard Kelton.
77. 'On Our Own' (1977)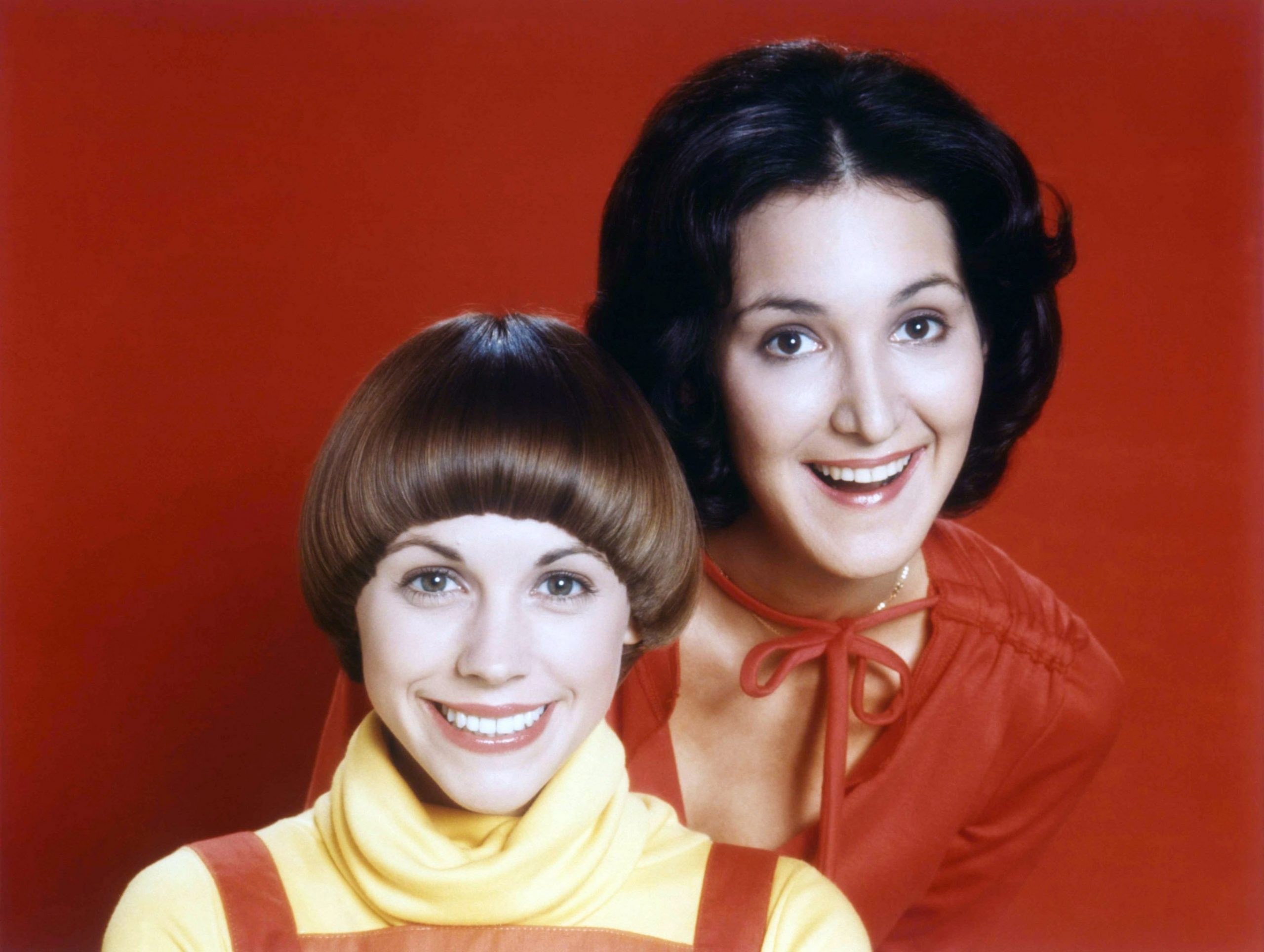 Two secretaries (Bess Armstrong and Lynnie Greene) in a high-powered New York advertising agency are promoted and begin their new careers with enthusiasm — sometimes with too much enthusiasm.
78. 'Operation Petticoat' (1977)
Based on the 1959 film of the same name, there are hijinks on the high seas when a U.S. submarine has to take on a collection of female nurses. Their influence is profound, particularly noticeable when the sub is suddenly painted pink. Pictured above: Dorrie Thomson, Jamie Lee Curtis, Melinda Naud, Bond Gideon, Richard Gilliland, John Astin.
79. 'Sanford Arms' (1977)
Teddy Wilson plays widower Phil Wheeler, who buys the Sanford Arms rooming house in a spinoff to Sanford and Son that was pretty much a disaster.
80. 'The San Pedro Beach Bums' (1977)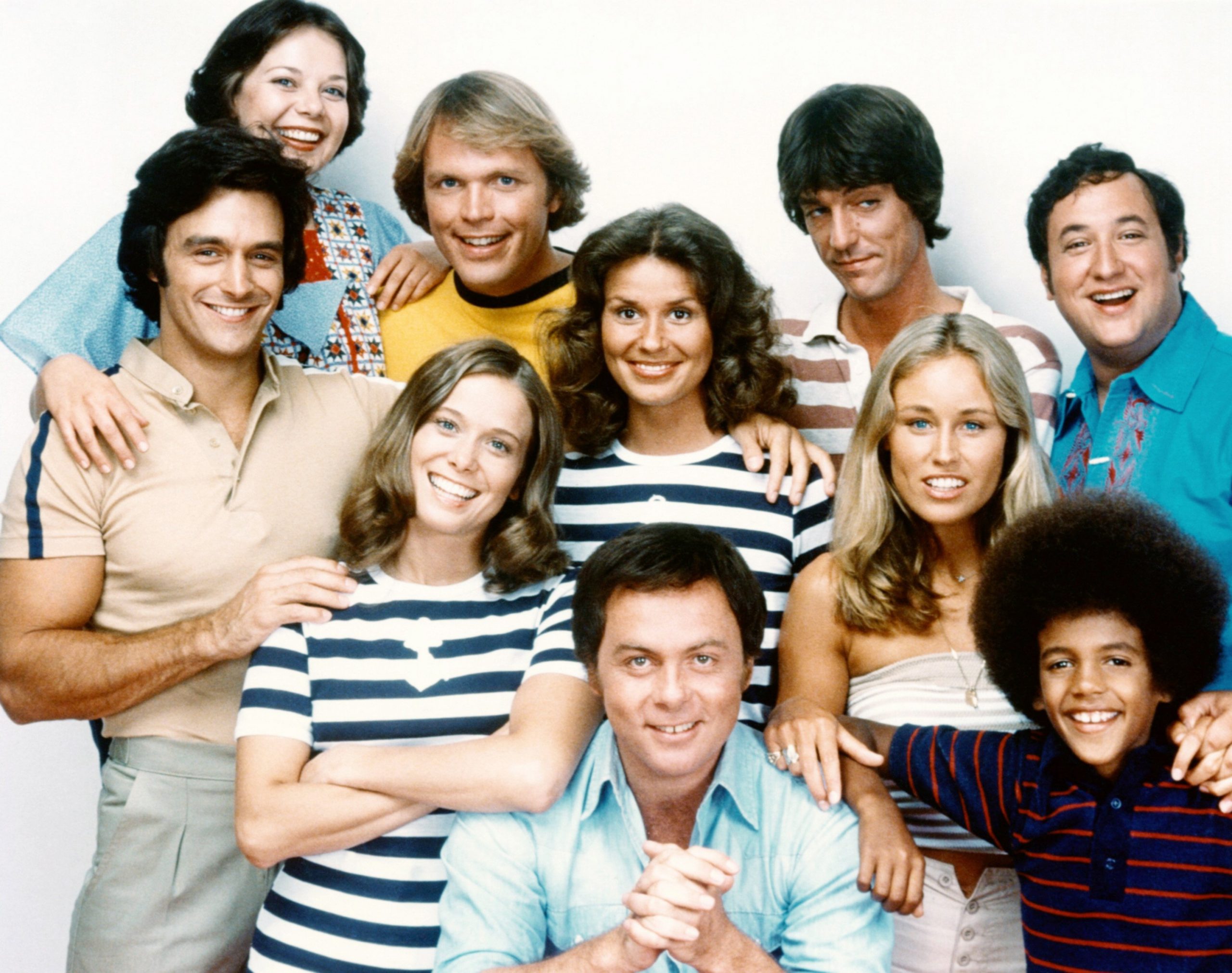 Five friends since high school decide to share a houseboat in beautiful southern California. Pictured (top row, from left): Louise Hoven, Darryl McCullough, John Mark Robinson, Stuart Pankin, (middle): Christopher DeRose, Nancy Morgan, Susan Mullen, Lisa Reeves, (front): Christopher Murney and Kristoff.
81. 'Soap' (1977 to 1981)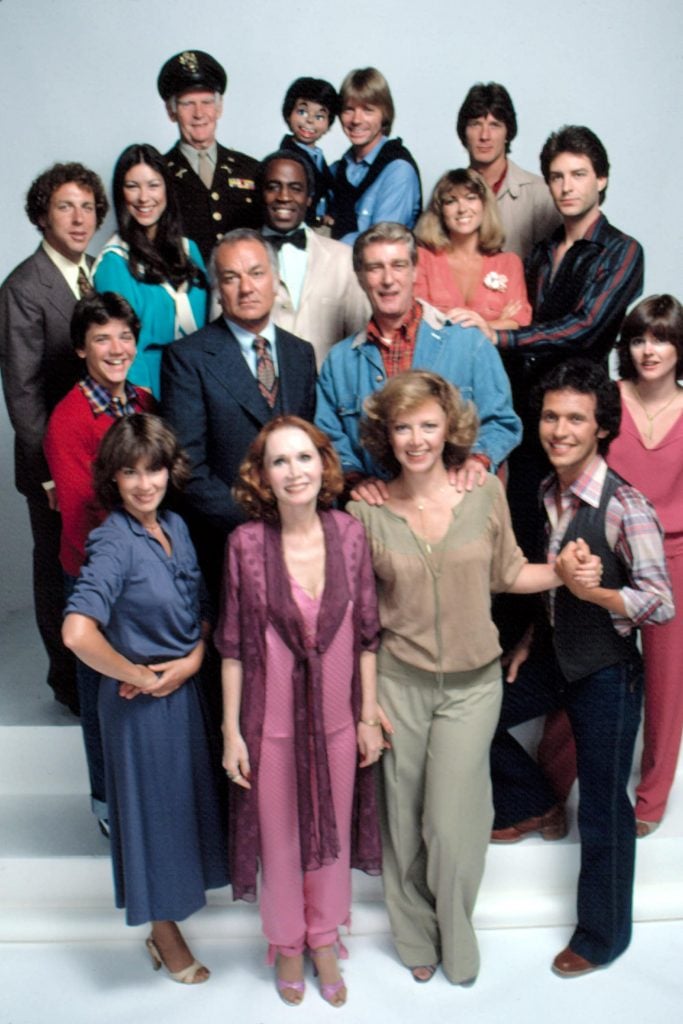 From Google: "This classic comedy series is a satire on all the daytime soaps out there. The stories revolve around a rich family, the Tates, and a blue-collar family, the Campbells. With stories mostly centered around crazy characters and sex, the escapades are as soapy as you can get: divorce, homosexuality, adultery, kidnapping, organized crime, war flashbacks, custody battles, murder and amnesia." Pictured above (back, l to r): Arthur Peterson, Jay Johnson, Bob Seagren, (3rd row): Sal Viscuso, Diana Canova, Robert Guillaume, Dinah Manoff, Ted Wass, (2nd row): Jimmy Baio, Robert Mandan, Richard Mulligan, Jennifer Salt, Katherine Helmond, Cathryn Damon, Billy Crystal.
82. 'Three's Company' (1977 to 1984)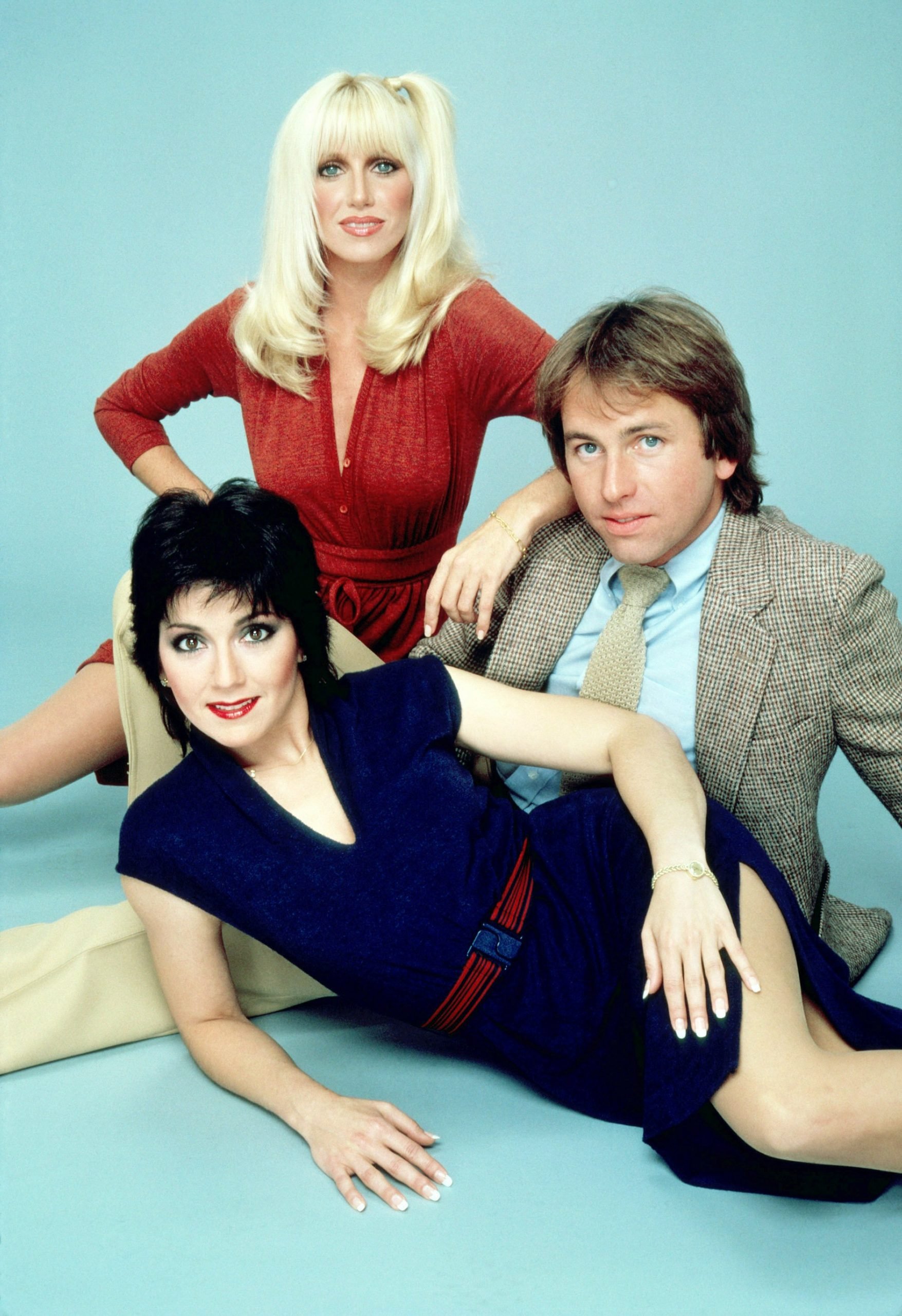 Hey, it's the place where the kisses are hers and hers and his: Suzanne Somers, Joyce DeWitt, and John Ritter in the '70s classic that has been credited along with Charlie's Angels as ushering in the era of "jiggle TV."
83. 'We've Got Each Other' (1977 to 1978)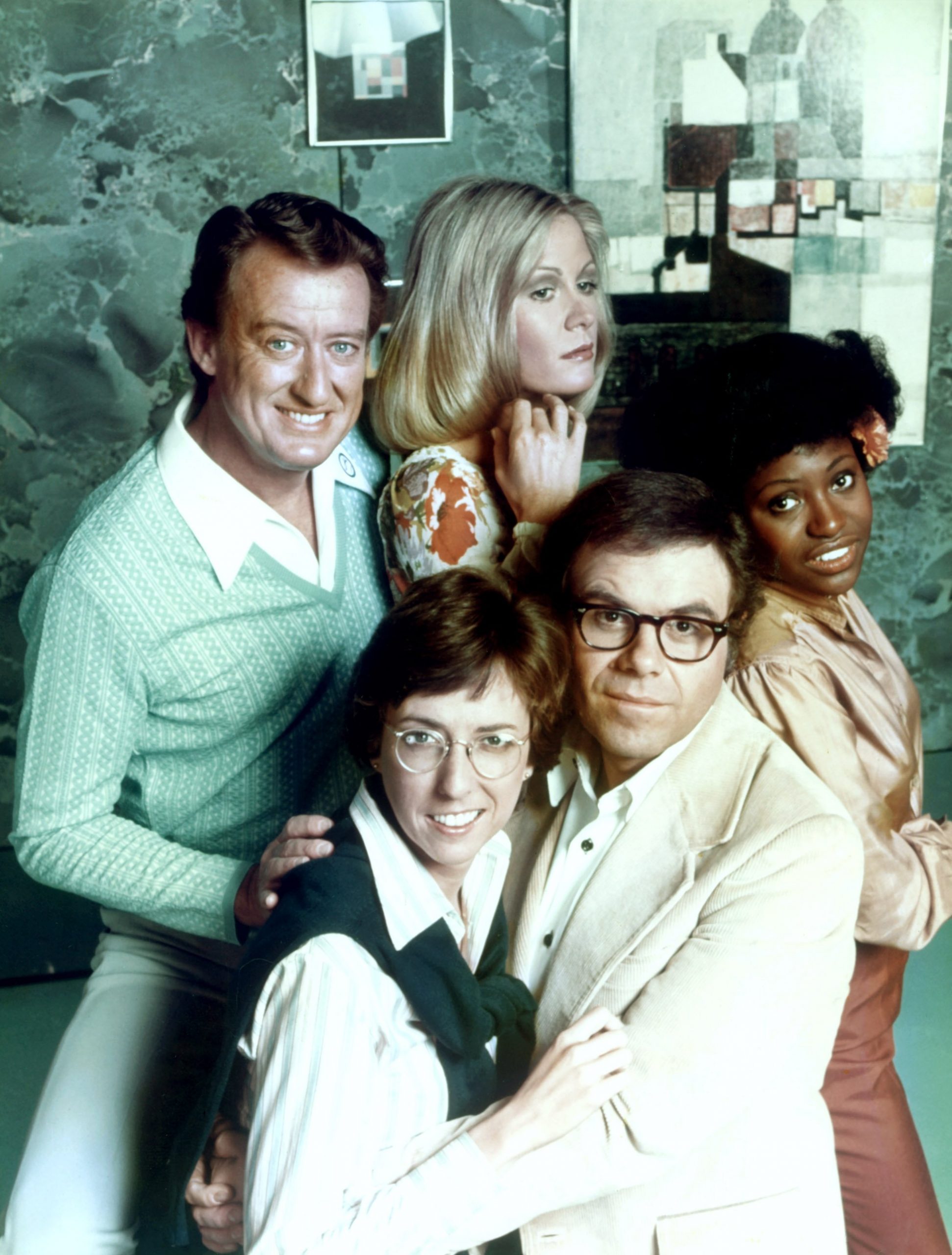 Basically, it's a role reversal with Judy Hibbard going out to work for photographer Damon Jerome, while her husband, Stuart, works at home and does the cleaning and cooking. Believe it or not, this was quite the shake-up at the time that few people were actually used to. Pictured above, clockwise from top left: Tom Poston, Joan Van Ark, Ren Woods, Oliver Clark, Beverly Archer.
84. 'Another Day' (1978)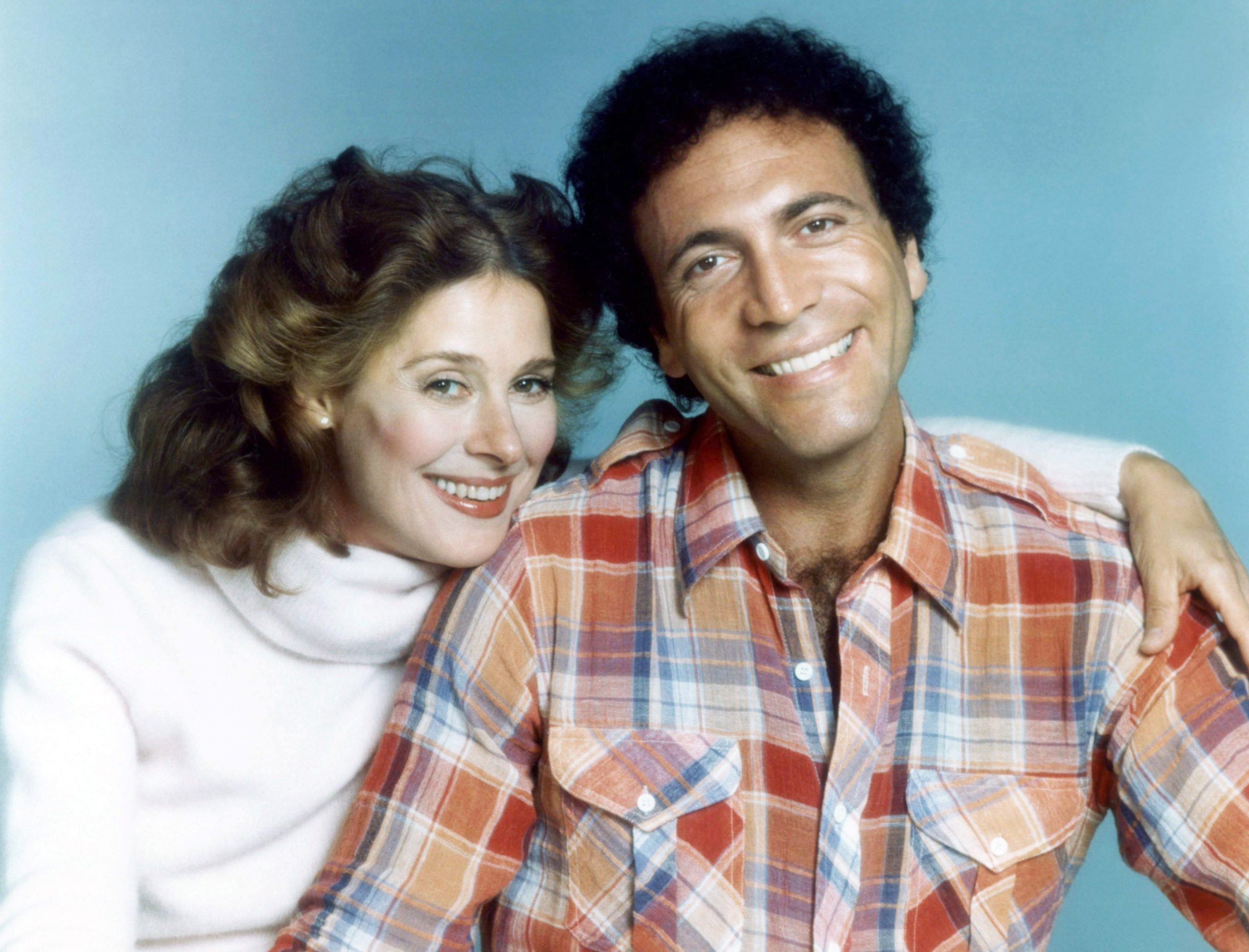 The Gardners are struggling to be an ordinary traditional American family. Father Don wants to be able to support the entire family on his income, but just can't quite seem to make ends meet, so his wife Ginny gets a job of her own. Above is a shot of Joan Hackett and David Groh, the latter last seen marrying and divorcing Valerie Harper's Rhoda.
85. 'Apple Pie' (1978)
The show is set in Kansas City during the Depression, with Rue McClanahan as Ginger-Neil Hollyhock, who decides to end her loneliness by taking out a newspaper ad to recruit a new family for herself. Dabney Coleman and Jack Gilford are among those who decide to answer. The show was created by Norman Lear.
86. 'Baby, I'm Back' (1978)
Ray Ellis (Demond Wilson) returns to his wife after seven years of abandonment, only to find she is engaged to another man. Also starring Helen Martin, Denise Nicholas, Tony Holmes, and Kim Fields.
87. 'Diff'rent Strokes' (1978 to 1986)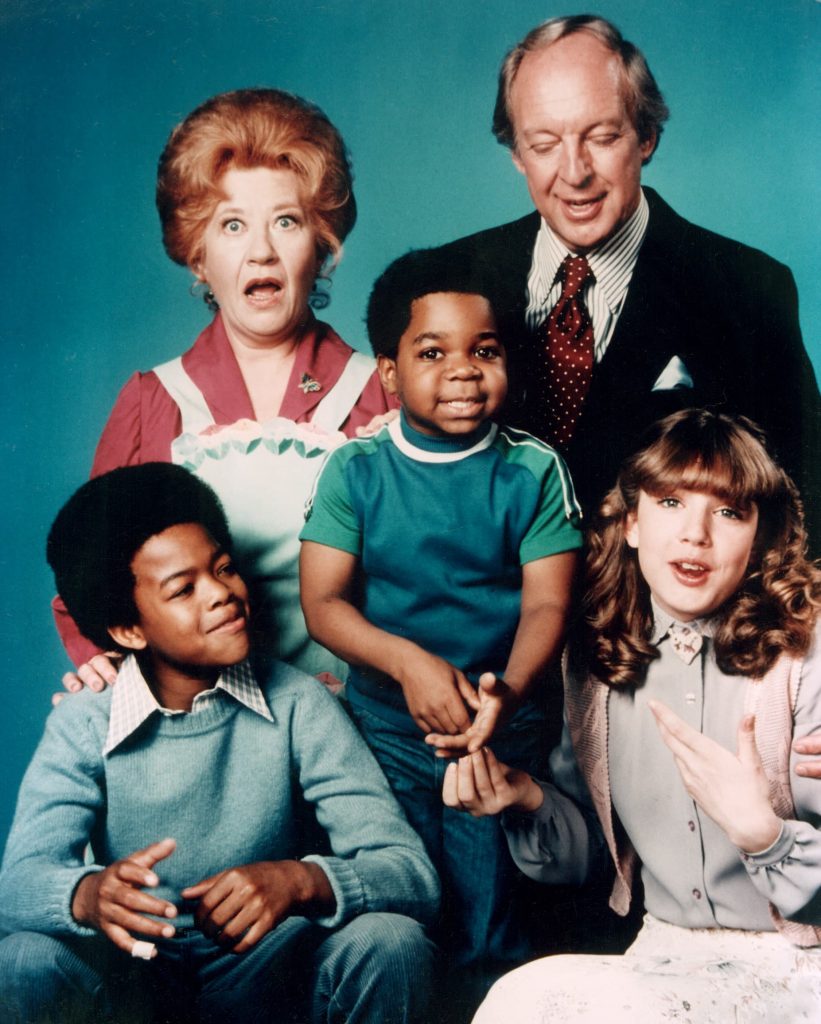 The wealthy Philip Drummond (Conrad Bain) adopts the children of his late housekeeper (the kids played by Gary Coleman and Todd Bridges). Also featuring his daughter, Kimberly (Dana Plato) and, early on, housekeeper Mrs. Garrett (Charlotte Rae).
88. 'Free Country' (1978)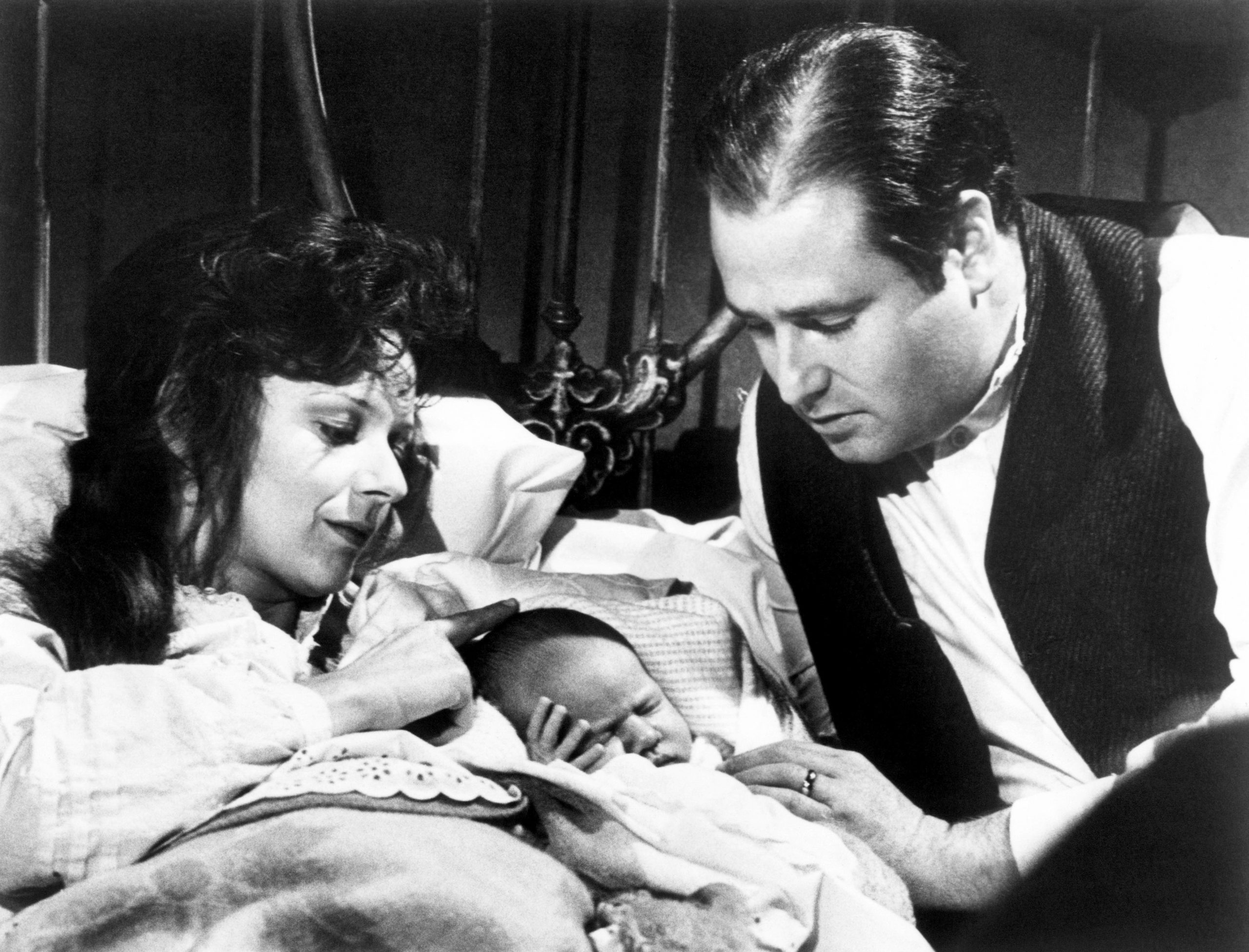 The story of a Lithuanian couple (Judith Khan, Rob Reiner) who immigrated to New York City at the turn of the 20th century.
89. 'Grandpa Goes to Washington' (1978 to 1979)
With Chico and the Man behind him, Jack Albertson takes on the role of Senator Joe Kelley, a political professor who gets elected to the U.S. Senate — despite his lack of experience.
90. 'In the Beginning' (1978)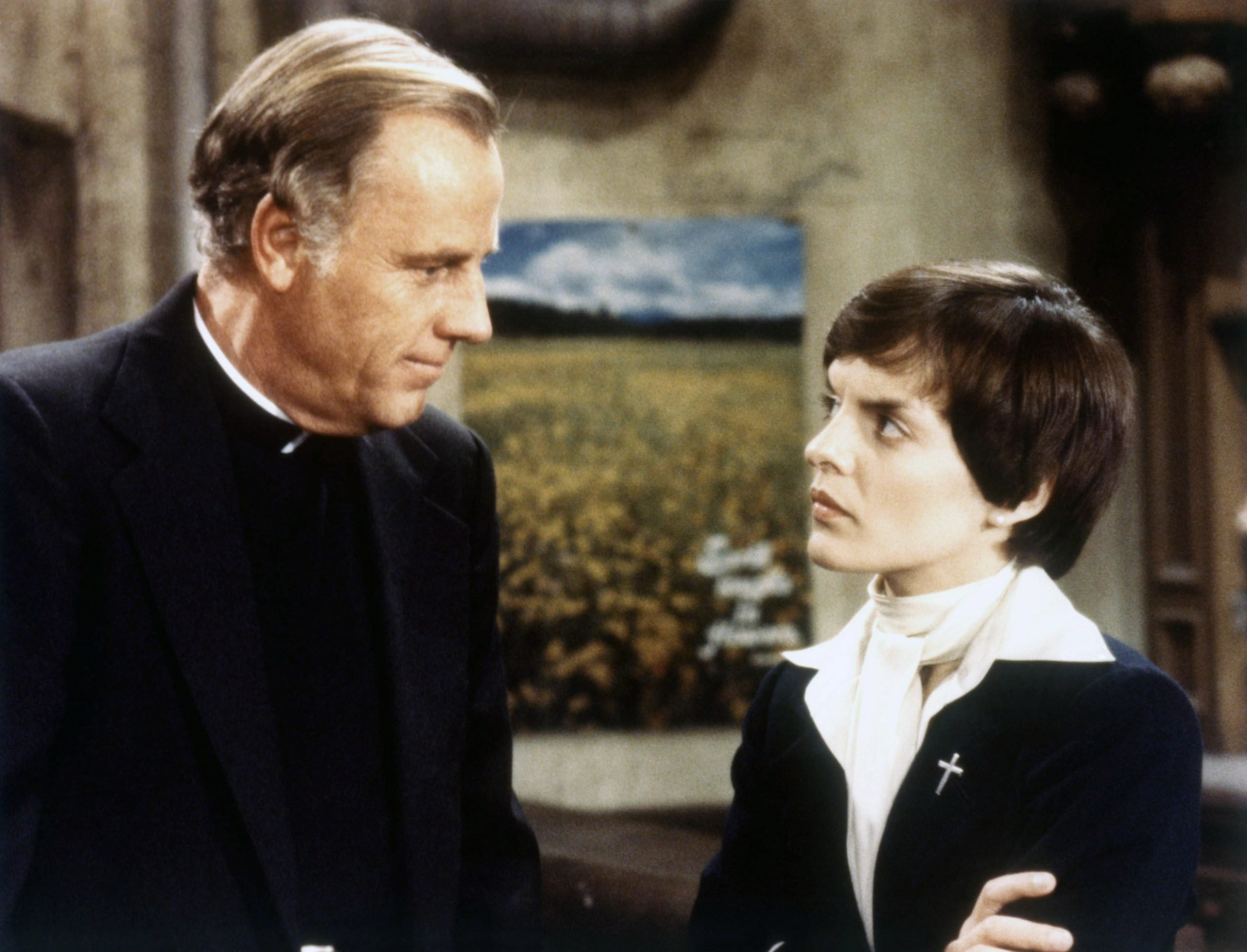 A by-the-book priest, Father Daniel M. Cleary, has to deal with liberal nun Sister Agnes. This marked McLean Stevenson's second attempt at series success post-MASH.
91. 'Mork and Mindy' (1978 to 1982)
Na-noo, na-noo! Another spinoff from Happy Days, this one highlighted the previously-unknown Robin Williams as alien Mork from Ork, who is taken in by Mindy McConnell (Pam Dawber). The jokes are flying faster than you can keep up with, which makes the show — especially the first couple of seasons — so much fun and brilliant comedy.
92. 'Taxi' (1978 to 1983)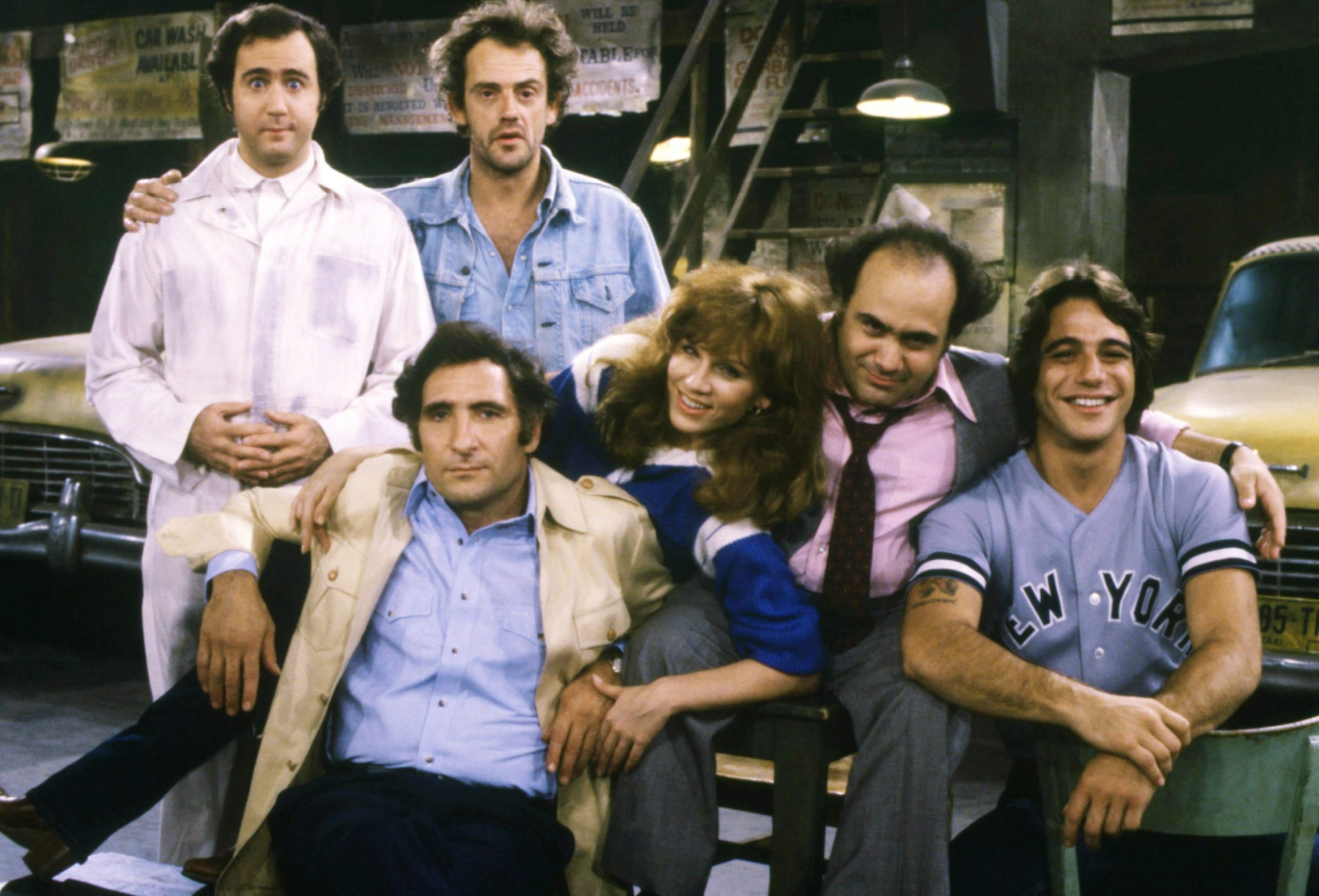 Another wonderful ensemble series focusing on the employees of the Sunshine Cab Company. Above, standing from left: Andy Kaufman, Christopher Lloyd, seated from left: Judd Hirsch, Marilu Henner, Danny DeVito, Tony Danza.
93. 'The Ted Knight Show' (1978)
This one lasted just six weeks. It's about two guys (Ted Knight and Norman Burton) who decide to open a high-class escort service in New York City. Wait, what?
94. 'The Waverly Wonders' (1978)
Joe Namath is retired pro basketball player Joe Casey who's now working as a history teacher and basketball coach at Wisconsin's Waverly High School. The team … well, it's not good. Above: Ben Piazza, Joshua Grenrock, Gwynne Gilford, Joe Namath, Tierre Turner, James Staley, Charles Bloom, Kim Lankford.
95. 'Who's Watching the Kids' (1978)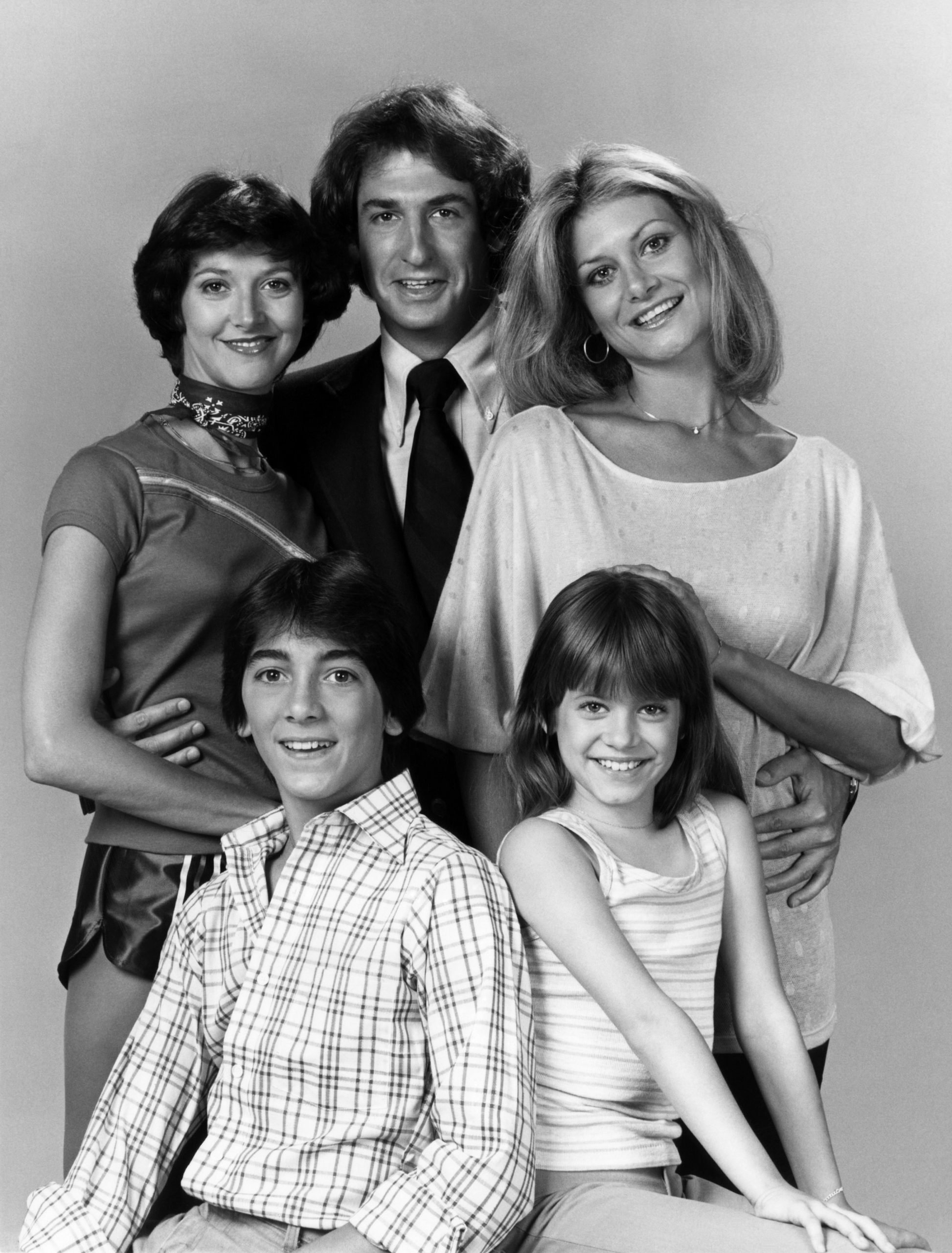 Garry Marshall created this show about a pair of Las Vegas showgirls who are working and room together, and each has a younger sibling staying with them. Above: Lynda Goodfriend, Larry Breeding, Caren Kaye, (front l-r): Scott Baio, Tammy Lauren.
96. 'WKRP in Cincinnati' (1978 to 1982)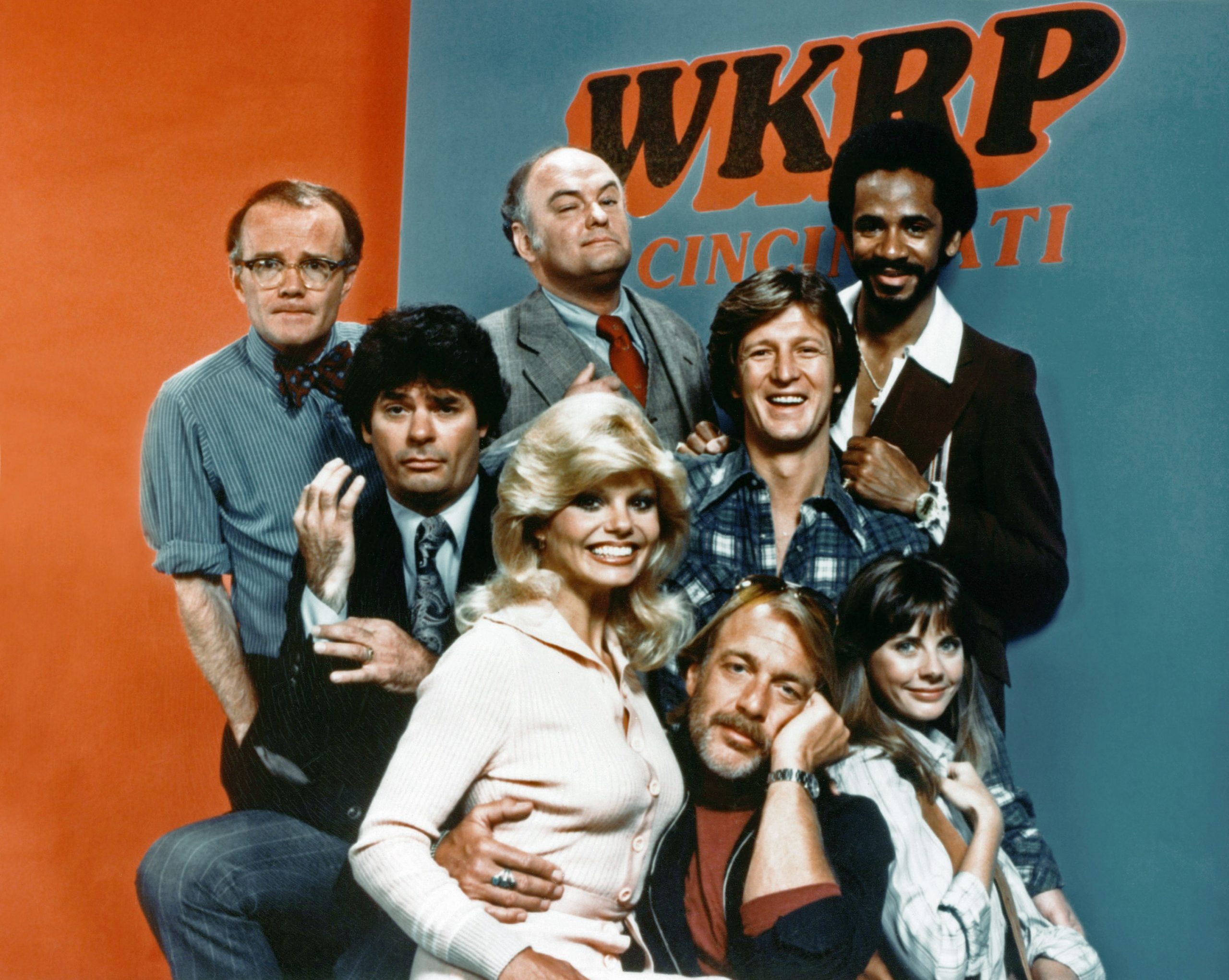 Ensemble comedy focusing on the eccentric workers at the WKRP radio station. With this show, Loni Anderson really caught people's attention. Pictured above back row, from left): Richard Sanders, Gordon Jump, Tim Reid, (middle): Frank Bonner, Gary Sandy, (front): Loni Anderson, Howard Hesseman, Jan Smithers.
97. 'A New Kind of Family' (1979 to 1980)
Two single mothers rent the same house, sight unseen, from an unscrupulous real estate agent. With their money gone and no place else to go, they decide to move in together with their total of four children. Sounds like a weird hybrid of The Goodbye Girl and The Brady Bunch. Pictured (clockwise): Rob Lowe, Gwynne Gilford, Connie Ann Hearn, Lauri Hendler, David Hollander, Eileen Brennan.
98. 'Angie' (1979 to 1980)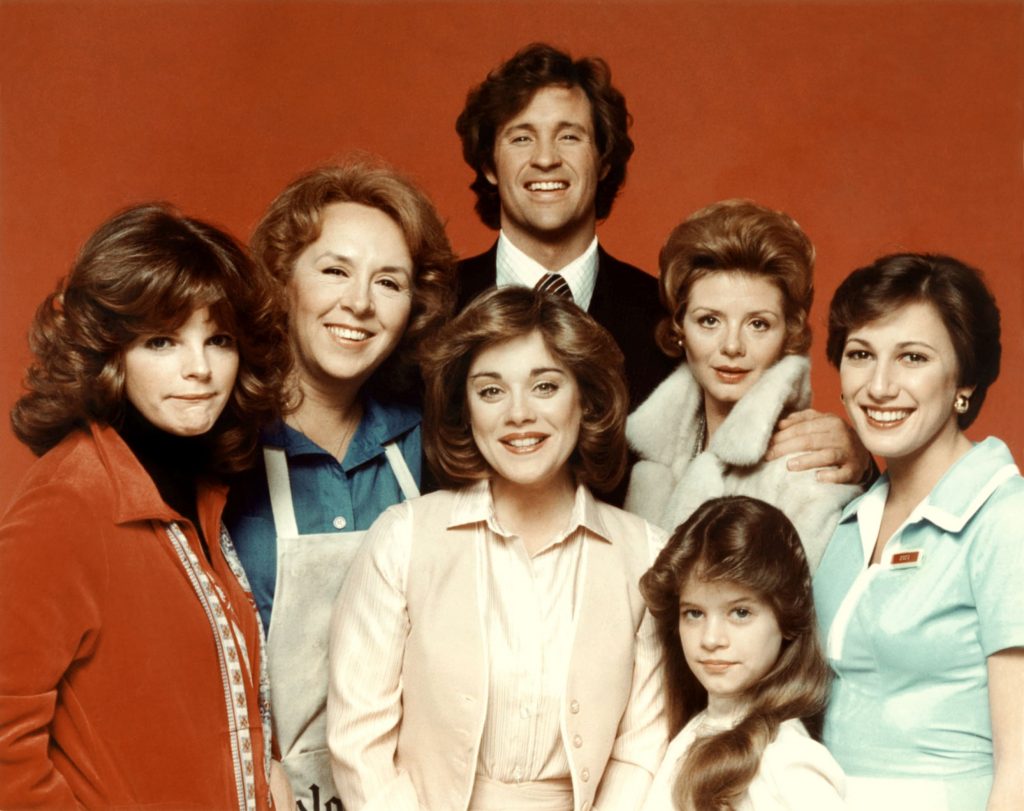 Angie Falco (Donna Pescow, who had caught people's attention in 1977's Saturday Night Fever) is a middle-class Italian-American who marries the wealthy Brad Benson (Robert Hays, so close to Airplane), and she soon learns how to adjust to her new lifestyle by being thrown headfirst into it. Doris Roberts also stars as Angie's mother.
99. 'Archie Bunker's Place' (1979 to 1983)
A spinoff to All in the Family, with Archie Bunker co-running a bar while raising his nieces and somehow managing to be a decent human being. Guess he finally started taking his advice to Edith and dummied up. Above, standing l-r: Jason Wingreen, Martin Balsam, Danny Dayton, Bill Quinn, sitting l-r: Danielle Brisebois, Carroll O'Connor.
100. 'The Associates' (1979 to 1980)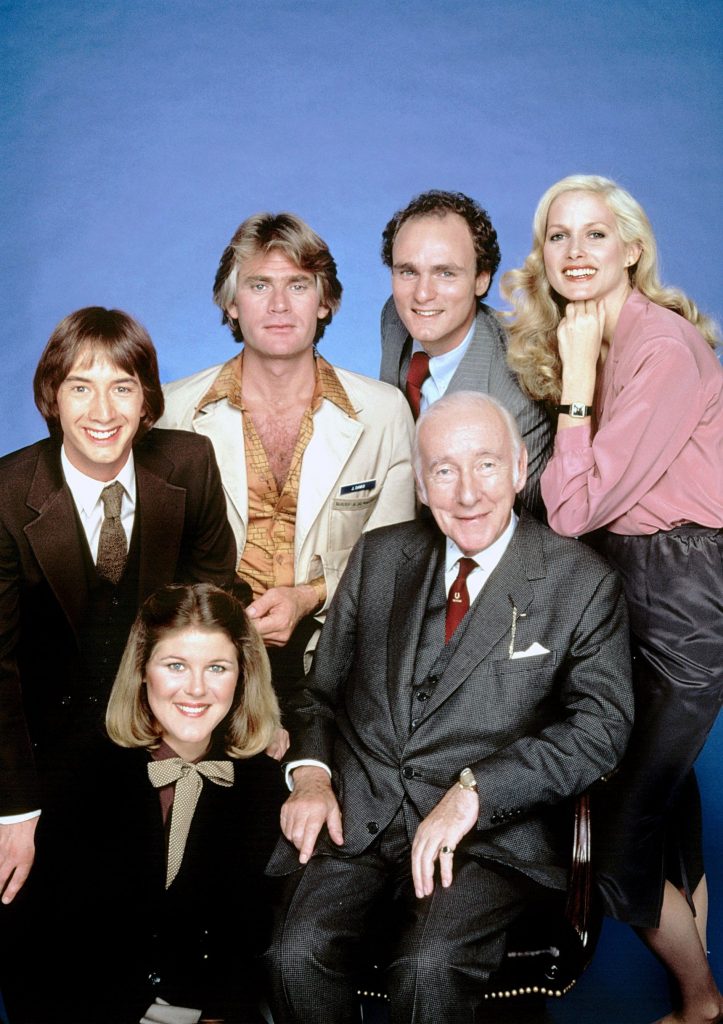 Describes Wikipedia, "The show was the first bonafide starring vehicle for Martin Short and centered on a small group of young novice lawyers who worked at a Wall Street firm." Above, Martin Short, Tim Thomerson, Joe Regalbuto, Shelley Smith, Alley Mills, Wilfred Hyde-White.
101. 'The Bad News Bears' (1979 to 1980)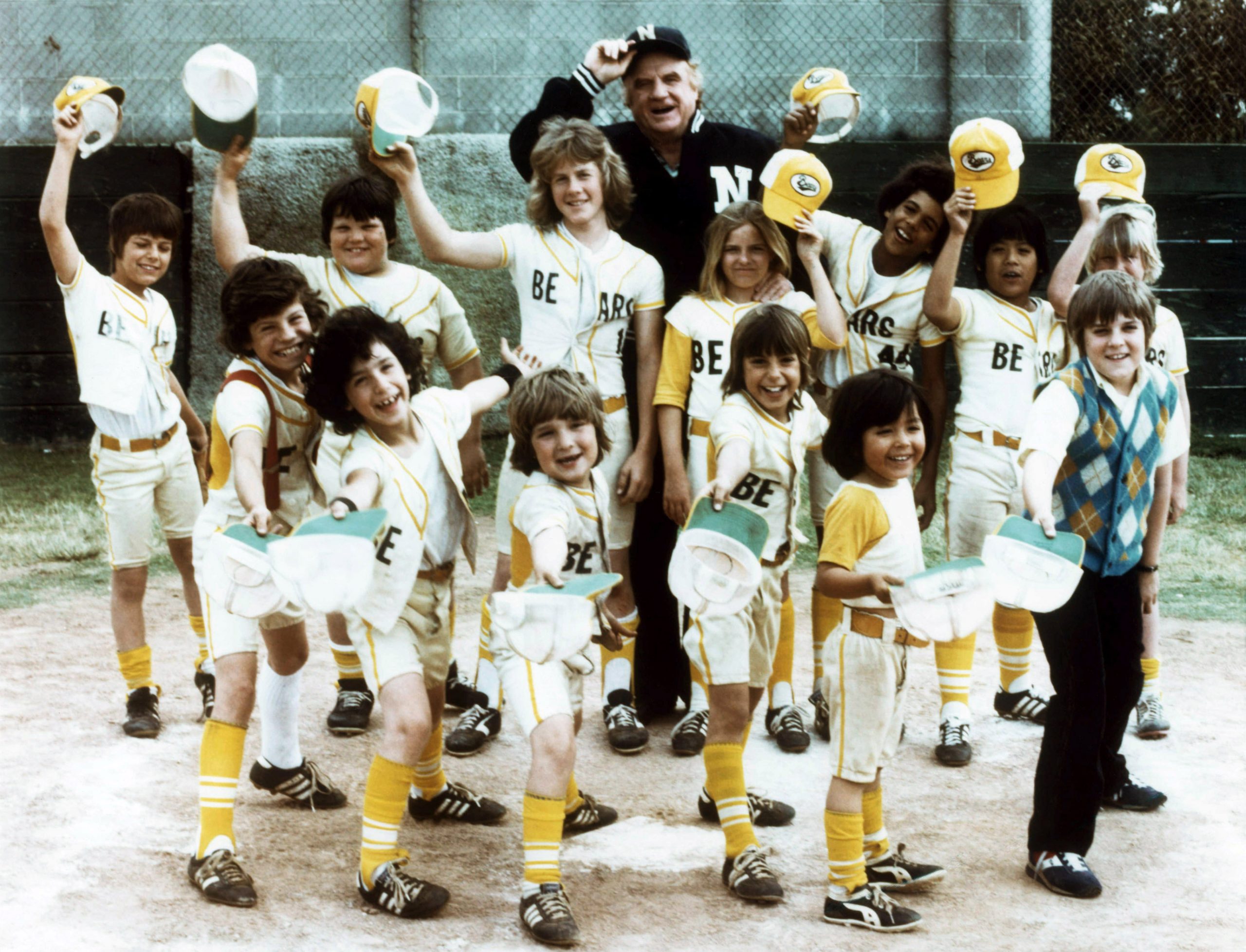 Swimming pool cleaner Morris Buttermaker (Jack Warden), to avoid jail time, agrees to coach the Bears Little League baseball team. They're called the Bad News Bears for a reason. Above, rear 2nd from left: J. Brennan Smith, 3rd from left: Rad Daly, Jack Warden, Tricia Cast, foreground 2nd from left: Meeno Peluce, 3rd from left: Corey Feldman, far right: Sparky Marcus.
102. 'Benson' (1979 to 1986)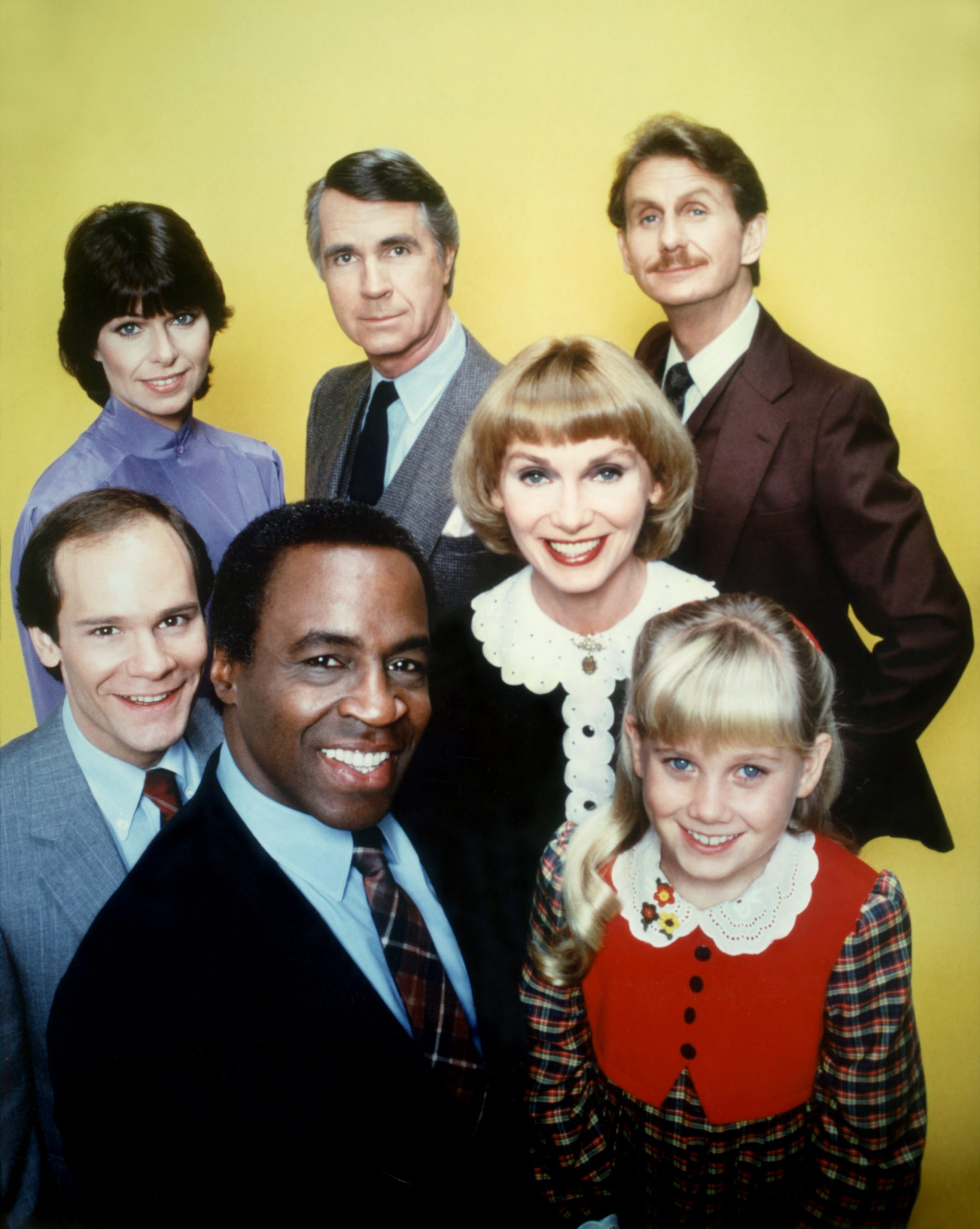 This spinoff to Soap features Robert Guillaume as the title character, who goes from being Jessica Tate's butler to climbing the ladder working for Governor Eugene Xavier Gatling (James Noble). Pictured above ((top row, from left): Caroline McWilliams, James Noble, Rene Auberjonois, (middle): Ethan Phillips, Inga Swenson, (front): Robert Guillaume, Missy Gold.
103. 'Billy' (1979)
Loosely based on the 1963 film Billy Liar, Steve Guttenberg is young Billy, a man with a wild imagination who can't help telling some pretty wild stories which exasperate his father to no end.
104. 'Brothers and Sisters' (1979)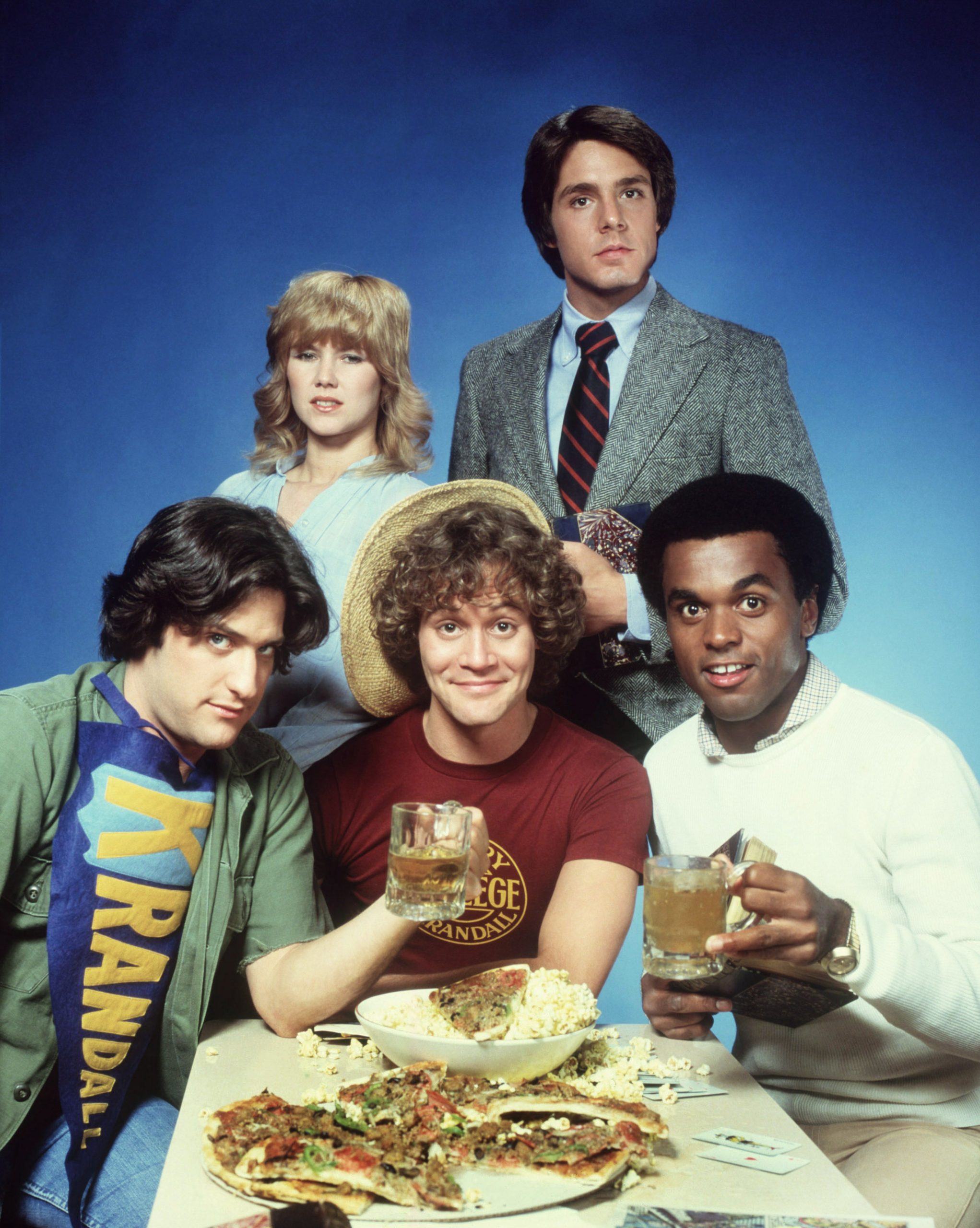 An attempt to cash in on the success of National Lampoon's Animal House that simply didn't work. Pictured above, standing l-r: Amy Johnston, Larry Anderson, sitting l-r: Jon Cutler, Chris Lemmon, Randy Brooks.
105. 'Delta House' (1979)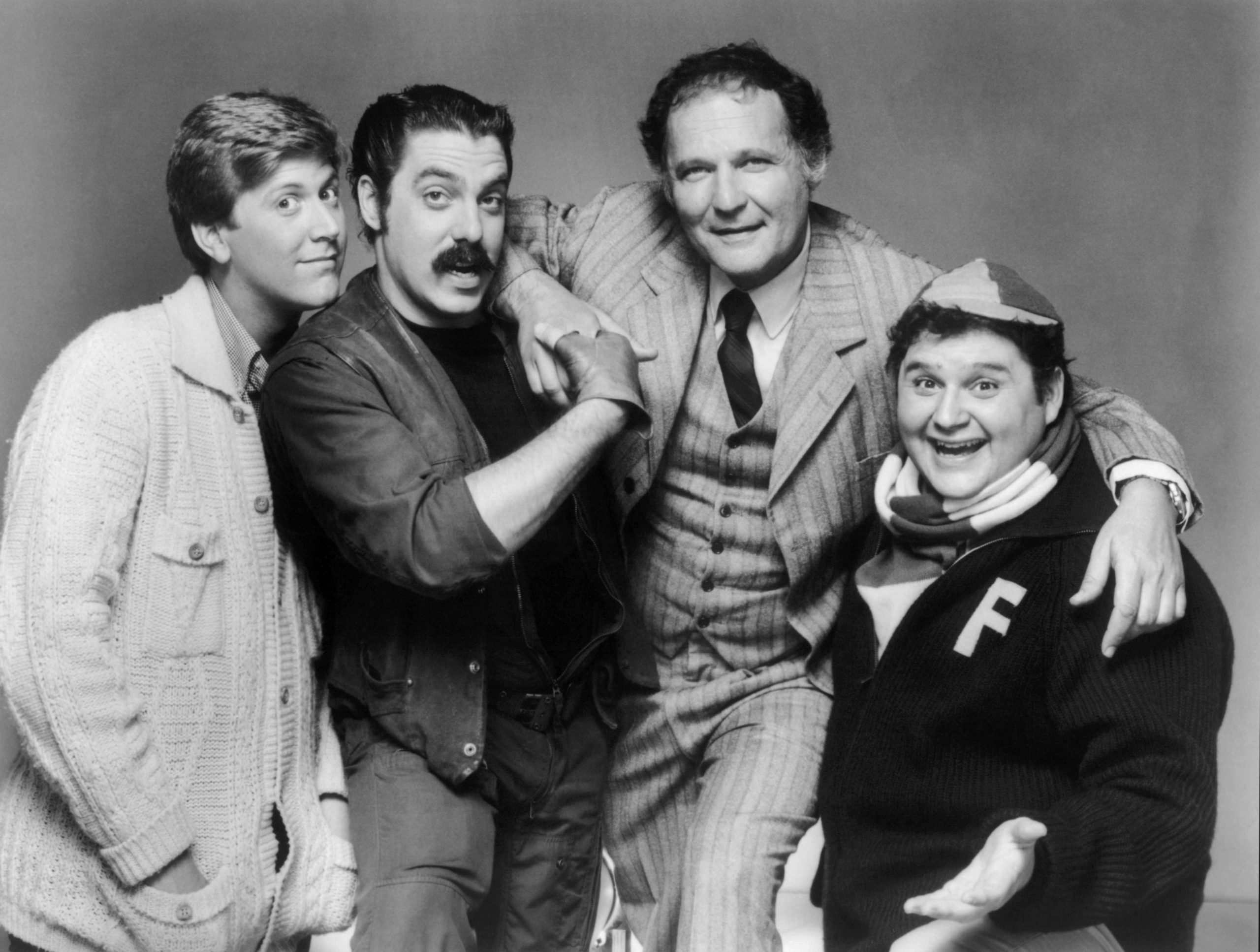 This one is spun off from Animal House and it doesn't fare much better. Among those reprising their roles from the feature are, above, James Widdoes, Bruce McGill, John Vernon, and Stephen Furst.
106. 'Detective School' (1979)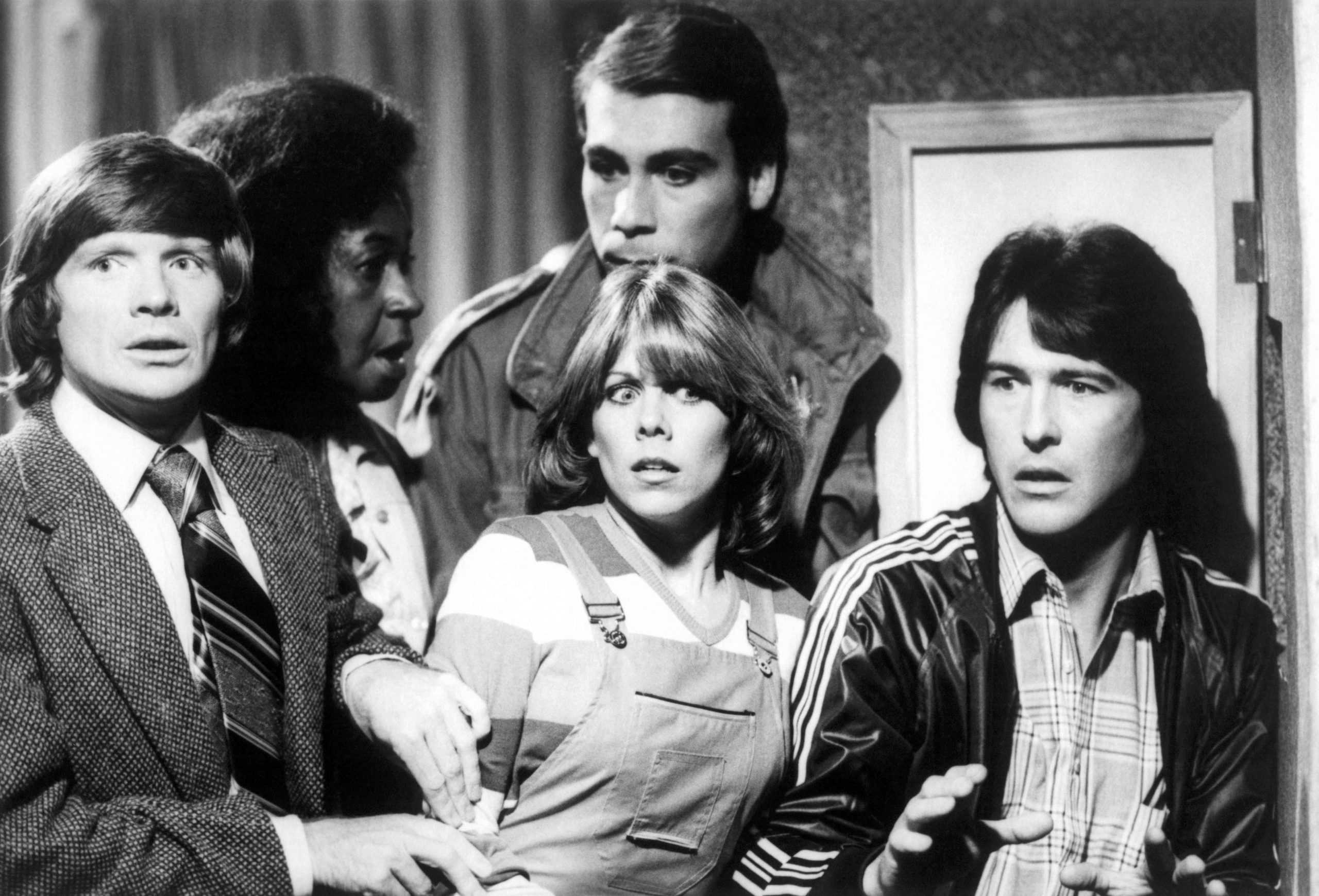 The lunatics are apparently running the asylum in this show about a group of people who work at a school that trains you to become a detective. Above, from left: Pat Proft, LaWanda Page, Jo Ann Harris, Taylor Negron, Randolph Mantooth.
107. 'The Facts of Life' (1979 to 1988)
Edna Garrett (Charlotte Rae), from Diff'rent Strokes, takes charge at a girls boarding school, helping to guide the young ladies through life. Pictured (from left): Lisa Whelchel, Mindy Cohn, Charlotte Rae, Kim Fields, Nancy McKeon.
108. 'Flatbush' (1979)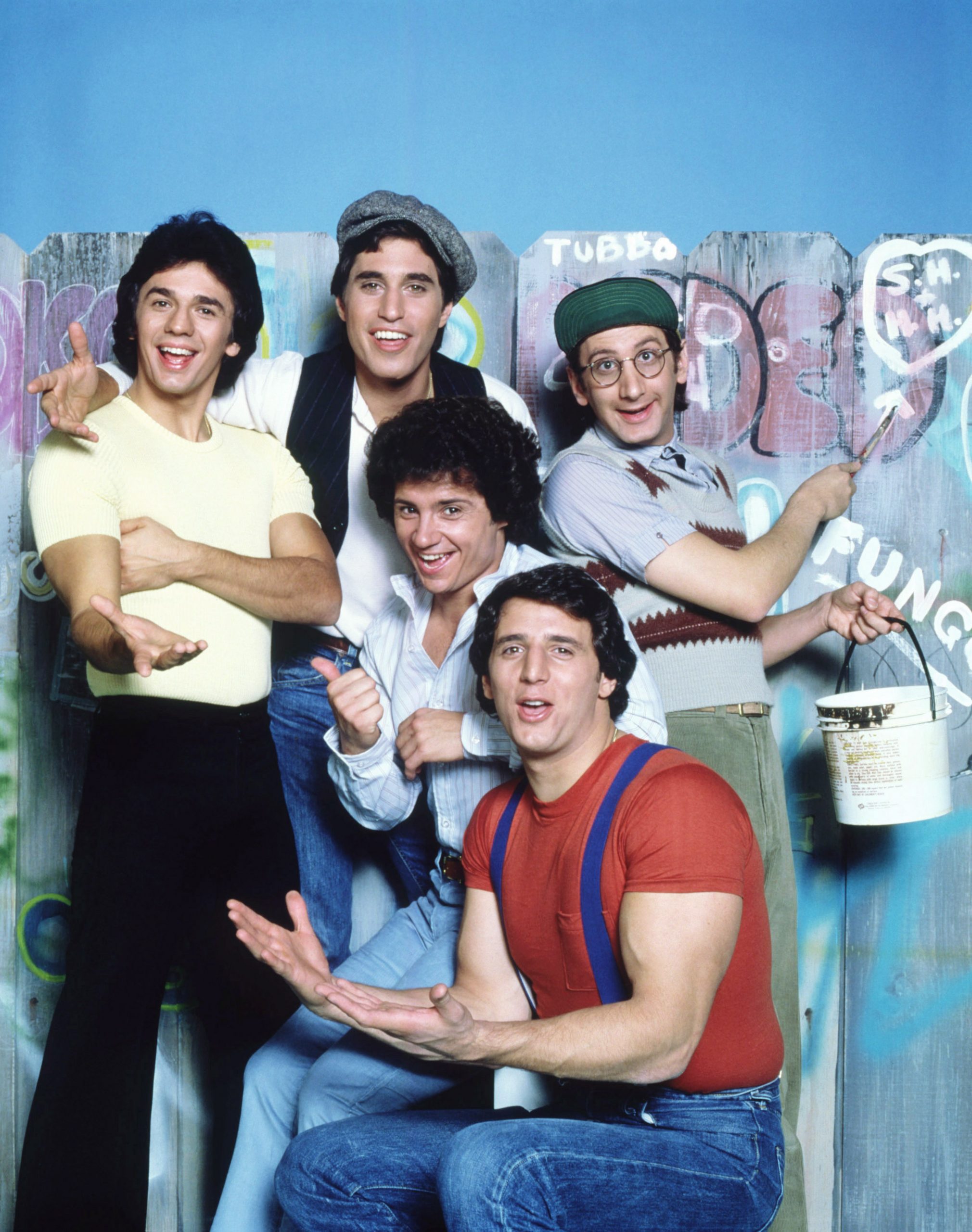 There may be a reason that you never heard of this one: it's about the members of a Brooklyn gang who call themselves the Fungos. It stars Adrian Zmed (later of T.J. Hooker), Joseph Cali, Sandy Helberg, Randy Stumpf, and Vincent Bufano.
109. 'Hello Larry' (1979 to 1980)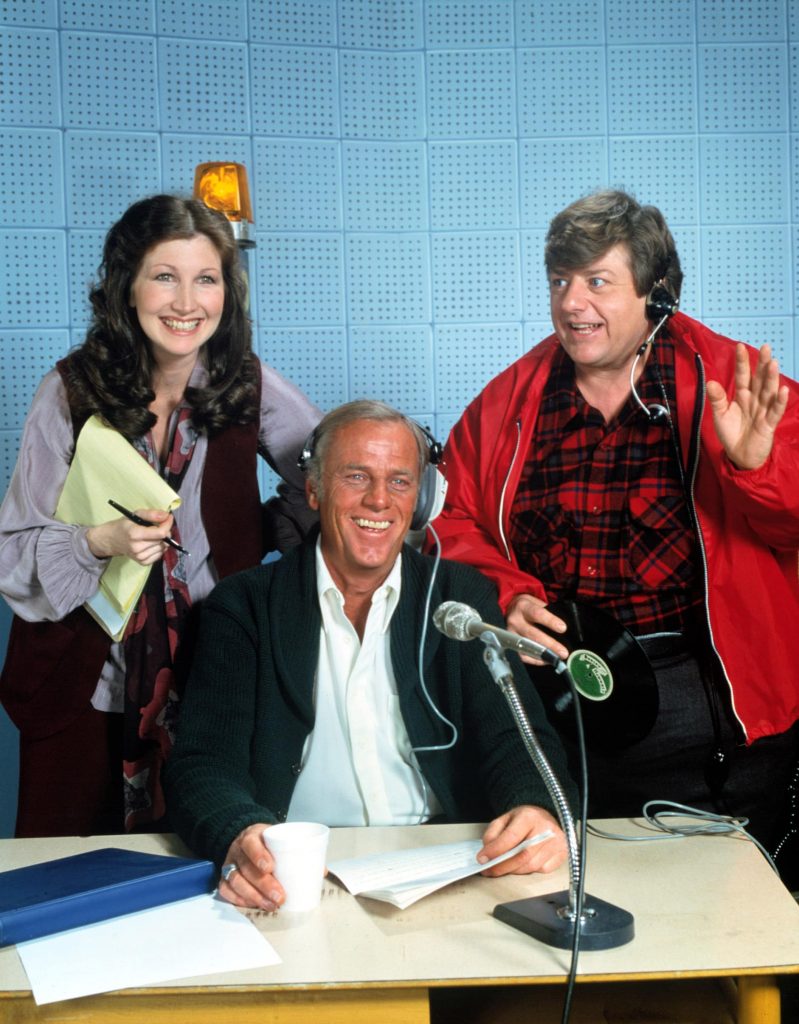 Larry Alder is a 44-year-old divorcee in Portland, Oregon, raising his two teenage daughters and hosting a call-in psychology radio show. Yeah, it's McLean Stevenson again.
110. 'Hizzoner' (1979)
Each episode would feature the lead character, Mayor Cooper (David Huddleston), break into song. Besides that, the show was about the mayor who is a widower who has a pair of grown children: a hippie and a civil rights attorney.
111. 'House Calls' (1979 to 1982)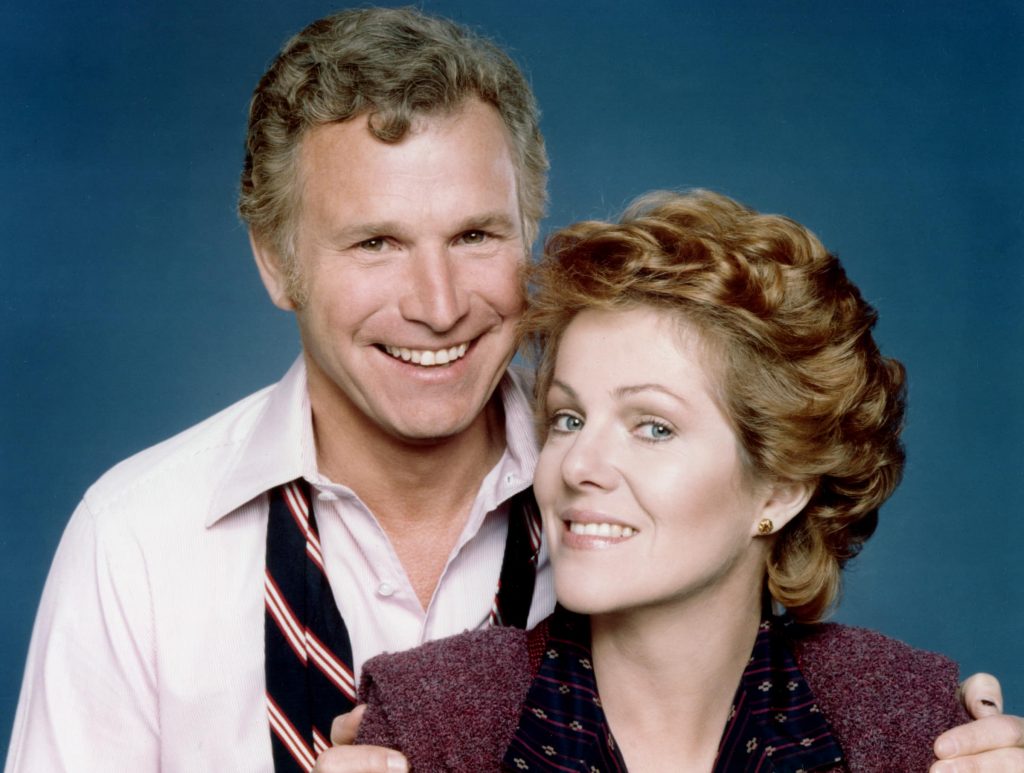 The challenges of a romance between surgeon Charley Michaels (Wayne Rogers) and the hospital's administrative assistant, Ann Anderson (Lynn Redgrave). Based on the film of the same name.
112. 'The Last Resort' (1979)
A group of college students begin working at a Catskills resort, their different personalities coming into conflict with each other. Walter Olkewicz and Robert Costanzo (both above) are among the stars.
113. 'Makin' It' (1979)
You can always count on a hit film spawning a TV series designed to cash in on it, and that's what this is: inspired by Saturday Night Fever, it focuses on a pair of Italian brothers (David Naughton and Greg Antonacci) who hit up the disco at night.
114. 'The Mary Tyler Moore Hour' (1979)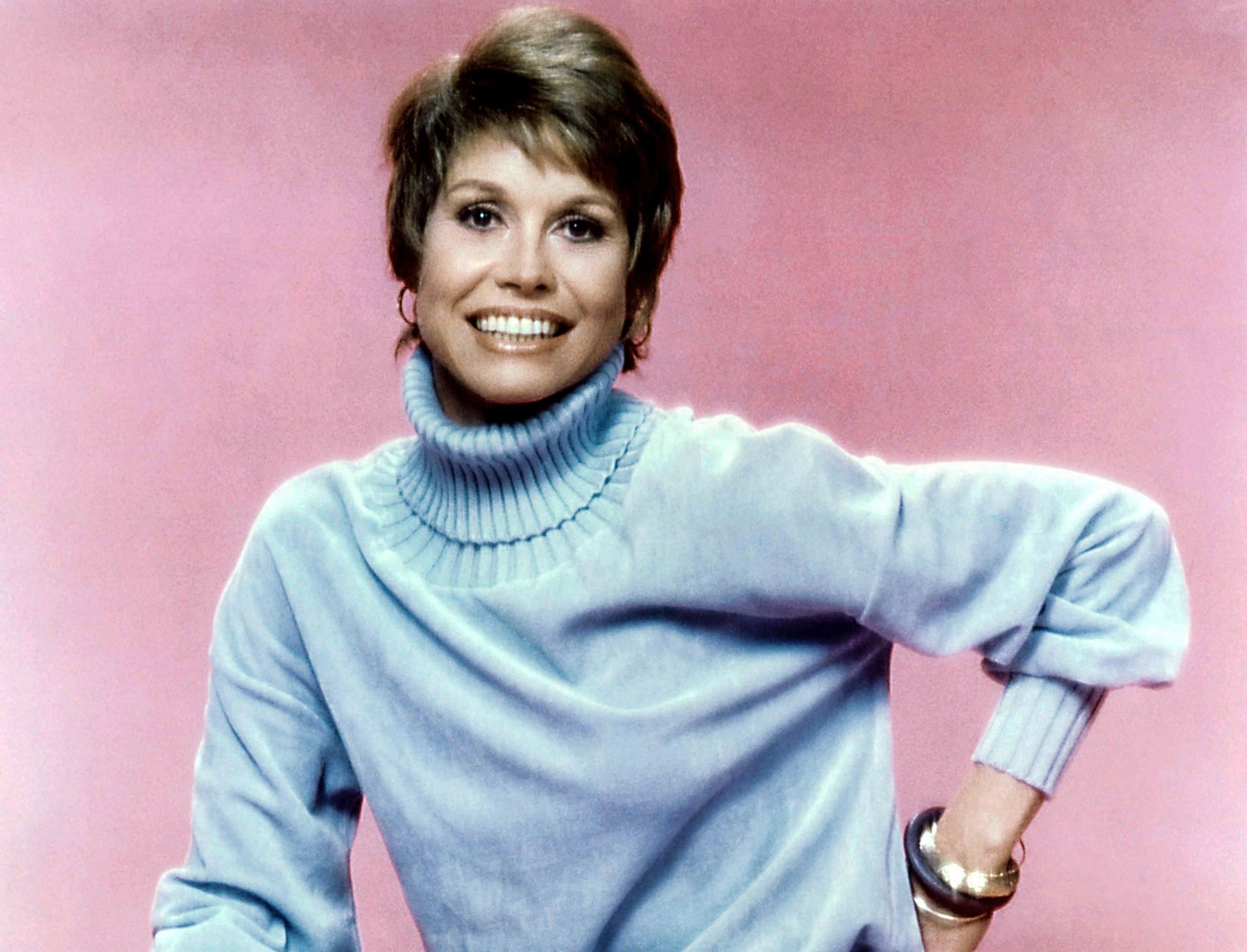 Basically a show within a show, with Mary playing variety show star Mary McKinnon, and the episodes following her challenges to get each episode mounted, and then bringing the audience into the episodes themselves. Didn't work out too well for Mary, but the following year she would give an intense and stunning performance in Robert Redford's Ordinary People.
115. 'Out of the Blue' (1979)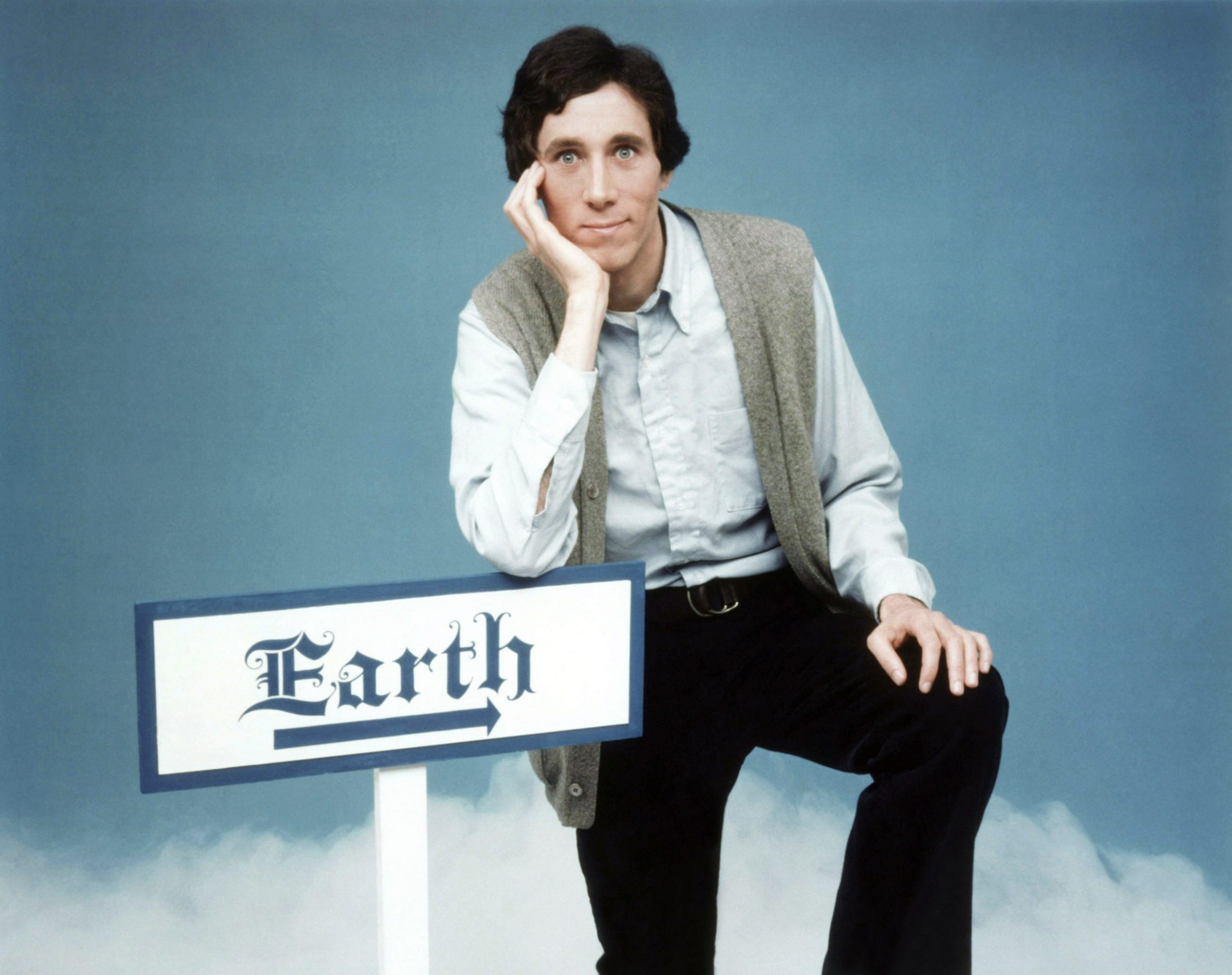 Jimmy Brogan is Random, an angel trying to earn his wings by reaching out and helping human beings. Dixie Carter (later of Designing Women) also starred.
116. 'The Ropers' (1979 to 1980)
A spinoff from Three's Company starring Norman Fell and Audra Lindley as Jack, Chrissy, and Janet's former landlords, the Ropers. Unfortunately, it just didn't work and the duo couldn't return to the original series due to the fact that Don Knotts had been hired as Ralph Furley.
117. 'Stockard Channing in Just Friends' (1979)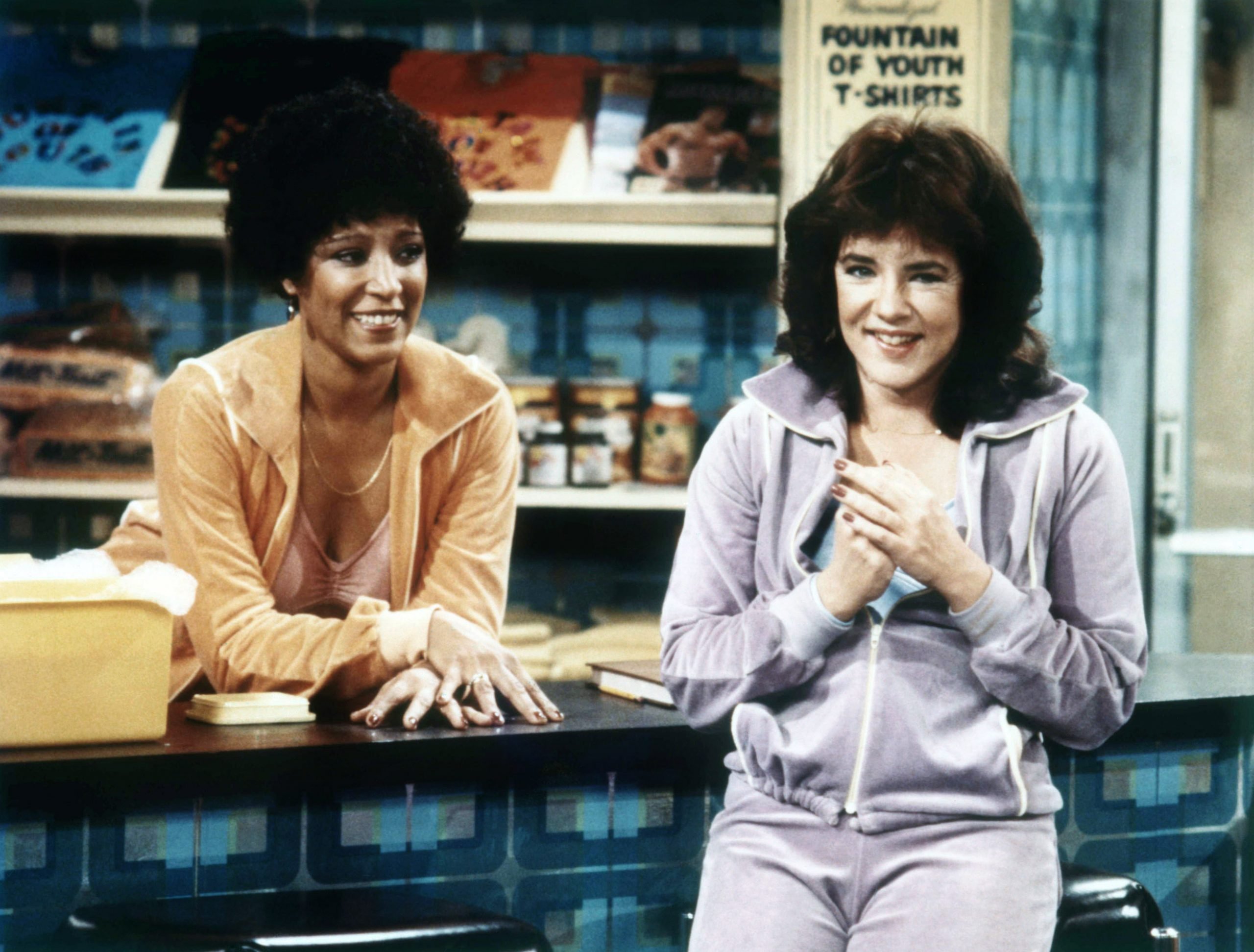 "After her marriage breaks up," notes IMDB, "Susan Hughes (Stockard Channing) leaves Boston, Massachusetts for Los Angeles, California, where her matchmaking sister Victoria (Mimi Kennedy) lives. Susan gets a job at a spa run by the eccentric but fit, Milt D'Angelo (Lou Criscuolo), with Coral (Sydney Goldsmith), a fellow instructor. Her apartment comes with the obligatory wacky neighbor Leonard Scribner (Gerrit Graham)." The previous year, Stockard had come off of playing Rizzo in the movie version of Grease.
118. 'Struck by Lightning' (1979)
Ted Stein, a science teacher, inherits an old New England inn and discovers that he's a descendent of Dr. Victor Frankenstein. Then he discovers that the inn's caretaker, Frank, is actually the Frankenstein monster. Wackiness ensues from there. Jack Elam is Frank while Jeffrey Kramer — the deputy sheriff from the first two Jaws movies — is Stein.
119. 'Turnabout' (1979)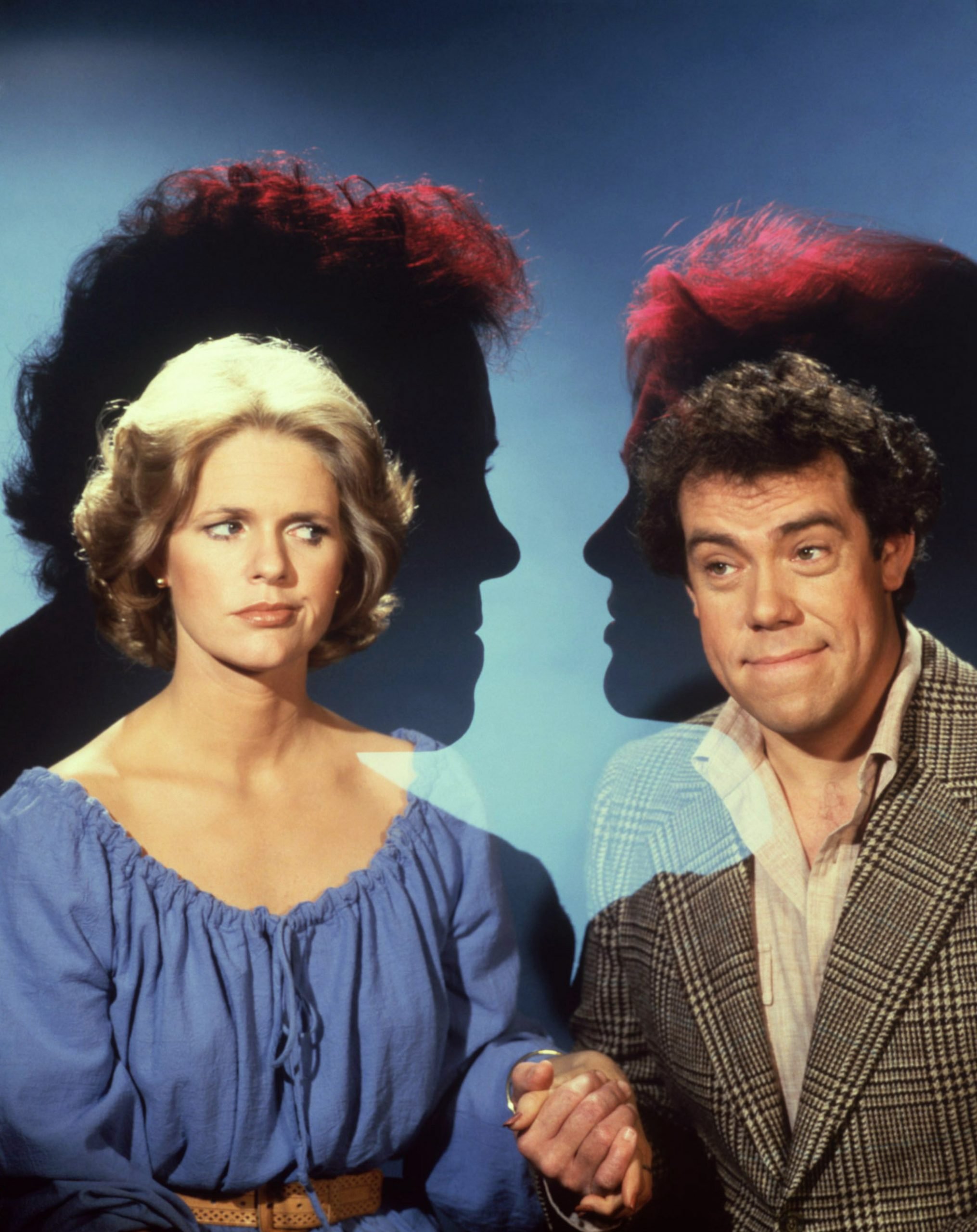 Thanks to a mysterious statue, the married Sam and Penny Alston (John Schuck and Sharon Gless) find that they've swapped personalities. Shades of Freaky Friday!
120. 'Working Stiffs' (1979)
In retrospect, and given the cast, it seems unbelievable that this show only lasted three episodes, but, you know, we ain't lying. Janitor brothers Ernie O'Rourke (Jim Belushi) and Mike O'Rourke (Michael Keaton) are determined to work their way up in their uncle's office building.
121. 'Big John, Little John' (Honorable Mention, 1976)
We can't let the 1970s get away from us without mentioning this Saturday morning kid's show that was produced by Lloyd J. Schwartz, son of The Brady Bunch and Gilligan's Island creator Sherwood Schwartz. It stars Herb Edelman (later Dorothy's ex-husband on The Golden Girls) and Robbie Rist (Cousin Oliver from The Brady Bunch and is about an adult who encounters the Fountain of Youth and finds himself becoming a younger version of himself and then back to his own age — at the most inopportune times, naturally.
Newly Added Shows
122. 'The Corner Bar' (1972 to 1973)
The locale is Grant's Toomb, a tavern in which a variety of patrons and employees interact. The show is credited with being the first to feature a recurring gay character on gay television in the form of Vincent Schiavelli as Peter Panama. Regular cast members include Gabriel Dell (Harry Grant), formerly of the Dead End Kids, the East Side Kids and The Bowery Boys; J.J. Barr (Fred Costello), Anne Meara (Mae), Eugene Roche (Frank Flynn) and Ron Carey (Donald Hooten), who would go on to be a recurring character on Barney Miller. A total of 16 episodes were produced.
And here endeth our guide to 1970s sitcoms. Hope you enjoyed the trip back through time.
And finally… here are our favorite, terrible, series from the 1970's… yikes, did you watch any?
For more of these throwback videos, check out our YouTube Channel!