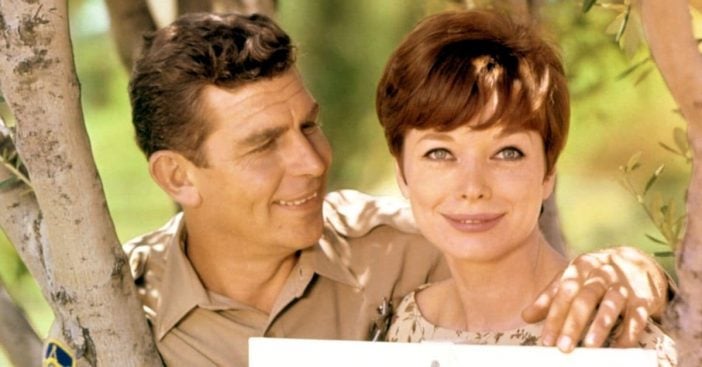 *FAQs at the bottom of article*
UPDATED 2/14/2023
Andy Griffith was very attractive to most women back when the show was on. Turns out that he had a real-life affair with one of the women while filming The Andy Griffith Show. Even though they tried to keep it under wraps, the entire cast and crew reportedly knew about it!
Even though Andy was married to Barbara Bray Edwards at the time, he reportedly had a fling with Aneta Corsaut. She played the schoolteacher Helen Crump. They dated on the show and became romantically involved and tried to keep it a secret.
Andy had an affair with actress Aneta Corsaut
Author Daniel de Visé said, "Andy couldn't get enough of Aneta. Eventually, he proposed, even though he was already married. He popped the question at least once and possibly two or three times, as Aneta hinted in later years. She turned him down."
At one point, the entire cast and crew found out about the affair. They tried to play a joke on Andy and Aneta and showed up at a hotel where they were sneaking around. It didn't end well and they were very upset.
Did you know that Andy and Aneta had an affair?
Find out a little more about the best wholesome program in television history (my words 🙂
For more of these throwback videos, check out our YouTube Channel!
How many girlfriends did Andy Griffith have?
Throughout the run of The Andy Griffith Show, the titular character had several girlfriends. These girls include Ellie Walker, Mary Simpson, Peggy McMillan, Sharon DeSpain, and longtime girlfriend Helen Crump.
Did Andy and Helen have a baby?
On Mayberry R.F.D., Andy and Helen return to Mayberry for a visit and bring their newborn baby with them. This is revealed in the episode "Andy's Baby."
Did Andy Griffith ever kiss Helen on the show?
Andy Griffith did kiss Helen on the show in the episode "The Rumor." Other than that, he rarely kissed on television.