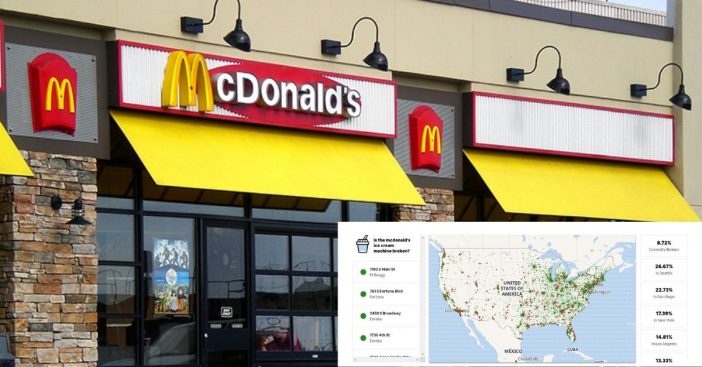 It has been a very common occurrence for McDonald's customers to be told that the ice cream machine is broken. While this is true for many of the fast food restaurants, some employees admit that the machine is very difficult to clean. Therefore, sometimes they fib and say that it is broken because they just don't want to deal with it.
A 24-year-old named Rashiq Zahid created a map that tracks which ice cream machines are not working at McDonald's locations across the United States. As of right now, the virtual map covers about 10,000 McDonald's restaurants.
A 24-year-old made a website to track broken McDonald's ice cream machines
I reverse engineered mcdonald's internal api and I'm currently placing an order worth $18,752 every minute at every mcdonald's in the US to figure out which locations have a broken ice cream machine https://t.co/2KsRwAdrMd

— rashiq (@rashiq) October 22, 2020
The website is aptly named McBroken.com and comes after being told many times that the machine was broken at his local McDonald's. At first, he created it as a joke but it has become something pretty legitimate.
RELATED: The McDonald's Monopoly Scam That Resulted In A $1 Million Donation To St. Jude's
The website has been shared around the country and made news headlines. This has forced many McDonald's locations to improve their ice cream machines and either fix them or clean them. Even David Tovar, vice president of US communications and government relations for McDonald's took notice.

He tweeted, "Only a true @McDonalds fan would go to these lengths to help customers get our delicious ice cream! So, thanks! We know we have some opportunities to consistently satisfy even more customers with sweet treats and we will."
In conclusion, check out the website here! It finds your location and you can move around to check McDonald's locations in your area or around the country if you like. A simple green dot will tell you if the ice cream machine is working at that location. A red dot will show that it is not. What do you think about this website?