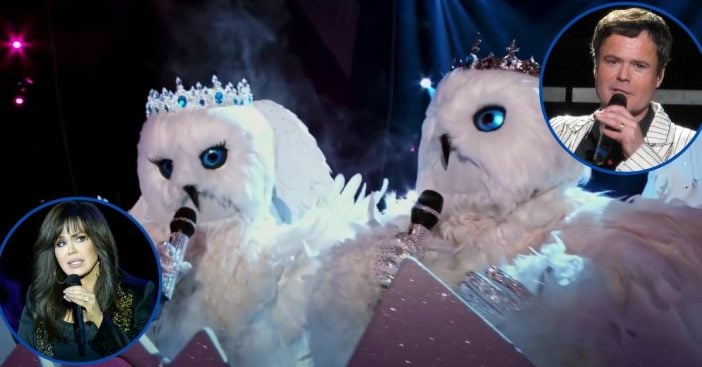 There is some new speculation coming out that the Snow Owls on season 4 of The Masked Singer could be Donny and Marie Osmond. Deseret.com provides the 'clues' that are having people believe it could be the brother-sister duo. "Who is that? You can try and figure out who we are, but as for who is more talented, it's a tie," they write. They also say that "The birds said people haven't seen them together in awhile, and that the singing together represents a family reunion."
Of course, this has people speculating online of who it could be. Donny and Marie are coming up quite a bit, especially since they recently closed on a Las Vegas residency and have been doing their own thing. So, this would definitely play into the clue that it's a family reunion.
Could Donny and Marie be on 'The Masked Singer'?
Was thinking it might be Donny and Marie Osmond.

— Miss Marie ❤🌻🦃 (@MissMarie1771) October 10, 2020
There has been some speculation about other contestants on the show as well, one of them allegedly being Cyndi Lauper.
RELATED: Fans Think The Taco On 'The Masked Singer' Could Be Tim Allen
The Masked Singer Popcorn is Cindy Lauper! Write it down! The Snow Owls are Donnie and Marie Osmond! Write it down!

— 𝔹𝕚𝕝𝕝𝕪 𝔽𝕠𝕣𝕖𝕓𝕒𝕔𝕜 (@bforeback) October 9, 2020
For everyone who thinks it's Donny and Marie, there are, of course, counterarguments. Some people believe that the Snow Owls could be Clint Black and Lisa Hartman. Some even said it could be Chip and Joanna Gaines. Additionally, Donny already appeared on The Masked Singer once and came in second place as the Peacock and audiences have never seen a repeat performer.
Donny once opened up about how the show requires a 'certain type of celebrity.' He says, "It's not like the typical show where anonymous people want to be famous. It's famous people wanting to be anonymous. What really appealed to me is that all 12 people check their resumes at the door. We all started over. And it didn't matter how many gold records or films or books. We all were the same. After 56 years of show business, you want to find things that are challenging and fun. And this was definitely challenging because I had nothing to lean back on. I was just someone on stage, one of 12."
Who do you think the Snow Owls are? Watch a performance below and see for yourself! Whoever they are, they sound incredible.