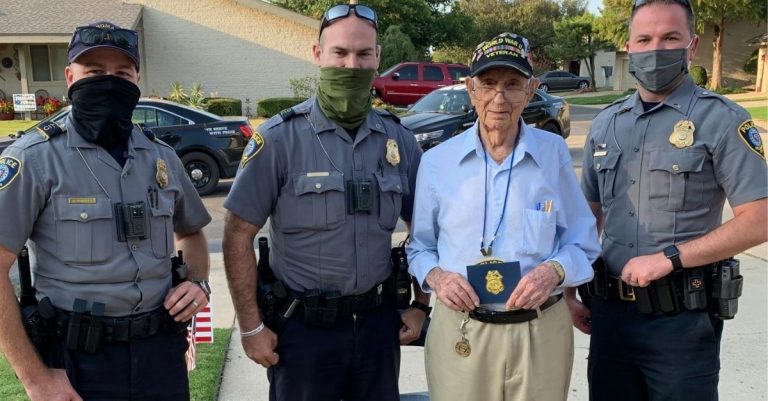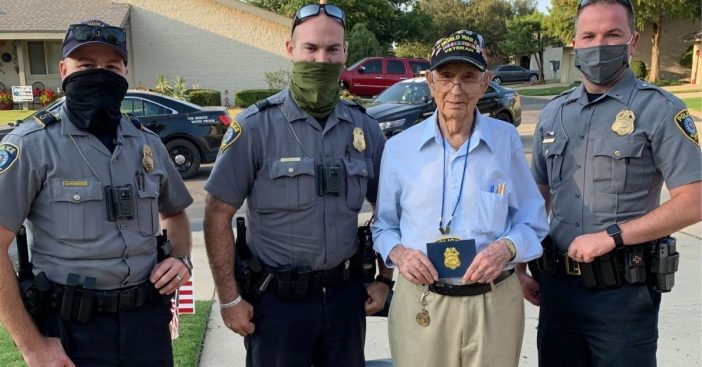 A group of police officers in Oklahoma recently helped a military veteran celebrate his 100th birthday! The Oklahoma City Police Department writes on Facebook that the officers stopped by to grant a "special 100th birthday wish" to Raymond Duncan. "A few of our Hefner Division officers were able to stop by his birthday celebration and enjoyed hearing stories about Mr. Duncan's impressive military career," the Facebook post states.
"Mr. Duncan said he was proud to have OKCPD officers come to celebrate his birthday…and our officers were honored to be part of a celebration for this wonderful man!" the post concludes.
Wishing a very happy 100th birthday to Mr. Raymond Duncan
https://www.facebook.com/okcpd/posts/10158798989024169
Of course, all the readers online loved the post and left their own birthday wishes for Duncan! "Happy birthday thank you for your service! Thank you to our Police Officers for making his day!" one person writes. Another says, "Oklahoma City Police are in the presence of greatness, Happy Birthday sir! Okcpd I have to say I am really happy and proud that y'all are connecting with the community so much this year. It makes this a better place to live. You show so much respect and big hearts that it does bring happiness. I hope that you all know, even if we don't like tickets, OKC LOVES OKCPD!!!"
RELATED: North Carolina Woman Becomes Oldest Living American At 116 Years Old
Wishing a happy and blessed 100th birthday to Mr. Raymond Duncan!