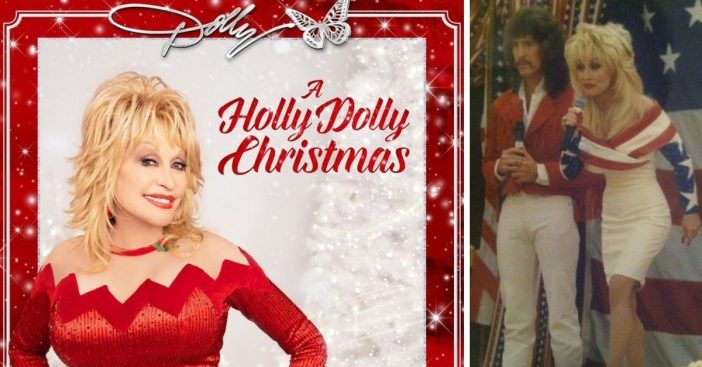 We recently reported that Dolly Parton would be releasing a Christmas album, A Holly Dolly Christmas, her first Christmas album release in 30 years. She has recently opened up about a duet on her album with her brother, Randy. The song on her album called "You Are My Christmas" that Randy sings in also features her niece, Heidi Parton.
She shares that Randy inspired her to write their song in the first place. Parton also shares that Randy was the family's "Christmas baby" as he was born close to Christmas and was like a little 'doll.' "We used to cry for one of those walking, talking dolls when we were kids, that we'd see in the catalog," Parton recalls from her childhood.
Dolly Parton talks duet with brother for Christmas album
https://www.instagram.com/p/CFswgVlFW6N/
"Or, some of our relatives that had a little more than we did, they'd get one. So I remember the year that Randy was born around Christmas, Mama said, 'Hey, come here, look. We've got your own walking, talking doll. He actually cries real tears, he pees real pee, and he's like your walking, talking doll.'"
RELATED: Dolly Parton Releasing Her First Christmas Album In 30 Years
Parton reveals she had actually been working on the Christmas album for a while, but when the pandemic hit, she found reason to finally finish it. "A few years back, I had thought about doing a Christmas album. And I was kind of working on it, and then I started doing promotion on the 'Dumplin'' movie that I did with Jennifer Aniston, so I put it on hold. But when the COVID hit, we were all kinda holed up anyway. And I thought, 'Oh, what a perfect time for me to write some new songs and continue with the Christmas album.'"
A Holly Dolly Christmas was officially released on October 2nd, 2020. The album also features guest appearances from Michael Bublé, Billy Ray Cyrus, Miley Cyrus, Jimmy Fallon, and Willie Nelson. Have you listened to it yet?