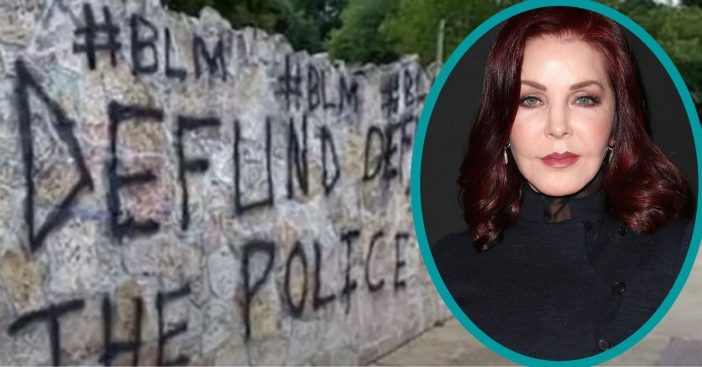 Priscilla Presley says she is "absolutely horrified" about the Black Lives Matter graffiti that was placed all over Graceland's walls recently. The mansion was vandalized with graffiti that read "Black Lives Matter", "Defund MPD" [Memphis Police Department], and "Abolish ICE." The graffiti was sprayed on in black and orange lettering, covering fan messages that were carved into stone.
"Concerning the graffiti at Graceland, I'm absolutely horrified that those in our own city disgraced the walls surrounding Graceland," 75-year-old Priscilla tweets out. "I'm saddened by acts like this and appalled by this behavior. We were able to clean all the graffiti off thanks to our dedicated crew."
Priscilla Presley and others speak out about the graffiti sprayed on Graceland's walls
Elvis' stepbrother, Bill Stanley, has also chimed in. He definitely does not agree with it. "One of the saddest days of my life. I mean, besides the day that Elvis passed away, this right here is right up next to it."
RELATED: Graceland Has Been Vandalized With Black Lives Matter Graffiti 
Many Elvis fans were equally as shocked and disappointed. Radio host Todd Starnes tweets out, "Somebody needs a blue suede shoe up their backside. Disgusting," in light of the news.
Graceland has been open to the public as a museum since 1982. Will it remain open after the vandalization that took place? Only time will tell.