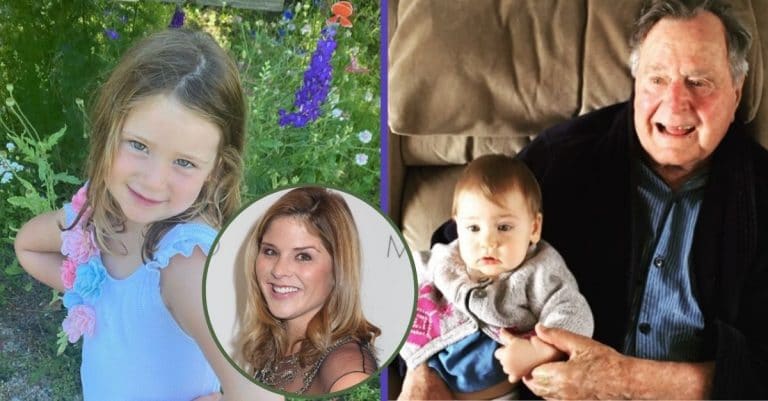 Jenna Bush Hager's daughter, Poppy, has turned 5 years old and Jenna has celebrated accordingly with a sweet tribute/birthday post. In the same breath, she also paid tribute to her late grandfather, former President George H.W. Bush, who Poppy is actually named after.
"Happiest Birthday to our darling Pops! You light up our lives. Like your namesake your kindness amazes and you make us laugh like no one else. How wonderful life is since you're in our world! Five years of pops!" she writes in the caption. The photo post included a bunch of photos of Poppy through the years, looking adorable as ever!
Jenna Bush Hager pays tribute to both her daughter and late grandfather
https://www.instagram.com/p/CD1HR7jB0x0/?utm_source=ig_embed
Poppy was actually the late Bush's nickname when Jenna was growing up. Jenna often called him "Gampy" as well, and she said he was moved when he learned that Poppy was named in his honor. "He was not expecting it, so he cried," Jenna said last year on Hoda & Jenna.
RELATED: Jenna Bush-Hager Emotionally Shares The Best Advice Grandfather George H.W. Bush Gave Her
"And of course, I cry at like Teacher Appreciation Day commercials (so) I'm, like, crying over the baby and (husband) Henry's kind of like wiping the baby's face off because there's like tears in the baby's mouth."
Remembering the times Poppy and the late Bush were able to spend together
https://www.instagram.com/p/B5iNOpmhDFj/
Bush died back in 2018 at the age of 94, but Poppy was able to spend some time with him prior to his passing. She may have been quite young, but it's certainly a moment that Jenna will never forget. "Happy birthday Gamps! Can't wait to celebrate. Pictured here with one lucky girl who is named for our greatest love," Jenna captions a photo of the two back in 2017.
https://www.instagram.com/p/BVPa_1RB6P0/?utm_source=ig_embed
Jenna also made sure to give Poppy a special shoutout on TODAY with Hoda & Jenna in honor of her birthday. "It is a special day in my household because it is also my daughter Poppy's fifth birthday. So, happy birthday to my little Pops. I'm going to be home to you very soon. The birthday fairy — it was me — already left her a little cereal, but I love that girl," Jenna says.
Happy birthday, Poppy!