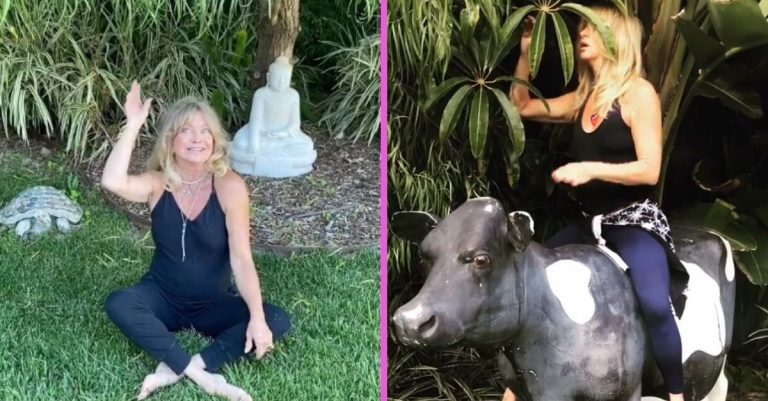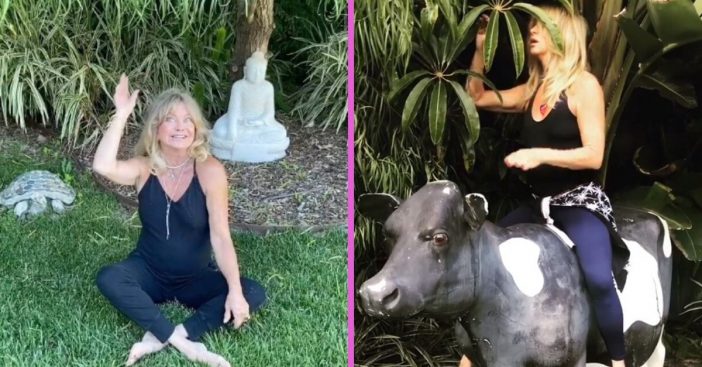 Goldie Hawn and her longtime partner Kurt Russell have been staying at their gorgeous Los Angeles home during the pandemic. Goldie has given some sneak peeks of their home on Instagram. She shared a few videos of their incredible garden, including a life-size cow statue!
In a recent video, Goldie thanks fans and friends for participating in the Laughing Challenge. Basically, videos were shared across social media of people laughing with the #LaughingChallenge. In the video, Goldie sits outside near a tortoise lawn ornament and sitting Buddha.
Goldie Hawn's garden features a giant cow statue
https://www.instagram.com/p/Bpw40zEHClW/
In an older video, you can see Goldie outside her home sitting on a giant cow statue! It looks like they have a beautiful outdoor space. During quarantine, not only is Goldie showing off her home, but trying to improve the spirits of her fans. The Laughing Challenge wasn't the only thing she participated in.
RELATED: Goldie Hawn Admits She Cries 3 Times A Day Over Concern Of Others During Pandemic
https://www.instagram.com/p/CAtYhTgni0h/
She has also been sharing mindfulness and fitness tips. Do you remember the videos of Goldie on her mini trampoline? On the Fourth of July, it seems that Goldie and Kurt found a private spot in nature to relax in.
https://www.instagram.com/p/CCOfdqSnTnj/
She shared a photo of the couple kissing and wrote, "Nature enlivens the heart. Kurt and I took to the road. Look what we found: nature's perfection! We are all as perfect as we desire. Wishing you all a Happy 4th of July. My love abound 😍"
It seems Goldie and Kurt are finding peace during the pandemic in nature. It is definitely a great lesson for all of us! Get outside today if you can and get some fresh air and spend some time with nature.