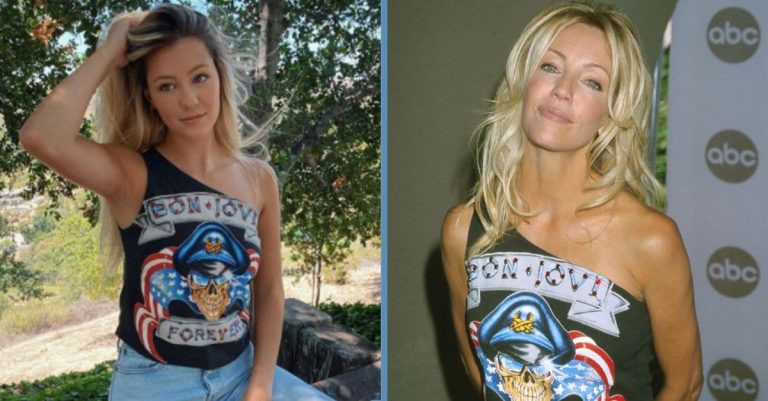 Heather Locklear's daughter, Ava Sambora, recently posted a new photo sporting her mom's 20-year-old Bon Jovi shirt! The throwback photo of Locklear was from 2000 during an ABC Summer Press Tour event in California. At the time, Locklear was married to Ava's father, Bon Jovi guitarist Richie Sambora.
"I got it from my mama (Like I literally got this shirt from my mom's closet 🤪)" Ava posts in her caption alongside the photo collage. As a result, fans were absolutely loving the look!
Ava Sambora rocks her mom's old Bon Jovi shirt
https://www.instagram.com/p/CAq3j3fJNDv/
Ava recently graduated from Loyola Marymount University in Los Angeles. Because of the coronavirus pandemic, she celebrated the incredible accomplishment at home with her family. Earlier in May, Locklear shared a photo of Ava in her graduation portrait to commemorate her big day. "Congratulations baby girl! We are so proud." She also posted another photo of Ava in her graduation cap ahead of the virtual ceremony. "Tomorrow is the big LMU graduation at home for my baby. Tune in for more tomorrow 🎓❤️," she writes.
RELATED: Heather Locklear Rushed To Hospital For Possible Overdose Shortly After Her Release From Prison
Heather Locklear's life these days
https://www.instagram.com/p/B_8NFkDJVFm/?utm_source=ig_embed
Ava has been spending her coronavirus quarantine at home with her mom. She continues to be a source of hope and light for her mom, who recently reached one year of sobriety. Through the trying times, the ups and downs, Ava has already be there for her mom. "She is gardening, taking walks and cooking like a fiend. She cooks for herself, Ava and her parents. It's very sweet. Her dad is close to 91, and her mom is in her 80s, and she delivers food to them often," a friend says of Locklear and her life now.
"It's really amazing to see how she managed to turn things around," the source says. "Heather is always happiest when she is with her daughter."