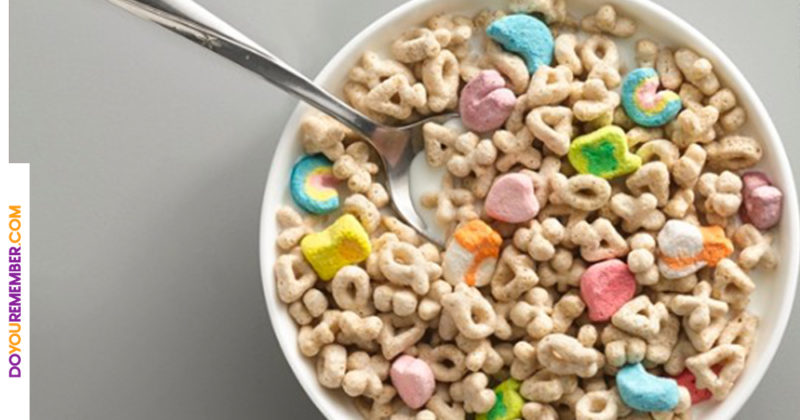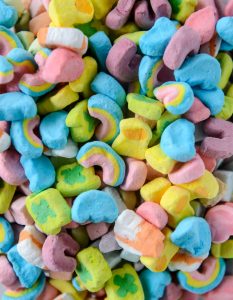 General Mills' Lucky Charms has been a staple of breakfast tables across America since 1963. With a little whimsy, and plenty of marketing ingenuity, Lucky Charms boxes have become as recognizable as the product itself, due in part to a very charming leprechaun by the name of Lucky. In the spirit of St. Patrick's Day, we're tracing back the many faces of Lucky, the coveted boxes, and his magically delicious cereal..
Lucky Charms was the first cereal to include marshmallow pink hearts, yellow moons, orange stars and green clovers which were in the shape of small, charm bracelet-like decorations (thus the name).
Realizing that the cereal couldn't peddle itself, General Mills introduced Lucky the Leprechaun as the brand's requisite spokesperson. Given the nature of the charms, it was only proper that a leprechaun be in charge. Names that were considered but eventually discarded included L.C. Leprechaun and Sir Charms.
Perhaps due to a public shift toward healthier eating habits, cereal boxes in the 1980s featured a slender, fit Lucky.
Lucky hasn't undergone any major changes since the 1990s save for a more bronze complexion and an occasional 3-D version. Our guess is that, once sales of Lucky Charms rocketed to $252.6 million late in 2012, the clever leprechaun cashed his stock options and treated himself to a long overdue vacation.
Which of These Lucky Charms Commercials Did You Grow Up With?