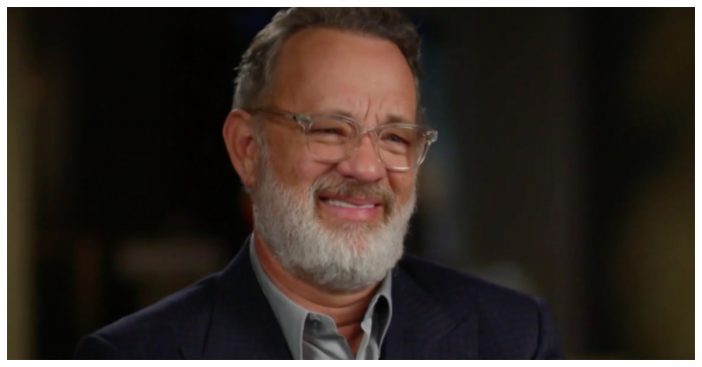 Tom Hanks is undoubtedly one of the greatest and most enjoyable actors to watch. TODAY even dubbed him 'America's Sweetheart,' and he truly is a sweetheart! With his newest film coming up, where he depicts Mr. Fred Rogers in A Beautiful Day in the Neighborhood, there has been a lot of talk about him. Savannah Guthrie sits down with Hanks in a new interview, where she asks him if it's ever a burden to him being 'America's Sweetheart.'
To that question, he responds, "I don't think there is a person on the planet Earth, no matter where they are, unless they're sociopaths, that don't have a moment, somehow, where they think 'Am I a fraud? Am I actually what this is?'" He continues, "Am I actually being true to myself enough to feel as though at any given moment I truly am present?"
Tom Hanks calls himself a 'fraud'… is he, though?
Hanks has been in a plethora of memorable films throughout the years. These include Forrest Gump (1994), Apollo 13 (1995), You've Got Mail (1998), The Green Mile (1999), Cast Away (2000), Road to Perdition (2002), Cloud Atlas (2012), Captain Phillips (2013), Saving Mr. Banks (2013), and Sully (2016). It's also worth noting the impressive voice acting credits he has under his belt. Most notably, being the voice of Woody in the Toy Story film series from 1995 to 2019.
RELATED: Watch Tom Hanks Transform Into Mister Rogers For New Film
The actor is the fifth-highest-grossing actor in North America, according to Wikipedia. He's won a number of Golden Globe Awards and Academy Awards for his work. He would also receive a Presidential Medal of Freedom from President Barack Obama back in 2016. Hanks is also a recipient of the French Legion of Honor. Take a look at just a few of his best moments below!