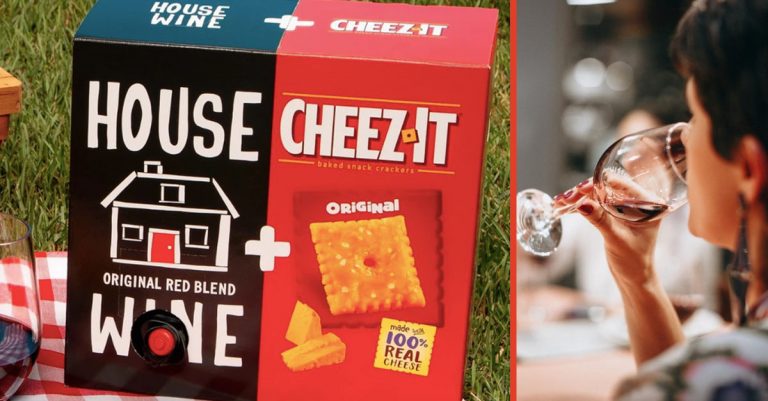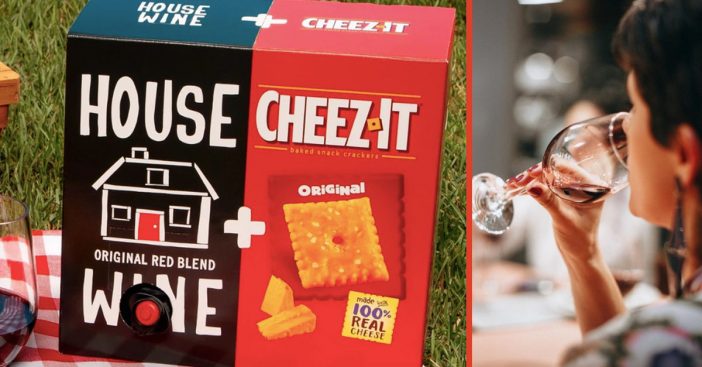 If wine and cheese is your favorite combination, it is time to get excited! Cheez-It and House Wine collaborated on a box that contains both red wine and Cheez-Its. One side is a boxed wine and the other side contains the classic Cheez-Its. It sounds like a great addition to a picnic, or more realistically, dinner.
The wine is House Wine's Original Red Blend. They chose this wine because they believe it is the best wine to pair with original flavor. It will be released online tomorrow, July 25, 2019, for $25 per box and will only be available for a limited time. If you get online after it sells out, you're out of luck!
Learn more about why House Wine and Cheez-It paired up
https://www.instagram.com/p/B0QycdAnsfw/
According to Bustle, Jeff Delonis, senior marketing director for Kellogg's U.S. Snacks division said, "We are thrilled to partner with House Wine to combine their expertise and America's favorite 100% real cheese snack into one portable box. Many of our fans were already exploring pairing different wines with Cheez-It. Just like wine and cheese, you can pair the real cheese inside each Cheez-It flavor with the perfect wine complement and find a pair to enjoy all summer long."
https://www.instagram.com/p/B0QppzcAKKx/
If you prefer another flavor of wine or Cheez-Its, House Wine and Cheez-It released a list of great pairings. While they don't come together in a box, you can easily purchase each wine and Cheez-It flavor to pair together.
https://www.instagram.com/p/Bydo0d6nAg3/
For example, House Wine's winemaker Hal Landvoigt said that White Cheddar pairs best with rosé, and Extra Toasty with sauvignon blanc. Do you ever mix wine and Cheez-Its? What are your favorite flavor combinations when it comes to wine and cheese?
https://www.instagram.com/p/BrNp0JXgoPR/
Hal also said, "We make wines for people to enjoy anytime and anyplace — just like Cheez-It. I create wines that run the spectrum of flavor — from crisp and bright to savory and spicy. From there, I looked for combinations that complement the real cheese found in each flavor of Cheez-It to make the perfect pairing."
https://www.instagram.com/p/BvUlHEdFPGc/
What do you think about a box of wine paired with Cheez-Its? It sounds delicious! If you're interested, you can purchase the limited edition box here, starting tomorrow at 5 pm ET. Keep in mind that they will sell out fast. We hope that they continue to sell these and experiment with different flavor combinations!