Michael J. Fox and Christopher Lloyd of 1980s sci-fi classic Back to the Future have reunited 34 years after the film's release. The stars, both 57 and 80 respectively, joined the stage at the Calgary Comic and Entertainment Expo in Canada last week. The two are most famous for their roles as Marty McFly and Dr. Emmett Brown.
The two were joined by Lea Thompson (Lorraine Baines), Thomas F. Wilson (Biff Tannen) and James Tolkan (Mr. Stickland) at the expo.
Reports say that Michael compared the timelessness of the first Back to the Future film to cave paintings and the gardens at the Palais de Versailles in France. "They would plant these gardens in Europe and they were just these little shrubs," he said.
"They somehow knew that 300 years later when they were all dead, they would look amazing … I think that's one of the things about this movie. We'll all be gone and people will still be seeing it."
The whole cast was supposed to reunite last year at the same the Calgary Expo last year, but Michael had to cancel due to a last-minute medical emergency. Thankfully, this time around he appeared to be happy and healthy! Michael has been struggling with early onset Parkinson's disease since 1991.
The disease is a neurodegenerative disorder causing tremors, which will ultimately result in loss of motor skills. It looks like he is doing very well, though, as are his former castmates!
Michael did not reveal his diagnosis to the public until 1998, and two years later The Michael J. Fox Foundation for Parkinson's Research was created. The actor has much to celebrate and be happy about these days!
The 1985 film, directed by Robert Zemeckis and written by Zemeckis and Bob Gale, was the highest-grossing film of that year and racked up $381 million worldwide. The success of the first film also paved the way for two sequels in 1989 and 1990, an animated series, a theme park ride, and a number of video games.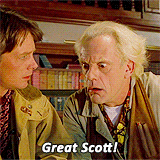 We sure are excited to see the Back to the Future cast back together again! Be sure to SHARE this article if you remember seeing this awesome film for the first time.
Take a look at the scene below where Dr. Emmett Brown creates the first time-traveler machine out of a DeLorean: