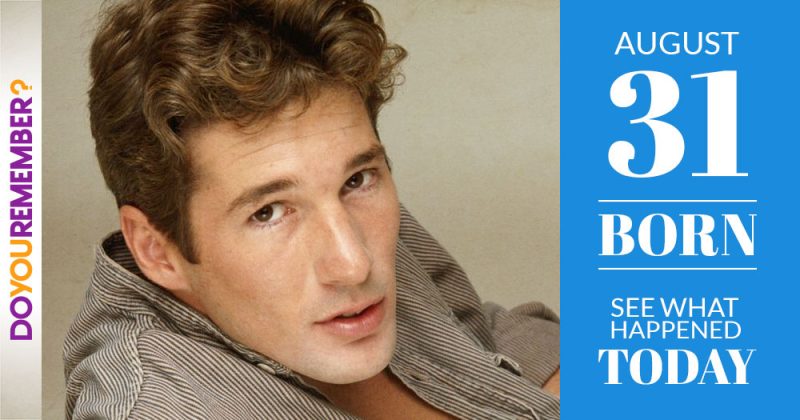 "Born Today"
Julie Brown (57)

Ryan Kelly (29)

Joe Budden (35)

Jeff Hardy (38)

Shar Jackson (39)

Sara Ramirez (40)

Chris Tucker (44)

Deborah Gibson (45)

Queen Rania of Jordan (45)

Jonathan LaPaglia (46)

Elizabeth Ashley (76)

Gina Schock (56)

Marcia Clark (62)

Richard Gere (66)

Van Morrison (70)
"Died Today"
Rocky Marciano (Born: September 1, 1923 / Died: August 31, 1969)

Princess Diana (Born: July 1, 1969 / Died: August 31, 1997)

David Frost (Born: April 7, 1939 / August 31, 2013)

Georges Braque (Born: February 16, 1921 / August 31, 1963)
"Movies"
"Music"
1957 – Elvis Presley performed at Empire Stadium in Vancouver, British Columbia, Canada.

1959 – Bobby Vee appeared on the music charts for the first time as "Suzie Baby" debuted.

1961 – Ray Charles released the single "Hit The Road Jack"
1963 – Little Stevie Wonder spent a fifth week at #1 on the R&B chart with "Fingertips – Pt. 2"
1963 – Peter, Paul & Mary remained at #1 on the Easy Listening chart with "Blowin' In The Wind"
1963 – The Angels sang that "My Boyfriend's Back", and it took them all the way to #1.  
1964 – J. Frank Wilson released the single "Last Kiss"

1964 – Manfred Mann released their first single "Do Wah Diddy Diddy"
1965 – The Beatles wrapped up their tour of North America with two shows at the Cow Palace in San Francisco, California. The group performed before 11,700 and 17,000 fans, respectively.

1967 – The Beatles announced that they would manage their own affairs after the death of Brian Epstein.

1968 – Guitarist Danny Kirwan joined Fleetwood Mac.

1968 – Jefferson Airplane, the Move, T. Rex, Fairport Convention and The Crazy World of Arthur Brown performed at the first Isle of Wight Festival in England.

1968 – Mason Williams had the #1 Easy Listening song for the third week with "Classical Gas"
1968 – Marvin Gaye & Tammi Terrell's hit #1 with "You're All I Need to Get By"
1968 –

Wheels of Fire

by Cream continued to set the pace on the album chart.  

Time Peace/The Rascals' Greatest Hits

was #2 and the Doors' release

Waiting for the Sun

was at position #3.

1968 – The Rascals spent a fourth week at #1 with "People Got to Be Free." Steppenwolf was at #2 with "Born to Be Wild," Jose Feliciano edged up with "Light My Fire"
1969 – Bob Dylan appeared in concert for the first time since his motorcycle accident in 1966 at the Isle of Wight Pop Festival in England.

1969 – The Chicago Transit Authority, later shortened to Chicago, played for a second day at the Texas International Pop Festival at the Dallas International Motor Speedway. Led Zeppelin, Santana, Sam & Dave, Delaney, Bonnie & Friends, and The Incredible String Band also performed.

1970 – R. Dean Taylor released the single "Indiana Wants Me"

1973 – The Rolling Stones released the album

Goat's Head Soup

.

1974 – John Lennon testified in federal court that the Nixon administration tried to have him deported due to his anti-war demonstrations at the 1972 Republican convention in Miami, Florida.

1974 – Roberta Flack held on to #1 on the R&B chart for the fifth straight week with "Feel Like Makin' Love"
1974 – Paul Anka remained at #1 with "(You're) Having My Baby" while Eric Clapton's biggest career hit "I Shot the Sheriff" was at #2.  Rufus was a strong #3 with "Tell Me Something Good"
1976 – George Harrison was guilty of "unconscious plagiarism" of the Chiffons song "He's So Fine" for his 1970 hit "My Sweet Lord"
https://youtu.be/srLcDhmHn5s
1980 – Karen Carpenter married Thomas Burris in Beverly Hills, California.

1983 – Lionel Richie released the single "All Night Long"
1984 – Prince's movie

Purple Rain

opened in theaters

1985 – Aretha Franklin made it five weeks at the top of the R&B chart for "Freeway of Love"
1985 – Huey Lewis & the News hit#1 with "The Power of Love

." "St. Elmo's Fire (Man in Motion)" from John Parr moved up to challenge while Aretha Franklin made a huge comeback as her 73rd career hit ("Freeway of Love") was her first Top 10 in 12 years.
1987 –  Billy Idol released his remake of the great Tommy James & the Shondells song "Mony Mony"
1987 – The album

Bad

set a Rock Era record when 2.25 million units were shipped to music stores.

1988 – Julianne Phillips filed for divorce from Bruce Springsteen.

1988 – Bob Seger and wife Annette filed for a divorce.

1989 – The Rolling Stones went on tour for the first time in eight years, performing at John F. Kennedy Stadium in Philadelphia, Pennsylvania.

1991 –

Joseph and the Amazing Technicolour Dreamcoat

was the #1 album in the U.K.

1991 – Metallica debuted at #1 with their self-titled release

1991 – "(Everything I Do) I Do It For You" by Bryan Adams was #1 for a fifth week on the Adult Contemporary chart.
https://youtu.be/ZGoWtY_h4xo
1996 – "Macarena" by Los Del Rio had been out for 37 weeks, but it was just getting started, spending a fifth week at #1. Donna Lewis had a strong #2 with "I Love You Always Forever"
1997 – James Brown became the first American artist to perform in Lebanon.

1997 – Oasis owned the top U.K. album with

Be Here Now

.

2000 –  Harold Lee Clayton, who wrote "Take Your Time (Do It Right)" for the S.O.S. band, was killed in a hit-and-run accident in Los Angeles, California.
"TV/Radio"
1920 – The first news program to be broadcast on radio was aired. The station was 8MK in Detroit, MI.

1974 –

The Partridge Family

television show ended.

1987 – Michael Jackson released his video "Bad" on CBS-TV.
"Other Important Events…"
1959 – Betsy Rawls wins LPGA Waterloo Golf Open

1997 –

Diana, Princess of Wales, dies in a car crash in a road tunnel in Paris