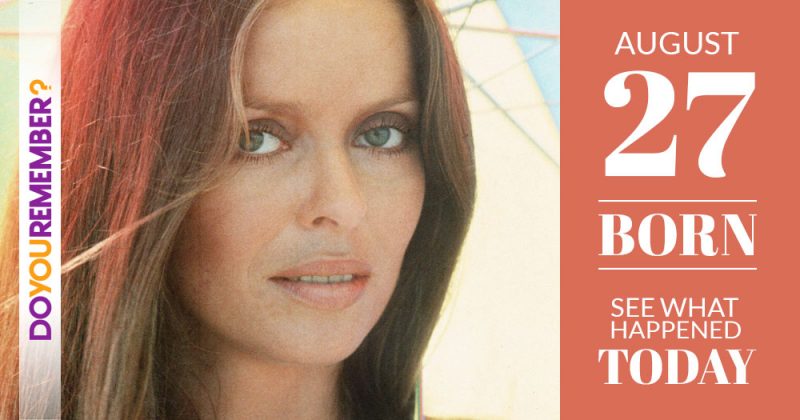 "Born Today"
Blake Jenner (23)

Alexa Vega (27)

Mario (29)

Patrick J Adams (34)

Demetria McKinney (36)

Aaron Paul (36)

Sarah Chalke (39)

Jonny Moseley (40)

Mase (40)

The Great Khali (43)

Mike Smith (43)

Leanna Creel (45)

Cesar Milan (46)

Chandra Wilson (46)

Bobo of Cypress Hill (47)

Yolanda Adams (54)

Tom Ford (54)

Downtown Julie Brown (52)

Diana Scarwid (60)

Peter Stormare (62)

Paul Reubens (63)

Barbara Bach (68)

Tuesday Weld (72)

Daryl Dragon (73)

Lyndon B. Johnson (RIP)
"Died Today"
Gordon Heath (Born: September 20, 1918 / Died: August 27, 1991)

Stevie Ray Vaughan (Born: October 3, 1954 / Died: August 27, 1990)
"Movies"
"Music"
1962 – "He's A Rebel" was released on this date. The song was credited to the Crystals, even though Phil Spector had the Blossoms record the song because the Crystals were on tour.

1964 – The Beatles performed before 14,000 fans at the Cincinnati Gardens in Cincinnati, Ohio.

1964 – The Honeycombs topped the U.K. chart with "Have I The Right"
1965 – The Beatles visited Elvis Presley at his home at 565 Perugia Way in Bel-Air, California.  

1966 – Petula Clark moved to #1 on the Easy Listening Chart with "I Couldn't Live Without Your Love"

1966 – Stevie Wonder's version of "Blowin' In The Wind" hit #1 on the R&B chart.

1966 – "Summer In The City" by Lovin' Spoonful at #1 for a third week.

1967 – Brian Epstein, manager of the Beatles, was found dead at his home in London after he had combined alcohol with an overdose of Carbitral (a drug taken to assist sleep).

1969 – Led Zeppelin played at the Casino Ballroom on Hampton Beach in New Haven, Connecticut. There were to be two shows, but the 10 p.m. event was canceled.

1970 – Supertramp, which had released their debut album a month previously, performed at the famous 1970 Isle of Wight Festival at East Afton Farm.

1970 – Jimi Hendrix recorded the song "Slow Blues" at his New York recording studio he had premiered the night before. At one minute at 45 seconds, it was never finished.  It was the last song Hendrix recorded; he died 22 days later.
1971 – Pink Floyd finished work on the album

Meddle

.

1975 – The Eagles were flying high on the

One of These Nights

tour, performing at the Las Vegas Convention Center in Las Vegas, Nevada.

1977 – Jackson Browne recorded "Stay" and "Running On Empty" live at the Merriweather Post Pavilion in Columbia, Maryland.

1977 – The Floaters were on top as their song "Float On" led the way in the U.K.

1977 – Jimmy Buffett married Jane Slagsvol, whom Jimmy had met in Key West in 1972.

1977 – Once again, the Emotions were leading the way with "Best Of My Love" but Andy Gibb's former #1 "I Just Want to Be Your Everything" was still at #2.  
https://youtu.be/pahij2ZMkMw
1977 – Fleetwood Mac's

Rumours

was making its third run as the #1 album, now in its 16th week at that position.

1979 – Pat Benatar released her debut album,

In the Heat of the Night

, on Chrysalis Records.

1983 – Stevie Ray Vaughan and Double Trouble, Black Sabbath, Suzi Quatro and Marillon performed on the second day of the Reading Rock Festival in Reading, England.

1983 – Rita Coolidge held on to #1 on the Adult Contemporary chart for the fourth week with "All Time High"
1982 – Queen played at the Myriad Convention Center in Oklahoma City, Oklahoma.

1983 – Barry Manilow was in concert at Blenheim Palace in Oxford, England.

1983 – The Police album

Synchronicity

had been out nine weeks with six of those at #1.

1988 – Whitney Houston released the single "One Moment In Time"

1988 – Gloria Estefan & Miami Sound Machine reached the top of the Adult Contemporary chart with "1-2-3"
1988 – George Michael set an all-time record with his fourth consecutive #1 song from the same album

Faith

.

1990 – Elite guitarist Stevie Ray Vaughn, the pilot, and three members of Eric Clapton's band were killed in a helicopter crash in Elkhorn, Wisconsin.

1990 – Garth Brooks released his second studio album,

No Fences

which reached #3 on the

Billboard

200, and #1 on

Billboard's

Top Country Albums chart. The album remains Brooks' best-seller to date with 17 million copies sold in the US alone.

1991 – Pearl Jam released an album (

Ten

) that would alter the grunge rock landscape.

1992 – Lyrics to "A Day In The Life" that were handwritten by John Lennon sold at a Sotheby's auction for $87,000.

1994 – Primal Scream, Radiohead, Ice Cube and the Manic Street Preachers were among the performers on the second day of the Reading Festival in Reading, England.

1994 – Boyz II Men had the #1 R&B song for a second week with "I'll Make Love To You".
1995 – Neil Young, Soundgarden, White Zombie and Blind Melon performed on the final day of the Reading Festival in Reading, England.

1996 – OutKast released their album

ATliens

on LaFace Records.

1996 – Pearl Jam released the album

No Code

on Epic Records.

2000 – It was the best Reading Festival in years with acts like Rage Against the Machine, Blink-182, Slipknot, Placebo, and the Stereophonics performing on opening night in Reading, England.

2000 – Richard Jaeger, percussionist who played for Paul McCartney, Ringo Starr, Crosby, Stills, Nash & Young, the Pointer Sisters, Jimi Hendrix, and the Grateful Dead, died at the age of 52.
"TV/Radio"
1960 – The final 

Louisiana Hayride

show was broadcasted. What started as a country music radio show and later became a television show which helped to launch the careers of some of the greatest names in American country & western music.

1984 – Diane Sawyer became the fifth reporter on CBS-TV's "60 Minutes."
https://youtu.be/ryMsn2r8LaY
"Other Important Events…"
1967 – Naomi Sims is 1st black model on US cover (Fashion of the Times)

1998 – James Brolin received a star on the Hollywood Walk of Fame.

1998 – "Titanic" became the first movie in North America to earn more than $600 million.