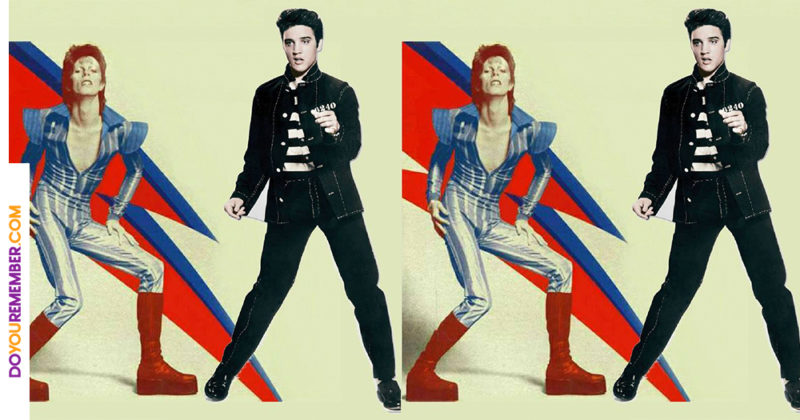 Today would've marked the 81st birthday of Elvis Presley, while David Bowie turns 69. I was struck by the similarities of these two very, very strange men. It takes a certain sort of personality to be a front man; whether you're Lady Gaga, James Brown or Mick Jagger, you need to be confident, self-assured, and fearless. I could never do it.
Throughout their careers, Elvis and Bowie put themselves out there with avant-garde costumes, great personas and one of a kind moves. These men constantly pushed the envelope, which not on set them apart from many artists but turned them into single named music legends.
I mean, seriously, remember Elvis's now legendary sequined, caped outfits? And what about his karate-master phase? And Bowie's who career has onset at least 12 very odd personae, From Ziggy Stardust to the Thin White Duke to Meta-Bowie, the man's life has been one long performance-art piece.
Neither of these guys ever expressed any sense of awkwardness over their relentlessly unique lives, as if the norms of behavior existed only for other people. So for daring to be very different, and for being different right at the front of the stage, I bid a heartfelt happy birthday to Elvis and David.
Check Out Some of Our Favorite Elvis Presley & David Bowie Performances
https://youtu.be/v–IqqusnNQ
https://youtu.be/Tgcc5V9Hu3g
[vc_row][vc_column width="1/4″][vc_raw_html] JTNDaWZyYW1lJTIwc3R5bGUlM0QlMjJ3aWR0aCUzQTEyMHB4JTNCaGVpZ2h0JTNBMjQwcHglM0IlMjIlMjBtYXJnaW53aWR0aCUzRCUyMjAlMjIlMjBtYXJnaW5oZWlnaHQlM0QlMjIwJTIyJTIwc2Nyb2xsaW5nJTNEJTIybm8lMjIlMjBmcmFtZWJvcmRlciUzRCUyMjAlMjIlMjBzcmMlM0QlMjIlMkYlMkZ3cy1uYS5hbWF6b24tYWRzeXN0ZW0uY29tJTJGd2lkZ2V0cyUyRnElM0ZTZXJ2aWNlVmVyc2lvbiUzRDIwMDcwODIyJTI2T25lSlMlM0QxJTI2T3BlcmF0aW9uJTNER2V0QWRIdG1sJTI2TWFya2V0UGxhY2UlM0RVUyUyNnNvdXJjZSUzRHNzJTI2cmVmJTNEc3NfdGlsJTI2YWRfdHlwZSUzRHByb2R1Y3RfbGluayUyNnRyYWNraW5nX2lkJTNEZG95b3VyZW1lbWJlci0yMCUyNm1hcmtldHBsYWNlJTNEYW1hem9uJTI2cmVnaW9uJTNEVVMlMjZwbGFjZW1lbnQlM0RCMDAwVUo0OFFTJTI2YXNpbnMlM0RCMDAwVUo0OFFTJTI2bGlua0lkJTNEWEJDVjdBREEyVkJLR01JRSUyNnNob3dfYm9yZGVyJTNEdHJ1ZSUyNmxpbmtfb3BlbnNfaW5fbmV3X3dpbmRvdyUzRHRydWUlMjIlM0UlMEElM0MlMkZpZnJhbWUlM0U= [/vc_raw_html][/vc_column][vc_column width="1/4″ offset="vc_hidden-xs" pgl_animation="none|1000|200″][vc_raw_html] JTNDaWZyYW1lJTIwc3R5bGUlM0QlMjJ3aWR0aCUzQTEyMHB4JTNCaGVpZ2h0JTNBMjQwcHglM0IlMjIlMjBtYXJnaW53aWR0aCUzRCUyMjAlMjIlMjBtYXJnaW5oZWlnaHQlM0QlMjIwJTIyJTIwc2Nyb2xsaW5nJTNEJTIybm8lMjIlMjBmcmFtZWJvcmRlciUzRCUyMjAlMjIlMjBzcmMlM0QlMjIlMkYlMkZ3cy1uYS5hbWF6b24tYWRzeXN0ZW0uY29tJTJGd2lkZ2V0cyUyRnElM0ZTZXJ2aWNlVmVyc2lvbiUzRDIwMDcwODIyJTI2T25lSlMlM0QxJTI2T3BlcmF0aW9uJTNER2V0QWRIdG1sJTI2TWFya2V0UGxhY2UlM0RVUyUyNnNvdXJjZSUzRHNzJTI2cmVmJTNEc3NfdGlsJTI2YWRfdHlwZSUzRHByb2R1Y3RfbGluayUyNnRyYWNraW5nX2lkJTNEZG95b3VyZW1lbWJlci0yMCUyNm1hcmtldHBsYWNlJTNEYW1hem9uJTI2cmVnaW9uJTNEVVMlMjZwbGFjZW1lbnQlM0RCMDAwMDZMNzM2JTI2YXNpbnMlM0RCMDAwMDZMNzM2JTI2bGlua0lkJTNEQkVEVjIySTU0NFpIVFdLNCUyNnNob3dfYm9yZGVyJTNEdHJ1ZSUyNmxpbmtfb3BlbnNfaW5fbmV3X3dpbmRvdyUzRHRydWUlMjIlM0UlMEElM0MlMkZpZnJhbWUlM0U= [/vc_raw_html][/vc_column][vc_column width="1/4″ offset="vc_hidden-xs" pgl_animation="none|1000|200″][vc_raw_html] JTNDaWZyYW1lJTIwc3R5bGUlM0QlMjJ3aWR0aCUzQTEyMHB4JTNCaGVpZ2h0JTNBMjQwcHglM0IlMjIlMjBtYXJnaW53aWR0aCUzRCUyMjAlMjIlMjBtYXJnaW5oZWlnaHQlM0QlMjIwJTIyJTIwc2Nyb2xsaW5nJTNEJTIybm8lMjIlMjBmcmFtZWJvcmRlciUzRCUyMjAlMjIlMjBzcmMlM0QlMjIlMkYlMkZ3cy1uYS5hbWF6b24tYWRzeXN0ZW0uY29tJTJGd2lkZ2V0cyUyRnElM0ZTZXJ2aWNlVmVyc2lvbiUzRDIwMDcwODIyJTI2T25lSlMlM0QxJTI2T3BlcmF0aW9uJTNER2V0QWRIdG1sJTI2TWFya2V0UGxhY2UlM0RVUyUyNnNvdXJjZSUzRHNzJTI2cmVmJTNEc3NfdGlsJTI2YWRfdHlwZSUzRHByb2R1Y3RfbGluayUyNnRyYWNraW5nX2lkJTNEZG95b3VyZW1lbWJlci0yMCUyNm1hcmtldHBsYWNlJTNEYW1hem9uJTI2cmVnaW9uJTNEVVMlMjZwbGFjZW1lbnQlM0RCMDAwMFgyRU9XJTI2YXNpbnMlM0RCMDAwMFgyRU9XJTI2bGlua0lkJTNENU1CNDNVUEJZQjNSSUtLTSUyNnNob3dfYm9yZGVyJTNEdHJ1ZSUyNmxpbmtfb3BlbnNfaW5fbmV3X3dpbmRvdyUzRHRydWUlMjIlM0UlMEElM0MlMkZpZnJhbWUlM0U= [/vc_raw_html][/vc_column][vc_column width="1/4″ offset="vc_hidden-xs" pgl_animation="none|1000|200″][vc_raw_html] JTNDaWZyYW1lJTIwc3R5bGUlM0QlMjJ3aWR0aCUzQTEyMHB4JTNCaGVpZ2h0JTNBMjQwcHglM0IlMjIlMjBtYXJnaW53aWR0aCUzRCUyMjAlMjIlMjBtYXJnaW5oZWlnaHQlM0QlMjIwJTIyJTIwc2Nyb2xsaW5nJTNEJTIybm8lMjIlMjBmcmFtZWJvcmRlciUzRCUyMjAlMjIlMjBzcmMlM0QlMjIlMkYlMkZ3cy1uYS5hbWF6b24tYWRzeXN0ZW0uY29tJTJGd2lkZ2V0cyUyRnElM0ZTZXJ2aWNlVmVyc2lvbiUzRDIwMDcwODIyJTI2T25lSlMlM0QxJTI2T3BlcmF0aW9uJTNER2V0QWRIdG1sJTI2TWFya2V0UGxhY2UlM0RVUyUyNnNvdXJjZSUzRHNzJTI2cmVmJTNEc3NfdGlsJTI2YWRfdHlwZSUzRHByb2R1Y3RfbGluayUyNnRyYWNraW5nX2lkJTNEZG95b3VyZW1lbWJlci0yMCUyNm1hcmtldHBsYWNlJTNEYW1hem9uJTI2cmVnaW9uJTNEVVMlMjZwbGFjZW1lbnQlM0RCMDA0MEdZQU9NJTI2YXNpbnMlM0RCMDA0MEdZQU9NJTI2bGlua0lkJTNEWklSU1JNRVpBM0JJUUI1MyUyNnNob3dfYm9yZGVyJTNEdHJ1ZSUyNmxpbmtfb3BlbnNfaW5fbmV3X3dpbmRvdyUzRHRydWUlMjIlM0UlMEElM0MlMkZpZnJhbWUlM0U= [/vc_raw_html][/vc_column][/vc_row]