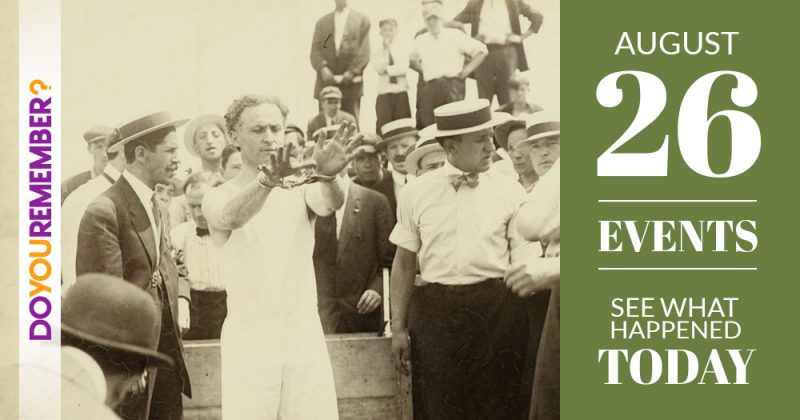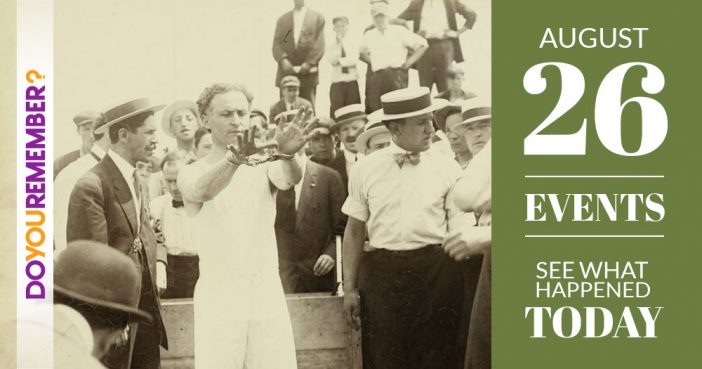 "Born Today"
Keke Palmer (22)

Dylan O'Brien (24)

James Harden (26)

Evan Ross (27)

Cassie Ventura (29)

John Mulaney (33)

Macaulay Culkin (35)

Chris Pine (35)

Thalia (44)

Melissa McCarthy (45)

Adrian Young (46)

Shirley Manson (49)

Chris Burke (50)

Branford Marsalis (55)

Wanda De Jesus (57)

Brett Cullen (59)

Valerie Simpson (69)

Barbet Schroeder (74)

Mother Teresa (RIP)

Phil Baker (RIP)
"Died Today"
Jeanie MacPherson (Born: May 18, 1886 / Died: August 26, 1946)

Larry Keating (Born: June 13, 1899 / Died: August 26, 1963)

Kay Francis (Born: January 13, 1905 / Died: August 26, 1968)
"Movies"
"Music"
1961 – Bobby Lewis enjoyed his eighth week at #1 on the R&B chart with "Tossin' And Turnin"
1963 – Cilla Black appeared in a major concert for the first time, opening for the Beatles at the Odeon Cinema in Southport, England.

1964 – The Kinks released the single "You Really Got Me" in the United States.  It had been released on August 4 in the U.K.
1965 – The Byrds were in concert at the Hollywood Palladium in Hollywood, California.

1967 – The Beatles gave a press conference with guru Maharishi Mahesh Yogi.  Paul McCartney announced that the group had given up drugs. "It was an experience we went through," he said. "We don't need it anymore."

1967 – Aretha Franklin had the new #1 R&B song with "Baby I Love You"
1967 – The Box Tops moved from 58 to 25 with "The Letter"
1967 – After just four weeks, Bobbie Gentry had made the long haul up to #1 with "Ode To Billie Joe." The Beatles retreated after a brief one-week stay with "All You Need Is Love" The Monkees maintained at #3 with "Pleasant Valley Sunday"
1968 – Mary Hopkin released her single "Those Were The Days" in the United States.
1969 – Elvis Presley released the single "Suspicious Minds"

1970 – Jimi Hendrix's

Electric Lady Studio

opened at 52 West Eighth Street in New York City.  Hendrix spent just four weeks recording there before his death, but since then, artists such as AC/DC, Bob Dylan, Hall & Oates, John Lennon, Kiss, John Mayer, the Clash, and Daft Punk have recorded at Electric Lady.

1972 – Three Dog Night's "Black And White" moved from 47-23.
https://youtu.be/vAlQjLse0BA
1973 – Bobby Darin performed live for the final time at the Hilton Hotel in Las Vegas, Nevada.  He died later that year.

1974 – Bachman-Turner Overdrive released their great album

Not Fragile

.

1974 – John Denver recorded "Thank God I'm A Country Boy" at the Universal Amphitheatre in Los Angeles in his first night of concerts that become the double album

An Evening With John Denver.

1975 – Glen Campbell was at #1 on the US Country singles chart with "Rhinestone Cowboy"
1977 – The Pretenders made their live debut opening for Strangeways at Unity Hall in Wakefield, England.

1977 – Uriah Heap and Golden Earring were among the performers on the opening day of the three-day Reading Festival in England.  Aerosmith, the Doobie Brothers, and the Little River Band, Thin Lizzy, and Hawkwind would perform on subsequent days.

1978 – Fleetwood Mac, the Cars, Todd Rundgren and Utopia, Eddie Money and Bob Welch were in concert at the World Series of Rock at Cleveland Stadium in Cleveland, Ohio.

1978 – The Commodores scored a second week at #1 on the Adult Contemporary chart with "Three Times A Lady"
1978 – "Don't Look Back" by Boston moved from 62 to 36 on this date.

1978 – "Grease" had been the word all summer and finally the charts proved it as Frankie Valli reached #1.
1979 – Peter Gabriel was joined by former Genesis bandmate Phil Collins for a version of the Genesis song "The Lamb Lies Down On Broadway" at the Reading Festival in England.

1981 – The Ottawa City Council honored Paul Anka by naming today "Paul Anka Day" and the Council also named a street in Ottawa "Paul Anka Drive"

1983:  David Bowie starred in the movie

Merry Christmas, Mr. Lawrence

, which opened in theaters.

1984 – "Long Hard Road (The Sharecropper's Dream)" by Nitty Gritty Dirt Band was at #1 on the Country chart. Written by Rodney Crowell the song became the Nitty Gritty Dirt Band's first (of three) #1 songs.
1987 – Sonny Bono announced that he would run for mayor of Palm Springs, California.  He was victorious.

1989 – Richard Marx owned the #1 Adult Contemporary song for a fourth week with "Right Here Waiting"
1990 – Shenandoah were at #1 on the US Country singles chart with "Next to You, Next to Me." Written by Robert Ellis Orrall and Curtis Wright, it is also the band's longest-lasting chart topper, at three weeks.

1990 – Randy Newman won an Emmy Award for the music he composed for the television show

Cop Rock

.

1995 – Blur reached #1 in the U.K. with "Country House"
1995 – "Boombastic" by Shaggy rose to #1 on the R&B chart.

1995 – Coolio moved from 28 to 6 with his remake of the Stevie Wonder song "Pastime Paradise" retitled "Gangsta's Paradise"

1995 – Seal hit #1 with "Kiss From A Rose" ending TLC's seven-week stay at #1 with "Waterfalls"
1996 – The Corrs performed for the first of two nights at the Carrickdale Hotel in Dundalk, Ireland.

1997 – Boyzone began a tour of Southeast Asia in Bangalore, India. That was a first on many fronts, not the least of which was the first time an international act had performed in the region.

1997 – Creed released their debut album

My Own Prison

.

1997 – Chad Smith, drummer of the Red Hot Chili Peppers, suffered a dislocated shoulder following a motorcycle crash on Sunset Boulevard in Los Angeles.  He was treated at Cedars-Sinai Hospital and released.

2000 – Douglas Allen Woody, bassist of the Allman Brothers, was found dead sitting in a chair at a hotel in Queens, New York at age 44. The cause of death was "unknown"
"TV/Radio"
1996 –

"7th Heaven", starring Jessica Biel, debuts on The WB
"Other Important Events…"
1907 – Harry Houdini escapes from chains underwater at Aquatic Park in 57 seconds

1961 – The International Hockey Hall of Fame in Toronto opened.