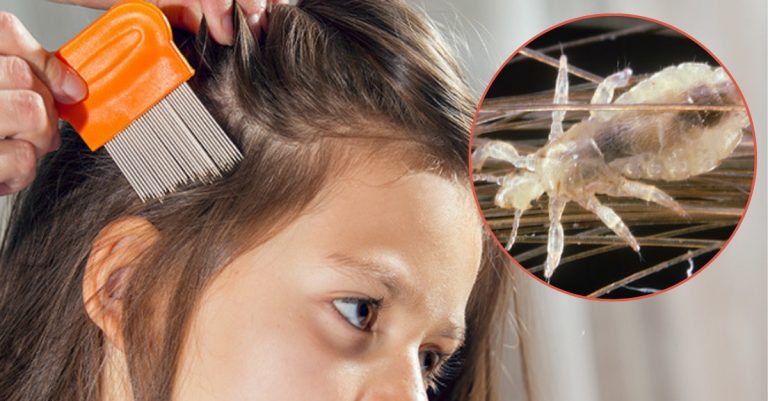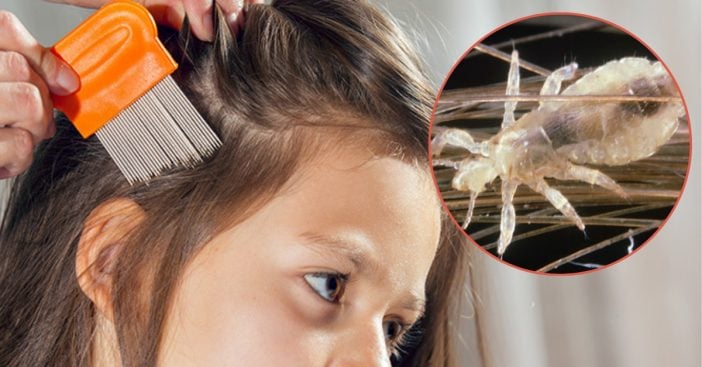 If you're a mom, you know that dealing with lice can be a huge pain. A lot of schools do annual lice checks, but they can still find their way around and onto your child's scalp. The worst part may not actually be the lice itself, but the after treatment that comes with it… and it requires a lot of treatment!
Thankfully, there are natural remedies out there that will get rid of head lice fast, with zero chemicals or harm to your child's scalp. The Facebook group called Mom Life shared a natural hack that uses coconut oil and apple cider vinegar; the two go-to ingredients for any home remedy, it seems like! Follow the steps below for ensuring a proper application and ensuring that your child's scalp is lice-free.
What You'll Need:
Coconut oil
Apple cider vinegar
A shower cap
A fine-toothed comb
Follow the instructions below, via Healthline, to ensure a fully effective lice treatment:
Rinse child's hair in hot water and let it air dry. Be sure that the coconut oil and apple cider vinegar are at room temperature or just above to ensure an easily spreadable application.
Massage the coconut oil and then apple cider vinegar generously through the child's scalp.
Apply shower cap right away. The fumes from the combined coconut oil and apple cider vinegar will be enough to kill any living lice.
After eight full hours of leaving the shower cap on, use the fine-toothed comb to comb through the child's hair and comb out the dead lice. Be sure to remove any eggs to avoid subsequent infestation.
Repeat this treatment three or four more times. If you still notice lice after the fourth treatment, consider an over-the-counter or prescription remedy for further treatment.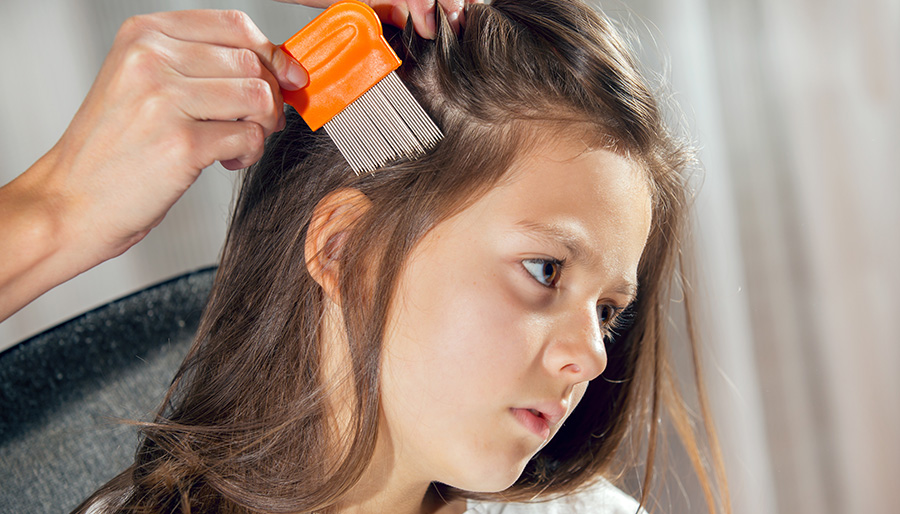 It looks like not many people are in the comments confirming that it works or not. Many of them are detailing their own experiences of their children having lice, others are providing some essential comedy.
One commenter doesn't really care if there are chemicals or not. They might be better off with them than without…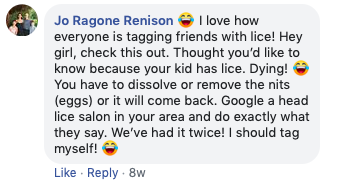 Another commenter couldn't help but notice all the people tagging others whose children have lice. A bit public, no?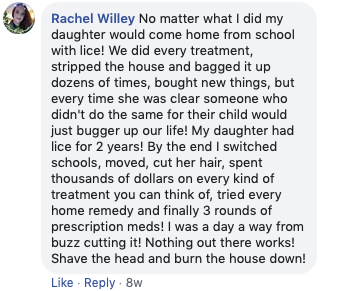 "Nothing out there works! Shave the head and burn the house down!" That's one way to do it.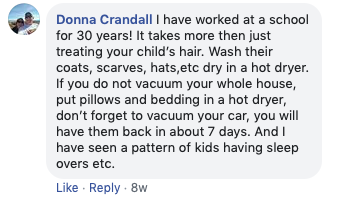 One woman who worked at a school for 30 years shed some light on the situation. She says that it takes a lot more than just treating the hair, but it also means treating all of their personal belongings such as coats, scarves, hats, and even your house to ensure it doesn't spread even more. Good to know!
Be sure to SHARE this article to spread the news about this little hair treatment remedy for lice. You could be seriously helping someone out!
Check out the video below featuring a mom who has tried this method and see her reviews on this remedy!