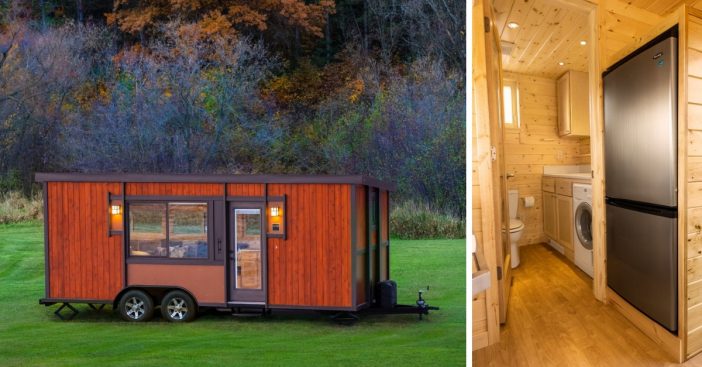 Escape, a company that makes different styles of tiny homes, recently came out with a new update. Their tiny home called Vista now has even more amazing updates. The best part, you can own a home for less than $40,000! Of course, if you want all of the upgrades that tiny living has to offer, you will have to pay a little extra. Find out what is worth the extra cost.
The new version of the Vista is called the Vista Boho. This version offers a little more living space, storage, and even privacy, which is perfect if you don't live alone in the tiny house. Check out photos of this beautiful tiny home. Could you see yourself living here?
The Outside Of The Vista Boho
The outside of this tiny home is very rustic chic. It is 21.6 feet long and weighs about 8,500 pounds. The outside is finished in rough sawn wood siding, but you could order cedar siding as an optional upgrade for a fancier look.
The Bedroom
The bedroom is on one end of the tiny home and the windows all around make it look more spacious. It actually looks really cozy to sleep here and you can even mount your television to watch TV in bed. There is storage above the bed in shelving and looks like a great place to put decor, books, and other small items.
The Living Area
The living area seems pretty spacious with a couch that doubles as a sofa bed with extra storage too. There is a fold-down table that could work as a dining table or a desk. There are so many windows this tiny home doesn't seem tiny at all.
The Kitchen
The kitchen has a fridge and freezer, a sink, an oven with an electric stove, and a good amount of cabinets.
The Bathroom
The bathroom is near the kitchen and has a toilet, sink, and shower. You can also add a washer/dryer combo as an upgrade in the bathroom. That would be really nice to have!
The base model starts at $39,900, but upgrades cost extra. Some of the nicest upgrades include a television included, air-conditioning, a keyless lock, nicer materials, furniture included, and even an off-grid package. The off-grid package includes a roof with solar panels, more efficient appliances, and a water tank. This means you wouldn't need to hook up to water or electricity and could essentially go anywhere with your tiny home.
What do you think about this tiny home? If you enjoyed the photos, please SHARE with your friends and family who love seeing photos of beautiful tiny homes!