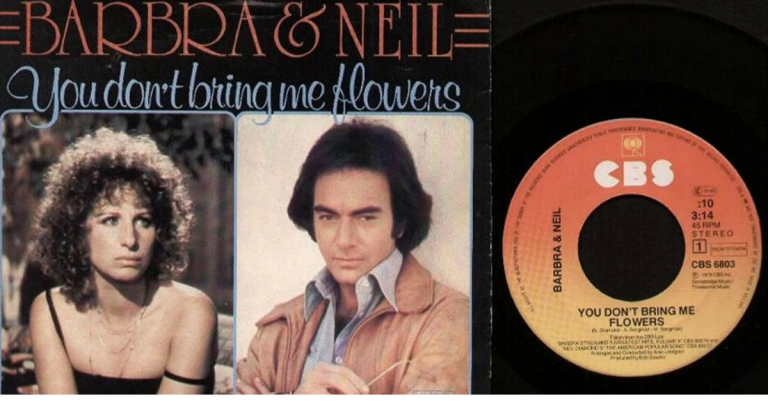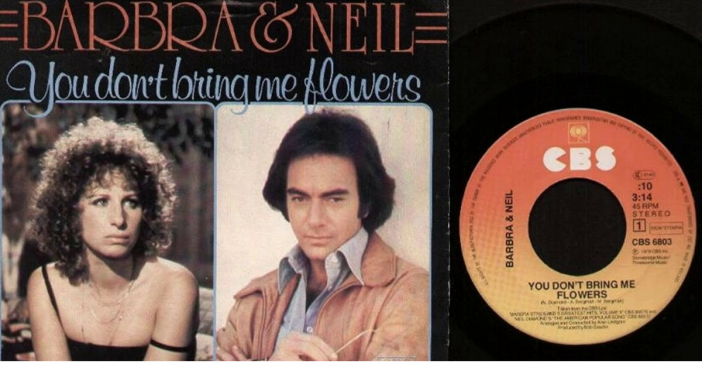 "You Don't Bring Me Flowers" is a song that hit the top of the Billboard Hot 100 chart in 1978. It is a song about two lovers who have drifted apart while they "go through the motions" and heartache of life together.
The song was written by Neil Diamond with Alan Bergman and Marilyn Bergman for the ill-fated TV show All That Glitters. The song was intended to be the theme song, but Norman Lear changed the concept of the show and the song was no longer appropriate. Diamond then expanded the track from 45 seconds to 3:17, adding instrumental sections and an additional verse. The Bergman's contributed to the song's lyrics.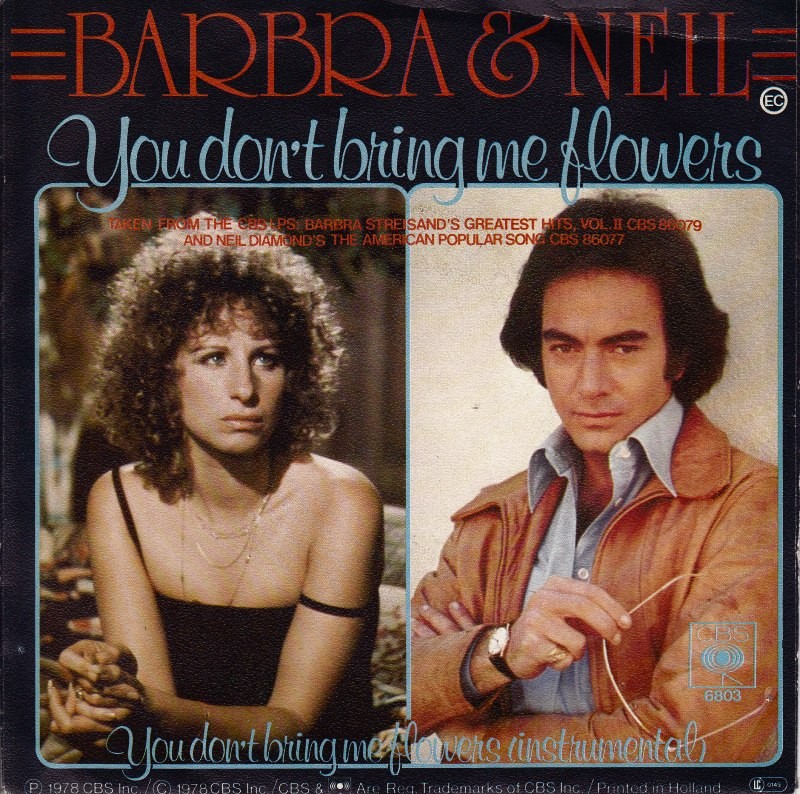 ALSO LISTEN TO:
Neil Diamond: "Sweet Caroline"
Neil Diamond: "Cracklin' Rosie"
The roots of the duet version, as chronicled in myriad Streisand and Diamond biographies as well as Streisand's Just for the Record box set, revolve around WAKY-AM/Louisville KY program director, Gary Guthrie, who spliced the two solo tracks together as a going away present to his wife, whom he had just divorced. As the real life fairytale behind the song unfolded, it triggered a media buzz worldwide from Good Morning America and People magazine to the BBC. Interest in the duet caused such a clamor on the retail level that Columbia Records was compelled to bring Streisand and Diamond into the studio to record an "official" version in October 1978.
The song reached number one on the Hot 100 chart for two non-consecutive weeks in December 1978, producing the third number-one hit for both singers. Acknowledgment and gratitude for Guthrie came from CBS with a Gold record plaque, flowers from Diamond and a telegram from Streisand. The duo performed the song at the 1980 Grammy Awards show, a performance released on the 1994 album Grammy's Greatest Moments Volume I. The song peaked #17 in the Spain Top 40 Radio.
(source)
 "You Don't Bring Me Flowers"
You don't bring me flowers
You don't sing me love songs
You hardly talk to me anymore
When I come through the door at the end of the day
I remember when
You couldn't wait to love me
Used to hate to leave me
Now after lovin' me late at night
When it's good for you, babe
And you're feeling alright
Well, you just roll over
And you turn out the light
And you don't bring me flowers anymore
It used to be so natural (Used to be)
To talk about forever
But used-to-be's don't count anymore
They just lay on the floor 'til we sweep them away
And baby, I remember
All the things you taught me
I learned how to laugh
And I learned how to cry
Well I learned how to love
And I learned how to lie
So you'd think I could learn
How to tell you goodbye
You don't bring me flowers anymore
Well, you'd think I could learn
How to tell you goodbye
You don't sing to me
And you don't sing me love songs
You don't bring me flowers anymore
Here's Neil performing the song in 2008
RELATED: Neil Diamond Spotted Watching Brand-New Broadway Musical About His Life