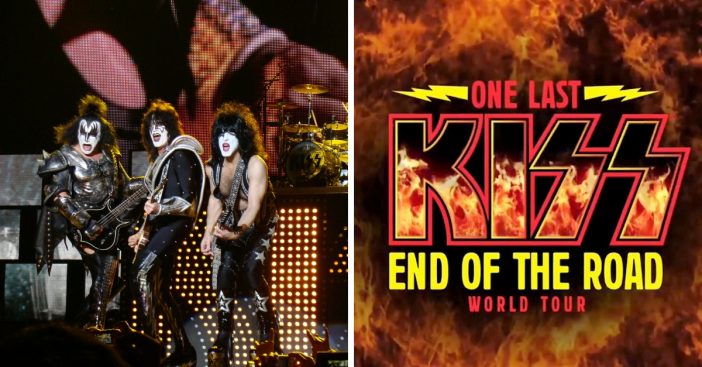 KISS announced that their next tour will be their last. After they performed "Detroit Rock City" on the finale of America's Got Talent, they announced their End of the Road tour. They promised this tour will be full of explosions, something that most KISS fans have come to expect from the longstanding rock band.
"By the way, we just announced the One Last, KISS End of The Road World Tour!" frontman Gene Simmons wrote on Instagram. "It has been an amazing journey with you all. We couldn't leave without saying goodbye."
https://www.instagram.com/p/Bn7bGADg94G/?hl=en&taken-by=genesimmons
"This show will have the most explosions, the most hits and be the loudest yet!" Simmons shared.
KISS released an official statement on Wednesday night saying, "All that we have built and all that we have conquered over the past four decades could never have happened without the millions of people worldwide who've filled clubs, arenas, and stadiums over those years. This will be the ultimate celebration for those who've seen us and a last chance for those who haven't. KISS Army, we're saying goodbye on our final tour with our biggest show yet and we'll go out the same way we came in… Unapologetic and Unstoppable."
https://www.instagram.com/p/Bn7cDWQg8I_/?hl=en&taken-by=genesimmons
KISS was formed 45 years ago and is widely known around the world. They are most commonly known for their interesting stage outfits, faces full of makeup, tongues sticking out, and stage pyrotechnics. Basically, their shows are insane… in an amazingly fun way. Have you ever seen KISS live?
The band was formed by Paul Stanley, Gene Simmons, Peter Criss, and Ace Frehley. Stanley and Simmons remain in the band, but other current members are Tommy Thayer and Eric Singer. Criss left in 1980, but returned to the band twice, from 1996 to 2001 and then again from 2002 to 2004. Frehley left in 1982 but returned to the band from 1996 to 2002. Other members of KISS include Eric Carr, Vinnie Vincent, Mark St. John, and Bruce Kulick.
KISS has released 20 studio albums and several other live albums over the years. Their last album, Monster, was released in 2012. They have received many awards for their unique style and awesome sound including a place in the Rock and Roll Hall of Fame, a People's Choice Award, and two Classic Rock Roll of Honour Awards.
Their tour dates are not yet on their website. The band promises that tour dates and cities will be available online soon.
What do you think about their tours coming to a close? Are you excited for their End of the Road tour? We bet it will be the craziest shows yet! Check out the video below of their performance on AGT!
Please SHARE this with all the KISS fans you know! They won't want to miss out on this epic concert!
You can watch KISS perform their hit "Detroit City Rock" on America's Got Talent in the video below: