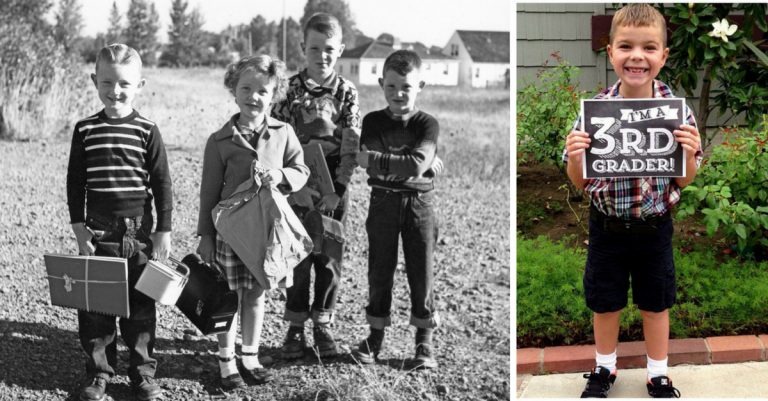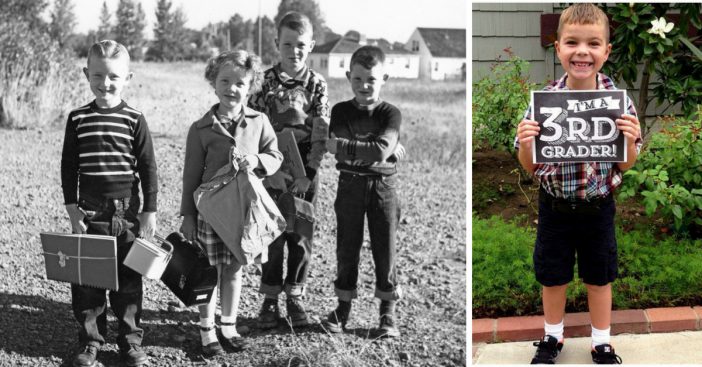 Ah, back to school. Do you remember going back to school? It was probably a lot different than what kids are used to these days. Now they have fancy backpacks, need a ton of school supplies and you are expected to get a cute photo on the first day of school of your children and grandchildren.
Do you have any kids or grandkids heading back to school this month? If so, you may want to remember this special day! You might also want to compare photos to see how much they've grown based on the first and last day of the school year.
Check out some of these adorable and fun photo ideas.
Print out something that tells what grade your child or grandchild is going into. Try a fun chalkboard design. There are many printables you can get from websites like Etsy that are free or inexpensive. You could also use a real chalkboard and write down stats of your child like their age, school year, and favorite things at the time.
You could also write down a funny phrase or saying, like "Stop crying, mom!" and have your kid hold it up. You could also ask the child what they want to be when they grow up each year. It would be really fun to go back and see what the child aspired to be at every age.
https://www.instagram.com/p/BmT6XeTgzyb/?tagged=firstdayofschool
If you aren't into signs, use chalk to write on the driveway and have your child or grandchild pose next to your written words.
https://www.instagram.com/p/BmT5eMOFin9/?tagged=firstdayofschool
Did your parents ever take pictures of you on the first day of school or do you think it is a newer and sillier trend these days? Many people take pictures of their children on the first day of school and more and more people are getting really creative with it these days.
https://www.instagram.com/p/BmT5EZ6AJoe/?tagged=firstdayofschool
Will you use any of these ideas? What do you do to remember your child or grandchild's first day of school? Do you take pictures and post them on social media?
If you enjoyed this article, please SHARE with your friends who have kids or grandkids!