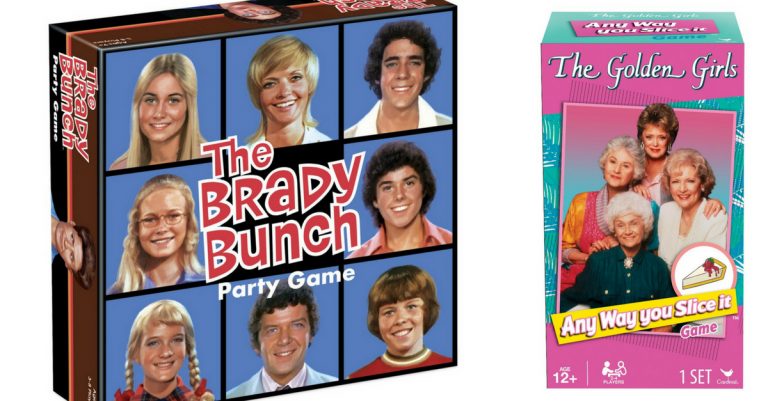 Do you love board games or family game night? If you do, Target just released some nostalgic board games! Whether you used to be obsessed with The Golden Girls or The Brady Bunch, there's a fun game for you and your family to try this weekend.
Check out which nostalgic board games just got released at your local Target. Which game do you plan to buy first?
The Golden Girls "Any Way You Slice It" Board Game
If you loved The Golden Girls and know everything there is to know about this classic show, you probably want this trivia game. Answer questions correctly about the characters to win pieces of cheesecake. The first person to construct an entire cheesecake wins and becomes an honorary "Golden Girl"! This game is selling for $14.99.
The Brady Bunch Party Game
If you were more into the Brady Bunch, now you can pretend you are in this iconic family. It is a fun mystery challenge that puts siblings against each other. One person gets to play Alice who tries to catch the siblings! This board game is $24.99.
The Oregon Trail: Journey to Willamette Valley Game
Did you or your kids ever play this computer game? It was made into a board game where you have the same trials and tribulations. Avoid disease and other accidents to make it to Willamette Valley. This game is a little more pricey at $39.99.
Ticket to Ride Express: New York City 1960 Board Game
If you miss the 1960s, transport back with this board game. Set in New York, race fellow tourists to see who can get through the best of New York City's attractions the fastest to win. This game is $19.99.
MacGyver: The Escape Room Game
If you miss MacGyver and love Escape rooms and solving mysteries, you and your family will love this game. Solve puzzles and clues and try to defeat MacGyver's nemesis, Murdoc to beat the game. This one is $29.99.
Are you ready for a new board game for your family game night? How fun is it that Target released these nostalgic board games?
Please SHARE with your friends who love nostalgic board games!