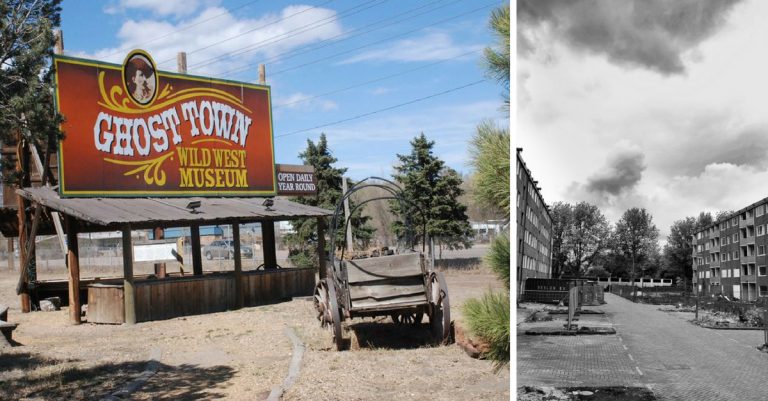 Ghost towns are towns that were once bustling with people and are now mostly abandoned. Some of them are pretty spooky and seem filled with actual ghosts. There are many abandoned cities throughout the United States. Would you ever visit a ghost town?
Here are some of the scariest ghost towns you can still visit! Which one would you plan a vacation to visit?
1. St. Elmo, Colorado
It used to be named Forest City because it was a mining center town. However, by 1930, only seven people lived there. Now it is one of the most haunted cities in Colorado. It is reportedly haunted by the family who used to run the general store and the hotel.
2. Virginia City and Nevada City, Montana
Have you ever heard of Calamity Jane? She used to live in Virginia City. Within a mile is Nevada City, another ghost town in Montana. Both cities used to boom during the Gold Rush but when that was over, all the people fled those cities. There are still lots of historic buildings in these parts.
3. Cahawba, Alabama
Cahawba is Alabama's most famous ghost town. It was the first capital from 1820 to 1825 and a center for transporting and trading of cotton. It was also a village for freed slaves after the war. All of the residents left by 1900. Now it is a place that a lot of people have seen ghosts in.
4. Bannack, Montana
Another former mining town in Montana was featured on Travel Channel's Ghost Adventures show. The town lasted longer than most similar mining towns but was pretty much abandoned by 1950. Over sixty structures can still be explored in this ghost town.
5. Centralia, Pennsylvania
This town in Pennsylvania is actually a ghost town because it has been burning underground since 1962. Smoke and noxious gases escape from the ground. It happened during a landfill burn gone wrong and is expected to keep burning for over 250 years. Of course, this means people had to evacuate.
6. Bulowville, Florida
A giant plantation was built in 1821 but Seminole Indians set fire to the plantation in 1836 during the Second Seminole War. It pretty much crumbled the whole city.
Would you ever visit any of these places? Do you live near one? If you enjoyed this article, please SHARE with your friends!