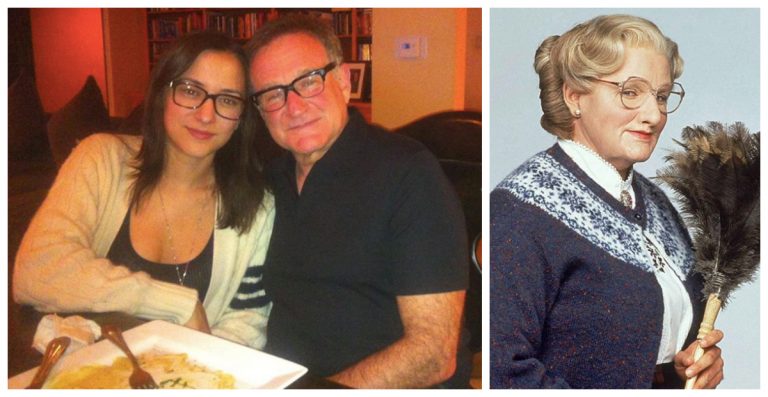 Zelda Williams, the daughter of Robin Williams, just posted a touching tribute to honor her late father in light of his upcoming birthday on July 21st. She talked about the pain of certain anniversaries in her message and "moments full of memory that come round like clockwork and usurp all others, no matter how hard you may try to prepare for or avoid them".
In William's message, she also gets interactive with her followers, saying "Thank you for loving him. Thank you for supporting him and his life's work. Thank you for missing him. I do too." She also encouraged honoring him and his legacy by participating in organizations that give back or making donations in his name.
https://www.instagram.com/p/BlbQ0cjH4cv/?taken-by=zeldawilliams
Robin Williams is best known for his impeccable acting in some of his most popular films. Some of these movies include Mrs. Doubtfire (1993), Dead Poets Society (1989), and even voice work in Aladdin (1992).
He won the 1997 Academy Award for Best Supporting Actor in Good Will Hunting, two Emmy Awards, seven Golden Globe Awards, and a slew of others for his work in film. Besides film, he is world-renowned for his stand-up comedy.
https://www.instagram.com/p/09EDQyO4hO/?taken-by=robinwilliamsofficial
His daughter, Zelda, continues on with her father's legacy by staying involved in the film industry. Additionally, she has also taken on some voice work for not only films but also video games! Their favorite video game was The Legend of Zelda series, for which his daughter was named after. They also starred in a commercial together about the Zelda series back in 2011.
https://www.instagram.com/p/0-xw7OO4uP/?taken-by=robinwilliamsofficial
Robin Williams died on August 11th, 2014 at 63 years of age, another painful anniversary that is due soon, not only for Zelda but for the whole world. He died from asphyxiation due to suicide by hanging. Williams was recognized after his death from many televised tributes from PBS, Disney Channel, and even the cast of Aladdin on Broadway.
https://www.instagram.com/p/BlbZYCMFj81/?tagged=mrsdoubtfire
On July 21, Robin Williams would have been turning 67. May we all spend the day honoring his memory!
Be sure to SHARE this article to honor Robin William's legacy.