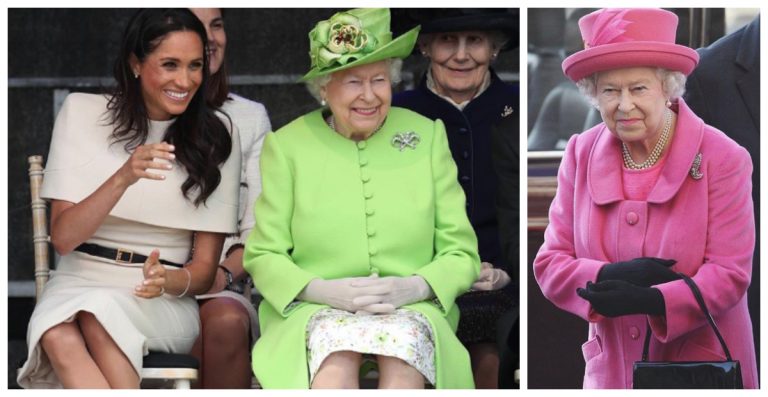 Have you ever noticed Queen Elizabeth II wears a lot of beautiful, bright colors? She has an incredible sense of style and an eye for accessories, like matching hats or handbags. But what's the real reason she wears so many bright colors? Simple. She wants to stand out from everybody else.
In the documentary called The Queen at 90, Sophie the Countess of Wessex explained that her mother-in-law just wants to stand out and for people to be able to say "I saw the Queen." Even if it means seeing the Queen's famously known bright-colored hats, it still counts.
https://www.instagram.com/p/BkAZm5Wgu9S/?taken-by=kensingtonroyal
The Queen's biographer, Robert Hardman, even claims that the Queen said, "I can never wear beige because nobody will know who I am." Her granddaughter-in-law, Kate Middleton, has already begun to mimic the bright colors that the Queen sports daily.
https://www.instagram.com/p/BlViFSAhlVe/?tagged=queenelizabethii
On multiple occasions, the Duchess of Cambridge has been seen wearing bright red, which seems to be her go-to! According to Kate herself, she wore the bright colors for the same reason Queen Elizabeth II does; so crowds will be able to spot her easily.
https://www.instagram.com/p/BiEdt8tgxso/?taken-by=kensingtonroyal
Meghan Markle, Duchess of Sussex, has yet to hop on the bright-colored band wagon. She usually goes for neutral and pastel outfits, but looks gorgeous sporting them out and about! Meghan definitely has a thing for beige-colored dresses, but can often be spotted in other subdued colors.
https://www.instagram.com/p/BlD7qiLnjsF/?taken-by=kensingtonroyal
The Queen has done many different bright-colored styles from lime green, to bright pink, to even orange. She's literally done all the colors of the rainbow and she's definitely one of the only people in the world who can pull it off with such elegance and grace! We're banking on seeing more in the future.
https://www.instagram.com/p/BlWeEeRBu2X/?tagged=queenelizabethii
Are you surprised at all about the real reason Queen Elizabeth II wears bright colors? Be sure to SHARE this article if you were!