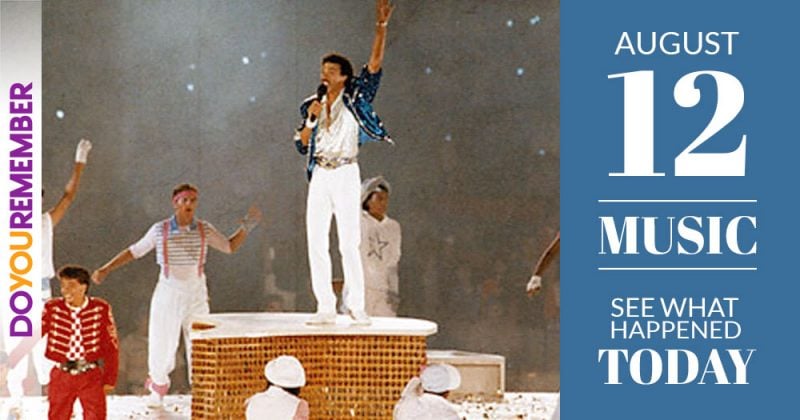 Today in 1984,Lionel Richie closed the Los Angeles Olympic Summer Games by singing "All Night Long"

"Born Today"
Cara Delevingne (23)

Justin Gaston (27)

Dominique Swain (35)

Plaxico Burress (38)

Casey Affleck (40)

Michael Ian Black (44)

Yvette Nicole Brown (44)

Rebecca Gayheart (44)

Pete Sampras (44)

Tanita Tikaram (46)

Peter Krause (50)

Sir Mix-A-Lot (52)

Bruce Greenwood (59)

Sam J. Jones (61)

Dana Ivey (74)

George Hamilton (76)

Miss Cleo (RIP)

Cantinflas (RIP)
"Died Today"
John Cage (Born: September 5, 1912 / Died: August 12, 1992)

Dorothy Mackaill (Born: March 4, 1903 / Died: August 12, 1990)

Jean-Michel Basquiat (Born: December 22, 1960 / Died: August 12, 1988)
"Movies"
"Music"
1956 – Elvis Presley received the key to the city of New Orleans, Louisiana

1957 – Frankie Lymon left his group The Teenagers for a solo career.

1957 – Buddy Holly & the Crickets debuted on the Singles chart with "That'll Be The Day"
1958 – The Crests recorded "16 Candles"

1963 – The Ronettes released the single "Be My Baby".

1966 – John Lennon held a press conference in Chicago, Illinois to apologize for his recent remark that "the Beatles were more popular than Jesus."

1966 – The Beatles, Ronettes and Bobby Hebb performed at the International

Amphitheatre in Chicago, Illinois.  It was the beginning of what would turn out to be the final U.S. tour for the Beatles.  

1967 – The Doors spent a third week at #1 with "Light My Fire"
https://youtu.be/VosTRfaCDfY
1967 –

Sgt. Pepper's Lonely Hearts Club Band

spent 7 weeks as #1 on the Album chart.

Headquarters

from the Monkees remained at #2 while

Flowers

by the Rolling Stones locked up position #3.

1968 – Led Zeppelin played together for the first time at a studio rehearsal on Gerrard Street in London's West End. The quartet's first song was "Train Kept-A-Rollin"

1968 – Big Brother & the Holding Company released their one and only big album,

Cheap Thrills

.

1970 – James Taylor released his first single on this date–it was called "Fire And Rain"
https://youtu.be/JOIo4lEpsPY
1970 – Derek & the Dominoes played at the Speakeasy in London.

1970 – Janis Joplin performed for the final time at Harvard University in Cambridge, Massachusetts before she died from drugs less than two months later.

1971 – The Carpenters released the single "Superstar"
1972 – The Festival of Hope in Westbury, New York became the first rock festival to raise funds for an established charity.

1972 – Alice Cooper had the #1 U.K. song with "School's Out"
1972 – Al Green hit #1 with the R&B song "I'm Still In Love With You"
https://youtu.be/0Jvok3k8zZc
1972 – Gilbert O'Sullivan remained on top for a third week with "Alone Again (Naturally)." Looking Glass held steady at #2 for the third week with "Brandy (You're A Fine Girl)"

1974 – Bad Company released its first single "Can't Get Enough"
1978 – Toby Beau reached #1 on the Adult Contemporary chart with "My Angel Baby"

1978 – "Three Times A Lady" was the new #1 on the R&B chart for the Commodores.
1981 – Christopher Cross released the single "Arthur's Theme".

1981 – Dan Fogelberg released the single "Hard To Say".

1982 – Joe Tex ("I Gotcha'" from 1972) died of a heart attack at the age of 49 in Navasota, Texas.  

1984 – Lionel Richie closed the Los Angeles Olympic Summer Games by singing "All Night Long"
1985 – Syu Sakamoto was killed in a plane crash when his flight crashed on a mountain about 60 miles northwest of Tokyo. Sakamoto was the first Japanese artist to reach #1 in the United States with "Sukiyaki." He was 43.

1986 – Paul Simon released

Graceland

.

1987 – Heart released the single "Who Will You Run To"
1987 – John Mellencamp released the single "Paper In Fire"

1989 – Prince owned the top R&B song with "Batdance"

1989 – Richard Marx hit #1 with "Right Here Waiting"
1991 – Bryan Adams hit #1 in the U.K. with "(Everything I Do) I Do It For You"

1992 – Don Henley & Patty Smyth released the single "Sometimes Love Just Ain't Enough"
1995 – A mass wake was held for Jerry Garcia of the Grateful Dead at Golden Gate Park in San Francisco, California.

1995 – TLC hit #1 for the sixth week with "Waterfalls"
1996 – The Spice Girls mined gold when their first release "Wannabe" reached #1.
1998 – Scott Weiland of the Stone Temple Pilots pleaded guilty to felony heroin possession.
"TV/Radio"
1956 – The Platters performed on

The Ed Sullivan Show

.

1967 – The Supremes sang "Reflections" on

American Bandstand

.

1972 – Jim Croce appeared on

American Bandstand

.
"Other Important Events…"
1939 – "The Wizard of Oz" premiered in Oconomowoc, WI. Judy Garland became famous for the movie's song "Somewhere Over the Rainbow." The movie premiered in Hollywood on August 15th.

1981 – IBM unveiled its first PC.