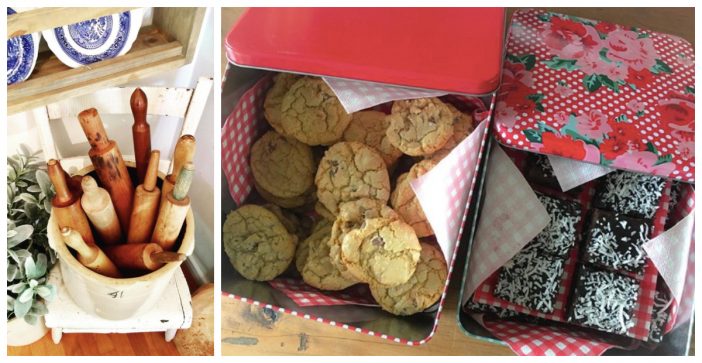 There are tons of things that go into baking, not only the ingredients, but also the items you use to put the ingredients into. These objects like bread tins and cake tins have endured a long history of usage. You probably wouldn't even believe it!
Baking dates all the way back to the 15th century, and so all of these objects are older than you are! Here are 6 objects that will take you through the history of baking.
1. Biscuit tins
https://www.instagram.com/p/BQBSzJagvjP/?tagged=biscuittins
You know those little tin boxes that people bring their Christmas cookies in to the holiday parties? Yeah, those! The original "biscuit" was concocted of flour, salt, water, and was pre-baked on land and then rehydrated in stews or beer while at sea. It was the precursor to the staple biscuit we all know and love today.
2. Bread tins
https://www.instagram.com/p/BHxNtTPgKcw/?tagged=breadtins
Bread was once considered the food of the poor, but by the late 18th century, brown bread and course-grained flour became popular in wealthier classes. The produced, fine flours from the United States began to be rejected in favor of the other popular alternative.
3. Cake tins
https://www.instagram.com/p/BZ_qmp3hdjZ/?tagged=caketins
Cake tins did not become a popular choice for cake storage until the mid 19th century. Originally, 'patty pans' were made from steel and used to make small cakes and tarts. In addition to storing cakes, cake tins became a popular use to store money and other small items during WWII.
4. Rolling pins and pastry jiggers
https://www.instagram.com/p/Bj54kkNAjTI/?tagged=rollingpins
These are two of the earliest produced baking materials. It began in the 1600s, but studies show that it may have begun even earlier than that. Glass rolling pins were originally used in pastry-making. Sailors off at sea would used decorated rolling pins at sea as a good luck charm.
5. Pie-making
https://www.instagram.com/p/Bj5qjGTA-Bx/?tagged=applepies
Pies are ancient. At first bake, these pastries originally consisted of meat wrapped in flour with water or honey pastes to seal in the juices. That gives much greater meaning to Sweeney Todd, doesn't it?
6. Moulds
https://www.instagram.com/p/Bg3UOuNA22e/?tagged=moulds
Moulds are incredibly inventive and creative in that they can form literally any shape out of your culinary sweets. This was largely used back between the 16th and 19th centuries. They used to be formed into letters and Roman numerals for educational purposes, but they weren't always edible until the 18th century!
What did you think about this lesson in baking history? Don't forget to SHARE this educational article with your friends and family!