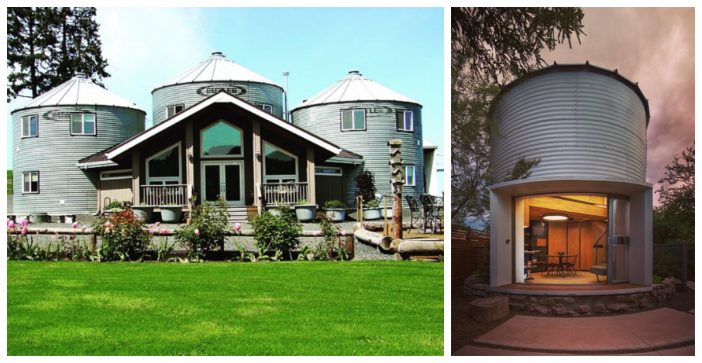 If you were a fan of the tiny home movement, then you're going to love silo homes. Yes, homes made out of agricultural storage containers. People are converting silos into adorable tiny homes and some of them are seriously stunning.
You will notice from the outside that they just look like cleaned up storage bins. But what's inside will blow your mind. Inside these 'storage bins' lies a completely renovated living space up to several stories tall. Since old silos are already built and installed, it's way more affordable than renovating a traditional house.
https://www.instagram.com/p/BGGbN8NCtyd/?tagged=silohomes
These unconventional-style homes can be super trendy and stylish when decorated properly, not to mention eco-friendly. The compact space and insulation ultimately keep heating and cooling needs to a minimum. Thus, the overall environmental impact is much less than that of your traditional household.
https://www.instagram.com/p/BK2GFElBs6-/?tagged=silohomes
You may be thinking "Why have I never heard of silo homes before?" It's so popular that even Airbnb has silo homes that you can rent out. If you're not feeling fully committed to a full-time silo home lifestyle, you can always test the waters with a silo home Airbnb rental.
If you do decide to take up a full-time silo home lifestyle, keep in mind they do take time to perfect. Such as a traditional house, you'll want it looking decorated to the nines. Silo homes require a little extra work because of the circular designs, but if you're up for the challenge, you could turn it into something unique and beautiful!
https://www.instagram.com/p/BWtKGpJnBcA/?tagged=silohomes
These uniquely built, contemporary living spaces have families swooning and dying to try them out. In addition to having all the necessary traditional home goods, most silo homes are also complete with modern spiral staircases, balconies, and outdoor patios!
https://www.instagram.com/p/8yP5KwKmj6/?tagged=silohomes
In addition to having the freedom to build your own silo home from scratch, if you're going for a retro style house you have the free reign to do so!
https://www.instagram.com/p/BPsfp8cDiN0/?tagged=silohomes
What do you think about these adorable, unique homes? SHARE your thoughts with us and don't forget to share this article with a friend!