A music-loving subway passenger named Naiika was recently recorded on a New York City subway as she sang an array of songs, most notably "Rock With You" by Michael Jackson. As most passengers knew the tune, they helped her out with the hook of the song when she held her microphone out.
She was equipped with her microphone, mini amplifier, and her own charisma. She held her stage presence as many subway passengers recorded her. The videos soon went viral.
Shorty snapped on the train tonight. pic.twitter.com/lfLfF09amR

— space ghost (@LuxeNoirr) June 13, 2018
It did not appear that Naiika was performing for tips. Instead she was performing simply for the love of it, in hopes that it would bring a smile to people's faces. It definitely did!
You have GOT TO listen to the clarity and perfect tonality this woman is giving you…. it's like a gift. ⚡️ "New York subway passengers were treated to a Michael Jackson cover by Naiika Sings"https://t.co/6RVVLV00X5

— PinkKnifeTweets (@PinkKnifeTweets) June 13, 2018
Many listeners who stood by on Naiika's performance took to social media to express their support. They couldn't believe what they were hearing!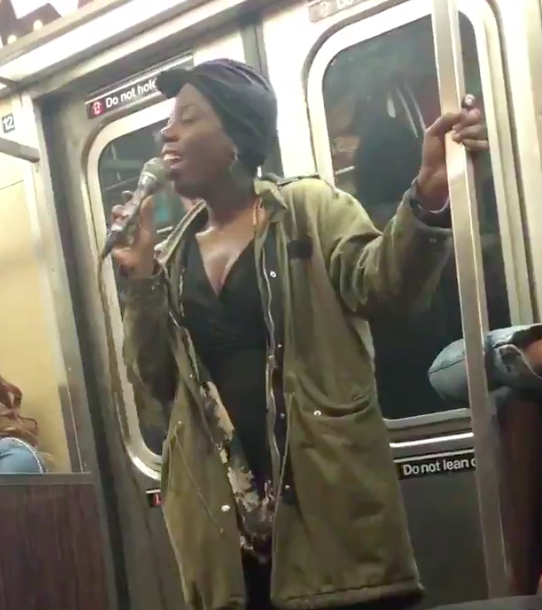 Soon after the recordings went viral, her Twitter handle was discovered in addition to her Soundcloud where she posts her music. While she hasn't been active on either her Twitter nor her Soundcloud, it's evident that she's loving live performance a lot more!
WOW, thank you so much, @LuxeNoirr! What a difference a few hours can make 🙏🏾. Grateful to all of you for showing me 💗!! Yes, that is me in the video and my name is Naiika Sings. #thankyou all so much #poweroftheinternet https://t.co/BxUPMVxYwt

— Naiika Sings (@NaiikaSings) June 14, 2018
After researching even further, many were able to dig up her Instagram and YouTube accounts. She typically posts about her normal life as a New York girl. Her YouTube channel features one of her own original songs from her Mixtape called "I Need a Producer." It's no secret that despite putting her own twist on an R&B track, she does not forget where she came from and the music she was raised on.
After the video of her singing "Rock With You" by Michael Jackson went viral, she immediately began her rise to fame with this Internet discovery. Just goes to show you that hard work pays off, and you really can get noticed anywhere! Go Naiika!
Did you love Naiika's cover of "Rock With You"? Be sure to share this with your friends and family if you did!