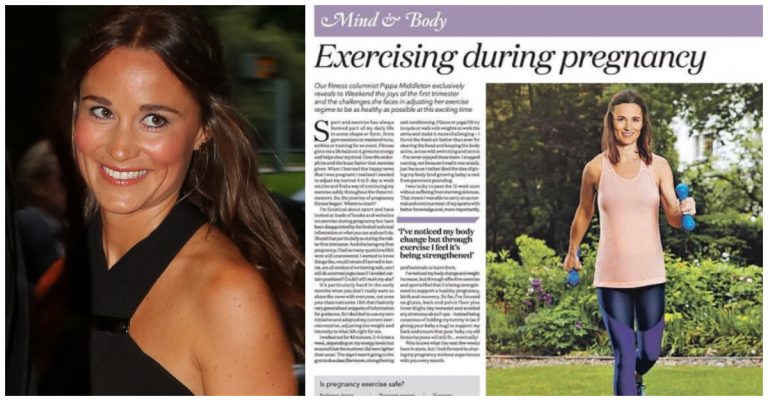 Another Middleton baby is coming! After months of rumors that Pippa Middleton might be pregnant, a recent article just confirmed it to be true.
A fitness article for the U.K. publication Waitrose Weekend featured Pippa Middleton holding two dumbbells in the cover photo. She was featured in an article called "Exercising During Pregnancy."
Pippa Middleton Matthews is featured in a new column for @waitrose weekend. "Exercising during pregnancy" pic.twitter.com/2rktWaKaFg

— MiddletonMaven (@MiddletonMaven) June 7, 2018
In the article, Pippa talks about her first trimester and the challenges she has faced with changing up her exercise routine to be as healthy as possible during her pregnancy. She also gives tips on how to change up your exercise routine during pregnancy. Photos show her completing an exercise routine with dumbbells.
In the article, she says, "I've noticed my body change but through exercise I feel it's being strengthened."
Unfortunately, the article is only available in hardcopy in the U.K.
She also revealed that she has not suffered from morning sickness like her sister famously did. Kate suffered from severe morning sickness, or Hyperemesis Gravidarum (HG) during all three of her pregnancies.
Pippa said she was lucky not to have morning sickness and that she was able to continue on with her life like normal, just adjusting her strict fitness routine.
This is Pippa's first baby. She married James Matthews in May 2017. A due date has not been confirmed yet but if the rumors were true, we can expect an adorable baby around October.
Pippa confirms her pregnancy in her latest column for @Waitrose. How exciting!! https://t.co/jB5a5OWQXb

— Kate's Royal Closet (@kateroyalcloset) June 7, 2018
Pippa was recently seen in London on June 2. Pippa and husband James were also in attendance at the May 19 wedding of Meghan Markle and Prince Harry. Pippa and James celebrated their one-year wedding anniversary the day after, on May 20.
This will also be Kate's first niece or nephew. How exciting!
Are you thrilled that Pippa is pregnant? If you liked this article, share with a friend!