As weddings get fancier and up-to-date with the trends of today, so do the most important emblems of love on weddings – the cakes! Mode dives into the changing wedding cake trends that have evolved over the decades. Starting with the 1910s, the video shows the flourishing wedding cake trends up until 2016.
Each cake represents a point in time and is loaded with history. The short video captures the different constructions of cakes, their decorations, and their beautiful toppers that speak volumes about the time the cake was trending. Take a delectable ride through time with this three minute video titled 100 Years of Wedding Cakes and Toppers.
1916
It all started simple. The 1916 cake exemplifies, "There is beauty in simplicity." With just a plain, white, naked cake topped with a bunch of flowers, the wedding cake trend takes off with an unelaborate, yet an elegant style.
1946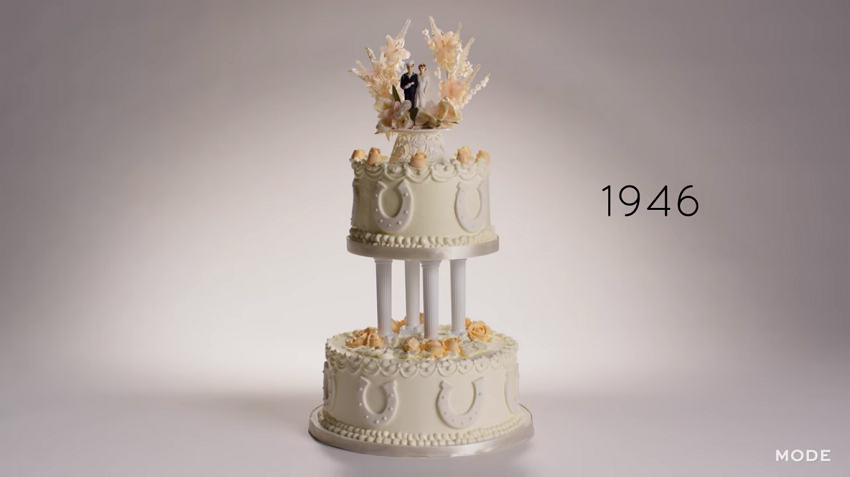 With the bride and groom toppers, the 1940s wedding cakes got some major upgrades. Notice how the groom is wearing a military uniform? This 1946 cake is a perfect reflection of its time. Along with the now highly popular bride and groom toppers, the cakes also began to get adorned with some flowery frostings.
As time went by, wedding cakes became even more embellished with newer frostings and toppings. They also became more characteristic of their respective decades. A big breakthrough came in with the 1980s.
1986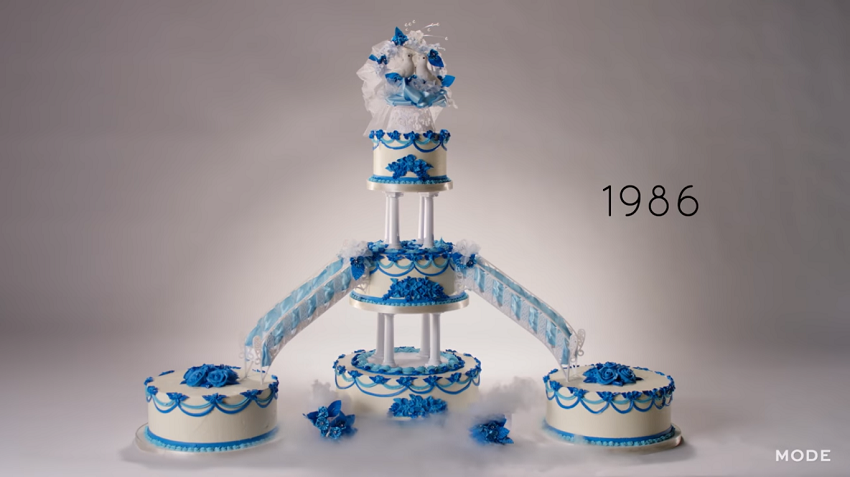 For me, the highlight of this cake is the dramatic dry ice fogging the surface. The beautiful three-tiered cake with staircases leading to two other side cakes is made exquisite with the dove toppers and adds another layer of sophistication to the wedding cake trend that's only getting better and better with each passing decade. Those doves are also a great addition as the cake reflects an important detail in history — 1986 was deemed the International Year of Peace by the United Nations!
2006
The cupcakes mark our entry in the new millennium. The wedding toppers lose a bit of their formality with a touch of humor, as shown in this topper where the bride drags the begrudging groom. As years roll by, cupcakes and biscuits and pies will begin crowding the cake space and will gradually be seen as good replacements for the traditional wedding cakes.
2016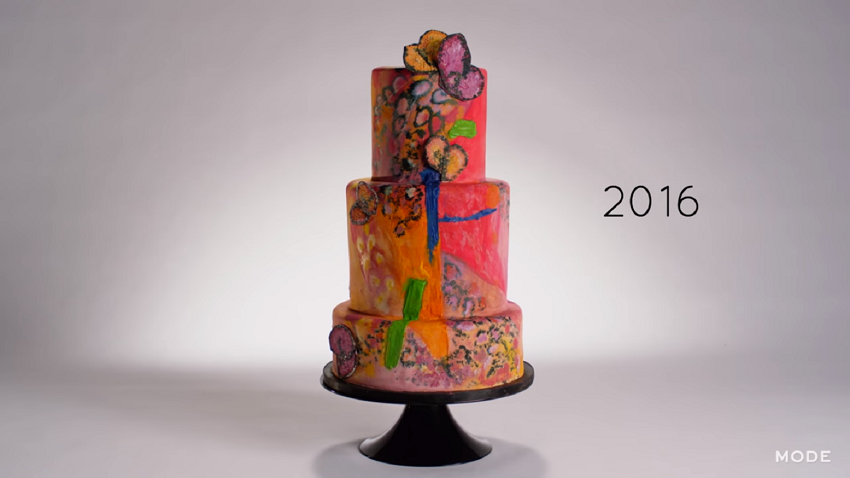 You could do a lot of different takes on this one, and that's precisely the reason why this cake represents the current time so well! You could either pass it off as gaudy and too-out-there for a wedding cake or a modern masterpiece of culinary fashion. A deviation from traditional cake format is what makes this 2016 cake so avant-garde.
Watch the 100 Years of Wedding Cakes and Toppers video to look at some more trendy wedding cakes. If you know anyone who might be hearing wedding bells soon, pass this article along to give them some ideas.
https://youtu.be/iurRGE2Y5e8