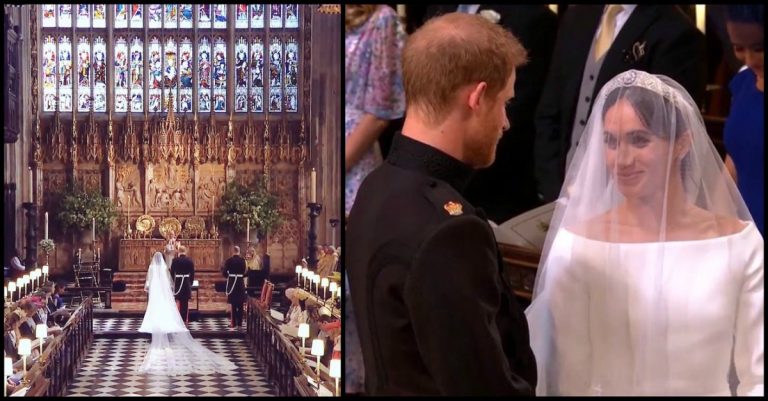 It's time to celebrate! Meghan Markle and Prince Harry have officially gotten married! Today, May 19, 2018, the happy couple tied the knot in St. George's Chapel at Windsor Castle.
Meghan looked absolutely stunning in her wedding gown. As she walked down the aisle, nobody could keep their eyes off of the gorgeous bride.
Meghan Markle walked down the aisle in a stunning Clare Waight Keller for Givenchy wedding dress. Her five meter long veil was assembled from silk tulle, featuring flora designed to represent the 53 countries of the Commonwealth. #RoyalWedding (Photos: EPA-EFE, Crown handout) pic.twitter.com/NZcBw1tdBZ

— USA TODAY (@USATODAY) May 19, 2018
The ceremony was beautiful, and Harry and Meghan couldn't look happier. The wedding was live streamed all over the world, and tons people tuned in to watch Harry and Meghan exchange vows.
I'm crying. You're crying. We're all crying. #RoyalWedding pic.twitter.com/pzQo7Sm5uB

— Glamour (@glamourmag) May 19, 2018
Now that the two are married and Meghan is part of the royal family, her official title is Her Royal Highness, the Duchess of Sussex.
The dress? Designed by Clare Waight Keller for @givenchy #RoyalWedding pic.twitter.com/q8INMw8iF8

— Vogue France (@VogueFrance) May 19, 2018
Last night, Meghan and her mother went to Cliveden House Hotel together. This morning, Meghan got ready at the hotel before leaving to head to Windsor Castle.
View this post on Instagram
Many of Meghan's hollywood friends were in attendance, including George and Amal Clooney, Oprah, and Serena Williams.
View this post on Instagram
Prince Harry and Meghan Markle got engaged on November 27, 2017. They immediately started planning their nuptials, and the planning clearly paid off. Their wedding went off without a hitch (at least on the outside!), and everyone seemed to have a great time.
View this post on Instagram
Meghan, 36, and Prince Harry, 33, seem to be a match made in heaven. Every time they appear publicly together, they look completely in love.
Meghan Markle looks so Happy #RoyalWedding pic.twitter.com/YxZWE9N3QD

— Spread Love and Kindness 🙏 (@FashionweekNYC) May 19, 2018
After their engagement, Harry and Meghan talked about wanting to start a family — and since they're both in their thirties, chances are they'll have some little kiddos in the next few years!
View this post on Instagram
Did you watch the royal wedding? What was your favorite part? Check out video from the wedding below and if you love learning about the royal family, don't forget to share this article with your friends!