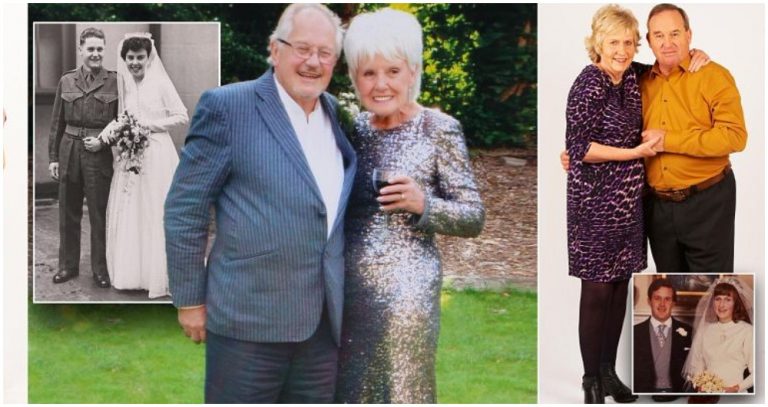 According to counseling service Relate, one in four divorcees regrets their split. But would you remarry your ex? For some, the very idea will seem impossible — but for others, it is a secret longing they can hardly admit even to themselves. Here, we meet three 'boomerang couples', who divorced then married again. Their stories will surprise — and enchant — you.
Victoria Craig, 66, runs a knitwear company and lives with her husband Nicholas, 67, a retired solicitor, in Corbridge, Northumberland. The couple, who have three grown-up sons, first wed in November 1972. They split in May 1995 and divorced in 1999. But in August this year, they remarried.
So happy: Victoria and Nicholas Craig divorced in 1999 but remarried in August, delighted to grow old together.
Victoria says:
My second marriage to Nicholas could not be more different from our first. Our relationship is deeper, we are much more appreciative of one another and we never take each other for granted. I think we both realize how lucky we are to be given this second chance.
I was 22 and Nicholas was 23 when we first met at a friend's wedding in 1969. I was working in the House of Commons as a research assistant and Nicholas was training to be a solicitor.
He was dark-haired, with twinkling eyes. He had such a clever way with words and he made me laugh. That night at the wedding, we talked until the early hours, and a couple of weeks later he rang to ask me out.
When I was 25 and Nicholas proposed, I had no doubts that he was 'the one'. We married four months later. As the day approached, I became incredibly nervous as it was a very formal 'society' wedding held at my parents' mansion in Wiltshire with 300 guests.
We moved to Northumberland 18 months later so Nicholas could take over the family business after his father died. It was exciting setting up home together, and there was no sign of the unhappiness to come.
When we were together we argued and there were interminable silences. I began to feel there must be more to life.
Our first son, Richard, was born in 1976 and Edward came a year later. George was born five years after that. We had a very happy but busy life with a huge six-bedroom house, complete with ten acres, as well my own business.
But around 12 years into our 23-year marriage, we began to grow apart. Nicholas was very busy with his business, which involved a lot of travel to the Far East. Without Skype or emails it was hard to keep in touch, and I had no family nearby or a nanny to help, so I felt a little abandoned.
We were both young, and rather than try to support one another — as we would do now — we both just felt unhappy. When we were together, we argued, and there were also the interminable silences. I began to feel there must be more to life.
Eventually, in January 1995, I packed a bag and just left, moving into a rented cottage nearby.
Nicholas was shocked — I don't think he realized how unhappy I was. He wanted to try again, but by then the children were either at boarding school or university and my mind was made up. It became pretty acrimonious because he wouldn't accept that I wasn't coming back.
Following our divorce in 1999, we only spoke through lawyers.
In the meantime, I married again. But this marriage ended after just 18 months when I discovered he was having an affair.
I was utterly shattered to find myself with two failed marriages. It made me realize the grass is not always greener, and for the first time, I wondered if I'd been happier with Nicholas than I'd realized.
The big day: They married in 1972 in their 20s at home in Northumberland. But 20 years later Victoria left.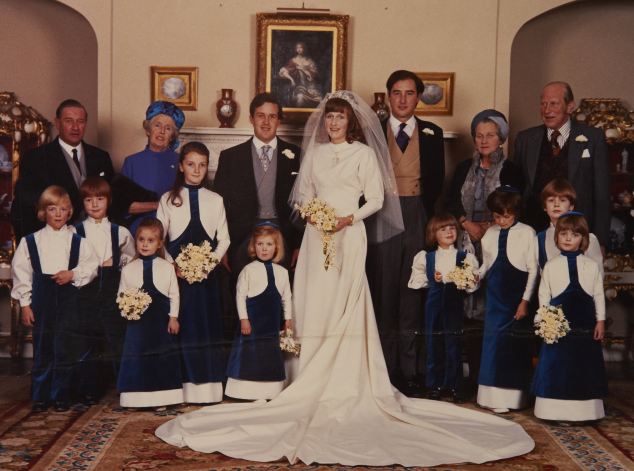 It wasn't until 2002 when my twin sister Eugenie fell seriously ill with progressive supranuclear palsy — the neurological disease that killed actor Dudley Moore— that Nicholas and I got back together.
Seeing me struggling, Edward had taken it upon himself to ring Nicholas and ask him to help support me.
Nicholas took me out to lunch in a pub, and although it was at least seven years since I'd spoken to him, there was no awkwardness.
It was a huge relief to have him back in my life. He'd never met anyone else and was happy to be a shoulder to cry on. When I'd been with Eugenie all day, he'd be there waiting with a meal at the end of it. She died in 2007 and he was my absolute rock as I grieved.
I saw a caring side to Nicholas I hadn't seen when we were younger. Age had mellowed him. He was my absolute rock as I grieved for my sister.
A year later, Nicholas had a knee operation and I nursed him. As our lives became more entwined, it was like old times.
Then I broke my leg and it seemed easier for me to move in with him so that he could nurse me. I saw a caring side to Nicholas I hadn't seen when we were younger. Age had mellowed him, and moving back in with him felt like coming home for good.
My husband is very conventional and traditional and kept saying we should marry again — but I worried that it might spoil the new relationship we had together.
But then, in July this year, he had a mini-stroke. Visiting him in hospital, seeing him so vulnerable and realizing that I could lose realizing, I suddenly knew how much I loved him and said I would.
Our second wedding at Hexham register office was wonderful — a really close family affair with our sons and some close friends.
After everything, those vows took on a special extra resonance.
Today, it is wonderful to know we are growing older together — and it's a bonus visiting our sons and grandchildren as a couple.
Nicholas says:
When Victoria left me, I was devastated. I thought we'd built this wonderful life together and we had three gorgeous sons.
Thought we'd built this wonderful life together. But I realized I'd spent most of our marriage working and not giving her enough attention.
I felt angry with her when she married again. But I realized I'd spent most of our marriage working and not giving her enough attention.
I threw myself into my work, even more, filling up my spare time with the children. In hindsight, I am probably just a one-woman man because I simply never had a serious relationship with anyone else.
But I never thought we'd ever manage to overcome what had happened and get back together.
Nevertheless, when our son Edward rang to tell me about her sister's illness, I was delighted to help. We never actually dated, but our relationship gradually developed as we got to know one another again.
Now, like Victoria, I feel just so incredibly thankful that we have rediscovered one another.
Ollie Holmes, 76, a former catering manager, lives with her husband Wills, 79, a retired engineer, in Tamworth, Staffs. They first wed on Christmas Eve 1955 and had two children, but divorced in 1965. They were remarried in August this year.