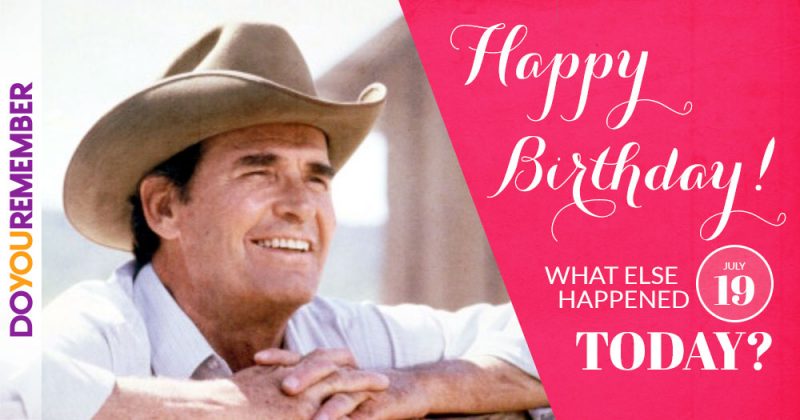 "Born Today"
Steven Anthony Lawrence (25)

Rosie Jones (25)

Kaitlin Doubleday (31)

Andrea Libman (31)

Ryan Dorsey (32)

Jared Padalecki (31)

Michelle Heaton (36)

Benedict Cumberbatch (39)

Vinessa Shaw (39)

Chris Kratt (46)

Clea Lewis (50)

Anthony Edwards (53)

Lisa Lampanelli (54)

Campbell Scott (54)

Atom Egoyan (55)

Abel Ferrara (64)

Brian May (68)

Vikki Carr (74)

Helen Gallagher (89)

Stuart Scott (RIP)
"Died Today"
James Garner (Born: April 7, 1928 / Died: July 19, 2014)

Lefty Frizzell (Born: March 31, 1928 / Died: July 19, 1975)
"Movies"
Click on the movie title to watch it's trailer.
"Music"
1954 – Elvis Presley's first single was released by Sun Records.

1967 – The Beatles were at No.1 on the UK singles chart with 'All You Need Is Love'.
1975 – Orleans' "Dance With Me" was released.

1975 – Paul McCartney and Wings went to No.1 on the US singles chart with 'Listen To What The Man Said'

1975 – The Bay City Rollers were at No.1 on the UK singles chart with 'Give A Little Love'.

1980 – Queen scored their third UK No.1 album with 'The Game', featuring the single 'Another One Bites The Dust'.

1986 – Genesis went to No.1 on the US singles chart with 'Invisible Touch'.
1990 – Vikki Carr opened the ceremonies for the dedication of the The Nixon Library.

1991 – The Beatles performed one of their six "secret" shows at the Cliffs Pavillion in Westcliff-on-Sea, Essex, England during their Unplugged Summer Tour.

1997 – Oasis went to No.1 on the UK singles chart with 'D'You Know What I Mean'.
1999 – They Might Be Giants released the album "Long Tall Weekend."
"TV/Radio"
1996 – The Spice Girls made their debut on UK TV music show Top Of The Pops performing their debut single ' Wannabe'.
"Other Important Events…"
1946 – Marilyn Monroe acted in her first screen test.
1960 – Juan Marichal (San Francisco Giants) became the first pitcher to get a one-hitter in his major league debut.

1969 – The Spencer Davis group broke up.

1971 – In New York, the topping out ceremony for Two World Trade Center (South Tower) took place.
1975 – The

Apollo

and

Soyuz

spacecrafts separated after being linked in orbit for two days.

1976 – Deep Purple broke up.
1980 – Billy Joel earned his first gold record with "It's Still Rock and Roll to Me."

1981 – "Roy Orbison Day" was celebrated in Odessa, TX.

1991 – Former Guns N' Roses drummer Steven Adler filed a lawsuit against the band.