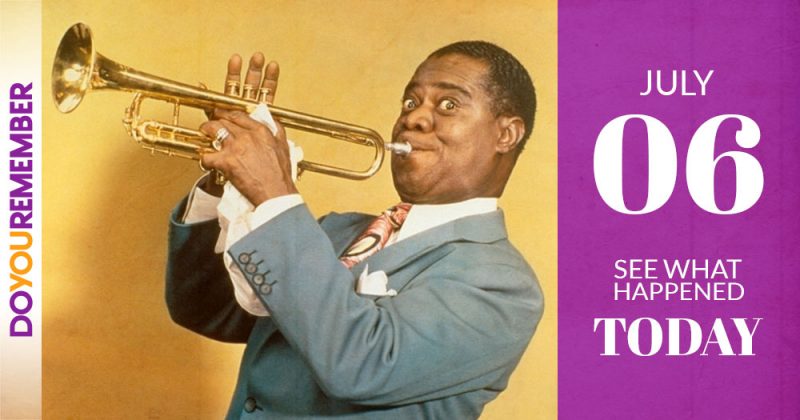 "Born Today"
Camilla Rosso (21)

Rebecca Rosso (21)

Kate Nash (28)

D. Woods (30)

Gregory Smith (32)

Tay Zonday (33)

Eva Green (35)

Kevin Hart (36)

Tamera Mowry-Housley (37)

Tia Mowry-Hardrict (37)

50 Cent (40)

Inspectah Deck (45)

Brian Van Holt (46)

Heather Nova (48)

Robin Antin (54)

Jennifer Saunders (57)

Allyce Beasley (61)

Geoffrey Rush (64)

George W. Bush (69)

Sylvester Stallone (69)

Ned Beatty (78)

Dalai Lama (80)

Della Reese (84)

Nancy Reagan (RIP)

Frida Kahlo (RIP)
"Died Today"
William Faulkner (

Born

: September 25, 1897 /

Died

: July 6, 1962

)

Louie Armstrong (

Born

: August 4, 1901 /

Died

: July 6, 1971

)(Featured Above)

Alma "Lady Hitchcock" Reville (

Born

: August 14, 1899 /

Died

: July 6, 1982

)

Roy Rogers (

Born

: November 5, 1911/

Died

: July 6, 1998

)

Buddy Ebsen (

Born

: April 2, 1908 /

Died

: July 6, 2003

)
"Movies"
Click on the movie title to watch it's trailer.
"Music"
1963 – James Brown went to No.2 on the US album chart with 'Live At The Apollo'

1965 – The Jefferson Airplane was formed in San Francisco, CA.

1968 – The Rolling Stones scored their fifth US No.1 single when 'Jumpin Jack Flash' hit the top of the charts.

1973 – Queen released their first single, "Keep Yourself Alive."
1984 – The Jacksons began their Victory Tour in Kansas City, MO.

1985 – Phil Collins went to No.1 on the US singles chart with 'Sussudio'
1996 – 'Three Lions by comedians Baddiel and Skinner and The Lightning Seeds was at No.1 on the UK singles chart
"TV/RADIO TODAY"
1947 – "Candid Microphone" began airing on ABC radio.
1967 – Pink Floyd made their first appearance on BBC TV music show Top Of The Pops to promote their new single 'See Emily Play'.

1971 – Karen and Richard Carpenter hosted "Make Your Own Kind of Music" on NBC-TV.

1972 – David Bowie appeared on the UK music show Top Of The Pops playing his new single 'Starman'
"Other Important Events…"
1933 – The first All-Star baseball game was held in Chicago. The American League beat the National League 4-2.
1942 – Diarist Anne Frank and her family took refuge from the Nazis in Amsterdam.

1948 – Frieda Hennok became the first woman to serve as the commissioner of the Federal Communications Commission.

1957 – Althea Gibson won the Wimbledon women's singles tennis title. She was the first black athlete to win the event.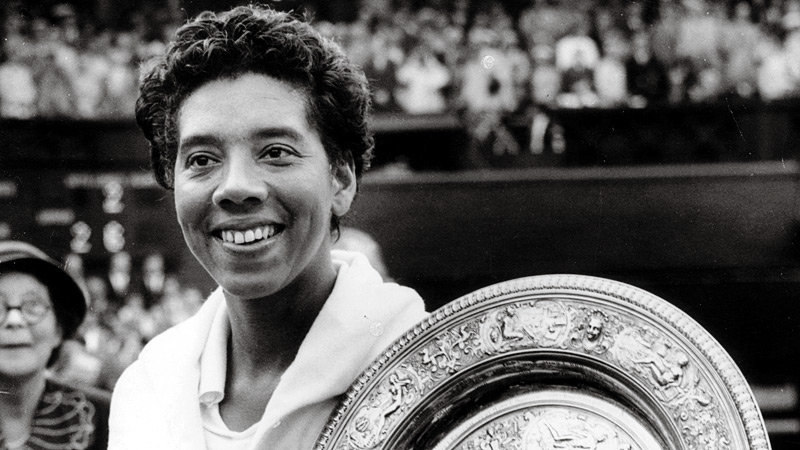 1983 – Fred Lynn (California Angels) hit the first grand slam in an All-Star game. The American League defeated the National League 13-3.
1985 – Martina Navratilova won her 4th consecutive Wimbledon singles title.

1996 – Steffi Graf won her seventh Wimbledon title.
1997 – The Mars Pathfinder released Sojourner, a robot rover on the surface of Mars.