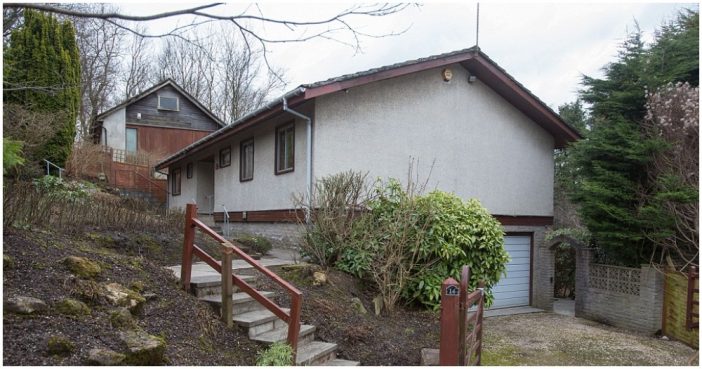 From the street, this Scandinavian-style property looks like a traditional bungalow.
But step through the front door and it soon becomes clear the family home is anything but ordinary.
The four-bedroom house, in the Glasgow suburb of Bearsden, was built for the current owner on a private commission in the 1970s – and it has not been touched since.
Retro charm: The four-bedroom home in the Glasgow suburb of Bearsden boasts outlandish patterned carpets and wood paneled wall.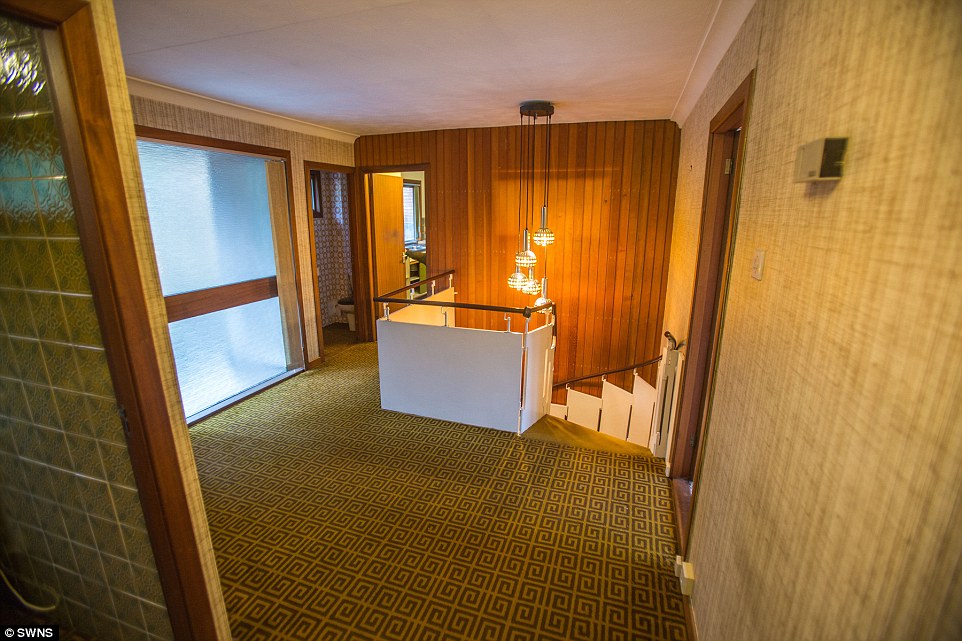 Character features: A sink mounted on a wall of printed orange tiles (left) and statement metal light fixtures hang above the staircase.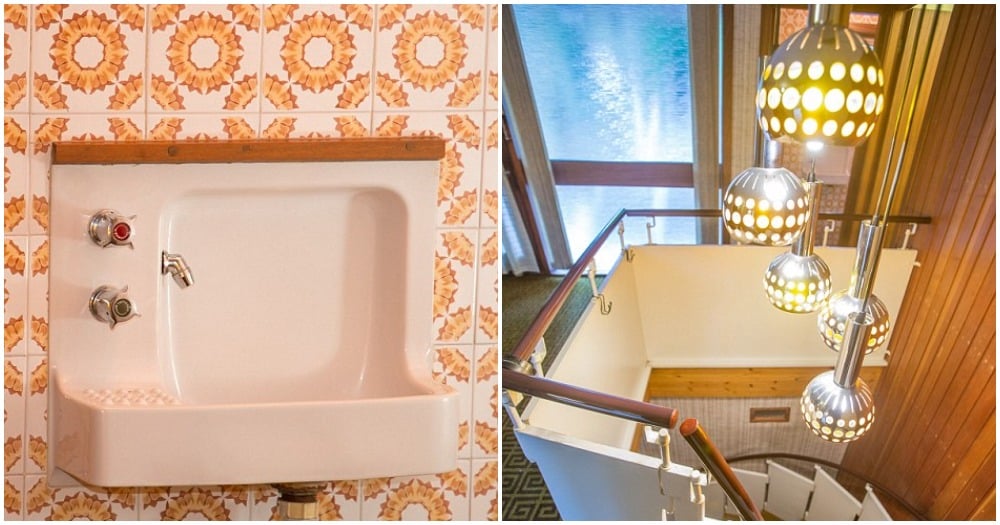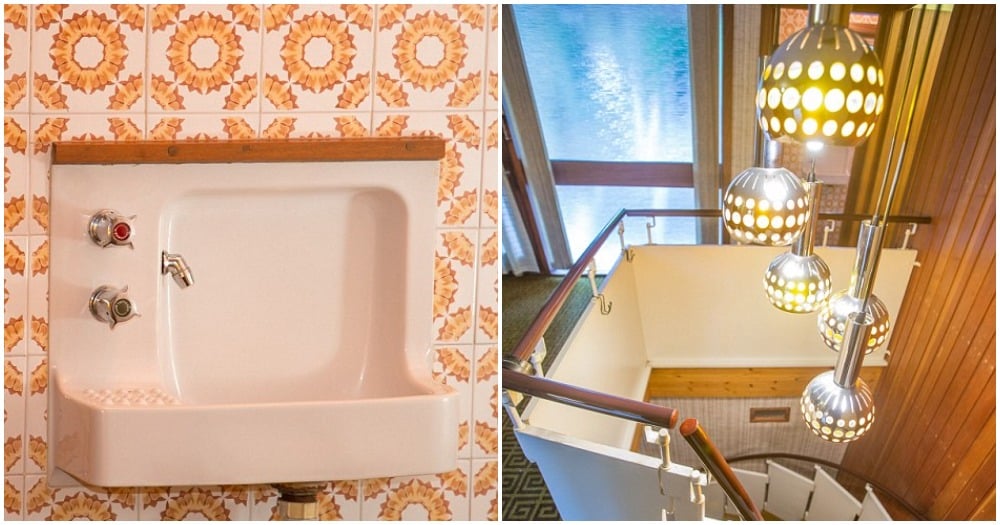 Untouched: The bungalow also has green sinks and toilets in its two bathrooms, in keeping with the decade's trend for colored suites.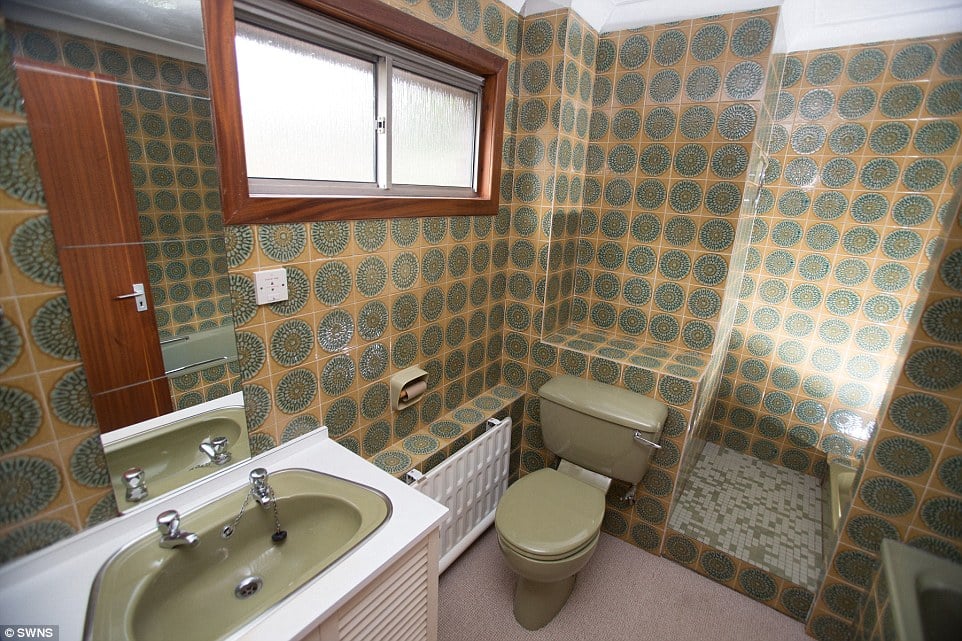 The 1,700 sq ft property is spread out over two floors, and every room still boasts the charm and character of the disco decade.
Lime green and white cabinets remain in the kitchen and statement metal light fixtures hang above the staircase. In the living room vibrant carpets, patterned tiles and a wood-paneled ceiling add to the retro feel of the property.
In keeping with the 70s trend for colored bathroom suites, the two in the house feature green toilets, sinks and baths. The out-there aesthetic is completed with more patterned tiles – this time in green and yellow. The house also boasts its own sauna and a balcony.
At the time the house was built, the average house price in Scotland was around £11,500. The property is now up for sale to offers over £275,000.
The house is being marketed by estate agents Rettie, who said they have been inundated with calls from interested buyers.
The agents claim there were 105 property viewings scheduled in just one week. The deadline for offers closes today and it is believed that up to 12 potential buyers will be in the running.
Fresh start: The 1,700 sq ft property, which is spread across two floors, offers plenty of opportunities for the new owner to renovate.
Spacious: Large floor-to-ceiling windows flood the open-plan living space with plenty of light, and offer a view of the balcony.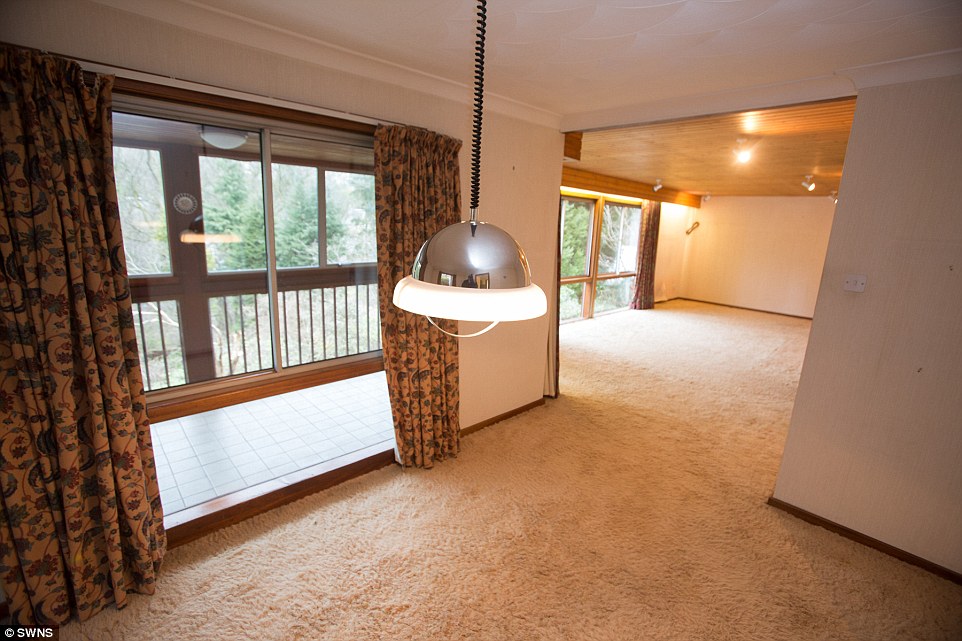 The brochure says: 'It is fair to say that the property's specification dates from when the house was constructed. Therefore it is fair to report that the subjects would benefit from a programme of modernizing and upgrading to bring the subjects to current standards.
'This will be quite an exciting opportunity as the house commands a rather pleasant, wooded outlook to the rear, across its large back garden which is very well established and planted with a great many specimen trees and shrubs, although this too will require some work.'
Housing experts say they admire the property's retro charm and have given a more favorable view of the property, with one saying the 'uber cool' fixtures deserved to be restored and preserved for posterity.
Credits: dailymail.co.uk